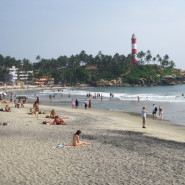 A photo blog of my Winter Adventures in India and Europe
In December last year I ventured over to Europe for a meeting in Brussels and then soon after went to South India. I traveled with David Jung (my work colleague) to some very beautiful places in India during a 20 day period. After this little adventure we returned to Europe for some more meetings and business talks. We ended up changing our return ticket to Fairfield, Iowa three times and the trip turned into 10 weeks instead of 3.5 weeks.
Below is a photo blog of these winter adventures in South India, Belgium, Holland and England.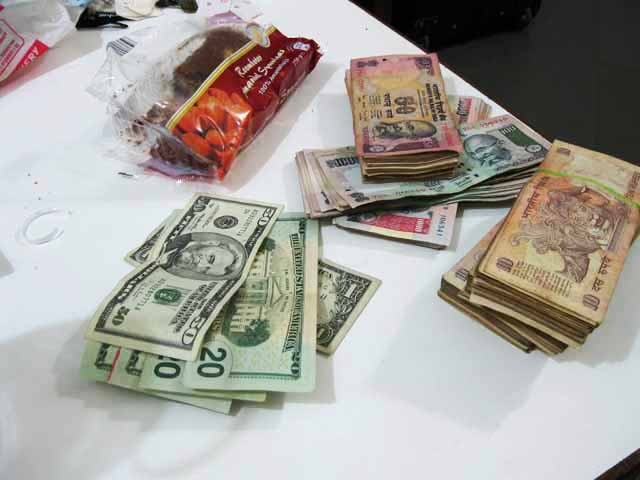 One of the first things to do once in India is to get RUPEES! I find that the best way is to either withdraw from an ATM or do an exchange with a forex company such as this one www.vkcforex.com. My other recommendation is to get a lot of 10 rupee notes because otherwise you'll be dishing out 100 rupee notes which is more than $2 and this quickly adds up.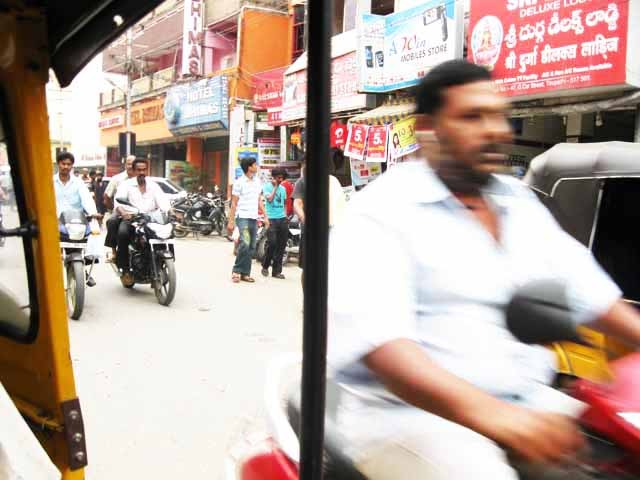 Here is a view of a typical Indian street with mainly motor bikes and auto rickshaws like the one I'm sitting in to take the picture. The streets are very noisy and usually quite polluted. So I normally use ear plugs and definitely cover my nose with cloth!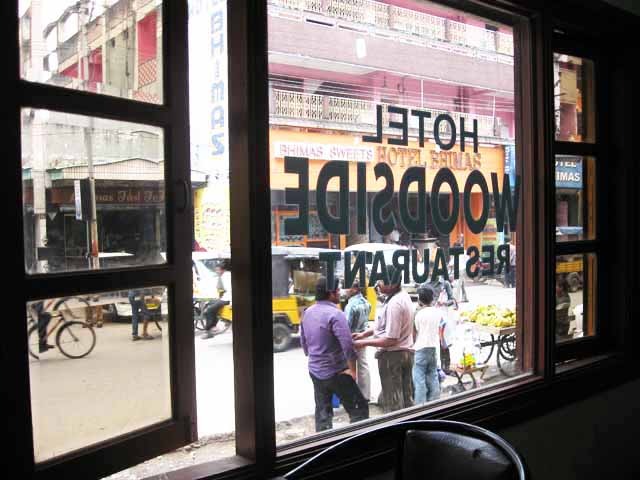 Another street view from a little local restaurant in Tirupati, South India.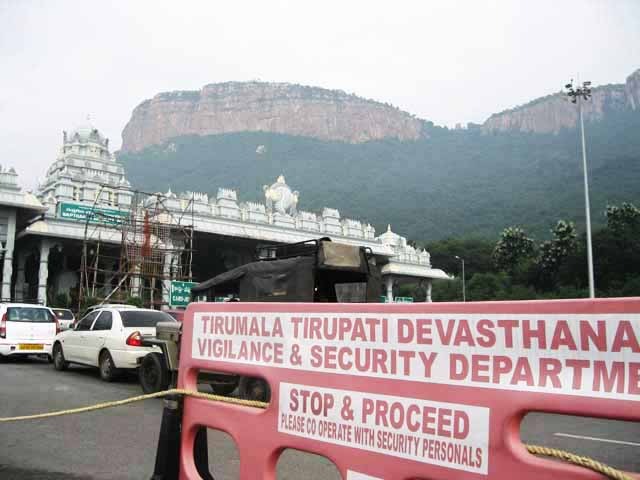 This is the road up to Tirumala, the home of Venkateshwar or Balaji. The temple town of Tirumala is located on the top of beautiful hills surrounded by lush forest. It is one of the most well known temples in India with around 60,000 people a day visiting it! The other interesting fact is that approximately 100 million dollars per year is collected in Dakshina (donations).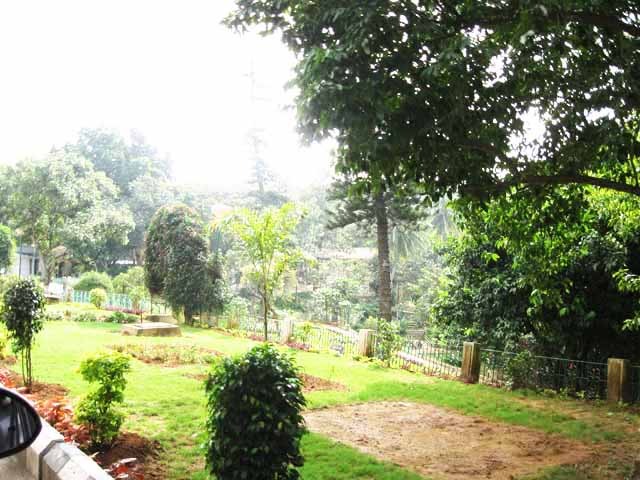 The atmosphere on the top of the Tirumala hills is really quite amazing and very well kept. To give you an idea of the scope of this place there are about 12,000 employees for the temple grounds alone!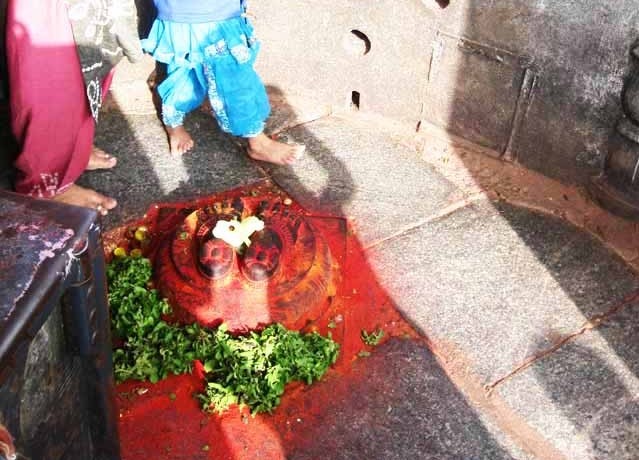 These foot prints are where Venkateshwar once stood. This spot had a great view of the temple in the distance to the East.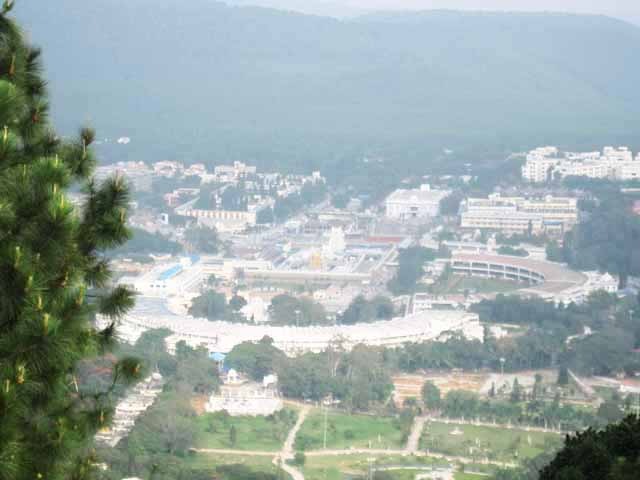 Here is the view of the main temple. In the center you can see the solid gold ornately decorating the roof of the temple. The darshan queues can also be seen in a circular shape surround the main temple grounds of Venkateshwar. Sometimes people wait for days to get a 10 second view of the deity. I was lucky to get 3 minutes viewing this time.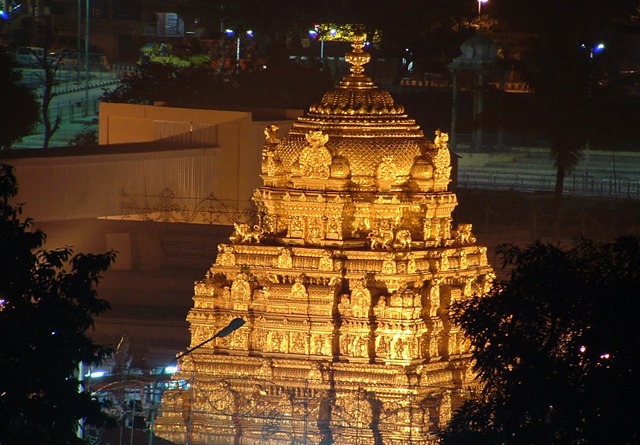 This is a closeup of the solid golden temple roof. It is rather impressive…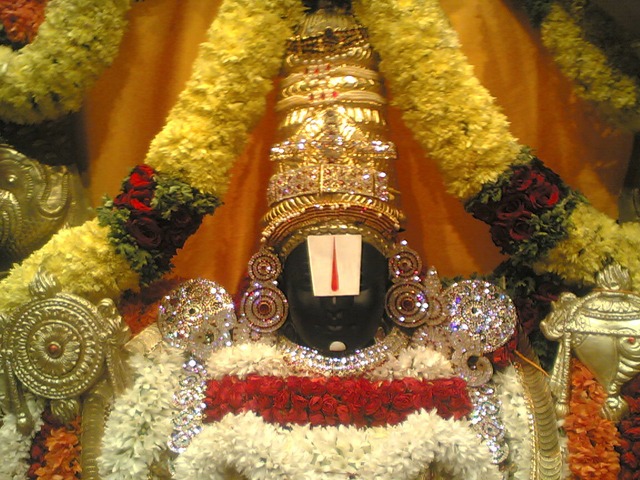 This the statue of Venkateshwar or Balaji who is an incarnation of Vishnu. Notice how the eyes are covered? It is said that if they didn't put the covering the whole Earth would be scorched from intense darshan or light. The other cool thing about this temple is that any wish you have while standing in front of the statue will be granted. I made some very big wishes and they already started coming true.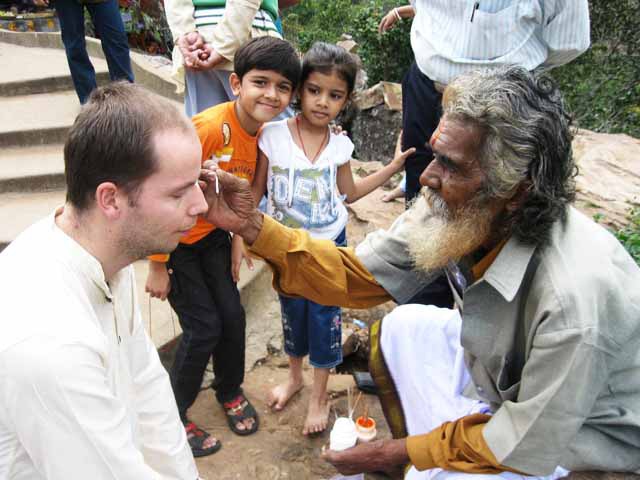 We met a nice family with cute kids who showed as around the 7 hills of Tirumala. David is receiving a Tilak (or dot) on his forehead.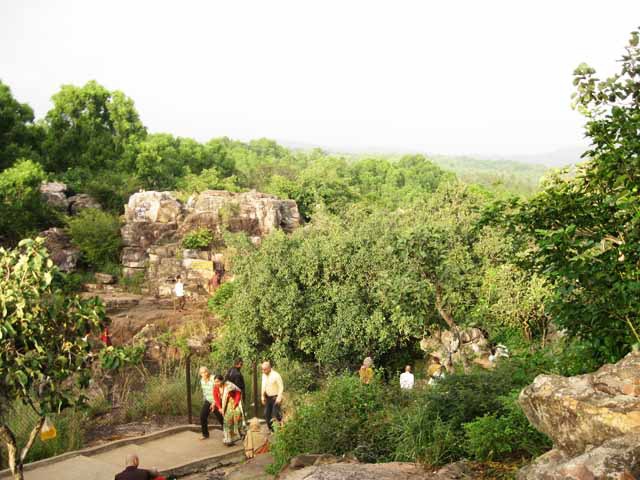 These hills are covered with large untouched jungles where saints have walked and meditated for millenia. The atmosphere up there was really special and much less polluted than down the hill at the bustling town of Tirupati.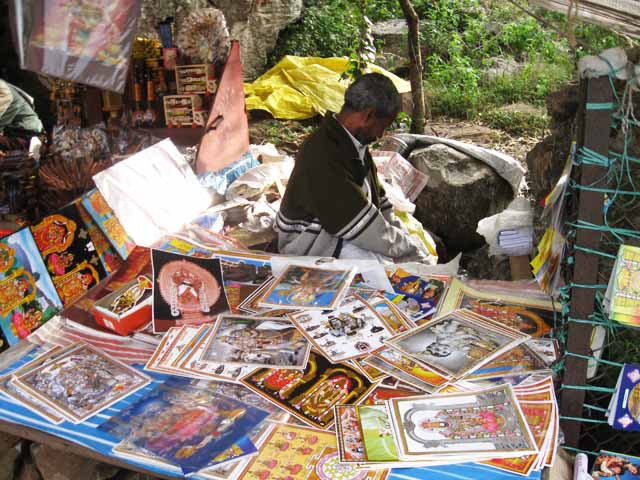 I stumbled upon a great little outdoor shop with all kinds of different Indian art.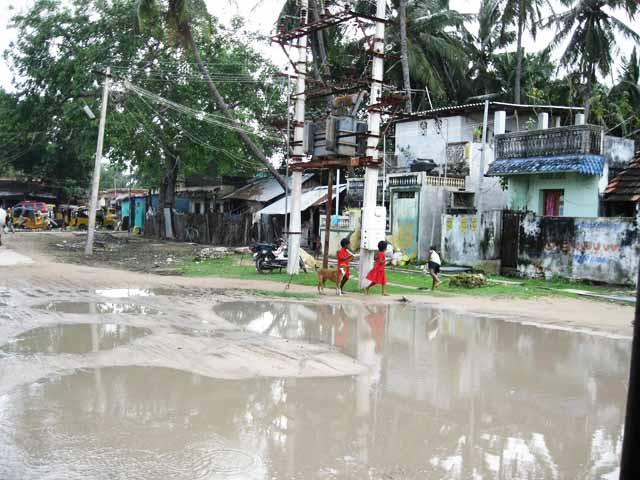 Our next destination was the small town near the Southern tip of India called Rameshwaram. This town is home to one of the 12 Jyotir Linga's. It was the tail end of the monsoon so there was quite a lot of water everywhere. The food and accommodation was very basic here so we had to be very careful…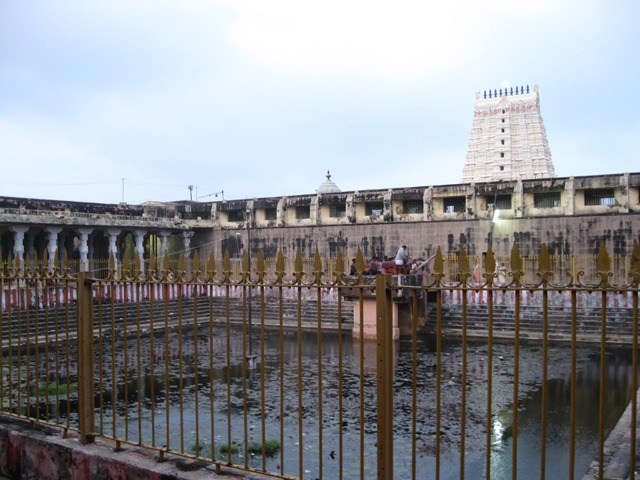 This temple was very powerful with the qualities of Shiva – silence, peace and bliss. There are 22 wells here that they dunk a bucket in and then poor it over your head. It was a very pleasant experience with each well having a different feeling or flavour.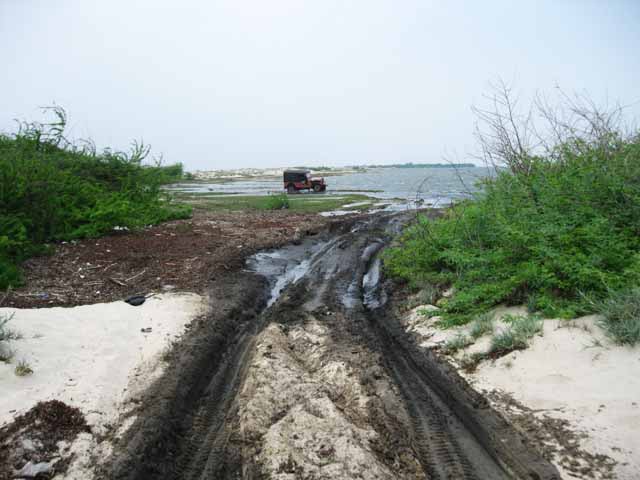 The next day we took a four wheel drive out to Danushkodi which is the start of Ram's bridge to Sri Lanka. I bathed in the confluence of two seas here and it was very nice.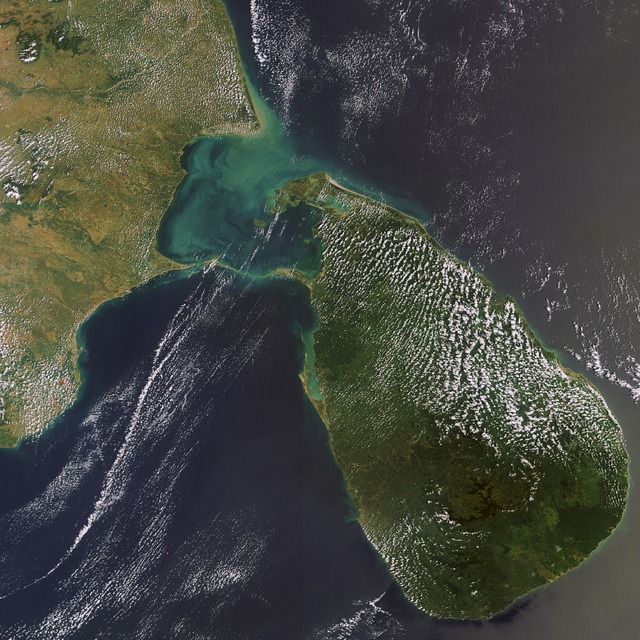 In this NASA satellite image you can see the remnants of Ram's bridge. It is believed that this bridge was built by Ram's army around 1 million years ago in order to walk across to Sri Lanka to save Sita (Ram's wife) from Ravana (a demon). It really was an amazing experience to visit this place and also to see the place where Maharishi first came to after his years of Silence in the Himalayas.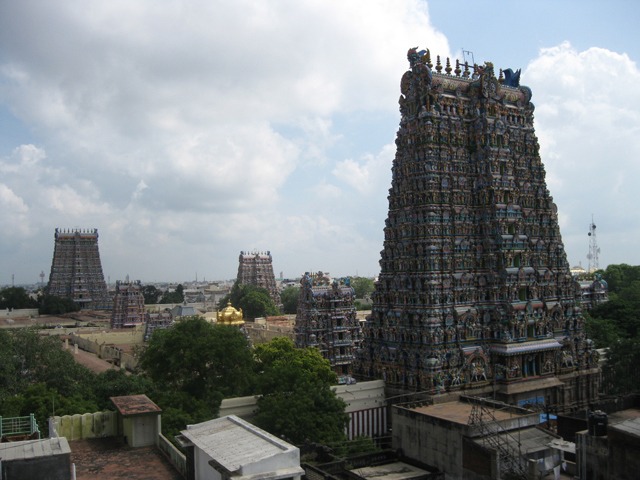 Our next destination was Madurai, a town about 5 hours west of Rameshwaram. This bustling city is home to one of the most ornate temples in the world known as the Meenakshi temple.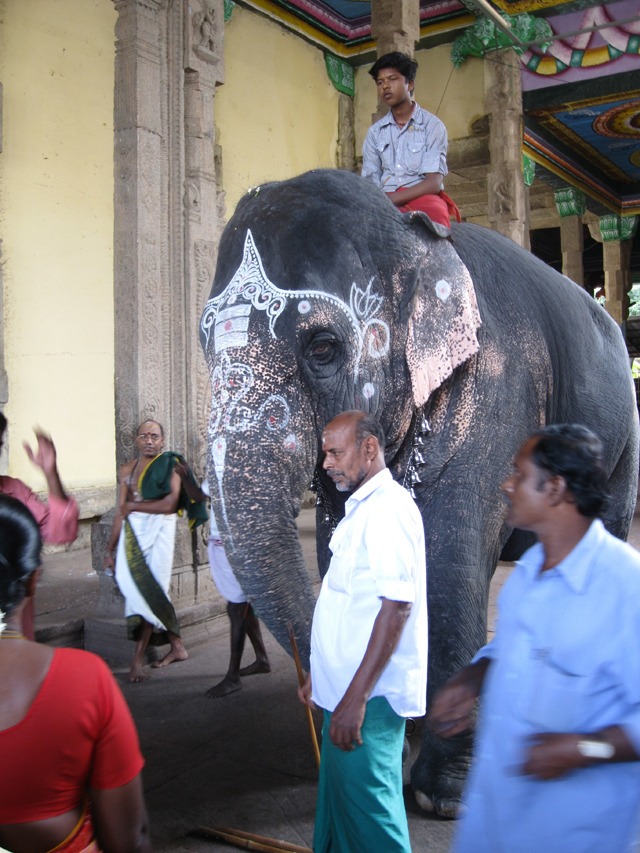 The temple grounds here were very beautiful. There was this great elephant at the entrance to the temple who was very good at posing for the camera! I find elephants to be really incredible animals. Some people have told me that an elephant never forgets anything and this was felt when I looked into it's big, glossy eyes.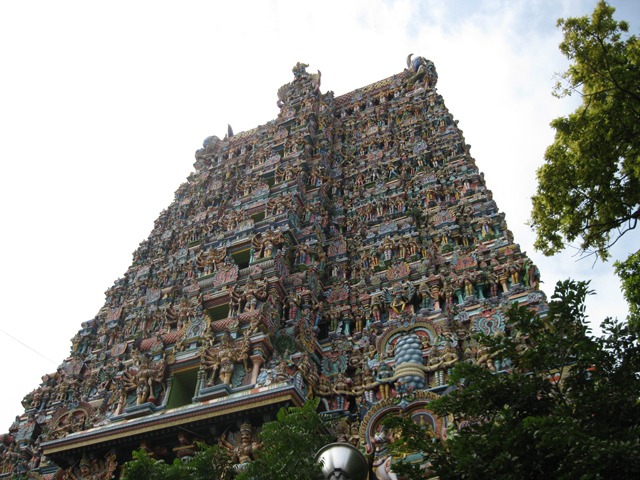 Here is another view of the amazingly ornate carvings on the temple pillars.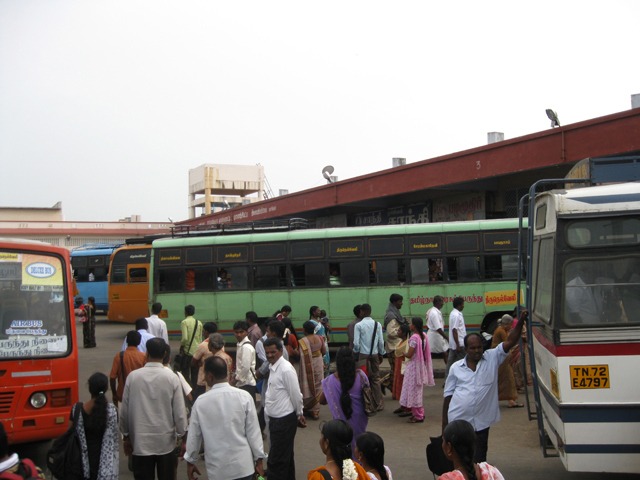 Most of our travels were done on buses. The gigantic bus stands all through India are very well organized and transport lakhs of people every day. You can literally just turn up here and find a bus that is going exactly where you want and the cost is unbelievable. For example a 7 hour journey on a luxury bus cost us $2.50.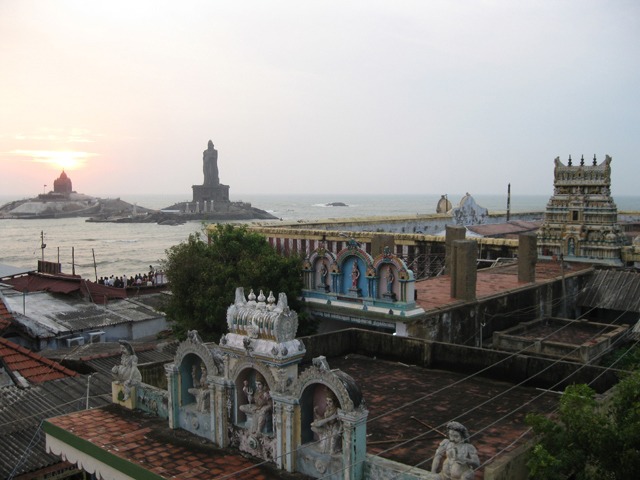 On my birthday we arrived at the Southern tip of India, Kanyakumari. This place is home to a goddess and has a very special feeling. We were lucky to stay in a lodge just meters from the temple grounds.

The streets surrounding temples are always laden with souvenirs and handicrafts such as shell covered mirrors.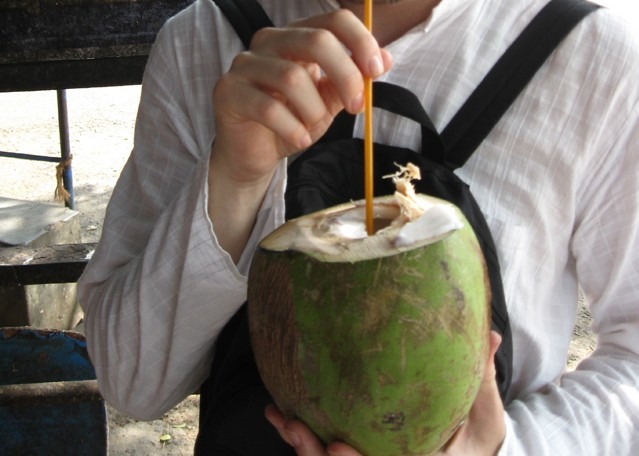 We drank coconut water everyday – it is sooo good and refreshing!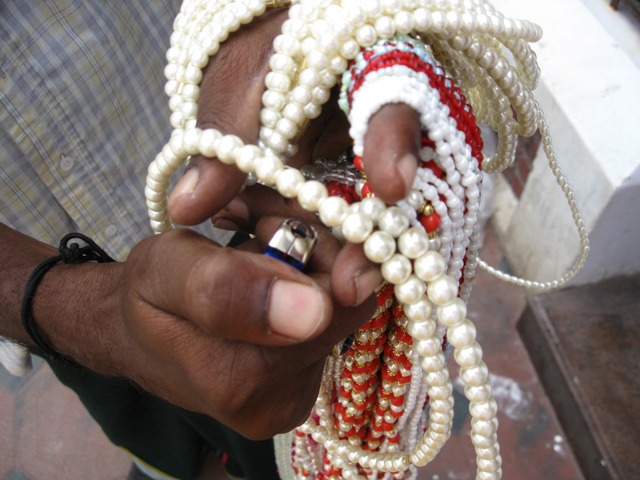 Ambitious salesmen tried to sell us plastic pearls for 200 rupees. He proved they were real by putting a flame on it. There are a lot scams like this throughout India which definitely keeps you on your toes

.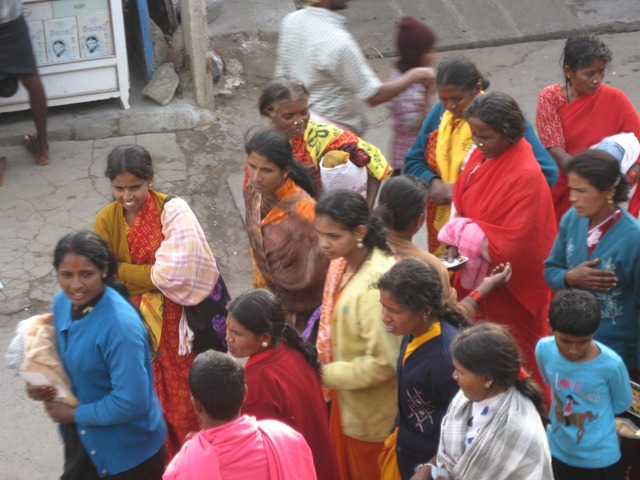 Thousands of pilgrims visit Kanyakumari everyday. It was very interesting to watch all the different types of people and to see the fantastic array of colours.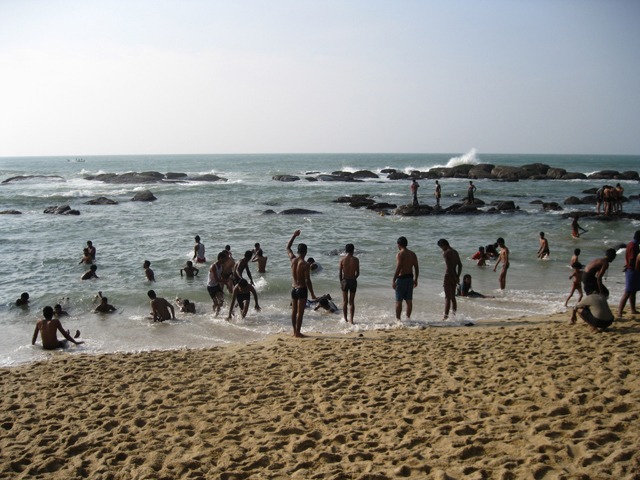 Just outside the Kanyakumari temple is the confluence of three oceans – Bay of Bengal, Indian Ocean and the Arabian Sea. The water here was so nice to bathe in, it was like warm silk.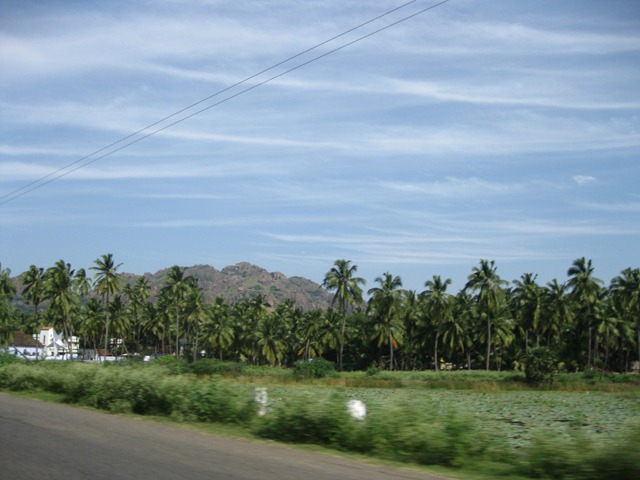 South India is filled with palm trees, rice paddies, banana plantations and sugar cane fields.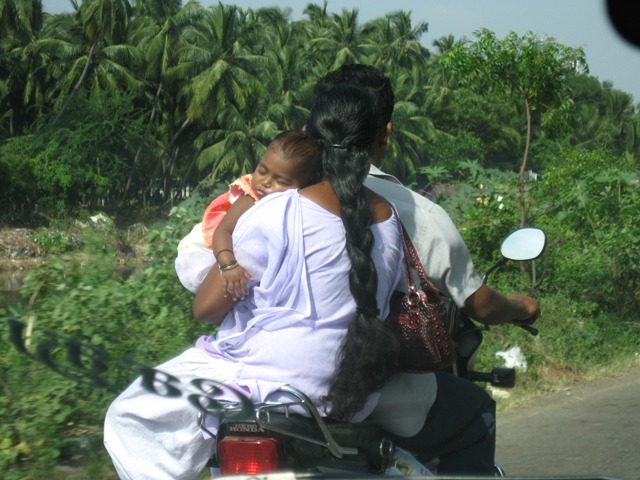 There are never ending amazing sights to be had while traveling India. Here you can see a baby fast asleep on the back of a speeding motorbike with it's mother balancing precariously.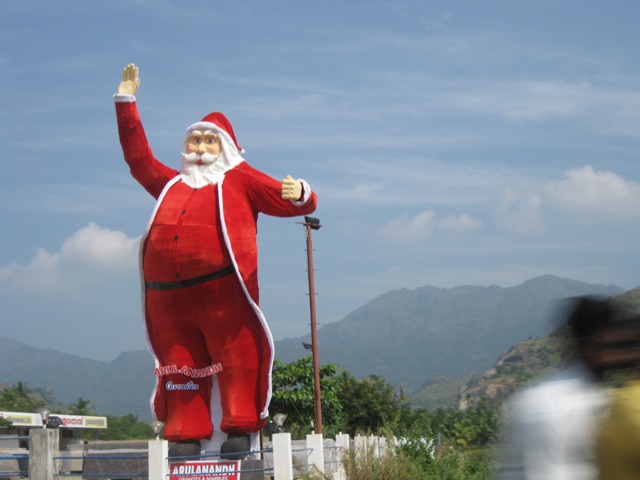 South India, particularly Kerala, has a lot of influence from Christian missionaries. As a result there were Santa Claus's everywhere! Some of them are really scary with skeletons and all kinds of weird things…

Our next stop was a beachside town in Kerala called Kovalam. The food in Kerala is incredibly fresh and delicious. I heard that most of the spices come from this state and this contributes to the exquisite tastes.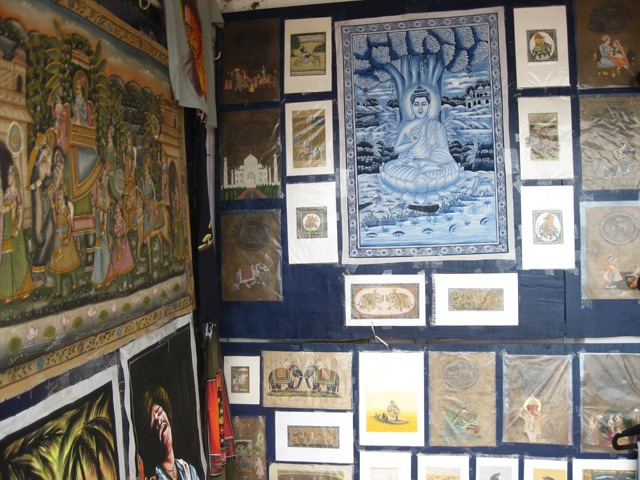 We found many wonderful artists here.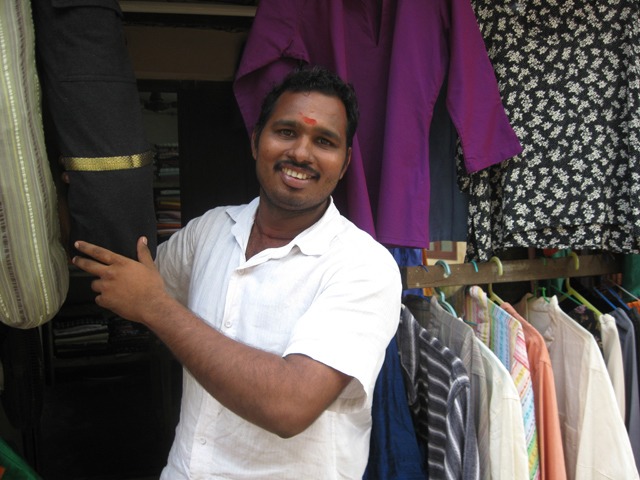 Lal the tailor made us some very cheap custom yoga pants.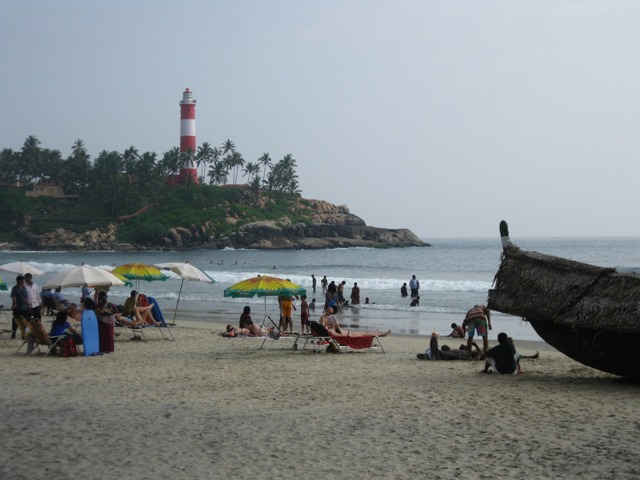 This is Lighthouse beach at Kovalam. I was able to go surfing here a few times. It was paradise with much less pollution than other places in India.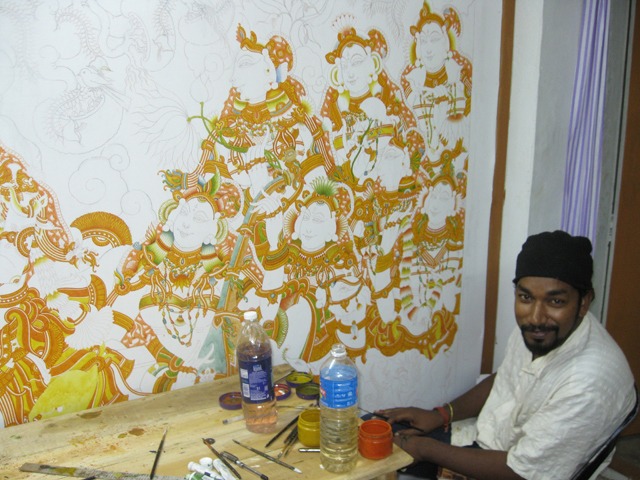 Another amazing artist. I bought an wonderful artwork here for one of my brothers.

A nice place to have a meal! The pond was filled with fish and there were kingfisher birds all around feeding on the fish while we ate our Indian breakfast.

I was able to visit my friend Harshal at his university in Chennai. I hadn't seen him for 9 years! His university is called the Indian Institute of Technology (IIT) and the campus was really impressive. Recruiters come here every year to pick up the cream of the crop for companies like Google, Facebook and different investment banks. It is ranked amongst the 10 best schools in India.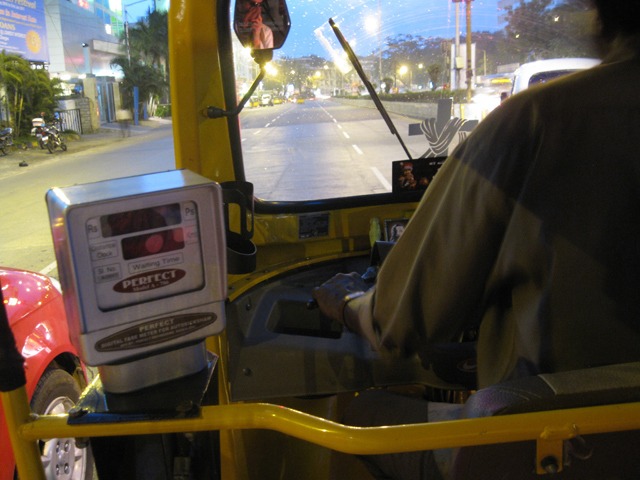 The view from the back seat of a rickshaw in Chennai on a rainy evening. They all have metres but no one uses them. I recommend always agreeing on the price of the ride before getting in. If you're not happy with their proposed price the best thing to do is to walk away and they'll usually come down closer to your price.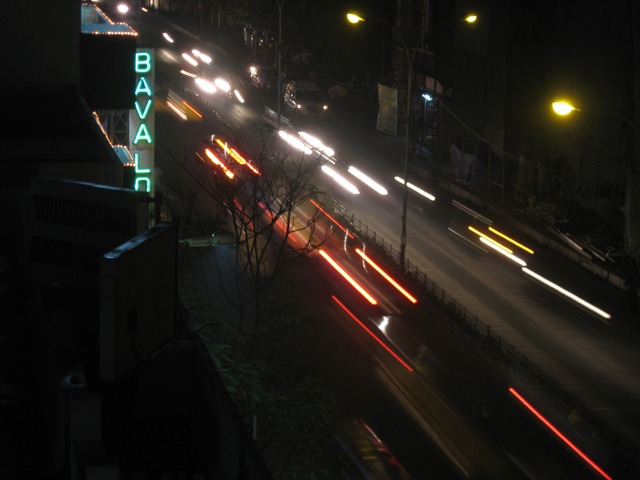 This is the view from the top of our cheap hotel in Chennai. The pollution in this town is fantastically asphyxiating!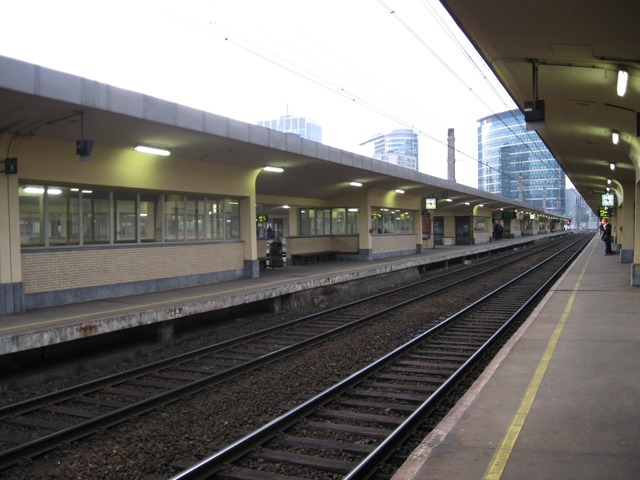 Brussels train station – back to civilization.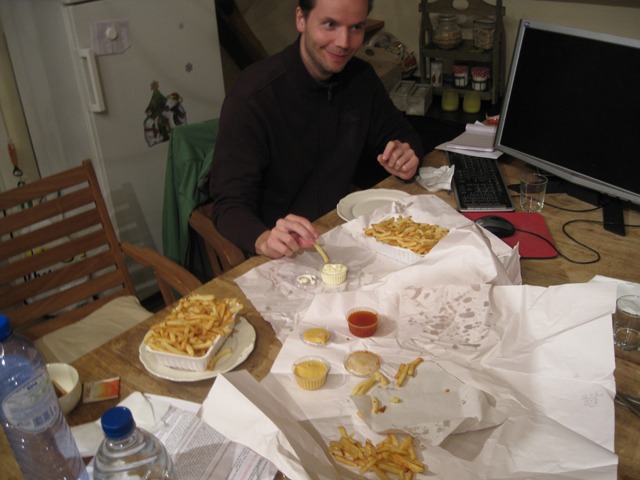 Sampling some local Belgian fries. They are made completely fresh including cutting the potatoes only moments before frying them.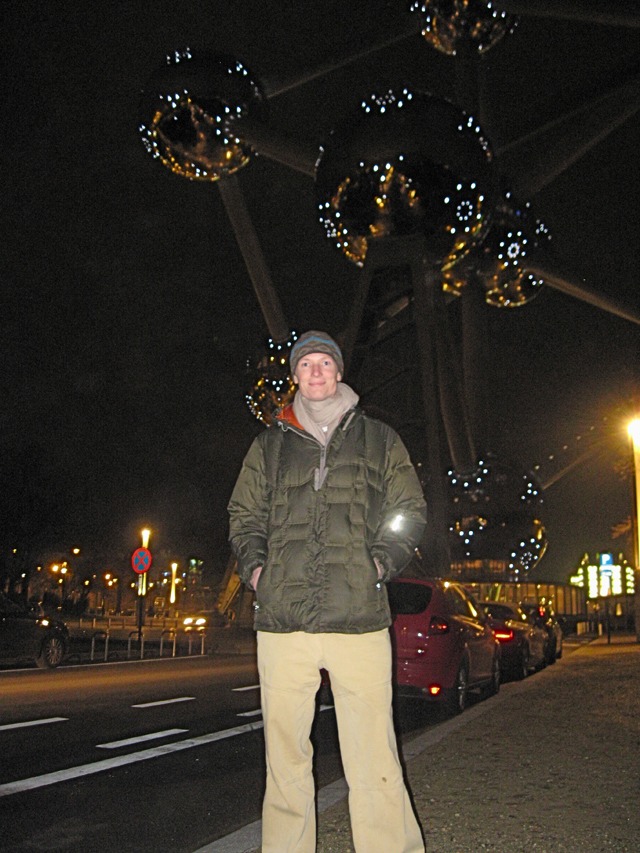 Me outside the Atomium in Brussels. This structure was built for the 1958 world fair in Brussels. Everyone loved the design so much that they left it there.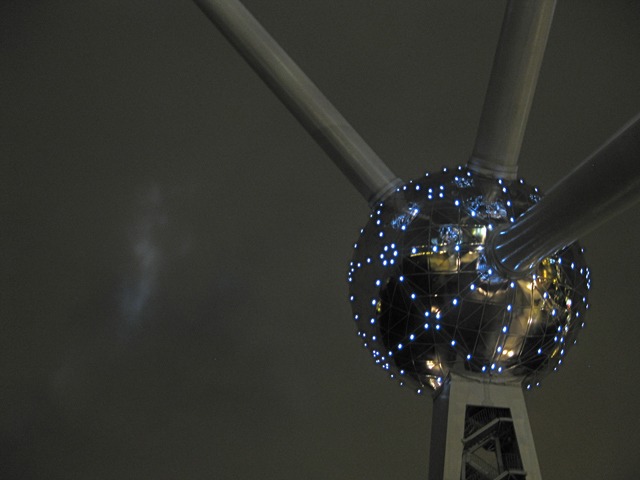 One of the balls of the Atomium. The lights were moving around like electrons in an atom.

Here is the view from inside the lift that goes up to the top of the Atomium in Brussels. At one point it was the fastest lift in the world.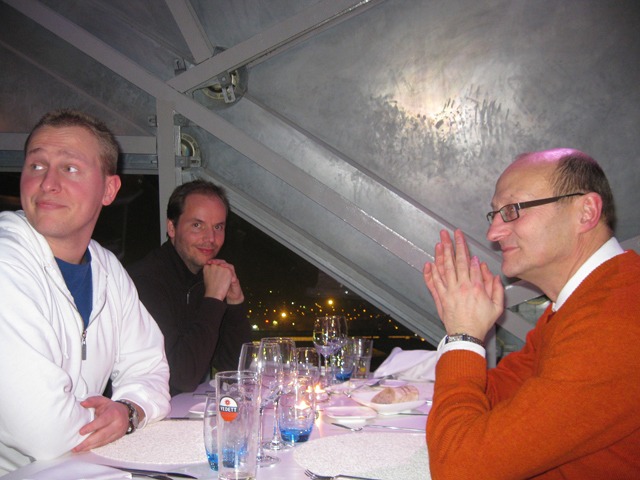 We ate dinner inside the top most ball of the Atomium structure in Brussels. It was an unusual but cool experience.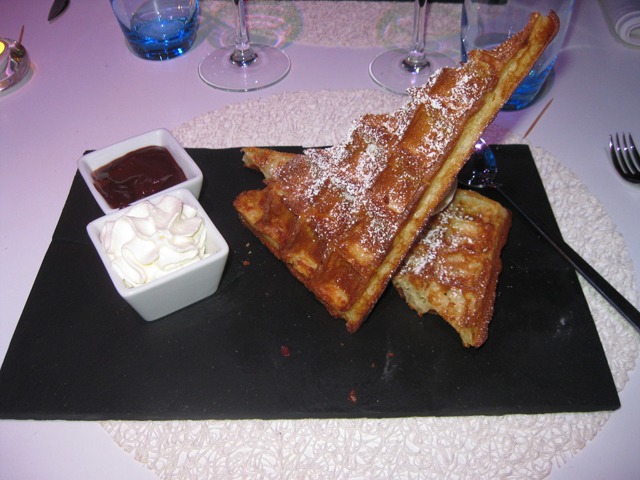 Belgian waffles!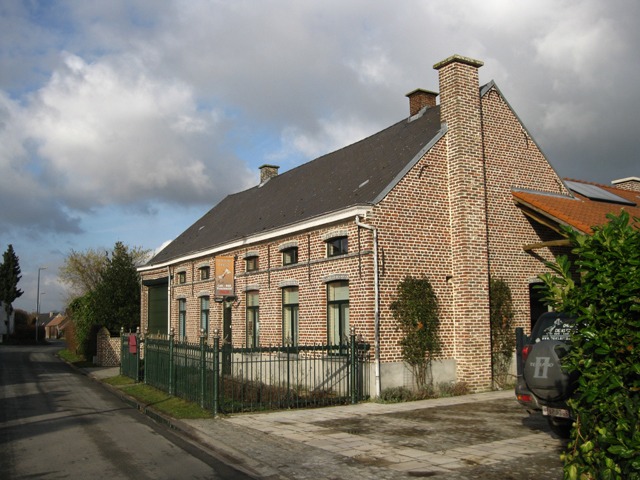 Our bed and breakfast just outside of Brussels.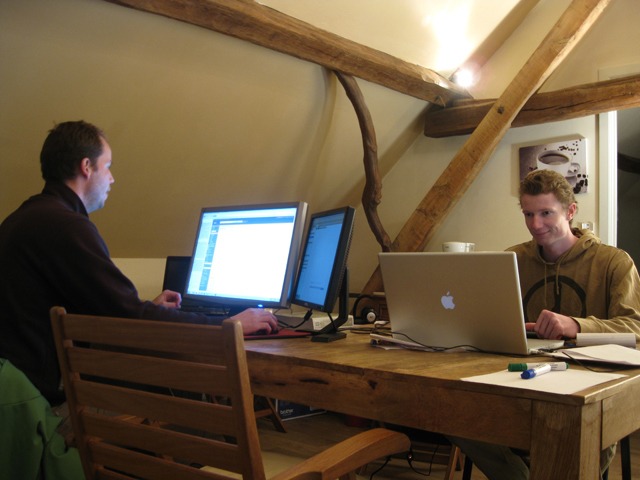 Working hard on some really cool, "secret" Internet projects.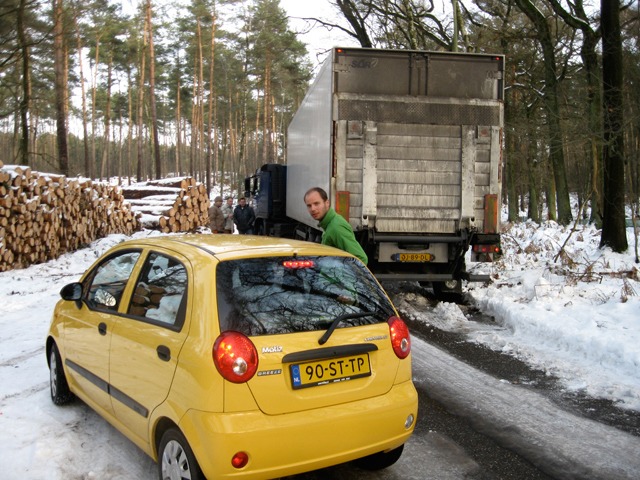 The road up to MERU (Maharishi European Research University) in Vlodrop, Holland was very slippery so this truck had some trouble.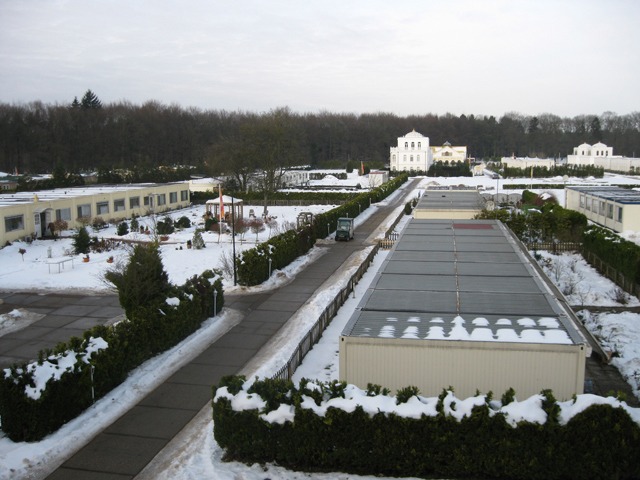 Buildings at MERU, Vlodrop.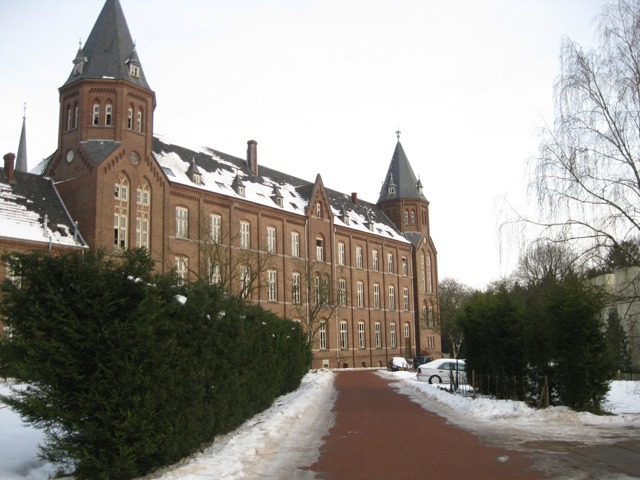 This is the old, abandoned building at Vlodrop that they want to knock down. I am guilty of smashing some windows with snowballs.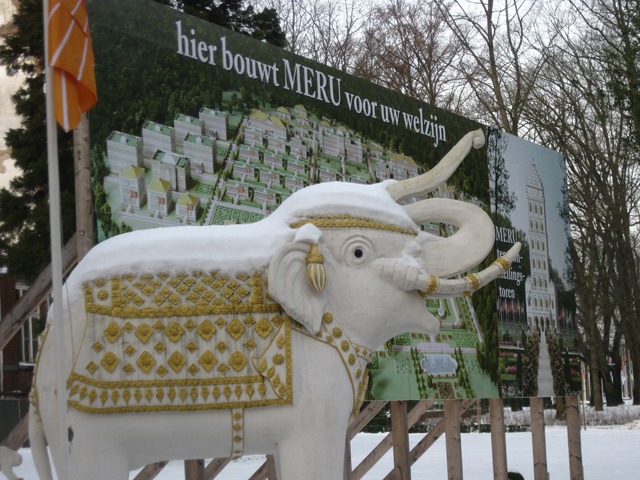 These are the elephants that welcome you to MERU and the new master plan for the campus is seen behind.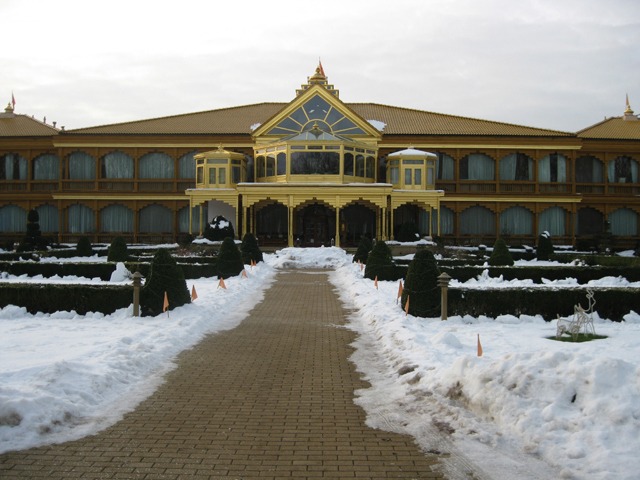 Maharishi Mahesh Yogi's magical house where he took Mahasamadhi in 2008. It still has such a sublime feeling of peace and bubbling bliss, especially upstairs. Here is a blog I wrote about my experience of Maharishi's funeral ->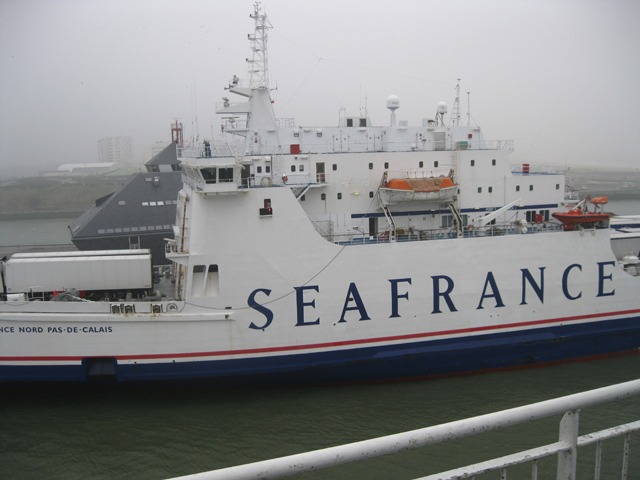 In one day we drove through Holland, Belgium, France and then caught a ferry across the English channel to the UK. The ferries are huge and quite luxurious inside.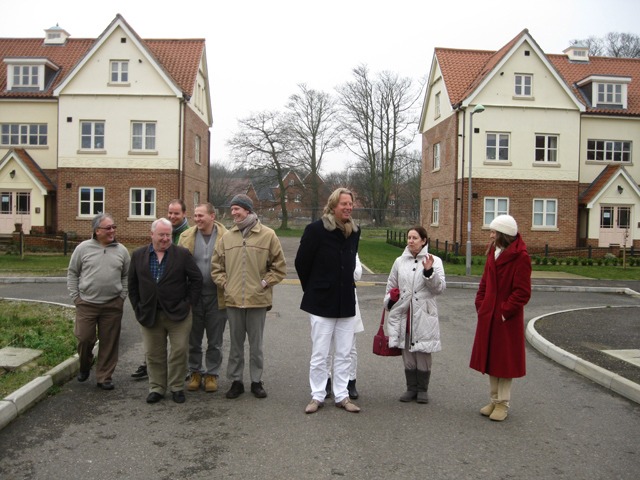 We attended a conference at Rendlesham which is about 1.5 hours drive northeast of London. It was a fun weekend and nice to see Maharishi Vastu architecture in action. The main feature of these buildings is that they face East to receive the nourishment from the first rays of the sun every day.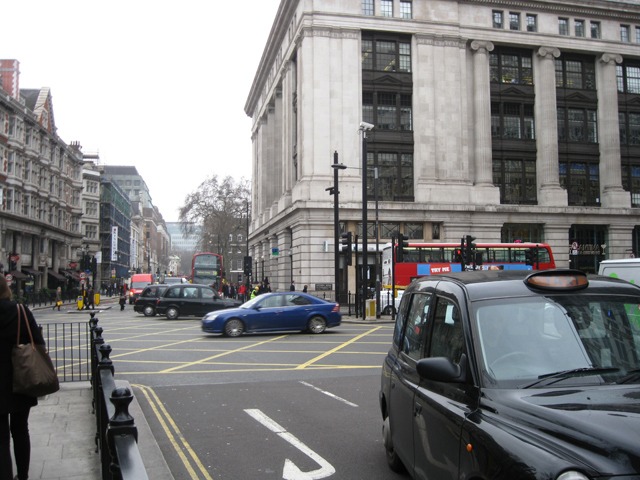 A typical scene in London.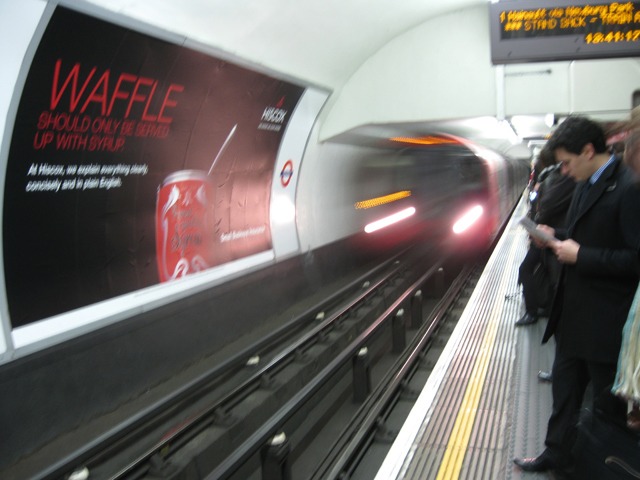 Catching the underground in London back to our car.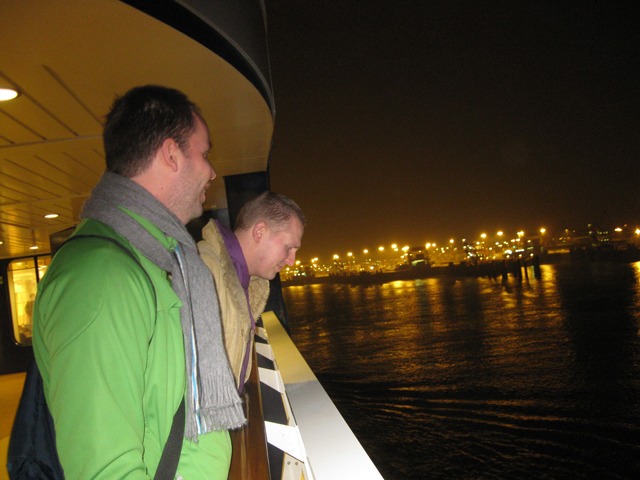 Next we caught the ferry back to France and then drove back to Holland. It was a killer day with 17 hours of travel!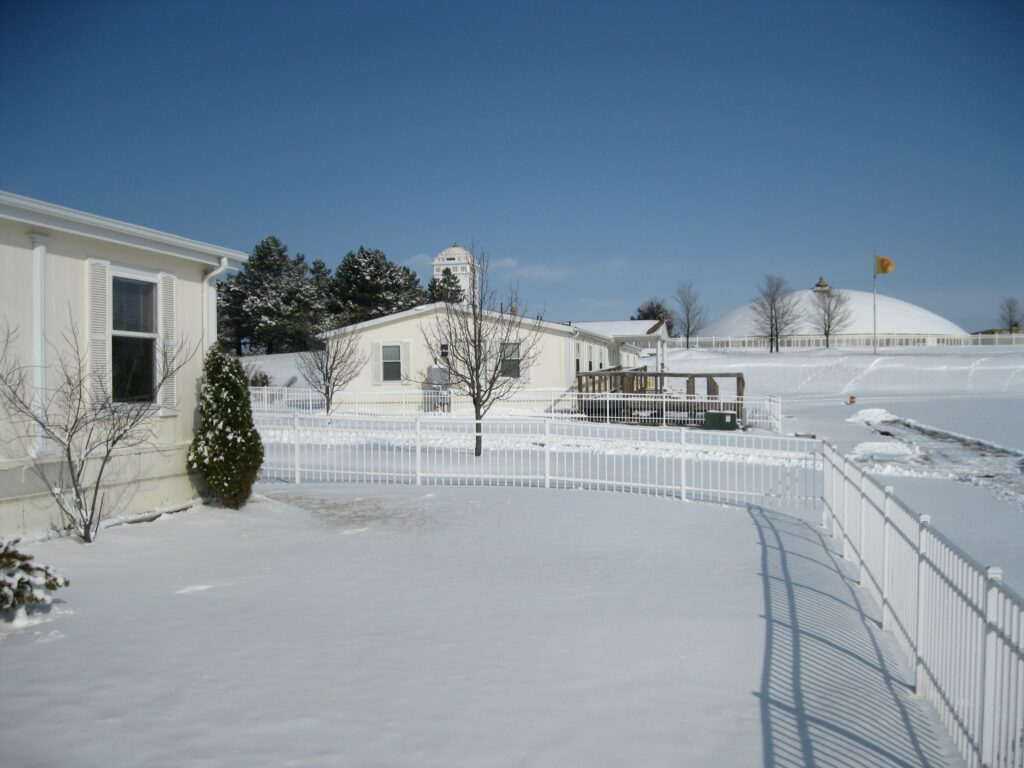 Then we flew from Dusseldorf, Germany to Dublin, Ireland and on to Chicago, USA. Now back in snowy Fairfield, IA at Maharishi University and very happy to see all my friends again!

So that's a quick recap of my Winter Adventures in India and Europe. I hope you enjoyed the pics and if you have any questions please leave a comment and I'll do my best to answer.