Will I get allergies when visiting India?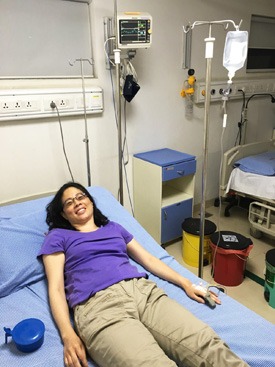 Today I want to introduce to you Andrea (pictured). Andrea has kindly shared her experience of getting allergies in India and what it was like to go to an emergency room at a hospital in Hyderabad on her recent business trip.
Below is Andrea's firsthand account in her own words:
I'm a fairly seasoned international traveler; so when I headed to India for 9 weeks armed with travel tips generously provided by Asher, I felt confident I was prepared. You know when you think that, you're in for something special!
Read on to learn from my experience as you contemplate or travel to the wonderful country of India.
Three weeks into the trip and I'd had no issues. On a Tuesday, around midnight, I woke up to feel my hands, forearms, and legs burning with an internal heat that just kept growing. What causes internal heat? I was horrified by the mirror's reflection – big red welts appearing, spreading and getting bigger as I looked. I assumed this was some type of reaction, but it wasn't responding to Claritin and getting worse. It was time for outside intervention.

Getting to the ER of Maxcure Hospital was a perfect reflection of how you need to navigate India. As a starting point, read the address: Behind Cyber Towers, Lane Next To McDonalds, Hitech City, Madhapur, Hyderabad, Telangana 500081, India
But this story isn't about how to navigate the roads of India.
Back to the ER:
A very professional environment greeted me. It was clean, well lit, had A/C (bonus!) and a very professional staff. Very quickly, the diagnosis was made – allergic reaction with potential anaphylaxis. I was sure this wasn't correct since I'd never had an allergic reaction in my life.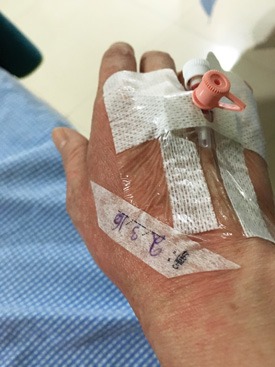 Because of the severity, I received IV injections (not pills) of corticosteroids (to bring down systemic inflammation) and anti-histamines (to combat the histamines causing the allergic reaction). This would fix the symptoms, but not the cause. For anyone who's had an IV inserted, I was very impressed with the nurse's skill causing me the least amount of discomfort while still pushing a very long needle into my hand.
With IV inserted, first steroid injection goes in, followed by 2nd antihistamine injection. Sure enough within 30 minutes, all symptoms had cleared and I looked perfectly normal again; sure, slightly dopey from the drugs, but no welts!
With no cause determined, the ER strongly advised admittance to the hospital for continued observation, which I promptly declined, feeling certain this was an adventure I was finished with. I came, I saw, I conquered and was happy with the care I received. So they discharged me.
The following night (Wed), at midnight, the welts came to visit AGAIN! Now, no one said anything about this. Repeat visit to the ER, repeat injections of steroids and anti-histamine. This time, the staff insisted on admittance to the hospital. I was whisked into a pink gown, assigned a room, and rolled into the hospital at 1:30am on Thursday in a wheelchair at the insistence of the staff.
Although I had a shared room (3750 rs/night), I was the only occupant, leaving us some privacy and room for my husband to sleep on the "bed" next to me. The staff was kind enough to bring a pillow and blanket for him!

The entire experience of being in an Indian hospital alternated from ridiculous to hilarious to impressive. Every hour, on the hour, the lights came on and 3 cleaners entered to sweep, wash, and clean the room. "Cleaning" in India means: throw a bucket of water on the floor and slosh it about in your bare feet. Then leave. For the patient this means: the floor is wet, the toilet is wet, and the toilet paper is wet (we did learn to put it away). EVERY HOUR. Trying to ask them not to clean was completely fruitless; they were going to do their job.
4am saw another worker come to change my bedding. I was poked and pulled out of bed with no idea what was wanted until she ripped my gown off, threw a new one at me, then started stripping the bed. While I certainly did appreciate the change of bedding (after 2 hours of being there), why did it need to be 4am? Ah, the paradoxes of India. At the next 4am call, we successfully managed to convince her to leave the bedding/gown to change later.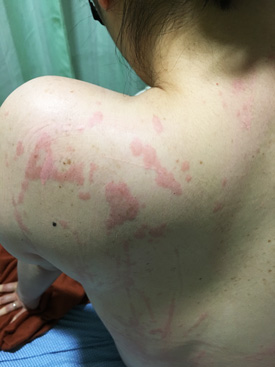 It was a surprisingly efficient system though – the admin arranged meals for me as well as my husband (hospital food is hospital food, barely edible). Hot milk and chai was regularly delivered, as well as the newspaper (if you can read Hindi). Seeing the doctor and allergy specialist assigned to me was a waiting game. Most of your day is spent waiting. But they did come. They tested my blood and urine and saw nothing to indicate the cause.
By now Wed night symptoms have passed and Thursday has been uneventful. The entire night staff was alert for the next anticipated midnight outbreak. I was pretty sure this wouldn't happen since I was in the hospital and what kind of allergic reaction ONLY happens at midnight? Those were my thoughts as I drifted off to sleep. At 12:30am, the nurse begins to look me over. I didn't disappoint and the welts were there in force. Her concerned clucking and "show and tell" to the rest of the staff wasn't entirely comfortable, but it was clear they were concerned.
A 3rd round of injections followed. The next morning saw a lot of discussion from the doctors. Finally, after much waiting, I was released a day later with another dosage of injections and a boatload of strong steroid and antihistamines pills to take 3x/day to try and hold the reaction at bay.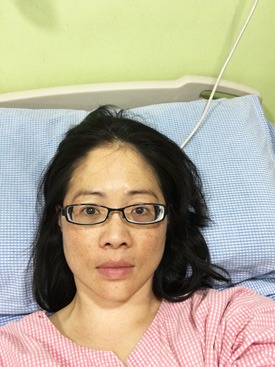 And you know what? It worked.
I took 3 weeks of the medication and that was the last I ever saw of the welts or symptoms. To this day, I have no idea what caused the allergic reaction, nor do the doctors.
While not entirely pleasant, I still view the whole experience with a positive attitude – the care I received, the knowledge of the doctors, and their course of action was very impressive. Even more impressive was the total cost, which came to just under $300 – for 2 ER visits, 2 days/1 night in the hospital, injections, prescriptions and 2 doctors.
So what's the moral of the story?
If you're traveling to India, consider taking some strong antihistamines, just in case you wake up in the middle of the night with huge welts. Recognize that it may just be India giving you a little nudge to remind you to respect the beautiful country you are visiting.
This experience also highlights why travel insurance is a good idea.
You may also like…
---
---
---
---