Updated on March 22, 2021 by Lyric Fergusson
Finding an office chair that is comfortable, affordable and fits with your personal aesthetic can be a tricky task. Whether you're adapting to a new work-from-home routine or looking to improve your posture while gaming, a new desk chair can make all the difference, especially given how many hours you might spend in it each day. Here are the seven best office chairs under $200.
The best office chairs under $200
---
(Best value)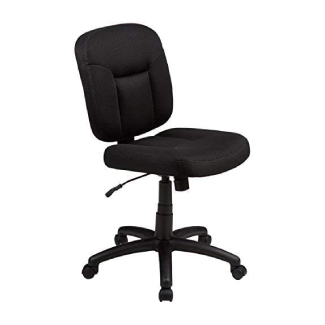 Why it's great: This office chair, also part of the AmazonBasics collection, is sleek and professional and covers all the basic functions you need in a desk chair. Its low-back and durable upholstery provide comfort and support while its adjustable settings allow you to customize the tilt and height of the chair to your liking. This chair also swivels 360 degrees and has five legs for extra stability. The mini butterfly seat plate and curved contours are designed to keep your body properly aligned for extended amounts of time, so even if you're on deadline for a project, you'll be comfortable and relaxed all the way through to its completion.
Keep in mind: Some customers note that the seat cushion flattens after excessive use, so you may want to supplement with an additional cushion.
Good for: The customer who wants a functional desk chair but doesn't want to spend a lot of money.
---
(Best ergonomics)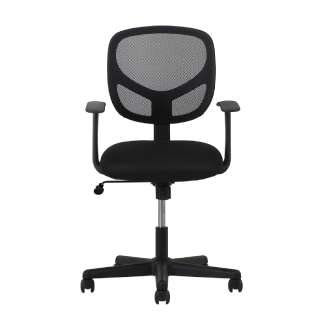 Why it's great: Part of The Essentials collection by OFM, this office chair is hailed for both its quality and price. With its breathable mesh back and seat, this chair encourages relaxation while also providing excellent back support. This chair also features adjustable height and recline controls, tilt tension and 360-degree swivel functionality. Its sculpted arms include special forearm support for enhanced mobility for your upper body and shoulders while the back frame is specifically designed for your ergonomic well-being.
Keep in mind: Some customers report that pieces were missing in their shipment, but customer support is available to replace any necessary parts or materials.
Good for: The customer that wants something comfortable with good back support that will encourage better posture.
---
(Most durable)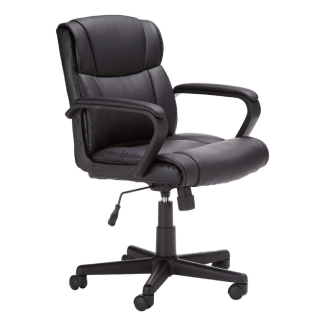 Why it's great: This swivel chair, by AmazonBasics, is functional, comfortable and affordable. Its modern design features a mid-back height and soft, padded synthetic leather fabric. Easy pneumatic controls allow you to adjust your seat up and down as well as back and forth for maximum versatility and comfort. The contoured seatback provides adequate ergonomic support while the dual-wheel casters and swivel function increase mobility and convenience. This chair is built to last and customers report that it's as sturdy as it is practical.
Keep in mind: This chair is not upholstered with real leather but a smooth and supple synthetic material similar to leather.
Good for: The customer looking for a chair that will last.
---
(Most stylish design)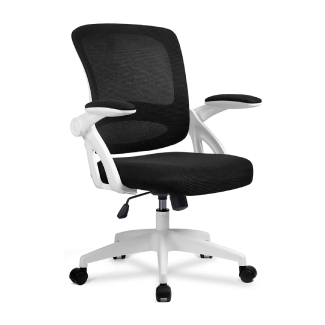 Why it's great: With its simple and sophisticated design, this GTXMAN desk chair would be a stylish addition to any office setting. This chair features 90-degree flip-up armrests, which allow for increased comfort when flipped down and maximized space when flipped up. The S-shaped back of the chair is designed to fit the natural curve of the spine to improve your posture and relieve back pain. Breathable mesh material and a thick, padded seat cushion encourage comfortable sitting for prolonged periods of time while customizable rocking and height options ensure that this chair can be tailored to fit your specific preferences.
Keep in mind: Some customers report that this chair is narrow, so check the measurements of its dimensions before purchasing.
Good for: The customer who wants a chair that's functional as well as aesthetically pleasing.
---
(Most comfortable)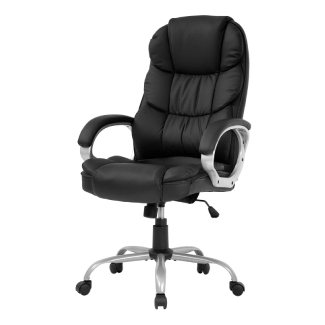 Why it's great: This FDW office chair is one of the most popular options on the market and is a #1 bestseller on Amazon in the office and desk chairs category. Its soft leather-like material is waterproof and stain-resistant as well as has an upscale, high-quality aesthetic. The shape of the chair and its high-back design provide excellent lumbar support, allowing for better focus on your task at hand rather than pesky lower back pain. This chair is easy to put together and exceptionally durable, with a reinforced steel frame structure, a BIMFA certified gas lift, and five feet with strong load-bearing capacity.
Keep in mind: Some customers report that the armrests can come out uneven, so assemble with caution.
Good for: The customer who wants all the bells and whistles at an affordable price point.
---
(Easiest to assemble)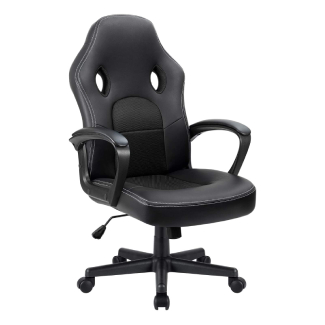 Why it's great: This office chair, by Furmax, is made from high-quality leather-like material and mesh upholstery that is durable and breathable. Its high back, bucket seat design and padded armrests ensure maximum comfort and support as well as proper alignment for your spine and neck. Its 5-foot base includes 360-degree swivel wheels that are guaranteed to run smoothly for convenient mobility. Pneumatic adjustment controls and rocking capabilities also improve functionality for long hours of desk work. Many customers report that this chair is easy to put together and works especially well for gaming.
Keep in mind: Some people report quality issues with this chair, but this purchase is eligible for returns for 30 days.
Good for: The customer who spends extended time sitting as this chair is specifically designed to provide support and comfort for long hours.
---
(Highest quality)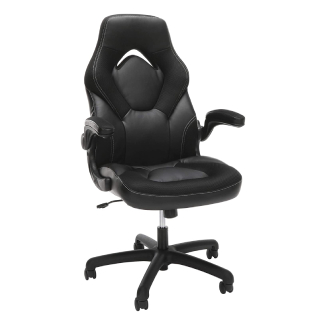 Why it's great: This race-car style chair, also part of the OFM Essentials Collection, aims to provide comfort and luxury during an extended gaming session or lengthy workday. With height adjustment and tilt control functions, flip-up arms and a recline option, this chair is extremely versatile in its customizability. Its synthetic leather material is soft and pliable, adding to the chair's plush feel. This chair can also swivel 360 degrees and provides an excellent ergonomic experience with advanced lumbar support and contoured padding on the seatback, headrest and arms.
Keep in mind: Some customers report that this chair is difficult to assemble.
Good for: The customer looking for a comfortable and functional chair for gaming.
---
FAQs about office chairs
---
1. What should I consider when purchasing a new desk chair?
Some of the most important things to consider when purchasing a new desk chair include budget, comfort, and durability. Desk chairs are available in a range of prices and there are many great options for under $200. Of course, even at a lower price, you don't want to have to sacrifice comfort, so be sure that the back, cushion, and adjustable settings are a good fit for your body since an uncomfortable chair will not only be a distraction but could also be bad for your health! Durability is another important thing to consider, so look closely at the quality of the upholstery and mechanics of the chair.
---
2. Why is a good chair important?
Having a good desk chair can make all the difference in your productivity, mood, and yes, even your health! Sitting in an uncomfortable chair for hours at a time can be distracting and discouraging. Most importantly, it can cause spine and neck problems, so be sure to choose a chair with great ergonomic support.
---
3. What is ergonomic support?
Ergonomics refers to adapting a person's workspace to their physical needs to increase productivity and decrease discomfort. A chair with ergonomic support will have features that improve posture and comfortability, such as headrests or armrests, an "s-shaped" seatback that molds to the spine, or improved lumbar support, which reduces the strain on the lower back.
---
4. What is tilt control?
Tilt control allows you to modify the angle of your seatback. This adjustable feature is important because according to experts, sitting at a slightly reclined angle can help protect your spine and improve your overall posture.
---
5. What materials and padding options are best?
There is plenty of variety when it comes to the upholstery and padding options for your office chair but ultimately, the right choice comes down to preference. Mesh-back chairs are more breathable than other materials and might be a better option if you work in a warmer environment. Leather and faux-leather chairs are often a more luxurious choice and are often softer and plusher. In terms of padding, you will want to decide if you want a chair that is firmer or has a softer, fluffier feel.
---
Conclusion
---
Choosing the wrong desk chair can have some pretty terrible ramifications, including lower work productivity and serious spine problems. Fortunately, many of the models on today's market, including those at a lower price point, take all these concerns into consideration. Comfortable upholstery, adjustable settings, tilt control, and swivel functionality are just a few of the things that will make all the difference in your everyday comfort, efficiency, and happiness. So whether you're working from home on the weekdays or spending weekends gaming with your friends (or both!), be sure to choose the chair that can not only support your lifestyle but improve it!
You may also like our other product reviews…
2 in 1 Laptops Under $300 | 3D Printers Under $300 | Acoustic-Electric Guitars Under $500 | AV Receivers Under $500 | Binoculars under $100 | Binoculars Under $200 | Binoculars Under $300 | Bookshelf Speakers Under $200 | Bookshelf Speakers Under $500 | Bookshelf Speakers Under $1000 | Bluetooth Speakers Under $200 | Beginner Record Players | Cameras Under $200 | Projectors Under $500 | Record Players Under $100 | Routers Under $100 | Shower Speakers | Soundbars Under $300 | Speakers for Vinyl | Turntables Under $200 | Turntables Under $300 | Turntables Under $500 | Turntables Under $1000 | TVs Under $300 | Vlogging Cameras Under $300 | Wireless Headphones Under $200 |