Updated on by Lyric Fergusson
2in 1 laptops are incredible for their ability to convert into a laptop and tablet. If you're looking for one that can tackle both tasks each handle, you're in the right place! If you're on a budget of around $300, it may seem a little impossible to find a suitable option. Our list covers 7 budget-friendly options along with uncompromising features you not only need, but will appreciate.
Best 2 in 1 Laptops Under $300
---
(Best deal)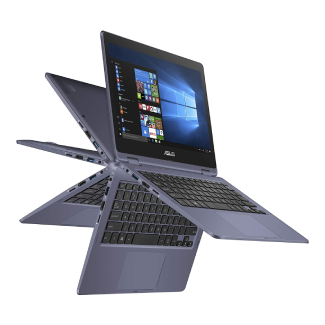 Why it's great: Want a year of office 365 with your 2 in 1? Well, this is the ultimate deal for you. If that wasn't enough, this lightweight touchscreen comes with the added security of Windows S mode. This laptop is thin, light, and highly functional, meaning you can take it with you anywhere.
Keep in mind: Uses Windows 10 operating system with S mode for added security, 4GB RAM, 64GB of storage, weighs 2.8 pounds, up to 8 hours of battery life, 1366 x 768 pixel resolution, and has several ports.
Good for: Travel, working online, and a free year of Office 365.
---
(Best accessories)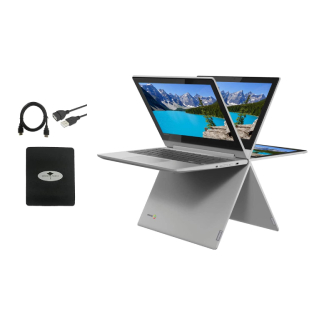 Why it's great: This 11.6 inches touch screen laptop features a cool 360° flip-and-fold ability. No matter the task, you can convert this Lenovo Chromebook into a laptop or tablet with stand or tent modes. You get HD resolution at 1366 x 768 along with IPS technology for viewing wide angles.
Thanks to its multicore processing abilities at 4GB of RAM, you will be able to multitask and maintain power no matter what you do. Thanks to its integration with thousands of apps and devices on the Chrome operating system, you'll be saving a lot of space to free up your RAM to work. Plus, your device comes with virus protection and backups to the cloud. If this deal wasn't already great at this price point, you get the following GM Accessories: HDMI cable (to connect to an HDTV or to set up two side-by-side screens), USB extension cord, and a mouse pad.
Keep in mind: Operating system is Chrome OS. You get 4GB Memory, 32GB eMMC hard drive, MediaTek MT8173C (4-core, 2.1GHz) processor, Bluetooth capability, and 4 ports at this price tag. Weighs in at 2.64 pounds.
Good for: Wide viewing angles and extra accessories.
---
(Best seller)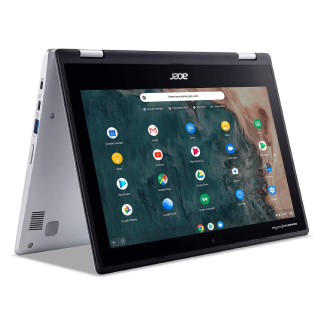 Why it's great: Need a Chromebook by Acer for under $300? Try this one. With pre-installed virus protection, quick boot, and automatic updates, you'll get to focus more on why you needed a laptop in the first place. With the Google Play for Android apps integration, you get to have your way with millions of apps you already use on your phone.
With Microsoft Office (Docs, Sheets, and Slides), you can create, edit, download, and send files in seconds. With built-in offline storage and 100GB of additional space (thanks Google Drive!), your RAM won't get clogged, and your files won't get lost.
Keep in mind: Chrome OS operating system with 4GB memory and 32GB hard drive and an average battery life of up to 10 hours. You get screen resolution up to 1366 x 768 pixels, 2 USB ports, and Bluetooth capability, all in this 4.44 pounds workhorse machine.
Good for: Google Play apps access and long battery life.
---
(Best screen display size)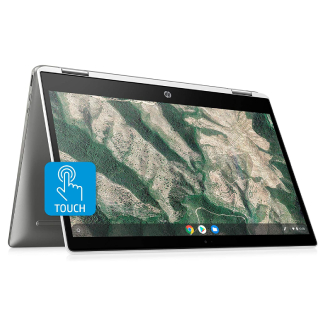 Why it's great: HP has produced an incredible contender for a 2 in 1 at an affordable price. With a ceramic-like finish, this one feels and looks more expensive than it is. The keyboard has a beautiful metal look that integrates seamlessly to convert it from tablet to laptop. Unlike its 11 inches competitors, this laptop gives 14 inches of WLED-backlit display to take notes, draw, surf the web, read emails, and of course, watch videos.
Because it's a Chromebook, you get access to more than enough Android apps to keep you organized, productive and entertained. This also means you get built-in cloud storage for all you do without clogging up the RAM. You also get security and automatic updates, and up to 12 hours and 30 minutes of battery power.
Keep in mind: Operates on Chrome OS with 4GB of memory (get more with the memory slot), 32GB of RAM, 1366 x 768 resolution, and it weighs 3.5 pounds.
Good for: Multitasking, long battery life, Google Play apps access.
---
(Best graphics)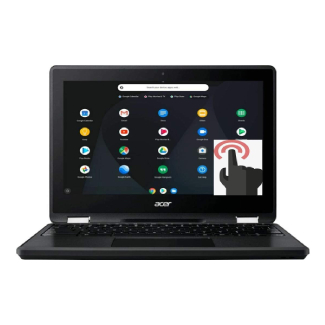 Why it's great: Imagine vivid colors in your photos and videos on a 2 in 1 laptop. That's the standout factory in Acer's convertible touchscreen with WLED backlight. The dual-processor means you can do basic multitasking between several platforms to get things done. The compact memory system works excellent for familiar mobile applications, all from the Google Play store. With Chrome OS, you'll get automatic 6 weeks software and virus protection updates.
Keep in mind: Operates on Chrome OS. 4GB of memory, 32GB of flash memory, 1366 x 768 HD resolution, 2 USB ports, and weighs 3.2 pounds.
Good for: Watching HD videos and viewing photos.
---
(Best RAM)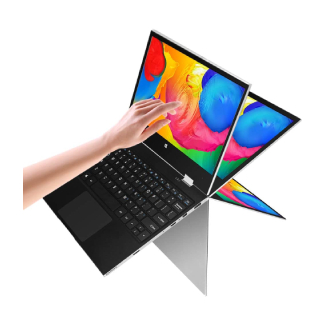 Why it's great: There's plenty to love with the Jumper. HP graphics means an enjoyable photo and video experience. The 360-degree convertible design provides several viewing modes. You get 6GB of RAM and 128GB of ROM, meaning it kicks the rest of the competition's memory specs. You can play games, store your files, and multitask without falling to lag.
It's cool thin, and light body made from aerospace-grade aluminum means it's durable and built to last at 2.3 pounds. To top it all off, you get 12 months of warranty protection.
Keep in mind: Windows 10 operating system. Maximum resolution of 1920 x 1080 pixels, 6 hours of battery life, and a 2MP webcam.
Good for: Multitasking and HD graphics.
---
(Best for travel)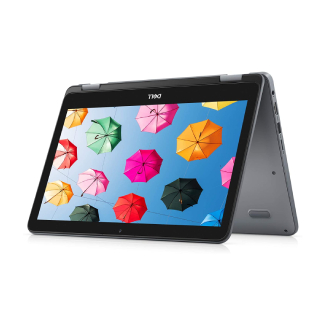 Why it's great: If you already love Dell computers and need one under $300, look no further. Convert the Inspiron into a laptop with stand or easel tent mode and use a conventional keyboard to get tasks done comfortably. It's also perfect for any kind of travel (air or around town) because of its compact size and backlit touch display. You also get a headphone/microphone jack, USB ports, HDMI slot, and a MicroSD card reader.
Keep in mind: Uses the Window 10 operating system. Memory size of 4GB, 64GB memory storage, 3GHz CPU speed, and 1366 x 768 screen resolution. Weighs in at 2.57 pounds.
Good for: Travel and backlit touch display.
---
FAQs about 2 in 1 Laptops Under $300
---
1. Why should I get a 2 in 1 laptop?
Laptops tend to be bulky and heavy, but they are best for multitasking, storage space, and they're durable. Tablets, on the other hand, are portable because they're lightweight, personable, touchscreen-abled. When you combine a laptop and a tablet, the pros stand out even more and the cons are minimized. Plus, it's super cool to flip and transform your device from one machine into another. They're really great for all ages and any use.
---
2. What's the best operating system?
Our list includes Chrome OS, Windows 10, and Windows 10 S mode options. The best operating system depends on what you're familiar and comfortable with as well as what you're willing to learn if you're not used to it.
---
3. What are the benefits of using Chrome OS?
The benefit of the Chrome OS is having access to the Google Play store apps, such a Microsoft Word. If you have an Android phone, you will integrate well with Chrome OS. You also get a lot of online storage, which means you don't need as much space on the device itself. The Chrome operating system also automatically updates and has its own security.
---
4. What are the benefits of using Windows?
Windows 10 has its own store of apps. There are a few overlaps with Google Play, but not much.
Windows S mode is a new option where you can only download apps from the Windows store. It's an added security bonus because these apps are screened for security, but it can feel limiting if you want to download a different browser like Chrome, for example.
---
5. Is 4GB of RAM the standard?
At this price point, 4GB is standard. We do have one option, the Jumper, that is 6GB. You can expect to do basic multitasking, but it's always best to close any windows you're not using no matter the RAM size because it slows down your device's processing abilities.
---
Conclusion
---
Getting a 2 in 1 is an excellent option for people looking to merge the worlds of laptops and tablets. You get double the benefits with features like apps, HD display, and portability. You get less cons because this blend gives you slim, functional, and beautiful designs. 2 in 1s are great for the modern-day person who works remotely, goes to school, or just enjoys great technology. The learning curve for those who aren't familiar with tech is welcoming compared to the traditional desktop.
All these fantastic features come at a decent budget, too, so you're definitely going to make things happen using one of the laptops from our list.
You may also like our other product reviews…
Ceiling Speakers | Computer Speakers Under $50 | Computer Speakers Under $100 | Digital Cameras Under $1000 | Gaming Chairs Under $100 | Gaming Keyboards Under $50 | Gaming Keyboards Under $100 | Gaming Mouse Devices Under $50 | Graphics Cards Under $100 | Guitars Under $500 | Headphones Under $200 | Headphones under $300 | Headphones under $500 | In-Wall Speakers | Laptops Under $700 | Luggage Sets Under $50 | Mechanical Keyboards Under $50 | Noise Cancelling Headphones Under $50 | Noise Cancelling Headphones Under $200 | Office Chairs Under $200 | Office Chairs Under $300 | Party Speakers | Point and Shoot Cameras Under $100 | Point and Shoot Cameras Under $300 | Portable Record Players | Projectors Under $200 |