Updated on by Lyric Fergusson
Sometimes getting an acupuncture or acupressure appointment isn't the easiest. Whether it's too costly, not provided under your insurance, or because you simply have no time to go, it always seems like there's something in the way of being able to relax. Acupressure mats have become more and more popular as people turn to at-home self-care practices. To figure out which one is best for you, check out our 7 favorite ones below!
Best Acupressure Mats
---
(Most aesthetically pleasing — $$)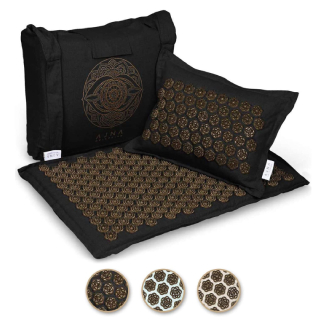 Why it's great: This doctor-recommended acupressure mat isn't just effective, but gorgeous! With a pillow and mat spiked with effective and gorgeous lotus flower-shaped pressure points, Anja's design doesn't disappoint. Colors come in Midnight, Natural, and Sherbert, which are black, beige, and light pink respectively. Midnight and Natural also come without the pillow, in case you already had one. Not only is it a gorgeous design, but it's made with care. Crafted out of 70% GOTS-Certified Linen, Organic Cotton, and Coconut and even with earth-friendly packaging, it's made with the earth in mind.
Keep in mind: It may not be as intense as some other brands.
Good for: Those who love earth-friendly, aesthetically-pleasing products!
---
(Best for injuries — $$$)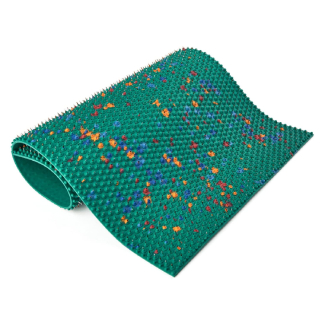 Why it's great: If you enjoy the shape of your yoga mat, then you may just love the LYAPKO Acupuncture Mat. Store it easily with your yoga mat collection, as it's easily rollable and storable. The mat's length is 18.9 x 10.8 inches (so smaller than your typical yoga mat) and is especially great for relieving spinal cord injuries and even gastric build-up. Though it doesn't look as intense as some others, it definitely may take some getting used to. LYAPKO specializes in acupressure products, so if you like this mat, picking up an acupuncture ball and a self-roller wouldn't be a bad idea.
Keep in mind: If you're looking for something neutral to match your surroundings, this may not be it. It's not the most visually-appealing one out there, as a green probably won't match the colors in your home.
Good for: Those who need something easy to use who have recurring injuries and chronic pain.
---
(Most intense — $$)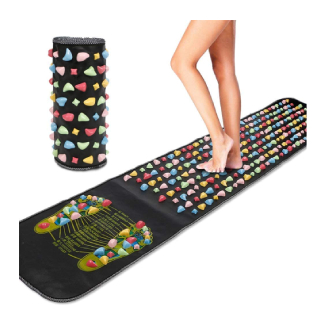 Why it's great: This acupressure mat may be one unlike you've ever seen. With color stones and a solid black mat background, it's a bold design choice for anyone who wants intensity with the added fun colors. The button of the mat is made with a non-slip design, so you can enjoy your experience securely and safely. Along with the mat itself, it also comes with a reflexology section, showing the foot map and provides all of the proper acupressure elements so you'll know exactly where you're stimulating when standing on it.
Keep in mind: For many, this is extremely intense coming in cold. If you find your experience to be unbearable, put on thick socks, and wear them throughout until your feet start becoming accustomed to the pressure. Be patient, as it may take some time getting used to.
Good for: Those who have deep, intense pain and are ready to feel deep, intense results.
---
(Best for beginners — $$)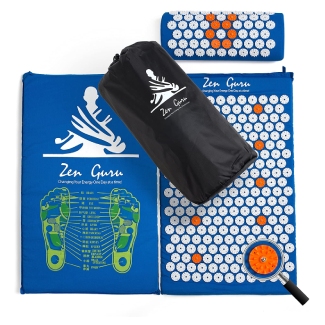 Why it's great: With ZenGuru's mat containing over 6000 pressure points and the neck pillow over 1700, you'll get the ultimate massage experience with this naturally-crafted acupressure set. The mat is made with 100% Natural Linen, Cotton, and Coconut Fiber, and the pillow with buckwheat hull, providing a sustainable, earth-friendly, and long-lasting material. It also utilizes magnet therapy and is great for those with chronic neck or back pain. The set comes with a mat, pillow, and a carry bag for storage or travel. This is an excellent choice for those who want intense pressure without any complicated elements.
Keep in mind: In several pictures, the mat is shown in black and white; however, be aware that it's only available in the blue shown.
Good for: The earth-conscious shopper who may be new to acupressure mats.
---
(Most intense — $)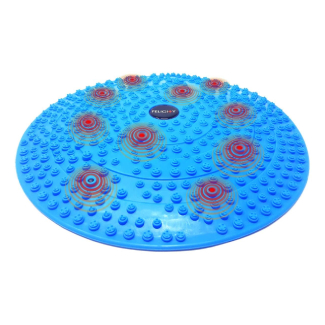 Why it's great: This mat, although different from some of the rest, is known for doing wonders on tired feet… and doesn't cost an arm and a leg! If you've ever used a lacrosse ball to massage your feet, then you'll understand the usage of this mat. Unlike the other ones, this one is best utilized more actively, as it's meant to be balanced on, as opposed to stretched on like others. This little blue bubble is made with over 250 nodes each with 4 pressure points along with magnetic therapy to help improve blood circulation. With regular usage, this small but powerful acupressure mat yields results– even if you will have to approach it gingerly at first. The best part is that you can implement it into your everyday life. Many use it while brushing their teeth, watching TV, or even washing dishes!
Keep in mind: Because this is meant for balancing with your full body weight, it does have a limit of 250 pounds. Additionally, the manufacturers don't recommend it if you have overly-sensitive feet, as it is intense pressure.
Good for: Lovers of a deep, intense massage. Regulars of Shiatsu massages, we're looking at you!
---
(Best for back pain — $)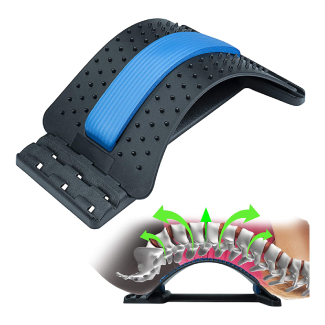 Why it's great: If you primarily have pain in your back, then this one's for you. The Kalkal Back Stretcher has 4 adjustable levels so you can find the perfect position to help with your back pain. The 2.75" level is great for beginners and for those who want to start slow, while moderate-intensity, advanced-intensity, and maximum intensity progresses onwards for more intricate and extreme stretching. This back stretcher comes with 96 massage points, 10 magnetic points, and a silicone band for comfort and relaxation, and at under $20.00, it's definitely more affordable than most visits to the doctor. The band comes in green, pink, purple and blue, and has a buckle at the end for additional security when switching intensity levels.
Keep in mind: Try it out at home first before spending several hours in it while driving or at the office with it. It might take some adjusting.
Good for: Severe back pain from sitting at the office or driving.
---
(Best for full body relief — $$$)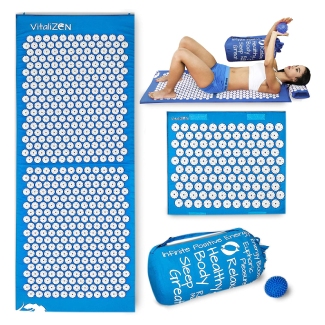 Why it's great: Want everything you need for an extreme acupressure experience? VitaliZEN has got you! One of the most notable parts of this mat is the size; as other brands have mats that are much shorter and almost seem like a band rather than a mat, this comes in an extra-long length of 51 x 19 inches, so more of your body can feel relief. Included in the pack are the mat, pillow, a carry bag, and a massage ball– great for the bottom of your feet! All of it's made of eco-friendly and high-quality material including 100% Cotton and HIPS plastic (which is hypoallergenic). If you're looking for full-body relief, you have it here– either in pink or blue!
Keep in mind: This has a heftier price tag, but does come with more than some other brands!
Good for: Those who need a full-body massage experience!
---
FAQs about acupressure mats
---
1. How do I know if I need an acupressure mat?
If you find yourself constantly in pain at the end of the day, or if you've recently suffered from an injury which a doctor suggests acupressure for recovery, it might be smart to purchase an acupressure mat so you have accessibility to pain relief in your own home.
---
2. What acupressure mat is best?
Depending on your reasoning for purchasing, many different acupressure mats are suited for different body parts and intensities. Some mats are geared towards intense pressure, while others are milder. Some are meant for Reflexology, and others for neck and back pain.
---
3. What should I look for in an acupressure mat?
Intensity is usually the first thing commented on in acupressure mats, so seeing which intensity you need is always important. If you're interested in purchasing with sustainability in mind, companies will make it clear if they've created their mats with things such as bamboo fibers or 100% cotton.
---
4. How do acupressure mats work?
Acupressure mats contain small spikes that are meant to act as similar pressure that an acupressurist or acupuncturist would create during a season. Their intensity is typically high because they're meant to get deep into the muscles and pressure points, but afterward, those areas are meant to feel much more relaxed.
---
5. Are acupressure mats good for injuries?
Depending on your injury, your doctor may recommend an acupressure mat to help relieve muscle tension and alleviate soreness. Acupuncture mats are usually found to be extremely beneficial and effective in certain injury-healing processes.
---
Conclusion
---
Acupressure mats may be the perfect solution if you find yourself constantly tired, in pain, or in need of some sort of relaxation. Sure, they're pretty intense, but for these mats, the intensity now usually leads to relief later. Whether you're suffering from an injury or chronic pain, acupressure mats may be a perfect option for daily relief!
You may also like our other product reviews…
Back Stretchers | Facial Machines | Grounding Stones | Infrared Heat Lamps | Infrared Heating Pads | Inversion Tables | Massage Chairs Under $1000 | Negative Ion Bracelets | Outdoor Saunas | Portable Saunas | Small Heating Pads | TENS Units | Vibration Plates |