Updated on by Lyric Fergusson
Air fryers are one of the most popular kitchen appliances around. They are more healthy (and less messy!) than a traditional fryer. That's because they thoroughly cook and crisp up all sorts of foods. But, air fryers barely require any oil, unlike a fryer. How? Because air fryers are not fryers, but convection ovens!
Due to their increasing popularity, there are now plenty of air fryers on the market. So, which is the best and most affordable? With all kitchen needs in mind, we reviewed the best air fryers under $100. Check them out!
Best Air Fryers Under $100
---
(Best value)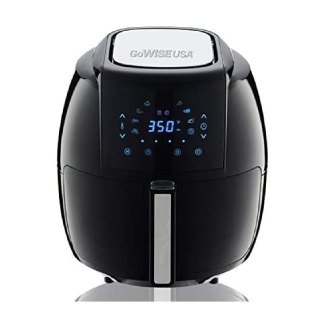 Why it's great: There are fewer worries to be had with this air fryer. With 8 cooking presets, you can easily figure out how to air-fry all sorts of food. The air fryer's digital touchscreen is super accessible, with icons for each preset. The modern technology doesn't stop there – the air fryer also comes with its own recipe app. You have more than cooking space to share your recipe creations too – this air fryer has a 5.8-quart basket capacity. This is a great size for any small group or incredibly hungry individual. It definitely lends a hand in cooking when friends or family come to visit.
Keep in mind: With its 5.8-quart capacity and preset options, the price of this air fryer is definitely hard to beat.
Good for: those who want a no-fuss air-fryer and love to cook for others.
---
(Best compact air fryer)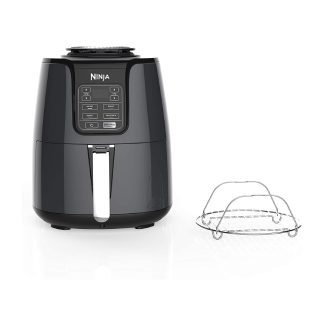 Why it's great: When it comes to versatile cooking, this air fryer has your back. It has a classic air fryer design, with a basket, sturdy handle, and adjustable temperature. Yet, it does more than just air-fry – it also has roast, reheat, and dehydrate options as well. This lets you have more cooking fun, with minimal cleanup. It comes with a dishwasher-safe basket as well as an additional rack so that you can properly dehydrate your food. The best part though? This air fryer has a compact size that will fit any countertop. It also only weighs just under 5 pounds!
Keep in mind: This air fryer may seem pricey since it only has a 4-quart capacity. But, it offers various cooking features. If you are looking for just an air-fryer, then this may not be the choice for you.
Good for: Those who want more than an air-fryer, but do not want to compromise their counter space.
---
(Best overall)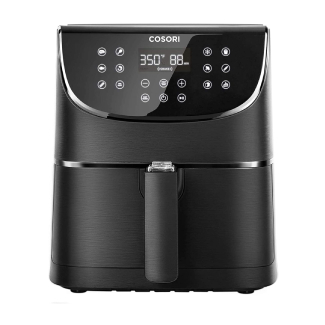 Why it's great: This air fryer makes cooking fun and easy for the whole family. It has an ample 5.8-quart basket that is big enough for group meals. But, this basket isn't like the typical air-fryer basket. It has a unique square shape, unlike the usual round-shaped baskets. This provides room for more food, especially when everyone's feeling extra hungry. Also, this air fryer has 11 presets, ranging from chicken to cake. This eases a lot of cooking stress! With 1700W of power, this air fryer will definitely cook food evenly and help you prepare meals fast.
Keep in mind: Although this air fryer has a large cooking capacity, it has an efficient design. It is square rather than cylindrically shaped. The air fryer uses countertop space efficiently, as it can be easily tucked in a corner or rested adjacent to another appliance.
Good for: Individuals or families who want to cook food quick and easy.
---
(Best for families)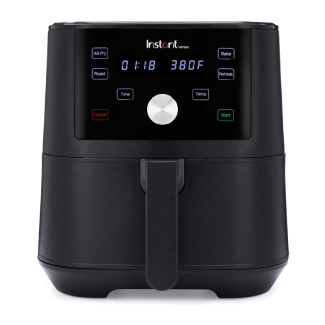 Why it's great: With a 6-quart capacity, this air fryer has enough space to cook for the entire family. And, it does not work only as an air fryer. It also has traditional oven functions as well. That means you can bake, roast, or reheat food. All you need to do is select the mode and temperature on this air fryer's sleek interface. This lets you diversify family meals, with things everyone loves. We love how you can make variations of ingredients. In this air fryer, you can make classic roasted potatoes or perfectly crisp french fries. No matter what you choose, each will be delicious and a lot healthier than using a regular fryer.
Keep in mind: This air fryer cooks very fast and requires 95% less oil than a fryer. Given its high heat capabilities, you should always make sure your food is at the right temperature and check on it every few minutes. This will ensure your food does not burn.
Good for: Those who want both a toaster oven and air fryer, but do not want to buy both.
---
(Best for individual use)
Why it's great: For those who love cooking for themselves, this is the air fryer for you. It has a 4.2-quart capacity which is just enough space to cook food for 1 to 2 people. This air fryer has an uncomplicated design. It has a brightly lit LCD screen to show the exact time and temperature. With just a click of a button, you can adjust either. It also has a large handle so that you can carefully add or remove the basket. And, this basket is dishwasher safe, making post-meal clean up oh so simple. We cannot forget to mention this air fryer's space-saving size, making it a fantastic pick for an apartment too.
Keep in mind: This air fryer does not have any automated settings like other air fryers. However, it does come with a complimentary cookbook to help you figure out the appropriate cook time for certain foods.
Good for: Those living alone or a couple who want a convenient way to cook food.
---
(Best multi-function air fryer)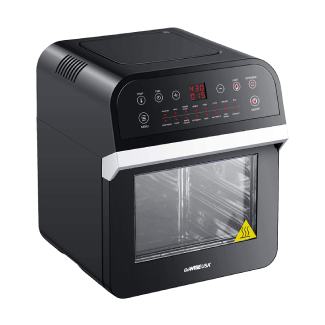 Why it's great: No need to invest in a microwave or toaster oven – this air fryer really does it all. This air fryer looks like a mini-oven. It is big enough to support a rotisserie and 3 oven racks! Plus, it has an impressive 12.7-quart capacity with 15 different cooking presets. All you need to do is assemble any of the 10 included accessories. Then, watch as your food magically cooks through the oven's clear door.
For the price, this air fryer is quite hard to beat! I can easily fry french fries or roast a chicken, without having to turn on my actual kitchen oven. This keeps my kitchen cool and my clean up a lot easier.
Keep in mind: This is not just an air fryer, but a toaster, dehydrator, and oven.
Good for: Anyone who absolutely loves to cook!
---
(Best looking air fryer)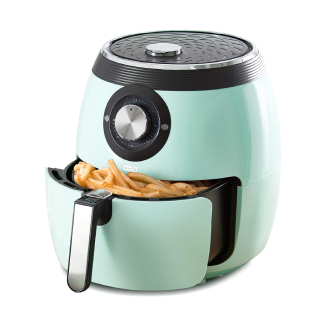 Why it's great: With 4 cool color options, this air fryer will not be an eyesore on your kitchen counter. This appliance has a straightforward design that is very easy to use. It has two knobs: one for time and one for temperature. Just turn the knobs as needed and watch as your food comes out unbelievably crisp. In addition, this air fryer comes with a handy auto-shutoff feature. This safety function is fantastic, as this air fryer is pretty high-powered (at 1700 watts with a 6-quart capacity!) The auto-shutoff will surely prevent food from burning and your air fryer from degrading.
We love the aqua color this air fryer comes in, but the white color option is a staple pick. It really looks lovely and modern on a kitchen countertop.
Keep in mind: This air fryer does not have an LCD or any digital screen. This might be an inconvenience when checking the timer/temperature from afar.
Good for: Families or roommates looking for a stylish and efficient air fryer
---
FAQs about air fryers
---
1. How does an air fryer work?
An air fryer is a variation of the standard convection oven. Yes – it's not actually a fryer! Instead, it relies on a fan that produces an intense convection effect. With its basket, food receives 360 degrees of cooking fast. This results in evenly cooked and crispy delicious food.
---
2. What can you cook in an air fryer?
You can cook almost any food in an air fryer. The only exception is battered foods, like mozzarella sticks or donuts. The coating will drip off into the basket.
---
3. Do you need to use oil in an air fryer?
No, it is not mandatory. But, using oil or butter can help produce more desirable crispness and flavor.
---
4. Are air fryers healthier than fryers?
Absolutely. They require nowhere near the amount of oil needed in regular frying. This oil is what makes fried food extra caloric and full of unhealthy fats. Air fryers let you get your foods crispy, without the need for all that oil.
---
5. Are air fryers easy to clean?
Surprisingly yes! Most air fryers come with a dishwasher-safe basket that can be easily removed from the fryer's drawer. The drawer can be gently hand washed when necessary.
---
6. Can aluminum foil be used in an air fryer?
Yes, you can. As long as you don't cover the food completely, you can place aluminum foil in the basket. Just make sure it is only a single layer and you poke holes in it. The air needs to circulate through the basket. This is what will ultimately give your food the crunchiness air fryers are known for.
---
7. Are air fryer baskets non-stick?
Most air fryer baskets are non-stick. However, it is always a good idea to add just a bit of oil or cooking spray to the basket base. Sometimes, food can still get stuck to the basket. A thin layer of aluminum foil (with holes) can work as well.
---
Conclusion
---
No matter your cooking style, an air fryer is an awesome kitchen accessory to have. It gives you the crispness of fried food we love. It is incredibly easy to use. And, there's barely a need for any oil, making air fryers an overall healthier alternative to typical fryers. Today, air fryers come in all sorts of styles. Some even function as ovens and dehydrators too! No matter what your needs are, an air fryer will definitely become one of your right-hand kitchen appliances.
You may also like our other product reviews…
Blenders for Green Smoothies | Blenders Under $100 | Chef Knives Under $100 | Coffee Makers with a Grinder | Commercial Shaved Ice Machines | Crepe Pans | Espresso Machines Under $100 | Espresso Machines Under $200 | Espresso Machines Under $500 | Juicers Under $100 | Knife Sets Under $200 | Omelette Pans | Onion Choppers | Pizza Peels | Silicone Baking Mats | Silicone Cooking Utensils | Teapots with Infuser | Toaster Ovens Under $100 |