Updated on by Lyric Fergusson
The subject of toilets is not your typical, everyday conversation. But real life is the fact that we all need them and don't want to live without them. In centuries past not much thought was put into design or comfort, but rather into functionality. In the 21st century, not only do we care about functionality, but comfort and design. If you are on the search for something modern, elegant or traditional, we have done the work for you and researched the many toilet options available and come up with what we believe the 7 best American Standard toilets. Take a seat and enjoy.

The 7 Best American Standard Toilets
---
(Best for the budget minded — $ )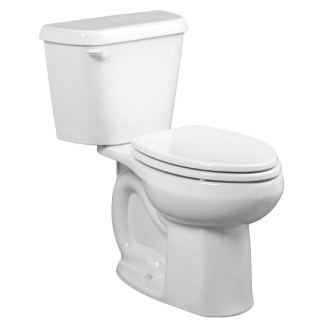 Why it's great: Both style and functionality come together for a design that fits easily in any bathroom. The elongated bowl adds comfort and has a low-flow water consumption, this toilet saves water without sacrificing performance. The power wash rim scrubs the bowl with each flush. It has a great design and efficient function, while being very affordable.
Keep in mind: This very efficient toilet is very affordable.
Good for: For all bathroom sizes. Great for an unexpected replacement need.
---
(Luxury, comfort, and design — $$$)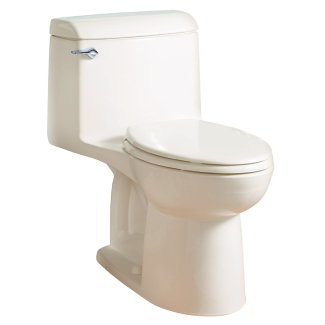 Why it's great: The one-piece, Right Height toilet comes with an elongated siphon action jetted bowl.This means comfort with the height and with the elongated bowl. It has the EverClean surface that keeps the toilet cleaner longer and low water consumption that helps save water and money. It has a slow closing toilet seat to eliminate noise and protect little fingers. It also comes in 3 colors.
Keep in mind: This option may be a little more expensive, but it is a luxury design toilet bowl. Also, it is important to note the seat is included.
Good for: All bathrooms. Take into consideration the elongated bowl does take up a little more space.
---
(Best for smaller bathrooms — $$ )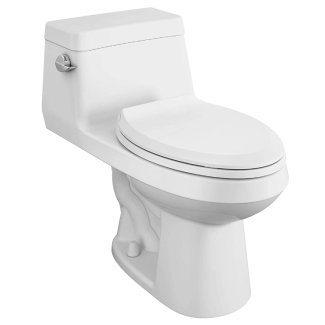 Why it's great: The one-piece construction of this toilet eliminates crevices for easy cleaning. The low-profile fits where space is limited. The right-height, elongated seat is designed for comfort. It is also a slow closing seat and lid for noise reduction and to protect little fingers. It has a polished chrome, side mounted flush handle.
Keep in mind: It comes in three colors. Please note that white is not a bright white.
Good for: All bathrooms, especially those with limited space.
---
(Space saver — $$)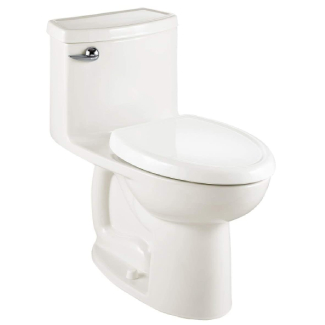 Why it's great: The Compact Cadet is a space saving compact elongated bowl that can fit in the same space of a round front toilet. You will love this high efficiency, ultra-low consumption certified in the WaterSense program. The EverClean surface inhibits the growth of stain and odor-causing bacteria, mold and mildew. It includes a slow-close toilet seat. The one-piece construction eliminates the gap where dirt and grime collects for easy cleaning. You will enjoy the comfortable height and sleek, elongated style.
Keep in mind: While this is an elongated style toilet, it fits in the same space as a round toilet.
Good for: All bathroom sizes. Someone who desires an elongated toilet bowl, but has limited space.
---
(Classic design with all the bells & whistles — $$$ )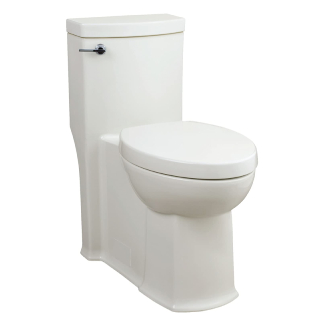 Why it's great: High efficiency and ultra-low consumption that uses 20% less water is just 2 of the great qualities of this toilet. This is a luxury performance toilet with the WaterSense feature, and the elongated siphon action bowl and EverClean surface inhibits the growth of mold, mildew and bacteria. The Powerwash rim scrubs the bowl with each flush, and the slow close lid eliminates noise and protects little fingers.
Keep in mind: This elongated, classic design looks great.
Good for: All bathroom styles and sizes. Also for those wanting high-end extras.
---
(Dual flush option — $$)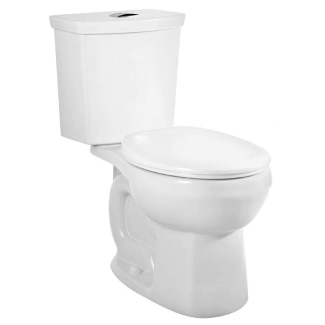 Why it's great: Efficiency is key. This ultra-high efficiency toilet sits higher off the ground for unbeatable comfort and has the EverClean surface helps keep bowl cleaner to keep your toilet bowl fresh. It has a chrome plated top mounted push button actuator with a choice of either full or partial flush for max water savings. It has the siphon jet bowl technology with PowerWash rim. It fits the budget and has the desired flushing and cleaning efficiency features desired.
Keep in mind: For this particular toilet, the seat is sold separately.
Good for: All bathroom sizes. Round front toilets take up less space.
---
(Ideal for small people or children — $$ )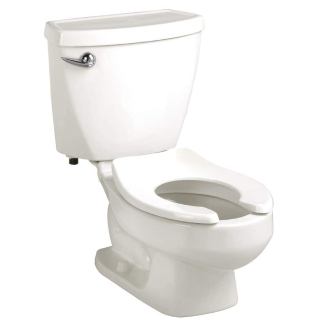 Why it's great: A high efficiency, low consumption round front siphon action bowl. This extra low seat height residential toilet is perfect for any project where a small person or child is the intended user. The toilet is great for education or healthcare facilities for kids.
Keep in mind: The seat is not included.
Good for: Especially good for bathrooms for small people or children.
---
FAQs about toilets
---
1. When was the toilet invented?
The first toilet was invented in 1596 by Sir John Harington, an English courtier, godson of Queen Elizabeth I.
---
2. What styles do toilets come in?
Traditional, Transitional, Modern, Eclectic, and Contemporary.
---
3. Picking a toilet?
Consider the size of your bathroom. Round bowls take up less space and elongated bowls are better for larger bathrooms.
---
4. What are other names for a toilet or bathroom?
Latrine, John, Comfort-station, Throne-Room, Restroom, Potty.
---
5. What is the WaterSense program?
A program sponsored by the U.S. Environmental Protection Agency (EPA) for water-efficient Products and a resource for helping you save water.
---
6. What is EverClean?
It is a double-coated surface that inhibits the growth of stain and odor-causing bacteria, mold
And mildew on the surface. The smooth, mirror-like surface stays cleaner longer, even after years of use.
---
Conclusion
---
Like with anything else that requires you to make a choice, it is not always easy to know which choice you should make. There are endless options when looking for a new toilet, whether you are building a house, upgrading your existing toilet, or completely renovating your bathroom. There are so many things to consider now other than does it flush! There is Flush Performance, EverClean surface, WaterSense, Round bowl, Elongated bowl, and slow closing seats to get started. But we have done a lot of the work for you in these 7 options. Don't let all the information overwhelm you, just take your time and pick the one that best fits your needs and design choice.
You may also like our other product reviews…
Air Purifiers for Smoke Under $100 | Aquarium Test Strips | Dining Room Sets Under $200 | Dryer Vent Hoses for Tight Spaces | Farmhouse Sinks | Portable Closets | Sectional Sofas Under $500 | Shower Chairs for the Elderly | Steam Mops for Laminate Floors | Undermount Kitchen Sinks | Vacuums Under $100 |