Updated on by Lyric Fergusson
An AV Receiver can make a great addition to your TV setup. They create the ability to have surround sound and build in a home theater setting. Plus, you can have multiple speakers, gaming systems, or music setups all connected through one system. But, with so many different options and features to look for, deciding on an AV receiver can be challenging.
I've created a list of the 7 best AV receivers that are less than $500. This should help you to determine which choice is the best for your current home theater setup.

Best AV Receivers Under $500
---
(Best value — $$)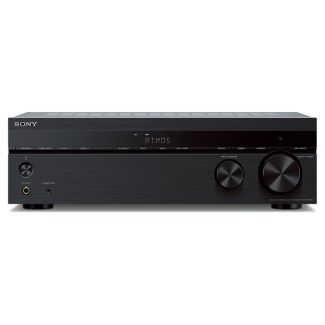 Why it's great: This AV receiver is a great option for those just breaking into the receiver world. It has Dolby Atmos, which is one of the best 360-degree surround sound systems. This will really give you an immersive feel, as it bounces the sound around the room, even from the ceiling. It also utilizes DTS:X, which has object-based decoding. This means that it will find your speakers around the room and automatically adjust the sound accordingly to give you the best surround sound experience. It's also a 4K receiver, 7.2 channel receiver, and has Bluetooth capabilities.
Keep in mind: The menu isn't super user friendly, but once you figure it out that's no longer a problem.
Good for: People that want the best quality at an affordable price.
---
(Best entry level — $$)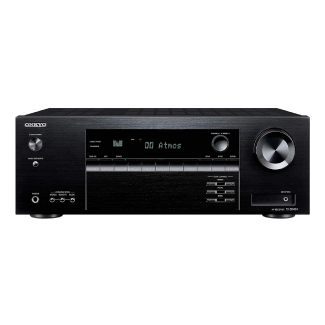 Why it's great: This is another great receiver that uses Dolby Atmos and DTS:X for optimal surround sound. It's a 4k receiver and it also has Bluetooth capabilities, which makes it very similar to the previous option. The only real difference is that it's a 5.2 channel, which means you can't hook up as many speakers. This one also is a lot easier to set up and it has a microphone AccuEQ Room Calibration which works perfectly. Onkyo is a quality brand and this receiver is no exception. The sound is just as good as some receivers that are twice the price.
Keep in mind: If you have a bunch of older speakers or devices, it may not be compatible. But if you have a newer setup, it won't be a problem.
Good for: People new to AV receivers that want a quality unit.
---
(Best for smaller spaces — $$$)
Why it's great: This receiver pretty much has it all. The biggest advantage of this receiver is that it is wireless. No more worrying about how many devices or cords you can connect. It's Bluetooth and Amazon Alexa compatible, meaning you can play any music device and control it all with Alexa voice commands. It also has a built-in CD player. On top of that, the Hi-Fi audio produces a great quality of surround sound. Plus, it's all in one compact device that won't take up a lot of space.
Keep in mind: This receiver is meant for smaller rooms, like in apartments or condos. The sound quality isn't as good in bigger rooms or areas.
Good for: People that want to be able to control their receiver with their voice.
---
(Most budget friendly — $)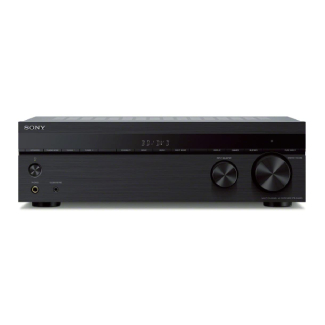 Why it's great: At an incredibly affordable price, this is a quality AV receiver. While it doesn't have all the bells and whistles that some of the others have, it does include all of the basics that you'd want in a receiver. It's 4K and 5.2 channels. The S Force Pro that it uses delivers surround sound with only 2 speakers. It's also Bluetooth compatible. The sound quality is exceptional for the price and it even makes older speakers sound great. It's also easy to set up and very user friendly.
Keep in mind: The HDMI connection needs to be HDCP 2.2 compliant, which means your TV needs to have this to be able to play at 4K. Most 4K TVs will have this, but just double-check that yours does before you make your purchase.
Good for: People looking for the best AV receiver at the cheapest price.
---
(Easiest to use — $$$)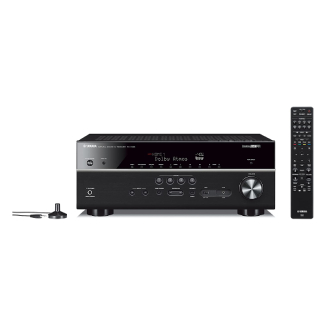 Why it's great: My favorite thing about this receiver is that it can be voice-controlled through Amazon Alexa, which makes it super easy to use for music. It has Dolby Atmos and DTS:X for the best surround sound experience. Plus, it is Bluetooth compatible and allows for wireless streaming. It's a 4K and 7.2 channel receiver and it can even wirelessly connect to a 5.1 channel set up in another room. The HDMI pass-through works perfectly and the set up is pretty simple. The sound quality is amazing, which you'd expect from the Yamaha brand.
Keep in mind: Getting the zone 2 speakers set up can be a bit of a pain, but is a great feature to have once you figure it out.
Good for: Anyone that wants a receiver that's very user friendly and easy to control.
---
(Most convenient — $$$)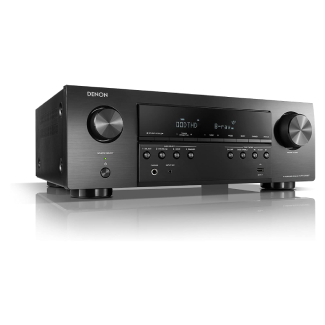 Why it's great: This receiver connects with your Smart TV remote, so you can control everything with just one remote. You can even control it all with your smartphone. The convenience of that already makes this one an amazing option. Plus, you get all the other features that you'd expect from an AV receiver. It's a 4K, HDR, and 5.2 channel receiver. It has a Bluetooth and USB port built-in, plus a HEOS link that allows you to stream music wirelessly from sources like Spotify or Pandora. If that's not enough, the sound quality is incredible.
Keep in mind: This is not the easiest receiver to set up manually, but once you get it done, it works great.
Good for: Anyone looking for a more convenient way to control their sound.
---
(Best quality — $$$)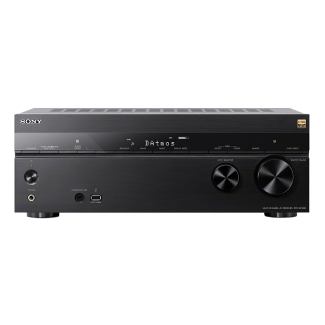 Why it's great: This receiver has exceptional quality surround sound. It's a 4K, HDR, and 7.2 channel receiver. It uses Dolby Atmos and DTS:X for optimum immersive sound. Google Chromecast is built-in, it is Bluetooth compatible, and Google Home compatible. The really cool thing is that it has a Phantom surround setting, which means you get a 7 channel sound experience, even if you're only using 5 speakers. And, it has a radio tuner too. You'll pretty much get perfect sound with any music device, streaming service, radio, movies, games, and TV. This one does it all.
Keep in mind:The remote isn't the most user friendly, but you can download the smartphone app and the control options are much better on that.
Good for: People that want the best quality AV receiver at a decent price.
---
FAQs about AV receivers
---
1. What is an AV Receiver used for?
An AV receiver is an audio/visual receiver that is used to create a home theater experience. They allow users to have multiple video and audio sources all routed through one system, such as video game systems, DVD/Blu-ray players, and speakers, rather than hooking up a bunch of cables to your TV. This makes for a better quality and more convenient way to set up a whole home theater and operating system. It also amplifies the incoming sounds and adjusts the volume for speakers. It also allows for surround sound.
---
2. Do AV Receivers affect picture quality?
Yes, they can. While AV receivers are made to manage multiple sound sources to create one surround sound system, they do end up dealing with video signals at the same time. This means that they can improve lower quality pictures by increasing sharpness and resolution. But, this can also decrease your picture quality if it was already high quality. This is because it'll still try to improve the resolution, which ends up making it look grainy.
---
3. Are AV receivers worth it?
If you're ok with just having stereo sound or don't really care if the sound is high quality, then you don't need one. A soundbar can help boost your TV's sound, as long as you're not expecting a huge increase in the quality of that sound. But, if you're looking for a high-quality surround sound system for a home theater setup, you need to have an AV receiver. They'll boost the quality and quantity of the sound to give you a more immersive experience. So they're definitely worth it if that's what you're looking for.
---
4. Is a 7.2 channel better than a 5.2 channel?
There's not really a huge difference between the two. At least not in comparison to the difference between a soundbar and an AV receiver. And, even though Dolby Atmos uses at least 7 channels, there's not a lot of content out there right now that's made for 7.2. It does allow for more speakers and more sound, so that's a nice feature. But, it doesn't really give you any better quality of sound. So it's more about what you prefer and use.
---
5. What features should I look for in an AV receiver?
This will depend on what kind of devices you'll be hooking up and what your intended uses for the receiver are. The number of channels equals the number of speakers, so if you only have 5 and don't think you'll upgrade and get more, a 5.2 channel is great. If you want more, then go for the 7.2 channel. Features like Dolby Atmos and DTS:X create a more immersive and overall amazing surround sound experience. Add-ons like Bluetooth, Google Chromecast, or wireless compatibility allow you to use a lot more devices with your system. Plus, if you want to set up speakers in another room, you'll need one with a wireless zone 2 ability.
---
Conclusion
---
An AV receiver can really enhance your sound system and make watching TV or movies, playing games, or listening to music a much more enjoyable and immersive experience. Trying to find the right receiver can be extremely frustrating.
Take some time to think about what features you'll need for your setup. How many speakers do you have or want? Do you want to be able to have speakers in a second room? Do you like to stream music from Spotify or Pandora? The answer to these questions will help you to figure out what's most important to you in terms of AV receivers and help you to pick the one that fulfills all your needs.
You may also like our other product reviews…
Ceiling Speakers | Computer Speakers Under $50 | Computer Speakers Under $100 | Digital Cameras Under $1000 | Gaming Chairs Under $100 | Gaming Keyboards Under $50 | Gaming Keyboards Under $100 | Gaming Mouse Devices Under $50 | Graphics Cards Under $100 | Guitars Under $500 | Headphones Under $200 | Headphones under $300 | Headphones under $500 | In-Wall Speakers | Laptops Under $700 | Luggage Sets Under $50 | Mechanical Keyboards Under $50 | Noise Cancelling Headphones Under $50 | Noise Cancelling Headphones Under $200 | Office Chairs Under $200 | Office Chairs Under $300 | Party Speakers | Point and Shoot Cameras Under $100 | Point and Shoot Cameras Under $300 | Portable Record Players | Projectors Under $200 |