Updated on March 19, 2021 by Lyric Fergusson
There is nothing like giving your brand new baby a bath for the very first time. They are just so stinking cute and tiny. And, seeing how they react to the water is a memory that you will keep forever! Of course, you want to choose a bathtub that works for you and your baby, as well as in your bathroom. Whether it is an inflatable tub or a spa-like tub, you will want to pick something that work best for you.
Here are my 7 favorite baby bath tubs:

Best Baby Bathtubs
---
(Best budget option — $)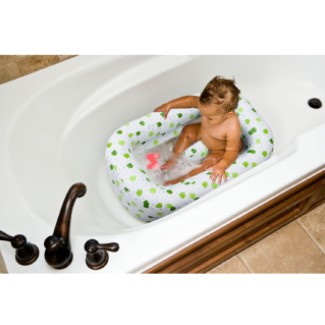 Why it's great: With its adorable "froggie" pattern, this tub is great for taking on adventures! It works in hotel bathtubs and can even fit in certain RV showers. It is an inflatable tub, so if you are traveling, you can deflate it until you get to your destination. This tub goes up to 24 months. It provides a nice padded bottom that is comfortable and slip-resistant. It does a have drain. There is a "saddle horn" that will help your baby stay in the seated position during the bath. This tub also works great at home, by the way, especially if your baby outgrew a tub that you and your babe also loved, but it only went up to 6 months. You can't beat the price, either!
Keep in mind: You do have to blow this up. However, it does not take much effort. No worries!!
Good for: Bathing baby while traveling, but also can be good at home!
---
(Most versatile — $$ )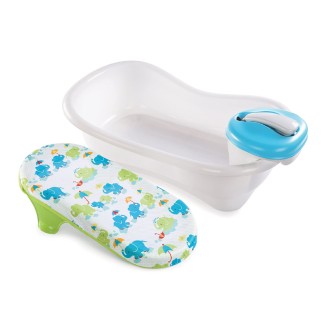 Why it's great: This bathtub has a fourth stage for an even longer use. The tub is big enough for a baby through age 2. It even comes with a battery-operated shower unit, which has a light and gentle pressure. This piece is removable from the tub. There is a drain in this tub, so you can let the water drain rather than having to dump it. It has a removable sling, too. You can use the sling in the sink in the very beginning when baby is super tiny or in the tub itself, which can be quite helpful for your back!
Keep in mind: Some parents had a little bit of trouble with the battery-operated shower unit. The Consumer Relations department seemed to be of good help, though!
Good for: Use up to 2 years old.
---
(Most adorable — $$$)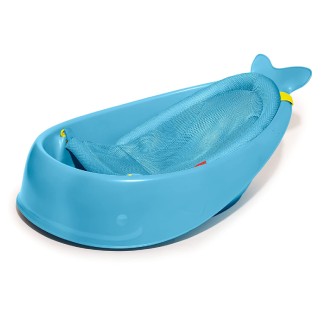 Why it's great: This is a 3-stage tub. It goes from newborn through 25 pounds. The sling is just the ticket for newborns, but when baby hits stage two (around 3 months), the sling adjusts, so that it's more of a backrest for your growing babe. When your little one is around 6 months and sitting up completely alone, the sling can be removed and baby can sit in the tub. Plus, it is shaped like a cute little whale, and who can resist cuteness? There is a drain plug and a hook for storage when not in use.
Keep in mind: Some parents have had some trouble with the mesh getting a little stinky. However, it can be machine washable, if you put it on the gentle cycle and cold water. Then it should be hung to air dry. This should keep it from getting smelly!
Good for: Giving older babies space in the tub.
---
(Most unique — $$)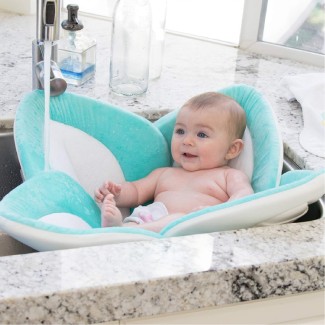 Why it's great: This tub definitely has the cuteness factor! Baby laying in a flower? Too cute! It is also super soft for baby's comfort. It fits in the sink just so, with its four separated petals. The petals are adjustable to make it just right for your sweet babe. It works in big sinks AND small sinks. This tub comes in a variety of colors, too. The Blooming Bath Lotus is made of antimicrobial form, so bye-bye mold and mildew!
Keep in mind: This tub goes up to 6 months of age, but it is possible to lay it on the bottom of the tub and let baby sit. This is just another form of sweetness!
Good for: Babies up to 6 months of age.
---
(Most luxurious — $$$)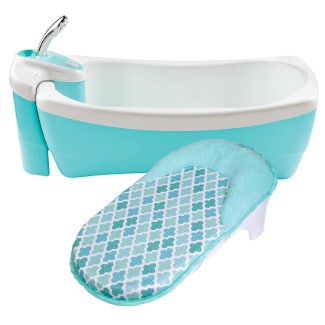 Why it's great: This tub has an insulated double wall, in order to help keep the water temperature warm for baby's comfort. It has a bubble-making feature, too, which is fun for baby (and a good distraction for babies, who are not feeling bath time). This one has a shower sprayer, which is removable and can be used even after baby has grown out of the actual tub. That can extend the use of the tub for you! The merchant says that you should turn the showerhead on pointing towards the bottom of the tub. Hold it there for a minute, until the air is out of the hose. The water should begin to come in a steady stream for you and your little one.
Keep in mind: The Summer Lil Luxuries Whirlpool requires batteries, but that's just so that baby can super enjoy a bubbly bath and that YOU can use nice clean water to rinse at the end without hunting for a cup every time.
Good for: Bringing some luxury (and bubbly distraction) to bath time.
---
(Best for temperature gauging — $$)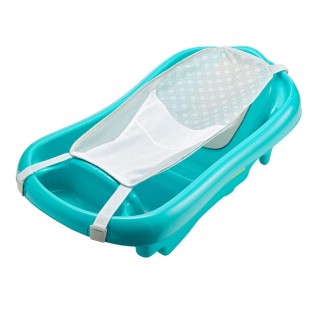 Why it's great: This baby bath tub fits in single and double sinks, as well as a full-size bathtub! It has a removable sling for newborns that is easy to launder whenever necessary (and with a baby- sometimes- it can really be necessary). There is a drain inside of the tub that also acts as a thermometer to let you know if baby's water is too hot. This tub grows with your baby and can hold baby up to 25 pounds.
Keep in mind: There is a hump in the middle of the tub. That is so that, when baby can sit, there is a place for them to sit with support.
Good for: A newborn, so it can grow with you. You will get longer use out of it that way. It works for babies at other ages, too, though!
---
(Easiest to clean/dry — $)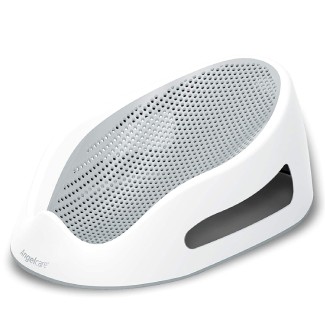 Why it's great: This baby tub has a solid-yet-soft mesh, which essential creates an airflow and keeps mold from having anywhere to hide or grow! The Angelcare Baby Bath Support dries fast. It comes in 3 colors. It has a hook on the back to hang it up on the wall (in your bathtub or of your bathroom) when you are not using it. It is best to use this inside of a bathtub because of the holes. It is a light bathtub and has a hook that you can use when it's not in use. There can be room for another/older sibling to sit in the tub, while this baby tub is in use.
Keep in mind: This tub goes up to 6 months/20 pounds or up to the point when baby is sitting unassisted. However, it is VERY worth it!
Good for: Babies under 6 months/20 pounds.
---
FAQs about baby bathtubs
---
1. Where do I want to bathe my baby?
Do you have a bad back? If so, you will probably feel more comfortable with a tub that you can at least start out using in the sink. Otherwise, you may want the tub you choose to start in the sink just the same, or you may want the tub to fit into your regular bathtub. Think about what will work better for YOU.
---
2. Where will I store the bathtub?
Do you have a hook on the back of your bathroom door to store the tub? Will you mind just storing it off to the side? Different bathtubs store different ways. Some will have hooks or suction cups, while others will only be able to be stored on the side or floor (or in your regular tub when it's not in use).
---
3. How does my little one's age factor into the purchase of a baby bathtub?
A newborn baby will most likely need an insert unless it's the Angelcare Support. That one is kind of a support in itself. For a baby that can sit unassisted, you may just be looking for a tub that is baby's size. While many are a package deal, just keep their age in mind as you are searching.
---
4. What are some key features of baby bathtubs?
Are you putting this on your registry for your unborn babe? In that case, you will want a tub that supports a newborn, at least, if not beyond. Think about where you are going to keep the tub. Do you have space to hang it or will it have to sit in the regular bathtub when neither are in use? Think about how you will keep it clean. Now and then, even baby tubs need at least a wipe down. Some may even have pieces that may be able to be thrown in the washer.
---
5. How long do I need the tub?
This can affect your choice because some tubs are meant for babies up to age 2, while other tubs only go to 6 months of age. Take into account when you are buying/receiving the tub. If you are buying the tub when baby is already here, you might not need to worry about the infant insert as much. Most will come with it but have other stages of use for you and your baby.
---
6. Will I need to hold my baby the entire we use the tub?
Some tubs are narrower, leaving less room for baby to move around. This also gives your little one a better chance of you not needing to support them the entire bath. Others will give your baby more room to splash around, but until they can sit by themselves, you would need to give full support.
---
Conclusion
---
There are a variety of baby bathtubs from which you can choose! Some inflate, others bubble, while others yet fit better in the sink or the regular bathtub. Remember to keep in mind where will you store it between baths, how you will clean it, and how old your little one is at the time you will start using this tub.
No matter which bathtub you choose- you should always be within arms-reach of baby the entire bath. Make sure you get everything you need during and after the bath BEFORE the bath, like soap, washcloth, towel, clean diaper, baby lotion, clean clothes/pajamas, etc. That way, you can solely focus on bath time with your little one! Bath time is a great time for making memories of how little and amazing your little one is. Even if your baby won't remember these days, you will hold them in your heart forever.
You may also like our other product reviews…
Baby Bath Mats | Baby Blocks | Baby Bottle Cooler Bags | Baby Bottle Dish Soap | Baby Bowls | Baby Car Mirrors | Baby Car Window Shades | Baby Carriers for Men | Baby Dolls for 1-Year-Olds | Baby First Aid Kits | Baby Food Storage Containers | Baby Grooming Kits | Baby Memory Books | Baby Nail Files | Baby Oils | Mittens | Mobiles | Moccasins | Moisturizers for Baby Hair | Musical Toys | Nail Clippers | Pillow for Baby Flat Head | Play Fences | Retractable Baby Gates | Reusable Baby Food Pouches | Rugs for Baby Nursery | Scales | Sink Tubs | Spoons For Self-feeding | Stuffed Animals for Baby to Sleep With | Toothbrushes |