Updated on by Lyric Fergusson
If the chilly fall weather has you reaching for your coziest pair of socks in the morning, chances are your baby will want something a little bit warmer too. A lot of moms joke about babies constantly pulling their socks off. The solution? Baby booties! Not only are they absolutely adorable on those tiny little feet, but many also have adjustable ankle closures that help ensure they will stay on despite your baby's best efforts to remove them. We've rounded up some of the cutest booties to keep little toes warm this season.
The Best Baby Booties
---
(Best value — $$)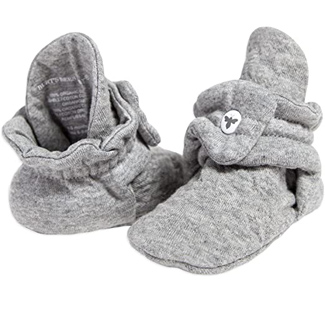 Why it's great: Burt's Bees may be a beloved brand for lots of mamas, but did you know they made more than just awesome skincare products? Their lines has expanded in recent years and they carry a range of 100% organic cotton products for your little babe. These booties are unisex and adjustable, coming in five adorable colors. They have two adjustable snap positions with, of course, little bees on them.
Keep in mind: These don't have grip soles, so if your little one is starting to stand up be careful.
Good for: They come in sizes 0-3 up to 6-9.
---
(Best color choices — $)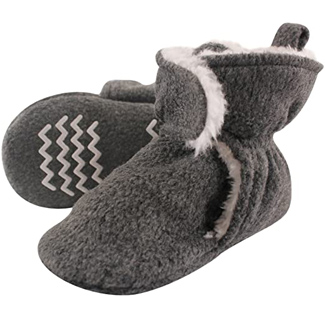 Why it's great: In 23 different colors, what's not to like about these booties? As the days get cooler, super comfy fleece and Sherpa booties are the way to go. We love that these booties are non-slip, and they're super easy to get on and off with their hook and loop closure. Even better, they come in sizes all the way up to 4T! Their size chart is super helpful, so if you're not sure what to get for your little one, break out the measuring tape and get to ordering.
Keep in mind: Make sure to measure because some reviews note they can run a bit small.
Good for: The come in sizes 0-6 up to 4T.
---
(Best to stay on — $$)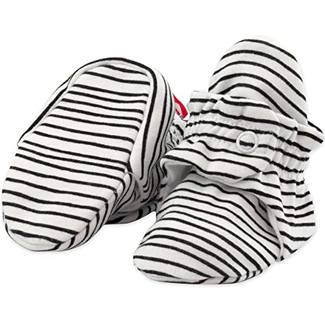 Why it's great: These booties have a special stay on design with two snap closure, so even the most determined sock-remover shouldn't be able to get these off. They have a soft sole so you don't have to worry about their feet being constricted by a hard bottom. These are another 100% organic cotton choice, making them ideal to throw in the washer and dryer.
Keep in mind: These don't have a gripper sole, so new walkers might do better in a different pair.
Good for: 0-3 up to 18-24.
---
(Best gripper pattern — $)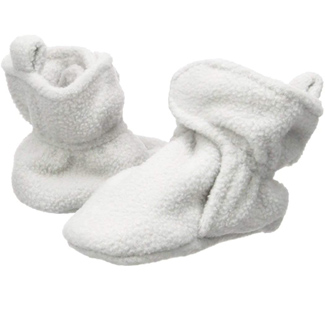 Why it's great: These fleece booties look super soft, are nice and thick, and have a hook and loop closure, making them comfy all day long. They have gripper bottoms that we love, so while your little is practicing their walking and standing, they won't have to worry about sliding around. The Velcro closure means that you can adjust them as tightly as needed around the ankle, ensuring that they will stay on well.
Keep in mind: Grippers can become slippery over time, so make sure to throw them in the wash regularly.
Good for: Sizes 0-6 up to 4T.
---
(Best adjustable design — $$)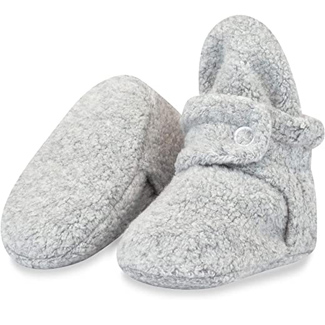 Why it's great: We love that these are a cotton/poly blend, unlike most fleece booties, making them more breathable. These come in a variety of colors, and even value packs, so you'll be sure to find what you need. One of the unique features is that these booties feature an integrated cotton lining which is great for wicking moisture to keep toes warm and dry. They also have a combo of elastic and adjustable snap closures, so these should stay put. They also have an all-over gripper bottom which makes them ideal for new walkers.
Keep in mind: The smaller bootie sizes (up to 6 months) don't have grippers, so if you have a little one who is trying to stand early you may want to size up.
Good for: 3 months to 24 months
---
(Best cushioned sole — $$)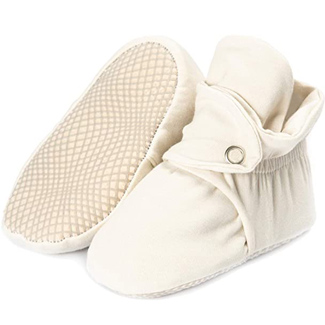 Why it's great: These organic cotton booties are simple and cute, with the added benefit of a cushioned sole. We love the fact that they're all cotton and have a gripper pattern on the entire bottom. The cushioned sole means these are a little bit more durable and would also be great if you have a lot of tile in your house which can be a little hard on tiny feet.
Keep in mind: They recommend washing these in cold water only.
Good for: 0-6 up to 18-24
---
(Best give back — $$)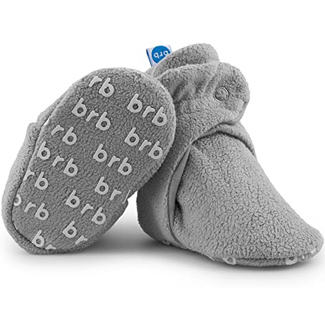 Why it's great: With 21 adorable colors, these booties come with a 100% lifetime guarantee! Better yet, every purchase has a give back donation to the charity Feed My Children, which is awesome. We also love the fact that these booties have three snaps, which means they should fit even the skinniest of ankles as well as the chubbiest ones.
Keep in mind: If your little one is between sizes, they recommend going up a size rather than down.
Good for: 0-6 up to 18-24
---
FAQs about best baby booties
---
1. How do I choose booties?
The one thing you need to keep in mind is whether your little one will need a non-slip sole. Unless you gave birth to a little Olympian, you probably won't need to worry about gripper soles in the 0-3 month category. However, there are lots of babies who start pulling up on furniture very early, so for the next size up it is definitely something to keep in mind.
---
2. What size am I going to need?
Every company has their own sizing guide for shoes and clothing. It is our recommendation to go off of the stated measurements on the company size guides rather than just rely on age. All babies grow differently, so it's important to choose booties that aren't going to squish their toes.
---
3. How do I choose between fleece or cotton?
Everyone is different, and some people just naturally have feet that sweat more. If you go with a fleece bootie to keep your baby's toes toasty but find the booties get damp, you may need to switch to an all-cotton material which is more breathable. Having a few pairs in different sizes and materials is a great idea until you learn what works for your little one's feet.
---
4. Why should I choose booties over shoes?
When little ones are growing, doctors recommend using soft-soled shoes that are lightweight. Babies aren't able to bend their feet the same way we do, so you don't want to inhibit their foot movement which can cause tripping. Booties are a perfect introduction to footwear for new walkers.
---
5. How often do I need to buy new booties?
Baby feet grow quickly! You should check to make sure the booties still fit comfortably every few months. They should be able to wriggle their toes freely and the closures around the ankle shouldn't be leaving any red marks, meaning they're too tight.
Conclusion
---
If you're looking for a way to keep your baby's feet warm, booties are a great option. They're often harder for baby to get off, which makes your life easier because you'll spend less time looking for lost footwear on the floor of the car or underneath their crib. Booties will provide just enough protection from cold floors without inhibiting their ability to move around freely. Make sure that if your little one is starting to pull up to stand or walk that the booties you choose have grippers. You never want the ankle closures to be so tight that they're leaving red marks, so adjustable closures will help so that they can close over pants without constricting movement.
You may also like our other product reviews…
Baby Bath Mats | Baby Blocks | Baby Bottle Cooler Bags | Baby Bottle Dish Soap | Baby Bowls | Baby Car Mirrors | Baby Car Window Shades | Baby Carriers for Men | Baby Dolls for 1-Year-Olds | Baby First Aid Kits | Baby Food Storage Containers | Baby Grooming Kits | Baby Memory Books | Baby Nail Files | Baby Oils | Mittens | Mobiles | Moccasins | Moisturizers for Baby Hair | Musical Toys | Nail Clippers | Pillow for Baby Flat Head | Play Fences | Retractable Baby Gates | Reusable Baby Food Pouches | Rugs for Baby Nursery | Scales | Sink Tubs | Spoons For Self-feeding | Stuffed Animals for Baby to Sleep With | Toothbrushes |