Updated on by Lyric Fergusson
Whether you're a working mom who's pumping breastmilk or a mom who's always on the go, having a cooler that will keep your baby's milk cold is essential. There are all kinds of coolers and accessories that will help you store your baby's bottles and milk when you're not at home. It can be difficult to find the bag that will suit your specific needs.
That's why I've created this list of the 7 best baby bottle cooler bags for you. Read through the items and you're sure to find the one that is right for you.
The Best Baby Bottle Cooler Bags
---
(Best value — $)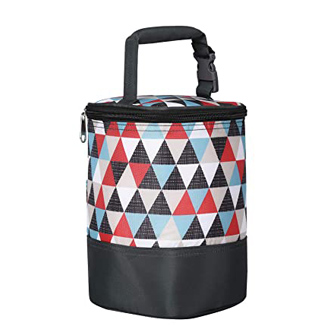 Why it's great: This one comes in 6 different choices of adorable and stylish patterns, so you'll easily be able to find one that you love. It has a silver foil lining for ultra insulation and will keep the contents cold for approximately 3 hours. That time will almost double if you use an ice pack inside as well. This bag fits 4 large 8 oz bottles and has a small pocket on the outside for your keys/wallet/phone. The handle has a clip, so you can attach it to a stroller, shopping cart, or whatever you need to attach it to, which means you won't always have to be carrying it around yourself.
Keep in mind: This one doesn't come with an ice pack, so you'll have to purchase one separately if you need one.
Good for: Parents who want a cute cooler to store their baby's bottles and milk.
---
(Most compact — $$)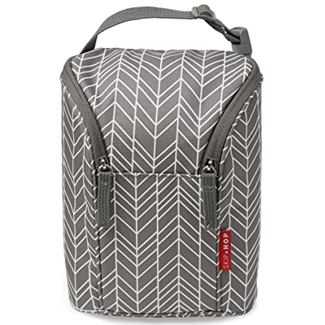 Why it's great: This is one of the smaller cooler bags around that can still fit two bottles. It includes a freezer pack that will help to keep your milk colder for longer periods of time. It has a double zipper, so you can get to either side easily without having to open the entire bag. It comes in 7 different, gender-neutral patterns or solids that all look great and aren't too overwhelming. Skip Hop is a well-known brand and makes an assortment of baby items, so you'll easily be able to find all kinds of matching accessories too. The handle on this bag also has a clip, so you can attach it to your stroller or even attach a pacifier holder or something else to it.
Keep in mind: This only fits two bottles, so it's meant for shorter trips or errands.
Good for: Parents that need a smaller cooler for the occasional trip out.
---
(Best quality — $$$)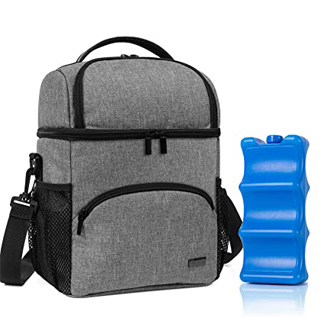 Why it's great: This cooler is made of high quality materials with a water-resistant nylon and hot pressing lining for maximum insulation. The material is easy to wipe clean and is leakproof too. It also comes with an ice pack that is made to fit in between multiple bottles and helps to keep them organized, as well as cold. It can hold up to 6 large 9 oz bottles, so you'll be able to stay out longer. There's also a top compartment that is also insulated, so you can carry your lunch or snacks with you as well. It also has a pocket on the front and back for your own accessories, such as keys/wallet/phone.
Keep in mind: This one is a little bigger and bulkier, but it comes with a shoulder strap for convenient carrying.
Good for: Parents that need maximum storage and a high quality cooler.
---
(Best organization — $$)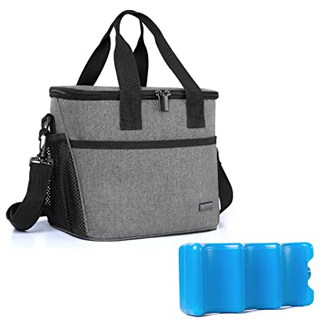 Why it's great: This bag can fit 6 bottles up to 9 oz. It comes with a shaped ice pack that helps to keep the bottles in place, as well as cold. The nylon fabric is wear-resistant and it has a hot pressing liner that gives optimum insulation while also being easy to wipe down and clean. This bag sports a pocket on the front and back for your essentials, plus two mesh side pockets, for ultra organization. It has 2 regular carry handles, plus a shoulder strap, so it's easy to tote around wherever you go. Yarwo also makes a pump bag and this cooler fits inside it, so you can easily bring both to work or when traveling without being overburdened with multiple bags to carry.
Keep in mind: If you want to keep 6 bottles cold for up to 6 hours, you may need to add in an extra icepack on top. Luckily, there's plenty of room to do that in this bag.
Good for: Parents that only want to carry around one bag and need the extra organization and pockets for their own essentials.
---
(Most accommodating — $)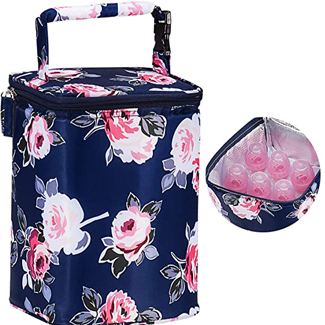 Why it's great: This cooler is extra tall, so it will fit any size bottle in it, even the large 8.5" bottles. It can hold up to 4 bottles and it has a little outside pocket for your keys/wallet/phone. It is aluminum lined, which keeps items cold for up to 3 hours. You can also add in an ice pack and double that time. It is waterproof, lightweight, and comes in a really cute floral print. The handle has a detachable buckle, which makes it easy to carry or clip onto a stroller or cart.
Keep in mind: This one doesn't come with an ice pack, so you'll need to purchase one separately.
Good for: Parents who need a bag that will fit the tallest bottles.
---
(Most versatile — $$)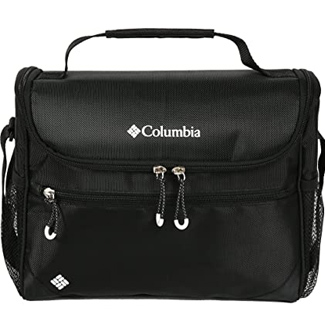 Why it's great: Columbia is an outdoorsy brand and makes high quality, durable products. This cooler bag is made with high-density thermal insulation and has a Therma-Flect radiant barrier that keeps your items insulated longer than other materials. The inside is big enough to carry bottles, snacks, or anything else you might want to keep cold. When your baby grows, it could easily be used as a regular lunch box or snack/drink bag. It has a zippered front pocket for your essentials, as well as 2 side mesh pockets for extra storage. The handle is padded and it has an adjustable shoulder strap for easy carrying.
Keep in mind: This one doesn't come with an ice pack, so you'll need to purchase that separately to keep your items colder for more than a few hours.
Good for: Parents that want to be able to use the cooler once their child outgrows bottles.
---
(Most convenient — $$)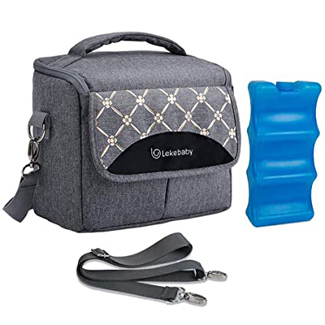 Why it's great: This cooler can hold up to 6 large bottles. It comes with a shaped ice pack that helps to keep the bottles cold and holds them in place. The best part is that it comes with a removable inner liner bag, so when you get home, you can just take that out and put the whole thing into the fridge if you haven't used them. It has an aluminum lining for added insulation and has a small outer pocket for your essentials. It has double zippers so you can open from either side and has a nice, wide opening if unzipped all the way. It has a padded handle and also comes with a detachable shoulder strap for added convenience.
Keep in mind: You need to fill the ice pack with water and freeze it when you get it. It doesn't come prefilled like most others.
Good for: Parents that want the most convenient and easy to use cooler bag.
---
FAQs about baby bottle coolers
---
1. Why do I need a cooler bag?
Babies, and especially newborns, need to eat frequently. Whether your child is breastfed or formula-fed, using a bottle when you're out and about can be easier with a cooler bag. You can store breastmilk or formula in bottles and keep them cold for easy feeding when you're on the go. Plus, if you pump at work or when you're out, you can easily store your milk and keep it at the correct temperature. You can also use these bags to store snacks or food that needs to be kept cold as well. They're just a convenient way to bring milk/food for your child with you when you can't be at home.
---
2. What insulation material is the best?
The most common materials and the ones the bags from the list use are nylon with hot pressing lining or aluminum lining. Aluminum lining works pretty well but doesn't last quite as long as the hot pressing lining. Either is fine depending on the amount of time you need to keep your bottles or food cold. Adding ice packs will also increase that time as well.
---
3. How long will a cooler bag keep milk/food cold?
This varies based on the bag. The minimum amount of time that most bags will keep your items cold is about 3 hours. Some bags, with ice packs, can keep your items cold for 8-9 hours. Think about how long you usually are out and about and buy the bag that works best for that time period. If you're only out for short periods of time, the aluminum lined bags will work just fine and are usually cheaper.
---
4. What size bag is the best?
This will vary based on the type of bottles that you use and the amount of milk you'll need while you're out. If you use the larger, taller bottles, you'll need to make sure the cooler you get is tall enough to accommodate them. If you want to bring 6 bottles with you, you'll need a wider bag. Figure out what type of bottles you're using and how many you think you'd need on an average trip. Then pick a bag that can hold that and you'll be fine. The size of the bag doesn't matter any more than that.
---
5. How do I clean my cooler bag?
Almost all cooler bags are not machine washable. This means that you'll have to hand wash them when they get dirty. Most of them are easy to wipe clean as long as you're doing it regularly. If you need a more thorough clean, you'll have to soak it in water with dish soap. The only issue with this is that it will take some time to dry. If you keep up with the spot cleaning, you shouldn't need to soak it very often.
Conclusion
---
It can be challenging to take your baby on any kind of outing. Knowing that you have your child's bottles and milk with you wherever you go can alleviate some of the stress. That's why bottle cooler bags are an essential item for every parent. You'll easily be able to keep your child fed and happy, even when you're not home.
Finding the right cooler bag doesn't have to be a challenge. Consider how many bottles you'll need on a normal outing and the amount of time that you need to keep them cool. Think about how you want to carry your bag and if you need extra storage.
If you know what you're looking for ahead of time, picking the cooler bag that is best for your needs is easy.
You may also like our other product reviews…
Bottle Drying Racks | Bubble Bath Soap | Carriers for Petite Moms | Coconut Oils for Babies | Cribs for Twins | Floor Seats | Foam Play Mats | Glass Baby Bottles | Hair Brushes | Hampers | Hats | Headbands | Hooded Towels | Interactive Baby Dolls | Long-range Baby Monitors | Loungers | Mittens | Mobiles | Moccasins | Moisturizers for Baby Hair | Musical Toys | Nail Clippers | Pillow for Baby Flat Head | Play Fences | Retractable Baby Gates | Reusable Baby Food Pouches | Rugs for Baby Nursery | Scales | Sink Tubs | Spoons For Self-feeding | Stuffed Animals for Baby to Sleep With | Toothbrushes |