Updated on by Lyric Fergusson
When Googling baby bottle drying racks this morning, 5.9 million results came up. Almost 6 million articles on baby bottle drying racks? How in the world do you choose when you have that many options? I prefer to find the best option the first time around, rather than buy several different racks trying to find the perfect match for my baby bottle-covered-counter. You know the one – the counter covered with a dish towel and a mishmash of lids, bottles, and pieces that will never find their match again?
Never fear – we have looked at all the possibilities and found the best baby bottle drying racks out there. Read on for our top 7 best baby bottle drying racks.
Best Baby Bottle Drying Racks
---
(Best to easily store — $)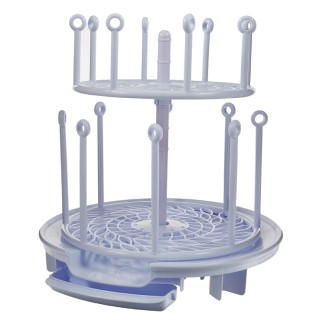 Why it's great: the name might be a tongue twister, but this spinning drying rack is so simple. Its design allows it to hold more than your average rack, and it can also hold all kinds of baby gear. The First Years Spin Stack Drying Rack holds bottles, sippy cups, teethers, and pacifiers, providing one spot for all your baby items. It's designed to drain right into your sink, eliminating any wet mess on your counter.
Keep in mind: some parents state that stability is an issue, and the rack can't easily hold multiple 8-ounce bottles.
Good for: if it doesn't fit in your sink, it also comes with an optional drain. The Spin Stack also folds flat for easy storage.
---
(Best for Multi-Tasking — $$)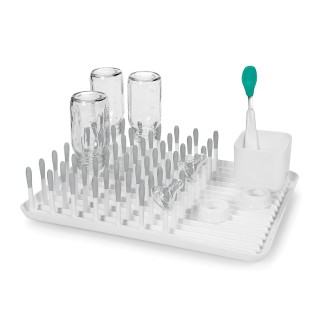 Why it's great: if you're looking for a flat rack that can store several bottles easily, this one fits the bill. The tines are flexible and keep items slightly raised off the bottom of the dryer, so they don't end up wet. It's also dishwasher-safe, so it's easy to clean. OXO is a trusted name in baby and kitchen gear, so you can't go wrong with this one.
Keep in mind: some users share that this one can be tough to wash- the tines can get dirty. They also share that a small cleaning brush takes care of the top cleaning challenge.
Good for: the rack can hold many bottles at one time. Pro tip- angle the bottles, and they dry faster.
---
(Best for Glass Bottles — $)
Why it's great: The Philips Avent Drying Rack has several bottle trees that you can rearrange to accommodate up to 8 bottles. It's got a tray underneath that you can remove and quickly get rid of water that drips into the bottom. The rack's open design allows for free flow, enabling bottles to dry fast and thoroughly. Its sturdy design lets it hold larger bottles and glass bottles, making it great for a variety of product sizes and weights.
Keep in mind: This rack isn't great for drying breast pump parts due to its design.
Good for: This one gets good reviews for being sturdy enough to dry glass bottles, which can be hard to find in other drying racks.
---
(Great for Multiple Kids — $)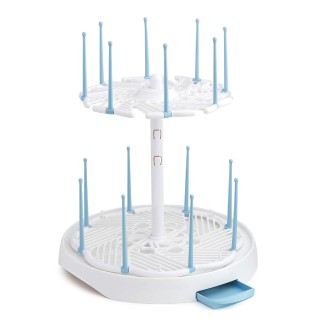 Why it's great: this rack doesn't mess around- it can hold up to 16 bottles at one time. It's got two levels, and the pegs on the bottom fold down for easy storage. They flip in, and the rack folds, making it fast to put away. The Munchkin High-Capacity rack spins around to easily access bottles in the back. It also has a removable tray or fits in your sink.
Keep in mind: Place your lighter items on the top tier, so the rack doesn't become top-heavy and topple over.
Good for: Homes with limited counter space- it works in the sink and can be stored easily and flat.
---
(Great for limited counter space — $$)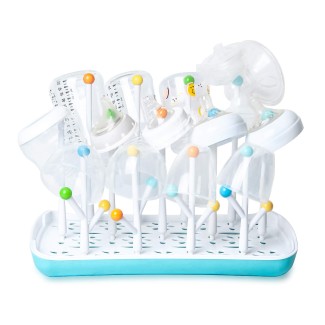 Why it's great: the Termichy drying rack features a unique, space-saving design. The tines move and adjust to accommodate bottles of all sizes. There are protective toppers on each tine to help prevent bottles from getting scratches or damages. The Termichy Countertop Bottle Holder also has a rack on the bottom that is both reversible and removable so you can easily empty it.
Keep in mind: The holder features a compact design that some parents find a little small. If you want capacity for several bottles, you may want another holder.
Good for: Trying to dry bottles of varying sizes- you can adjust the tines for your needs. The flexible tines let you move them around for both small and large bottles, pacifiers, and other baby items.
---
(Great to take on the road — $)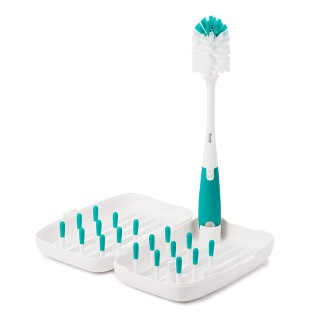 Why it's great: This drying rack is compact. It folds and closes tight into a small box, making it easy to take on the road. It can fit in a small space- the pocket of your diaper bag is a perfect fit! It also includes a bottle brush that you can take apart and store in the rack while traveling. The OXO Rack is excellent for a vacation or to take to the sitter's house for the day. It's also small enough that you can keep it in your diaper bag or car as a spare.
Keep in mind: It's a very petite rack. Great for travel, but you may want a larger drying rack at home.
Good for: Take apart the bottle brush, and you will find a tiny cleaning brush inside. It's excellent for cleaning bottle nipples and sippy straws.
---
(Great for beyond babyhood — $)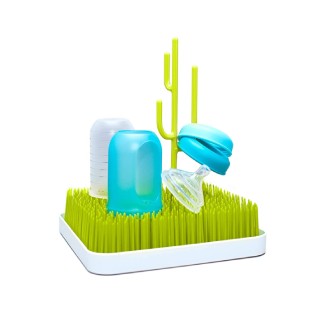 Why it's great: This drying rack has been a staple in our home for five years. As we've transitioned away from bottles, we've kept it on the counter to dry sippy cups, water bottles, and other assorted kitchen items. The "grass" is close together so that the rack can accommodate bottles and parts of all sizes. It's not a raised rack, so it can also hold heavy glass bottles and other items.
Keep in mind: Wash the bottom tray regularly as it can get full of water and random dirt.
Good for: Both the top and bottom pieces can easily be washed in the top rack of the dishwasher. It's dishwasher safe allowing for convenient cleaning.
---
FAQs about 7 best baby bottle drying racks
---
1. What's the best way to clean a bottle drying rack?
Many bottle racks are dishwasher safe in the top rack of your dishwasher. If not, you can use a dish brush or a small bottle brush to get into tiny places. Wash the rack with warm water and liquid dish soap, rinse thoroughly and let it air dry.
---
2. How should I wash my baby bottles?
Always wash bottles immediately following use- have you ever discovered a bottle or sippy cup with old milk in it? Eew! You should disassemble the bottle and wash with soap & hot water using a bottle brush. Bottles can then be air-dried on your new drying rack.
---
3. Do I even need a bottle drying rack?
Many bottles are dishwasher safe, but experts often recommend hand washing and letting them air dry for best results. Pieces placed in the dishwasher can also become misshapen or cracked over time. A bottle rack can give the bottle a space to dry, allowing air to circulate and dry the bottle naturally. Bottle racks are also great beyond the baby years. You can use them for sippy cups, plastic children's cups, and water bottles.
---
4. How do I know which rack is for me?
There are several things you can consider when deciding on a bottle drying rack.