Updated on by Lyric Fergusson
Mealtime for your baby or toddler is a time for learning and exploration. As your little one learns about their pallet, maneuvering cutlery, and other mealtime skills, a playful bowl can encourage this learning process. For picky eaters, the right bowl can make all the difference in ensuring your baby receives the healthy food they need. The key is finding a bowl that safely promotes a positive mealtime experience while keeping your floor clean and not overcomplicating your dishwashing routine.
Here are my top picks for fun and practical bowls for toddlers and babies.

Best Baby Bowls
---
(Easiest clean-up — $$)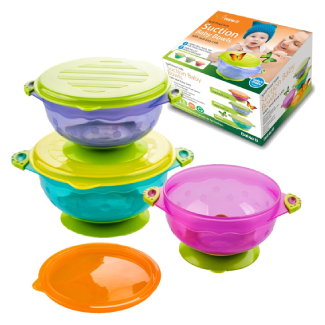 Why it's great: These bowls have strong suction and are great for any parent looking to limit clean-up time after meals because they are easy to rinse and they are dishwasher-safe. In addition to the fun colors, this set is great because it comes in three different sizes. The snap-on lid is also convenient for storing food between mealtimes.
Keep in mind: These are great for granite countertops or a highchair, but won't stick to wooden or porous surfaces.
Good for: Messy eaters and gifts for a new or expecting parent.
---
(Best suction — $)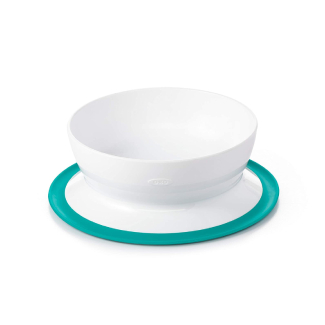 Why it's great: This is a strong choice for parents who want a suction bowl. The suction technology is so great that many pet owners recommended this bowl for pets inclined to spill their water bowls. This bowl has a kid-proof suction release and is great for toddlers looking to increase their intake at mealtime! The tall, curved side walls also help with scooping and self-feeding.
Keep in mind: This product is microwave-safe, but you will need to remove the suction base first.
Good for: Any age, this bowl is great for babies and toddlers!
---
(Most options — $$$)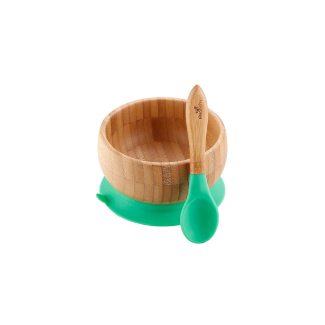 Why it's great: The bamboo bowl comes in many different base color options, as well as a variety of bundle options. From just a bowl and spoon to a bowl, a divided plate, and a set of spoons, you can choose exactly what you need. The suction base easily holds the bowl in place and the high walls help your baby learn to scoop. The bamboo is high quality and plastic, BPA, phthalate, PVC, and lead free.
Keep in mind: This set is hand wash only, but it's quick and easy to rinse out and wash.
Good for: Parents that like to have a variety of options and prefer bamboo bowls.
---
(Best value — $)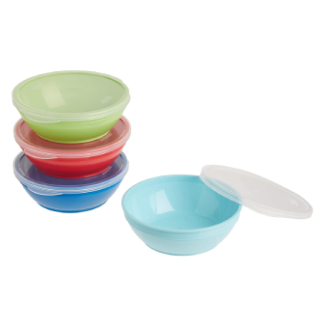 Why it's great: This brightly colored set is excellent for toddlers who have recently graduated from a highchair to the table. The lids are particularly advantageous for picky eaters or kids who prefer to eat a series of smaller meals throughout the day because they are easy to store in the refrigerator or freezer.
This set is also one of the few microwave-safe options on the market and it is BPA-free. These bowls are reasonably priced, which is great for parents who are still testing which type of bowl works best for their little one.
Keep in mind: These don't have any suction, so it may take some time for your baby to get used to bowls that can move.
Good for: Toddlers and young children and parents on a budget.
---
(Most eco-friendly — $$)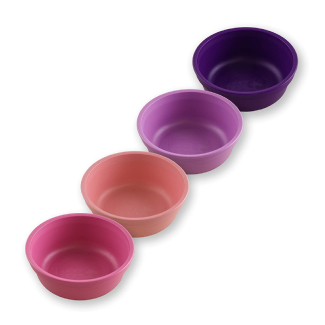 Why it's great: Re-Play makes a variety of baby and toddler products out of recycled milk jugs. This means that they're eco-friendly, but also extra durable and long-lasting. These bowls come in a set of four in a variety of color options, so you're sure to find a set that you love. They're stackable, dishwasher safe, and can be microwaved for short bursts (20 seconds). These non-toxic bowls are the perfect size for babies and toddlers, with high walls to help them learn to scoop. Plus, you can get matching plates, silverware, and cups!
Keep in mind: These bowls do not have any suction, so they will slide around on the table.
Good for: Families that like to use eco-friendly products and want bowls that are durable and long-lasting.
---
(Best for baby-led weaning — $$$)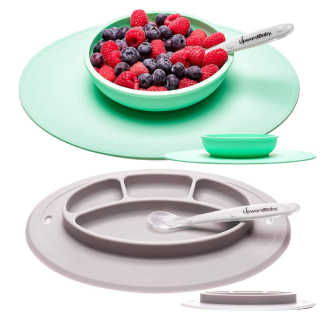 Why it's great: This bowl is not too deep, so it's perfect for babies who are new to solid foods. The plate is ideal for baby-led weaning! You can see which foods they gravitate towards and encourage babies to try new solid foods. This product comes with an ergonomically designed spoon and is dishwasher and microwave safe. The suction release is baby-proof, but allows parents to remove the plate and bowl from the surface easily.
Keep in mind: This product has great suction, but you may want to make sure the highchair table you are using is big enough.
Good for: Baby-led weaning and babies who like variety at mealtime.
---
(Most comprehensive set — $$$)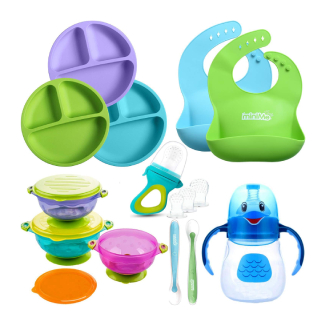 Why it's great: This set has it all: three different-sized suction bowls with lids, three divided non-skid plates, two spoons, a sippy cup, two bibs, and a teether. It is perfect for everything from baby-led weaning through the toddler years. The plates are freezer, oven, dishwasher, and microwave- safe. This set would make an excellent gift for a new parent.
Keep in mind: The plates are non-skid, but do not have suction and may be better suited for toddlers and young children.
Good for: Gifts and families with more than one child under 5.
---
(Best beginner bowl — $$)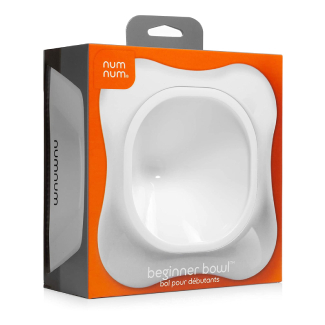 Why it's great: This bowl has a non-skid base and high edges to make finding and scooping food easy for babies new to eating. The sloped edges keep food in the center of the bowl, so your child won't be trying to scoop food from every corner. The silicone bottom works on any surface, including wood or porous surfaces, which gives it an advantage over the suction base bowls. You can purchase this bowl on its own or buy it in a set with matching spoons that are geared to helping beginners learn to eat.
Keep in mind: This only comes with one bowl, but it is stackable if you decide to buy multiple.
Good for: Baby-led weaning and beginning eaters.
---
(Most compact storage — $)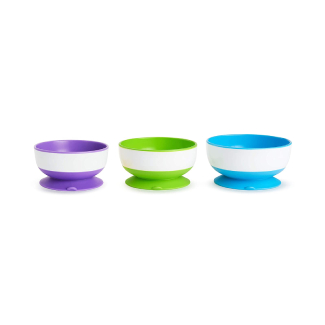 Why it's great: These bowls are very easy to stack and store and have excellent suction! They also come in a variety of color options, so you're sure to find some that your baby will love. These lightweight bowls are sturdy and recommended for ages six-months and above. They are microwave and top-rack dishwasher-safe, making food preparation and clean-up easy with this set.
Keep in mind: Munchkin recently redesigned this product to improve its suction, but they no longer include lids.
Good for: Traveling and parents with limited cabinet space.
---
(Most stylish — $$)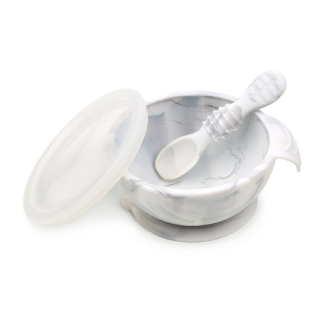 Why it's great: This sleek marble design is excellent for the parent who wants the sturdiness of a baby bowl with a more sophisticated look. In addition to the beautiful design, this set includes a baby spoon and lid to facilitate storage. This bowl is also great for traveling or babies on the move. The handle on the side gives your baby something to hold on to while scooping with their other hand. The spoon also has a teether on one side, which can also help with their grip, as well as soothing their gums.
Keep in mind: This is a silicone bowl, and while it's top-rack dishwasher-safe, it may require a sterilizing soak from time to time to remove stains.
Good for: Baby's first bowl and parents looking to maintain their kitchen's aesthetic.
---
(Best portioned bowl — $)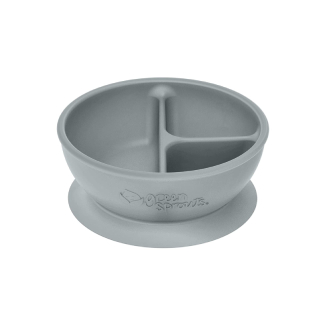 Why it's great: Usually you'll only find sections on plates, but this bowl has three, making it super easy to allow your baby to try different foods, while still being able to utilize the higher walls to help them scoop. The bottom has a strong suction to keep this bowl in place. Plus, it's dishwasher and microwave safe! It comes in a variety of different colors, so you should be able to find one that'll attract your child's attention.
Keep in mind: This only comes with one bowl, so you may need to purchase a few.
Good for: Parents that want to be able to allow their baby to try different types of food at the same time, without dirting multiple bowls.
FAQs about Baby and Toddler Bowls
---
1. What are the must-have features for baby dinnerware?
Safety first: you want to make sure that any baby bowl you purchase is BPA-free. BPA is the most common toxin found in polycarbonate plastics and epoxy resins, and you want your baby to steer clear of it. Other toxins you want to avoid are phthalate, lead, and PVC.
The next most important feature is how appealing it is to your little one. The right bowl can make all the difference in setting mealtime expectations. Then, you will want to consider your meal preparation and clean-up process and find a bowl that will facilitate, not complicate this process.
Finally, you should think about durability and find a bowl that can stand the test of time. If you have multiple young children, try a variety set to serve little ones of different ages. You will want bowls that your little ones will be excited to "graduate from" as their fine motor skills improve and their appetite grows.
---
2. Can I microwave my baby's bowl?
You want to be sure to read the product description for this one. Most bowls with a suction feature that is not removable are NOT microwave-safe. The same goes for determining if a bowl is freezer or dishwasher-safe: be sure to read the product description. If you're not sure, avoid microwaving; microwaving an unsafe bowl can destroy your microwave or cause a fire.
---
3. When should I start using baby bowls?
Most bowls are safe from six months old. You want to be sure that your baby can sit up properly before putting them in a highchair. Your baby can start using a bowl even before a spoon and a colorful bowl is an excellent way to entice your baby to begin baby-led weaning.
---
4. What should I keep in mind for a toddler bowl?
Toddlers like testing limits and every suction bowl is a challenge for most toddlers. You want to make sure any toddler dinnerware has great suction technology. By 18-months, your toddler should be able to communicate their preferences to you, so consider buying bowls and plates in their favorite colors to promote healthy mealtime habits.
---
5. Do suction bowls and plates work on all surfaces?
It depends on the product, but in my experience, wooden tables tend to pose the biggest challenge to suction bowls and plates. Most suction bowls and plates are perfect for highchair tabletops. If you plan to use a porous surface, try buying a single bowl first to test before ordering in bulk.
---
6. What is baby-led weaning?
Baby-led weaning (BLW) adds complementary foods to a baby's diet of breast milk or formula. BLW facilitates the development of age-appropriate oral motor control while maintaining eating as a positive, interactive experience. Baby-led weaning allows babies to control their solid food consumption by "self-feeding" from their first experience with solid food. The term weaning does not refer to giving up breast milk or formula, but rather introducing foods other than breast milk or formula. Choosing the right baby bowl can play an essential role in baby-led weaning, as exciting colors and designs contribute to a positive mealtime experience.
---
Conclusion
Creating a positive mealtime experience is more than just feeding your child. It is critical to babies and toddlers to learn socialization, healthy eating habits, independence, and table manners. The right baby bowl can help support a lifetime of healthy eating habits and make your already challenging job as a parent easier by facilitating clean-up and meal preparation.
I reviewed the bowls on this list with an eye for visual appeal, design, durability, and safety. Any of these bowls, or combinations of the bowls, will serve you well in your mission to encourage a positive mealtime experience.
You may also like our other product reviews…
Bottle Drying Racks | Bubble Bath Soap | Carriers for Petite Moms | Coconut Oils for Babies | Cribs for Twins | Floor Seats | Foam Play Mats | Glass Baby Bottles | Hair Brushes | Hampers | Hats | Headbands | Hooded Towels | Interactive Baby Dolls | Long-range Baby Monitors | Loungers | Mittens | Mobiles | Moccasins | Moisturizers for Baby Hair | Musical Toys | Nail Clippers | Pillow for Baby Flat Head | Play Fences | Retractable Baby Gates | Reusable Baby Food Pouches | Rugs for Baby Nursery | Scales | Sink Tubs | Spoons For Self-feeding | Stuffed Animals for Baby to Sleep With | Toothbrushes |