Updated on by Lyric Fergusson
New Moms have countless things to worry and think about, as well as countless new jobs and daily activities that weren't part of their routines before baby. One of those new activities is a favorite of many moms: baby bath time. Creating a fun, relaxing ritual for you and your new little family can help on your journey to a happy baby and (hopefully!) ease your way into a sleeping-through-the-night journey that other moms will be envious of! Some bubble bath products are just for smiles, laughter, and fun, while others are for helping your baby to relax and prepare for sleep. Some of them double as baby soap and can be used on gentle, newborn skin, while others might be better suited for a baby with more months of life on them. Either way, these products will grow with baby, well into toddler and beyond.
Below we have compiled a list of the 7 Best Baby Bubble Bath Soaps available to you on Amazon so that you can make an informed choice about which to make part of your routine.

The Best Baby Bubble Bath Soaps
---
(Best value — $)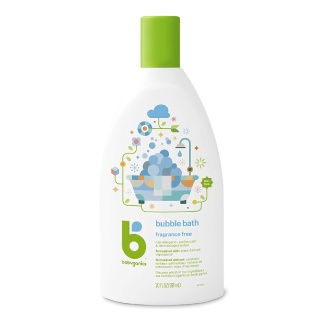 Why it's great: While baths aren't recommended until baby has grown further into toddler age, many Mom reviewers commented that this particular bubble bath has not caused any irritations or infections for their young ones, even their little girls. This bubble bath is both fragrance-free and tear-free, made with plant-derived ingredients. Many moms report that this product is their tried-and-true go-to for bath time rituals.
Keep in mind: This product is labeled as bubble bath and not baby wash. It also has instructions about how to avoid issues in the urinary tract and a few reviewers wished they had followed those instructions.
Good for: Kiddos who are a bit older and ready for the wild world of bubble baths.
---
(Trusted product — $$)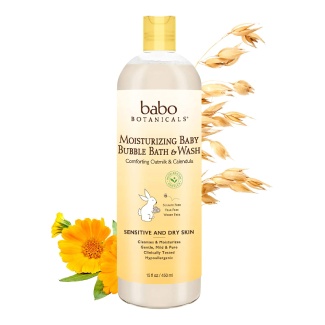 Why it's great: This soap doubles as bubble bath. While it is safe for newborn skin, it can grow with baby and be perfect for bubble baths when they are old enough. This product leaves baby's skin soft and moisturized, with no drying out. It is free of many harsh chemicals and also leaves out common allergens, just in case! This one comes with many guarantees, including a Cruelty-Free one, which ensures that they do not test on animals. If you like this wash/bubble bath, the Babo company offers a wide range of products for all of baby's needs.
Keep in mind: Many mom reviewers loved using this product more as a body wash/soap than as a bubble bath.
Good for: Moms of young ones, including newborns!
---
(Fragrance variety — $)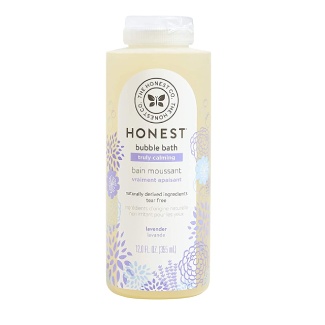 Why it's great: This tear-free bubble bath liquid is made of naturally derived ingredients and essential oils. There are multiple scents and styles available: truly calming, everyday gentle, gently nourishing. This bubble bath is gentle enough for everyday use and won't dry out baby's delicate skin. The Honest Company works hard to make sure you know they care about your baby; Their company's purpose is to avoid chemicals of concern and use smarter ingredients to create trusted products.
Keep in mind: The Honest Company suggests an amount to use and reviewers warn you to stick to that suggestion unless you're ready for a Jacuzzi-sized amount of bubbles!
Good for: Moms who love a trusted, celebrity brand that ensures plant-derived, safe ingredients and various scents (including a fragrance free).
---
(Mom owned — $$$)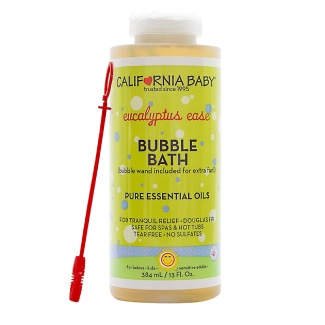 Why it's great: This bubble bath from California Baby is lightly scented with essential oils and is made of organic and naturally-derived ingredients. The best thing about this product is that it comes with a bubble wand for blowing bubbles to make bath time extra fun and boost brain and motor skills! This product is free of most allergens and the many scary chemicals that we can't begin to pronounce. Organic aloe helps to soothe your little one's skin and keep them from drying out. California Baby is both woman-owned and family-owned.
Keep in mind: Moms give the added tip to only hand kiddos a capful of the bubble bath solution when allowing them to blow bubbles in the tub. This way, you can move the bottle away from the tub and avoid spills.
Good for: Health-conscious moms who are also down for some silly fun at bath time.
---
(Best mission — $$)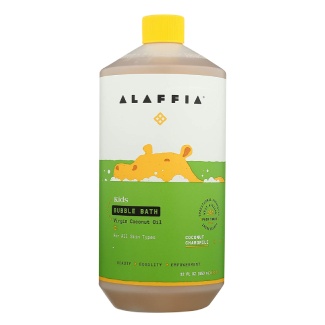 Why it's great: Alaffia is a West-African greeting that means "state of peace, health, and well-being" and this product hopes to deliver just that. This is a kids bubble bath that is gentle enough for many age groups and is great for those with sensitive or dry skin. Alaffia is also a product with a mission to help bring equality and empowerment to Togo, West Africa. So far, because of profits, they have contributed to maternal care, school construction, school supplies, eyeglasses, bicycles for education, and reforestation. This product is calming and nourishing to sensitive skin, which makes it ideal for babies and children of all ages.
Keep in mind: There are no added fragrances here other than the naturally-derived ones.
Good for: Moms who want a great product for their kids, while supporting a wonderful cause.
---
(Trusted brand — $)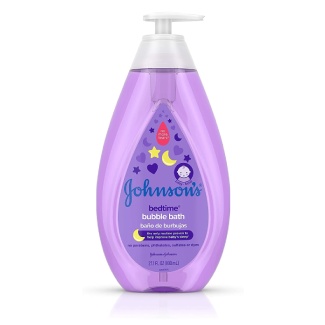 Why it's great: Johnson's products have a "no-more-tears" legacy and that still holds true. With Natural Calm essences, this bedtime bubble bath is perfect for helping your little one to relax and even claims to lead to better sleep in just one week of use! This pediatrician- and dermatologist-tested baby bubble bath is hypoallergenic and sulfate-free and promises to clean away 99.9% of germs. Johnson's is a brand trusted by many and has been around for over 125 years.
Keep in mind: This product recommends use by children age 7-36 months and can be used as a soap as well as a bubble bath.
Good for: Moms and kiddos who want their bath time ritual to become a way into a better night sleep. This is clinically proven to help little ones sleep better in just one week.
---
(Natural — $)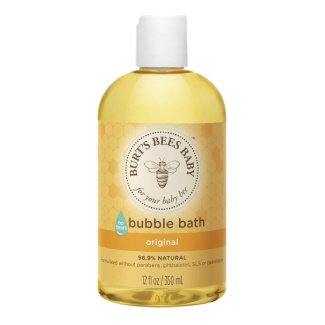 Why it's great: Burt's Bees products are all about being safe, effective, and natural, and this is no different. This baby bubble bath is tear-free and gently cleanses without drying or causing irritation to baby's sensitive skin. It has natural moisturizers- soy protiens, vitamin B, and essential minerals- that help keep your baby's skin silky smooth and so soft.
Keep in mind: This product is naturally foaming, so the amount of bubbles won't be immense. However, with a price that low, you won't be sad to use a bit more mid-way through the bath!
Good for: Moms who are looking for simple bubble solutions that are safe for baby's delicate skin.
---
FAQs about baby bubble bath soaps
---
1. At what age can my baby have a bubble bath?
Many believe that bubble baths can increase you little one's risk of UTIs. So, some medical experts suggest waiting until a child is, at least, 3 years of age.
---
2. How do I avoid urinary tract issues for my toddler?
Make sure to avoid prolonged exposure to the solution. If the bubbles start to dissipate, consider ending bath time as opposed to adding more soap solution. Make sure to clean and rinse your little one well, when bath time is all finished.
---
3. Do all bubble baths double as baby soap?
Check the label and read the bottles carefully. The product will always tell you how to best use it. Some of the above products do double duty as soap and bubble solution, while others are only for the added fun of suds in the tub.
---
4. Do bubble baths actually get you clean?
Remember to scrub and rinse properly afterward. Just sitting around in soapy bubbles is not actually doing much in the way of cleaning the body.
---
5. Are all baby washes/bubble baths tear-free?
Again, make sure to read the labels carefully. If the product aims to be tear-free, you'll see it written there. And a good rule of thumb is to always try and avoid the eyes, just in case. Bath time is always a time of constant adult supervision and this is just one of the many reasons.
---
Conclusion
---
Parents have a list of duties a mile long, but creating a bath time ritual with your kiddo is important for them and can be very fun for you. Soap is, of course, essential, for keeping a healthy and happy baby, but why not add in the fun and extra element of bubbles? Above, we have created a list of the highest reviewed bubble baths/soaps for babies and toddlers on Amazon. (Note: many of the products mentioned that they are also used by adults with sensitive skin!)
While there are many safety concerns associated with baby's bath time, there can also be many fun and joyful memories for the whole family. Scrub up, get clean, and smile. Or, even better, help your new baby to relax and get ready for a better night's sleep that everyone in the house will be thankful for.
You may also like our other product reviews…
Baby Bath Mats | Baby Blocks | Baby Bottle Cooler Bags | Baby Bottle Dish Soap | Baby Bowls | Baby Car Mirrors | Baby Car Window Shades | Baby Carriers for Men | Baby Dolls for 1-Year-Olds | Baby First Aid Kits | Baby Food Storage Containers | Baby Grooming Kits | Baby Memory Books | Baby Nail Files | Baby Oils | Baby Onesies | Baby Probiotics | Baby Rattles | Baby Socks That Stay On | Baby Utensils | Baby Walkers | Baby Washcloths | Bath Towels | Bathtubs | Bibs | Blankets | Blenders to Make Baby Food | Booties | Bottle Brushes |