Updated on by Lyric Fergusson
We all know by now that rear-facing car seats are the safest ways for our babies to travel. Leaving them rear-facing as long as possible is a choice that can actually save their lives. Although, not being able to see your new bundle of joy can be seriously stressful. Luckily, there's a solution for this– car mirrors that make it possible for you to safely see your little one's reflection while driving. These car mirrors attach to the headrest your little one faces, and they give you peace of mind while driving by making it effortless for you to monitor your baby. Are they happy? Are they sad? Are they asleep? Finding out is as easy as checking your rearview mirror.
Babies are kind of geniuses, and it doesn't take them long to find your face in the mirror, which can make it easier to soothe them while driving. Babies instinctively don't want to be alone, so knowing you are in sight provides them great comfort. Any baby gadget that provides safety and security at an affordable price point is a must-have. These mirrors are great for rear-facing kiddos of all ages. Toddlers gain self-awareness by looking in mirrors, and they can entertain themselves on long drives. Car mirrors have come a long way in the past few years. No matter which mirror you choose, you'll find peace of mind in being able to see your little one with ease.

Best Baby Car Mirrors
---
(Best value — $)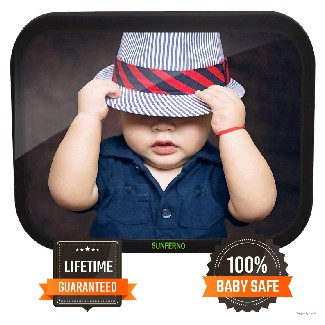 Why it's great: Sunferno is a small, family-owned business that specializes in handy products that make your car more user friendly; they didn't disappoint with this car seat mirror. It provides a wide view of your backseat, making it easy for both the passenger and driver to see the baby. You can install this mirror on any headrest in under 30 seconds. The ball joint makes rotating the mirror to the best angle a breeze.
Sunferno doesn't skimp on safety either. The mirror is made from an extremely durable, crash-tested material. You can rest assured that the mirror won't break and hurt your baby. The company also has a lifetime guarantee. If for any reason you don't like the mirror or if you have issues with it they will give you a full refund or replacement, your choice.
Keep in mind: You can't lock the mirror into place, so if you bump it when getting your little one out you will need to readjust before driving again.
Good for: Mommas who don't want to break the bank.
---
(Best for twins — $$)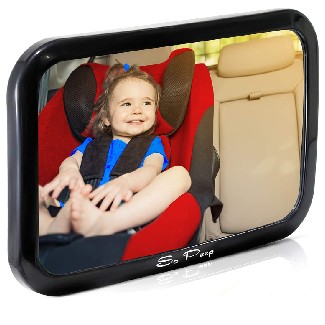 Why it's great: This mirror is nearly a foot wide and gives you a panoramic view of your backseat. If it is positioned correctly you can actually see two rear-facing kids at once in it. The mirror itself is made from shatterproof safety glass. You can install this rear-facing mirror in under a minute and no tools are required.
This intuitive baby accessory comes with a 100% satisfaction guarantee. The overall size and clarity of the mirror make it super easy to see your little one's face and ultimately know they are safe. So Peep especially engineers their mirrors to stay in place while you drive, so you don't have to worry about hitting a bump and losing sight of your child in the backseat.
Keep in mind: Due to the wide angle view your little one's reflection is small.
Good for: Mommas with twins because you can see two kids in its wide-angle reflection.
---
(Most fun — $$$)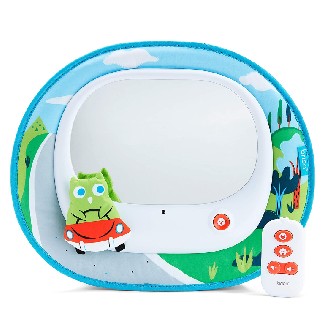 Why it's great: This mirror goes beyond giving you the security of being able to see your baby; it also gives you the power to safely entertain your little one. The mirror is bright, and colorful and even has a cute little owl on it. It comes with a remote you can attach to your visor that allows you to turn on lights and music for your baby. There are two modes- one is cheerful and upbeat, one is intended to soothe your little one to sleep.
This crash-tested mirror works with any headrest that isn't fully attached to the seat. It has 24 minutes of music and has an auto-shutoff feature that will help conserve battery life. The Brica provides entertainment for your little one and peace of mind for you.
Keep in mind: This mirror and its remote require batteries, so stock up on AAs.
Good for: Mommas with highneeds babies, as it provides all sorts of entertainment.
---
(Best view — $$)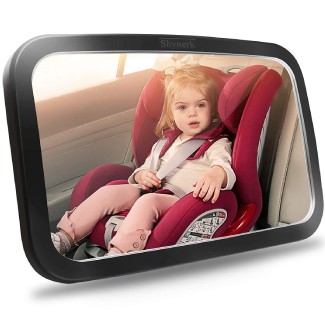 Why it's great: This pivot mounted mirror attaches to your car's headrest giving you a crisp, clear view of your child from head to toe. It uses a dual strap system which ensures it is secure and safe. Another safety feature is that this model is made from a shatterproof acrylic material.
You can easily install the Shynerk mirror in seconds, and no tools are required. The pivot mount makes it easy to adjust, and it keeps it in the position you choose. It is that easy to give yourself the peace of mind you need while driving.
Keep in mind: The frame of this mirror is really shiny, which can cause a glare in the driver's mirror. Masking tape fixes the issues.
Good for: Mommas who want a crisp view of the backseat.
---
(Best for forward facing kids — $$)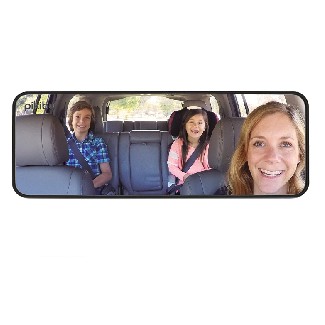 Why it's great: This mirror is different from the others on the list. It actually goes over your current rearview mirror. It allows you to still see what's behind the car, but also you can see the backseat, and it even gives you a better peripheral view of your blind spots.
This mirror is useful even after your kids are out of car seats. The reflection is wide but not distorted, making it a great addition to any vehicle. Also, think of how many sibling fights you could solve simply by being able to safely view what's happening in the backseat.
Keep in mind: This mirror doesn't allow you to see a rear-facing baby, but could be used in conjunction with a rear-facing mirror.
Good for: Mommas who have children who are forward facing.
---
(Best for night driving — $$$)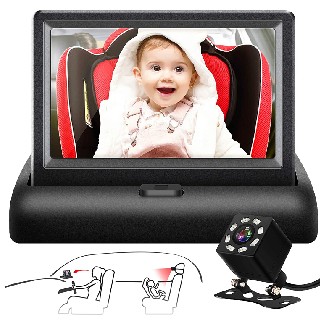 Why it's great: This is another option for safely seeing your rear-facing little one. Instead of relying on mirrors, this system actually uses a camera that attaches to the head rest your baby faces and a dash-mounted, color display for you. Perhaps the coolest feature of this monitor is that the camera has night vision.
Since no mirrors are involved, it's also easier for the passenger to see the baby. Day or night, you get a clear view of your little one. An added bonus: you can also put the monitor down when it's not in use.
Keep in mind: Both the camera and the display have cords that will need to plug into your car's power outlets.
Good for: Mommas who drive a lot at night.
---
(Best for tight spaces — $$)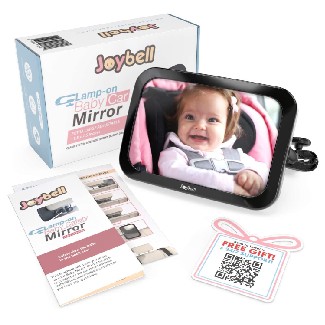 Why it's great: Many baby car mirrors attach to your adjustable headrest with straps, this one is different. The Joybell baby car mirror uses a safe and secure clamp attachment. This makes installation a breeze and especially convenient in cars that don't give you much wiggle room.
The mirror is made from shatterproof acrylic material, and the clamp is made from a material that is built to withstand drastic changes in temperatures without compromising its integrity. If you tried the kind with straps and not been a fan, this may be a better option for you.
Keep in mind: If your car's headrests have larger posts the clamping mechanism may not fit around them. You can always check the specs before you buy.
Good for: Mommas who drive small cars
---
FAQs about baby car mirrors
---
1. What if my baby breaks the mirror?
All of the baby car mirrors that made our list are made from crash-tested, shatterproof materials. You can rest assured that your little one won't shatter the mirror. Also, it's important to note that when installed properly the mirror will be out of reach for your little one.
---
2. What age group are car seat mirrors good for?
There are two kinds on our list. The first is the car seat mirrors that make it possible for you to see your rear-facing child. These are great for newborns up to toddlers. The other option increases your view of the backseat by attaching to your rearview mirror. These are good up until the teenage years (aka the ruthless fighting with your sibling years).
---
3. Are car seat mirrors hard to install?
No! None of these mirrors require tools or much time to install. You honestly don't even need the directions for most of these; however, if you like to play it safe, they all come with directions for installation.
---
4. What are the benefits of getting a mirror for my rear-facing child?
First and foremost, peace of mind. Having your baby or toddler in view reduces your stress while driving. Second, as your baby matures they will want to interact with you, and just seeing your face in the reflection gives them comfort. Third, toddlers gain self-awareness by looking in mirrors, so this is the perfect time for them to be able to study their own reflection.
---
5. Is my car compatible with baby car mirrors?
If your car has adjustable headrests you can install any of the baby car mirrors on this list. There are a couple of different mounting options, but they all require you to have headrests that adjust.
---
Conclusion
---
Riding in a car can be an experience that your little one looks forward to. Some babies innately love car rides, but some babies, unfortunately, despise them. A mirror that allows you to see your little one and your little one to see you can help to ease those car seat jitters. It's natural to worry about our babies and not being able to safely see them only compounds that helpless feeling. Visual contact eases those tensions. Not to mention, a baby car mirror can increase the bond between parent and child.
If you're a soon-to-be new mom who is already worried about traveling with a newborn, a baby car mirror is a must. If you have a baby who hates car rides or requires constant adult attention, these mirrors are also handy. Lastly, if your toddler is starting to get fussy on extended car rides a mirror may be the answer to your problem. There are tons of reasons to get a baby car mirror. Whichever one you choose will prove to be an asset when traveling with a baby.
You may also like our other product reviews…
Bottle Drying Racks | Bubble Bath Soap | Carriers for Petite Moms | Coconut Oils for Babies | Cribs for Twins | Floor Seats | Foam Play Mats | Glass Baby Bottles | Hair Brushes | Hampers | Hats | Headbands | Hooded Towels | Interactive Baby Dolls | Long-range Baby Monitors | Loungers | Mittens | Mobiles | Moccasins | Moisturizers for Baby Hair | Musical Toys | Nail Clippers | Pillow for Baby Flat Head | Play Fences | Retractable Baby Gates | Reusable Baby Food Pouches | Rugs for Baby Nursery | Scales | Sink Tubs | Spoons For Self-feeding | Stuffed Animals for Baby to Sleep With | Toothbrushes |