Updated on by Lyric Fergusson
Watching a young toddler bond with a baby doll has to be one of the cutest parenting moments. Not only do these timeless toys provide hours of entertainment for 1-year-olds, but they are also a great learning tool. Playing with dolls teaches your little one empathy, responsibility, and social skills.
If you're looking for the perfect gift for the baby doll lover in your life, here are 11 of our best picks.

The Best Baby Dolls for 1-Year-Olds
---
(Best value — $$)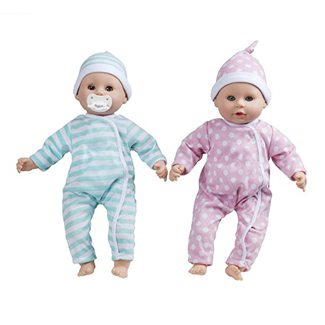 Why it's great: These dolls are adorable, with realistic facial features and soft coordinating rompers and caps. Your child will love playing with both a boy and a girl doll and with double the fun, they're a great choice for older 1-year-olds and twins. Their eyes open and close, and they come with pacifiers so your little one can calm and soothe them during playtime. They can also suck their thumbs.
Keep in mind: These dolls are a little bigger than some, so they're more suited for 18 months and up.
Good for: Seasoned, older baby doll "parents" who can handle two babies at once! Or if you know any twin 1-year-olds, this is a perfect gift for them.
---
(Most cuddly — $$)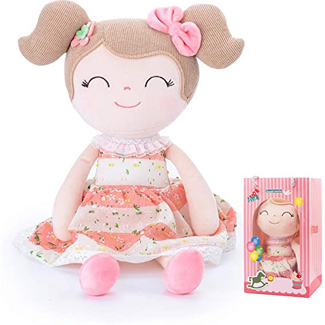 Why it's great: This adorable doll is made of soft plush and cotton. She has a sweet smile and will be your child's new favorite toy to cuddle. She is beautifully stitched and lightweight, so your toddler can easily carry her with her wherever she goes. On top of that, she's completely machine washable. This means you don't have to worry if your baby spits up or spills on her. This doll also comes in different designs, including different skin colors, so you're sure to find one that your child will love.
Keep in mind: It does have some glitter on it, so it might be best to wash it and get the loose pieces off before giving it to your child.
Good for: Toddlers that want a doll they can snuggle with.
---
(Most eco-friendly — $$)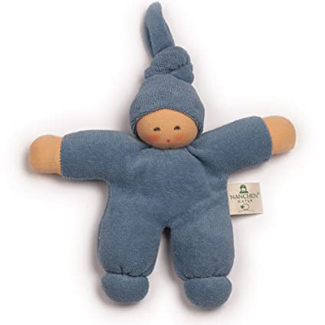 Why it's great: This classic doll is made in Germany from 100% cotton and Pure Bio Wool. The dolls are very small, about 7 inches tall and 6 inches wide, and also very light – only 1.6 ounces. They are based on the Waldorf style of dolls, which is characterized by natural materials and simple design. The soft dolls are comforting and also great for teething toddlers, since they do not have any chokable parts.
Keep in mind: If you're looking for a more realistic doll, this one might not be the best pick, but it sure is cuddly and sweet!
Good for: Your toddler's first baby doll or for teething toddlers.
---
(Most interactive — $$$)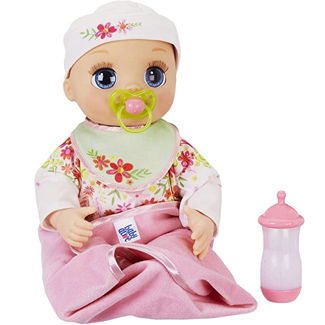 Why it's great: This just might be the ultimate baby doll. Not only does it talk (or more accurately, babble), but it also naps when rocked, turns its head when called, and makes those adorable feeding sounds when drinking from the included bottle of disappearing milk. The doll's face can even make sad or happy expressions, and she can blow kisses and giggle when being tickled. The Baby Alive Real As Can Be baby doll also comes with a pacifier, removable outfit, bib, hat, and blanket.
Keep in mind: The manufacturers have listed this baby doll as ages 3 and up. While your 1-year-old will certainly be interested in the sounds and expressions, the interactive features are also great for older toddlers, making it a great baby doll for long-term use. This baby doll will also help your little one learn simple tasks like giving a baby a pacifier, feeding, and rocking to sleep, so it's a great gift for a 1-year-old with a baby brother or sister on the way!
Good for: More advanced, communicative 1-year-olds who are learning to talk and complete simple tasks.
---
(Best for teaching diversity — $$)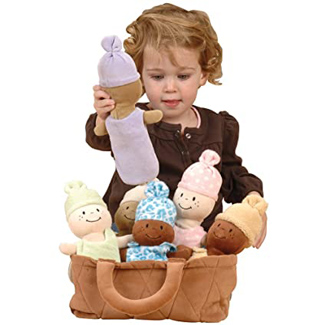 Why it's great: This adorable basket of babies is perfect for the avid baby doll lover in your life. The set comes with six multiracial baby dolls to teach inclusion from a young age. The dolls are fairly small – about 10" tall – with a simple, sweet design. The dolls are hand-sewn and come with individual sleep sacks that are easy for your little one to remove and replace. The hats are attached and match the sleep sacks, so the dolls also provide a good opportunity for your 1-year-old to work on matching. In addition to the six baby dolls, the set comes with a soft fabric basket to keep all the babies together.
Keep in mind: These dolls are not machine washable, but the fabric is surface washable.
Good for: Teaching diversity and inclusion at a young age.
---
(Most age-appropriate — $$)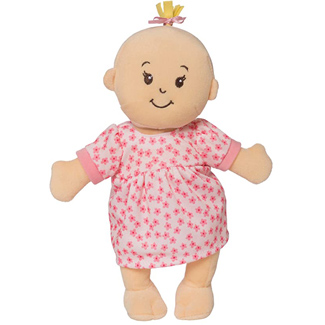 Why it's great: Wee Baby Stella is the perfect doll for your 1-year-old. Not only is she adorable, with a little tuft of hair and soft, cuddly fabric body, but she also comes with a magnetic pacifier and removable clothing to help your little one build fine motor skills. The Baby Stella line offers numerous add-ons for baby doll play, including a feeding kit, extra outfits, baby carrier, bath set, stroller, carseat, and many more options, making this a gift that keeps on giving. They also offer different looks, so you're sure to find one that your child will like.
Keep in mind: There are two Baby Stella sizes available – 12" and 15". This option is a bit smaller and ideal for young toddlers. If you purchase any extra accessories, though, make sure they are for the 12" model and not the 15" doll.
Good for: 1-year-olds who love dressing up and cuddling their baby dolls, as well as those who are looking for a doll with lots of accessories.
---
(Most classic — $)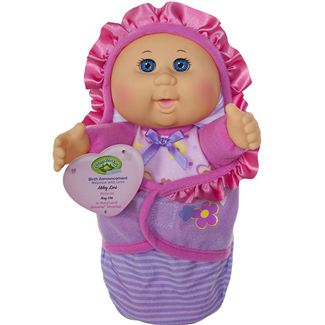 Why it's great: Cabbage Patch dolls have been around for decades and will bring nostalgic memories from your own childhood. Your toddler will love how cute and cuddly this doll is. The super soft body is great for hugging. She comes with a swaddle and can suck her thumbs, so your child can get a feel for what it's like having a real baby. It also comes with a birth certificate, to really allow your child to call her their own. This doll also has a sweet scent that your child will love.
Keep in mind: It's a bit smaller than some dolls, but that makes it easy for a 1 year old to carry around.
Good for: Parents who are nostalgic and want an adorable doll for their child.
---
(Best for heavy use — $)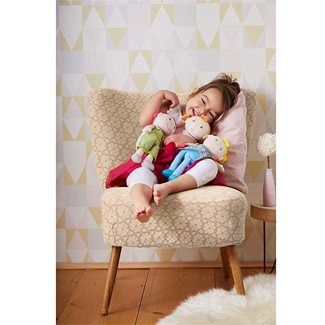 Why it's great: This small 10" doll has a sweet embroidered face and removable clothing with hook-and-loop closures. It's also machine washable, making Roya the perfect companion for on-the-go toddlers. There are two other dolls in the HABA 10" Snug Up collection – Edda and Dorothea – so your little one can enjoy collecting them all!
Keep in mind: Many buyers noted the doll is much smaller than they had anticipated. If you're looking for a larger doll with a similar design and quality, check out the HABA 12" soft dolls.
Good for: Busy toddlers who want to take their baby doll wherever they go.
---
(Best quality — $$)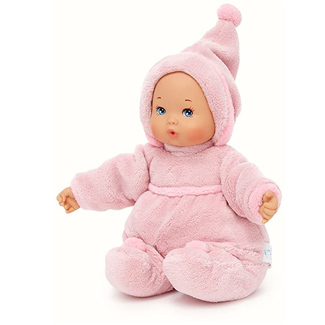 Why it's great: Madame Alexander is another company that's been making dolls for decades and they always use the highest quality materials. So you can be assured that your child will be able to love this doll for years to come. This baby doll has a soft fabric body perfect for snuggling. She's small and light, which makes her the perfect size for 1 year olds. Her features and hair are painted on and she's got a cute, cupid mouth and bright blue eyes.
Keep in mind: This doll is not machine washable, but you can surface clean it.
Good for: 1 year olds that are a little rougher on their dolls and need something more durable.
---
(Most multicultural — $$$)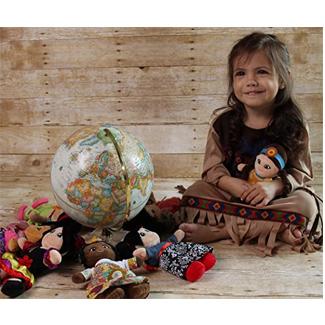 Why it's great: This set of eight dolls is another great pick for teaching your little one about diversity and different cultures at an early age. The set includes eight soft dolls, each with a different ethnicity: Latin, Polynesian, American Indian, African, Eskimo, Indian, and Dutch. The dolls are 8" tall and dressed in traditional attire. The outfits are beautifully designed, with vibrant colors and eye-catching details your little one will love.
Keep in mind: These dolls should be spot cleaned only. The age recommendation from the manufacturer is three and up, but there are no safety hazards to note.
Good for: Teaching the value of culture and ethnic traditions from a young age.
---
(Easiest to care for — $$$)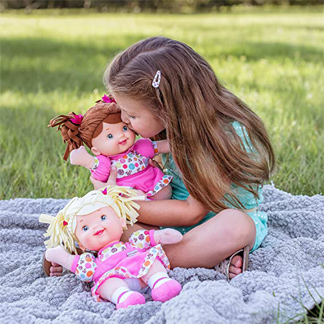 Why it's great: There are so many things to love about this adorable little doll. From her cute outfit to her pretty smile, she's sure to make an impression on your child. She is soft and huggable and can even be thrown in the washing machine if she gets dirty. She's also completely hypoallergenic and made with materials safe for any child. What I love most is that she sings and talks. Your toddler only has to squeeze her belly and she'll hear over 20 different phrases. This stimulates your child's vocabulary, while also strengthening their motor skills!
Keep in mind: You'll need to remove her talking box before you put her in the wash!
Good for: 1 year olds who want a doll that they can talk and sing with.
FAQs about baby dolls
---
1. What are the benefits of playing with baby dolls?
Playing with baby dolls is a source of endless entertainment and has numerous benefits for child development. Here are just a few of the benefits of playing with baby dolls from a young age:
Speech and Communication: If you've ever watched a little toddler shush a baby or babble words of comfort, you've seen a lesson in communication. Although it may seem simple, when 1-year-olds "talk" to a baby doll, they are working on their earliest social skills. Playing with baby dolls also teaches your little one to communicate emotion and learn emotional concepts like "sad," "happy," or "mad."
Compassion and Caring: Taking care of a baby doll teaches your 1-year-old the value of compassion and love. If you are expecting to add another child to your family, a baby doll is an excellent way to demonstrate how to nurture a baby and will help your 1-year-old adjust to being an older sibling.
Practical Skills: Many baby dolls come with removable clothing, pacifiers, bottles, blankets, hats, and other accessories that allow your 1-year-old to hone his or her fine motor skills in a play-based setting.
---
2. Isn't my 1-year-old too young for baby dolls?
It's amazing how early children enjoy playing with baby dolls. Even before they can actively play, children use baby dolls for comfort. Once babies gain better fine and gross motor control, they love holding, rocking, and shushing their babies. Most 1-year-olds are already learning to play pretend, making baby dolls an age-appropriate gift that also teaches important skills. Toddlers who are 1 or 2 years old will also enjoy many baby doll accessories, such as pacifiers, clothing, baby beds, strollers, and car seats.
---
3. What safety considerations should I keep in mind?
All the baby dolls on this list are safe for 1-year-olds. Look for baby dolls that are made of soft fabrics, and keep an eye out for any choking hazards, such as buttons, snaps, or other small parts that your little one might put in his or her mouth.
---
4. What materials are best for baby dolls?
Most 1-year-olds will do best with a baby doll made from soft material that they can touch and snuggle. However, if you're looking for a more interactive doll, plastic is also totally fine. If you plan to take your baby doll on outings and expect it to get soiled, look for a doll that is easy to clean.
---
5. What about accessories?
If your 1-year-old enjoys baby doll play, you might choose a doll that has matching accessories you can buy to create a complete collection. Many toy strollers, car seats, cribs, and other accessories are made to match certain baby doll sizes or designs, so keep that in mind if you plan to expand your 1-year-old's baby doll play options.
For toddlers who are new to baby dolls, a simple doll with a few accessories (an outfit and pacifier, for example) should be more than enough to keep them entertained.
---
Conclusion
---
Baby dolls are a perfect toy for all 1-year-olds. As with all toy purchases, the best choice is the one your little one will enjoy most. Consider what features will be most appealing to the 1-year-old in your life. Does he or she prefer interactive toys? If so, a doll that moves or makes life-like sounds would be a great option. If your little one is indifferent to talking toys and prefers quieter pretend play, it's probably best to keep it simple and go with a basic doll.
The good news is, at this age, you really can't go wrong with a baby doll. It's a classic for a reason!
You may also like our other product reviews…
Bottle Drying Racks | Bubble Bath Soap | Carriers for Petite Moms | Coconut Oils for Babies | Cribs for Twins | Floor Seats | Foam Play Mats | Glass Baby Bottles | Hair Brushes | Hampers | Hats | Headbands | Hooded Towels | Interactive Baby Dolls | Long-range Baby Monitors | Loungers | Mittens | Mobiles | Moccasins | Moisturizers for Baby Hair | Musical Toys | Nail Clippers | Pillow for Baby Flat Head | Play Fences | Retractable Baby Gates | Reusable Baby Food Pouches | Rugs for Baby Nursery | Scales | Sink Tubs | Spoons For Self-feeding | Stuffed Animals for Baby to Sleep With | Toothbrushes |