Updated on by Lyric Fergusson
A very important skill that toddlers need to develop is empathy. A great toy to help nurture that skill? A baby doll! Giving your child a baby doll not only nurtures the empathy skill, but also allows your child to begin pretend play. In other words, baby dolls are important for both boys AND girls! Your child's toddler years are the perfect time to start working on these skills needed to help them become caring and compassionate as they get older. There's no better way for your child to learn these things than by playing with a toy that encourages empathy and pretend play. After all, children do a majority of their learning through play!
From handmade dolls to dolls that come in sets, here are my top 11 favorite baby dolls for 2-year-olds:

Best Baby Dolls for 2-Year-Olds
---
(Best doll to grow with — $)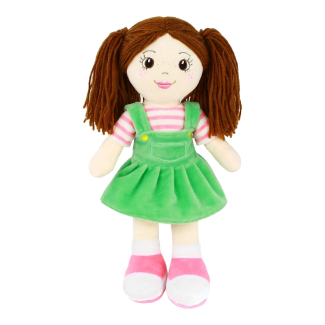 Why it's great: This doll is great for little ones with its soft body and embroidered features (eyes, mouth, nose). Its clothing is changeable for a different look if you buy extras. Plus, there's two other dolls in the collection that you can purchase, giving you more options for outfit changing. You can also get some of the boy dolls to complete the collection. Another great thing about this doll is that your child can play with it as a toddler, but will still appreciate the doll as the years go by.
Keep in mind: This is a 14" doll and finding clothes to fit her will be difficult. The only available options are to buy the other dolls in the collection and trade out their clothes.
Good for: Two and a half year olds ready for a plush best friend!
---
(Best value — $)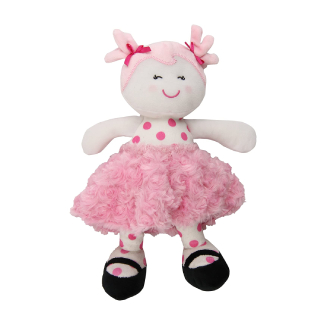 Why it's great: This product comes with several choices! You can have a plush baby, animal, or even a superhero (boy OR girl). This sweet doll has soft fabric. It is one piece, which eliminates any worry that something might break off. It is also small, which makes it perfect for giving hugs all day (and all night). It is machine washable, which – let's be honest – definitely is a plus with little ones!
Keep in mind: Some of the options do come with a rattle, while other options do not.
Good for: A child's first doll.
---
(Most realistic — $$)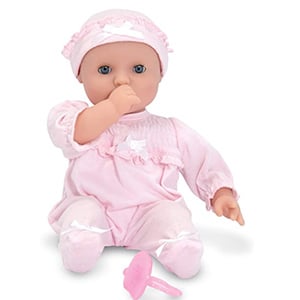 Why it's great: Melissa & Doug's Mine to Love collection is very popular, and for good reason! They're very well made, safe for young toddlers, and more lifelike than most dolls for that age group. Jenna has plastic hair, an adorable outfit that can be taken off, and eyes that open and close. Her body is super soft and her face and limbs can be easily wiped clean. She can be positioned to sit up or lay down and she can suck her thumb or the included pacifier. At 12", she's the perfect size for little hands to hold and hug.
Keep in mind: This one is surface clean only, so you won't be able to throw her in the wash if she gets dirty.
Good for: Toddlers that want a baby of their own, that's a little more realistic than some of the other options.
---
(Best quality — $$$)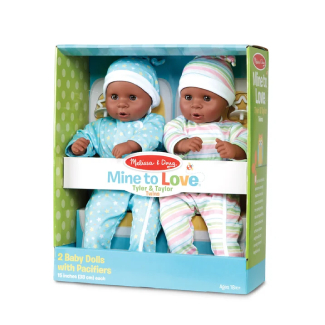 Why it's great: Another Melissa & Doug Mine to Love option, this set of twins is super adorable! Tyler & Taylor come in cute little outfits that can be taken off. As brother and sister, these two twins will delight your child with their blinking eyes and ability to suck their thumbs or included pacifiers. These babies have soft bodies that are perfect for hugging. Their faces and limbs are plastic and are easy to wipe clean.
Keep in mind: These two are a little bigger than the previous option, at 15" each.
Good for: Twin toddlers or one toddler that wants double the love!
---
(Best set — $$$)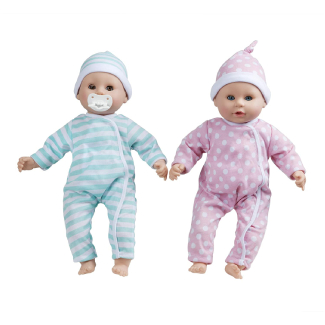 Why it's great: Another set of twins from Melissa & Doug, Luke and Lucy are also brother and sister. Your toddler will love to have one doll for each arm (or one to share… although, that would probably be more of a good thing for YOU… it doesn't hurt, though)! They can also suck on a binky or their thumb and have cute, removable outfits. Plus, their eyes open and close. These babies are perfect for your little one! These dolls are about 15 inches long.
Keep in mind: Some parents commented that their young toddler had a tricky time getting the thumb in the mouth. However, this just makes it a great exercise to strengthen your child's fine motor skills, hand muscles, and hand-eye coordination!
Good for: Young toddlers, but still good for your child as they grow (and any siblings, who also want to play)!
This doll is also available on Amazon.com ➜

---
(Best handmade — $$$)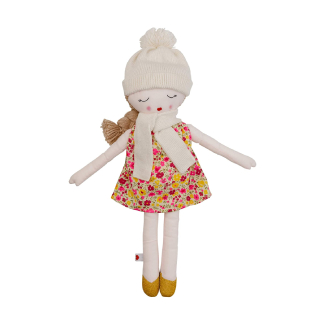 Why it's great: This doll is beautiful AND handmade! It is made of cotton cloth, yarn, and poly fill, so it will be nice and soft. The clothes and hat are removable, if needed. It also comes with a travel bag, so if you go on a trip somewhere, you can keep Autumn clean in this bag during your travels. She is 19 inches tall, so she is a bigger doll than most of the others, but she is very soft and very lovable.
Keep in mind: This is the one doll, though, that should not go through the washing machine! Instead, she can be spot cleaned and laid flat to dry.
Good for: Toddlers to play with during the day and snuggle with during the night!
---
(Most fun — $$)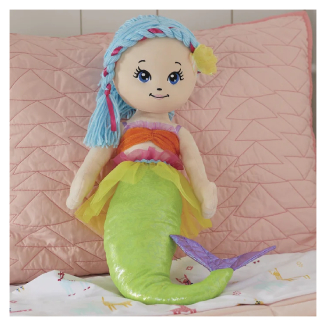 Why it's great: This doll is a super cute and colorful mermaid. She has soft, blue, braided yarn hair with a ribbon and a seashell that your child will adore. She also has sweet, embroidered features and a bright, shiny tail! Plus, she comes wearing a bra and an adorable, sparkly tulle skirt. She's super soft and huggable, for constant snuggling. She's also one of the biggest dolls, at 24" tall!
Keep in mind: She's recommended for 3 and up, but perfectly safe for younger toddlers, just a little heavier.
Good for: Mermaid lovers and toddlers that love bright colors.
---
(Best doll for a toddler dance enthusiast — $)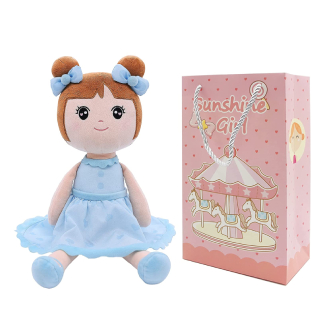 Why it's great: This product has different options for which doll you would like to purchase. However, this particular ballerina would be perfect for the tiny dancing enthusiast in your life! This doll is soft and well made with natural materials. It is another one that can go through the washing machine because the seams are tightly stitched, making her a durable, long-lasting option. She is about 17.3" tall and cuddly as anything!
Keep in mind: She is a well-made dolly. However, if you should have any trouble, contact the company and they should be happy to help you!
Good for: The young dancing toddler. Although, honestly, she (and her other optional counterparts) would be good for any toddler child who just wants someone to snuggle.
---
(Largest doll — $$)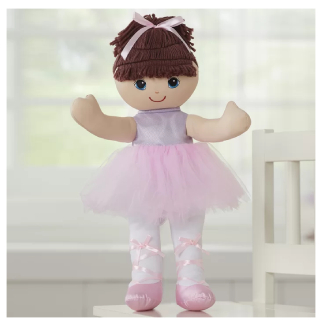 Why it's great: Another ballerina option, this doll is incredibly cute and perfect for dancers. She has soft, yarn hair with a pretty pink bow that matches her outfit. Speaking of her outfit, she has a shiny lavender top and a beautiful, pink, tulle skirt. She also has matching pink ballet slippers. Her embroidered features are adorable and her body is super soft and cuddly. At 20", she's safe for a young toddler and big enough that your child will love her for years to come.
Keep in mind: This is another one that's recommended for 3 and up, but perfectly safe and acceptable for younger toddlers, just a little bigger and heavier.
Good for: Toddlers that love dance and parents that want a doll that their child will love playing with for years.
---
(Best all-around doll — $$)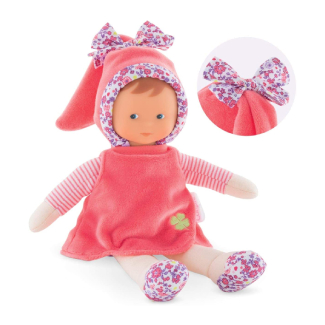 Why it's great: You really cannot go wrong with this doll! This is a smaller dolly at about 10 inches tall. She has a sewn-in label for child's/family's information, so you don't have to worry about losing her. She has sewn-on features, which makes her super safe and she is machine washable. Miss Floral Bloom is part of a 3-doll collection, so you can collect them all. This doll has a vanilla-scented, vinyl face, but it is still soft. Her fabric body is super soft for lots of snuggling! And, her hat, dress, and body are easy to grip, which makes her easy for your toddler to hold and love.
Keep in mind: She is machine washable, but make sure that you use the gentle cycle to make her last longer!
Good for: Little ones from infancy and up! Toddlers would definitely love this doll!
---
(Best set for on-the-go cuddles — $$)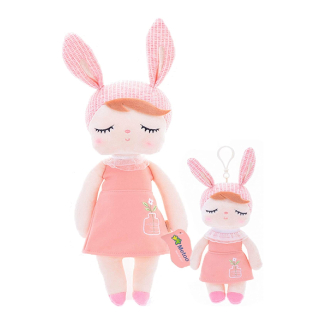 Why it's great: This is such a sweet set. The bigger doll is about 13" and the smaller one is about 7". They could be best friends, mother/daughter, or one for home and one for on the go! These dolls are able to go through the washing machine and the dryer, which is always a bonus. Their features are embroidered on and their clothes don't come off, so you won't have to worry about anything coming off. They make the perfect set to give or receive.
Keep in mind: These dolls are so adorable and well made. However, if you have any trouble with anything, feel free to reach out to the seller. They take pride in their product and will help you!
Good for: Young toddlers to receive as a present. One dolly can stay at home and one can go in the diaper bag or be clipped to the car seat for "on the go" fun!
---
FAQs about Baby Dolls for 2-year-Olds
---
1. Why give a doll to a toddler?
Baby dolls encourage SO many skills to help your toddler grow! They encourage pretend play, practicing empathy and compassion, and – if the baby doll has a thumb or a binky to be put in its mouth – they can also encourage fine motor skills and hand-eye coordination! Plus, soft baby dolls (as all of the ones above are) can become lifelong buddies to see your child through happy times and give comfort in sad times. A doll can keep your child company at night, while sleeping, too!
---
2. What are the key factors for a good doll?
When searching for the perfect doll for your 2-year-old, you should keep an eye out for a soft baby doll. Two-year-olds are still pretty little, and while capable of MANY things, still benefit from having a soft lovey. Along with that, some toddlers (not all, but some) still put things in their mouth or nibble on toys, so another thing to keep in mind is if the baby doll has any loose parts (this normally happens on the doll's face). So, you're looking for facial features that are sewn onto the doll (think: embroidered). "Hug-ability" is also a good thing to look for in a doll.
---
3. Do I need to find a doll that can have wardrobe changes?
While some of these dolls have the ability to remove their clothes and change them, 2-year-olds are mostly interested in the doll itself. That's not to say that taking a hat (or whole outfit) off and putting it back on wouldn't happen, but it's just not the main thing a 2-year-old is focusing on.
---
4. We're expecting a baby soon. Would getting our child a doll be a good idea?
That would be a resounding YES! Getting your toddler a doll before a new sibling arrives is honestly just such a fantastic idea! It would help your child get used to the idea of someone smaller being in the house. It would also help give your child practice learning to take care of a baby. Plus, when the baby does arrive, your toddler has someone to take care of alongside you.
---
5. What's the earliest my child can have a baby doll?
These dolls have an age minimum listed, and most are actually able to be given to young babies, as well! The Melissa and Doug Twins are best suited for 18 months and up, but it's still great that they are suitable for toddlers-in-training (the 18-month-olds). ALL of these baby dolls have the potential to become lifelong lovies for your toddler!
---
Conclusion
---
Boys AND girls can benefit from owning a doll. All children need to be given the opportunity to play "mommy" or "daddy," so that they learn how to put themselves in other people's shoes and practice taking care of someone else (just like you take care of them)! They're watching everything we do- let's give them a way to use the skills they've seen us do, like putting dolly to bed, giving dolly a bottle/ feeding dolly, or simply even just giving dolly some love.
Dolls can be your 2-year-old's best friend! They can also teach your young child empathy, kindness, and compassion. Dolls allow your child to work on using that wonderful imagination, too!
All that's left to do is pick that perfect doll, and then watch your 2-year-old take care of it, just like you have been doing for them! It's not only sweet, but it's also a great way to help your child grow!