Updated on by Lyric Fergusson
Playing with dolls is an activity that has a lot of social and emotional benefits for children, encouraging them to play make believe and even improving their language skills. Dolls also help those little fingers improve their fine motor skills as they dress dolls or feed them, which encourages they to start doing these things in real life for themselves. The benefits of playing with dolls are endless! If you're looking for a baby doll for your toddler, either because you're soon going to be adding a new baby to the family or you're looking for some screen-free toys, we've rounded up seven adorable dolls to consider.
Best Baby Dolls for 4 year-olds
---
(Best value — $)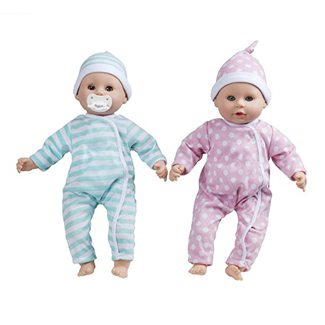 Why it's great: Melissa & Doug have been making quality toys for 30 plus years, and these 15" twins are a testament to that. They are super cute with realistic features, open and close eyes, and a little bit of weight to them that makes them feel a bit more realistic. These babies are a great size for toddlers and Melissa & Doug makes great accessories (sold separately) that can enhance baby play. If you're welcoming a new baby into your family, baby dolls like this could be a great way to prepare your little one for what being an older sibling might be like.
Keep in mind: All accessories are sold separately.
Good for: For 18 months and up
---
(Best adoptable baby kit — $$$)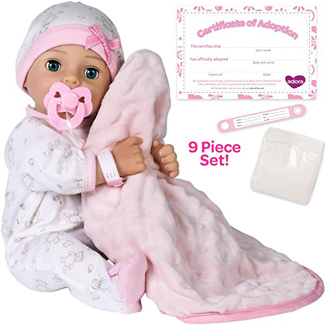 Why it's great: These baby dolls are absolutely adorable and come with great accessories to boot. There are several different dolls to choose from, but each one comes with a cradle (a clever part of the packaging), pacifier, swaddle, hospital bracelet, and is clothed in an adorable outfit. Adora baby dolls have open-close eyes and posable arms too.
Keep in mind: This baby has a "fresh baby powder" scent.
Good for: Children 3+
---
(Best tiny baby doll — $$)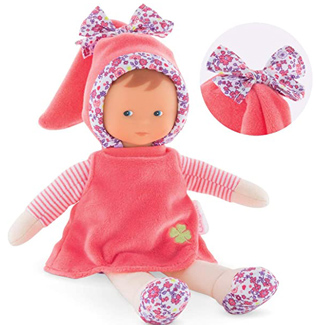 Why it's great: This super unique doll is designed in France in three different offerings – Miss Happy Panda, Miss Cotton Flower, and Miss Floral Bloom. These super cute dolls have a vanilla scent which is as sweet as their pretty faces. It's good that these dolls are machine washable because they're for infants and up. They have plenty of soft places for young babies to grab onto and hold and are even okay for teething. Sizing up at a petite 10", this would be a super sweet baby doll for your older child or a lovely first baby doll for the littlest babe in your house.
Keep in mind: This baby doll cannot be dressed/undressed.
Good for: Infants and up
---
(Best first baby doll — $)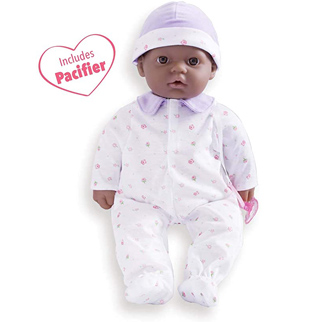 Why it's great: If you're looking for a simple first baby doll for your little one, this adorable JC Toys soft body doll is perfect. With no eyelashes or real hair to worry about, this BPA and scent-free doll comes with a removable outfit and attached pacifier, just enough to keep little minds and fingers busy. The features on this baby doll are very sweet and the outfit is easy to open and close thanks to Velcro. La Baby has been around since 1982, so they've definitely perfected this baby doll which your little one is sure to cuddle and love.
Keep in mind: If your little one likes dressing their doll, you may want to purchase additional accessories as it only comes with one outfit.
Good for: Ages 12 months and up
---
(Best doll to cuddle — $$)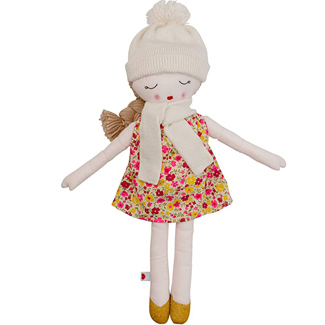 Why it's great: This 19" doll is a taste of a time gone by. She is beyond sweet in her liberty print dress and hat and is super soft. Hearts of Yarn dolls are handmade and whimsical, perfect to cuddle or to take on adventures. The dress, hat, and scarf are removable and the doll can be washed gently. She comes in a very cute personalized bag which makes gifting a cinch. We love that this doll is simple and sweet, and her size is perfect for a warm toddler hug.
Keep in mind: This doll is not posable.
Good for: Ages 3 and up.
---
(Best fashion doll — $$)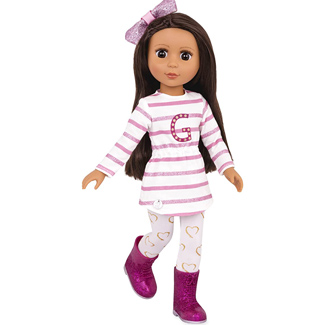 Why it's great: If your little one is starting to show interest in Barbie's but their little hands aren't quite ready for all those tiny shoes yet, these 14" posable dolls may be a great solution. The dolls come with a top, pants, and matching shoes. There is an entire line of outfits and accessories for the Glitter Girls, as well as plenty of dolls to choose from with different hair and eye colors, so your little one can have a doll that looks just like her!
Keep in mind: This doll is spot clean only.
Good for: Ages 3 and up.
---
(Best fantasy doll — $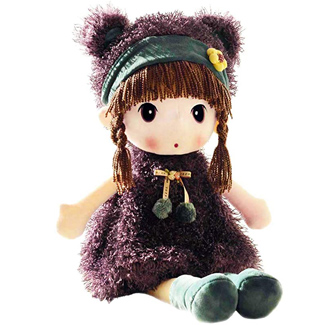 Why it's great: What is cuter than a doll? A doll that is dressed in a purple bear costume of course! These cute little dolls are super unique and come in four different color/animal combinations. At their price, your little one may want all four! While these dollars are not posable, their dresses are removable and they're super soft for cuddling and to go on adventures with. I'm sure these would be welcome additions to any playroom tea parties.
Keep in mind: These dolls are spot clean only.
Good for: Ages 3 and up.
---
FAQ Best Baby Dolls for 4 year-olds
---
1. What are the benefits of playing with dolls?
As your child reaches the toddler years, playing make-believe and pretending to be a doctor or firefighter may become more common in your house. Boys and girls alike benefit from playing with dolls because it fosters caring for another person. Some children will even use dolls to give us a clue as to how they're feeling, telling us that their baby doll is sad or tired. Fostering make-believe and pretending to care for a baby doll can relieve their stress as well as spark creativity and even empathy.
---
2. How do I know what kind of doll to buy?
Younger children may use baby dolls more for comfort and snuggling than make-believe. A soft-bodied doll may be more appropriate for the younger crowd, while older children may prefer a doll that has hair they can style and accessories they can play with.
---
3. Should the doll look like my child?
You do not have to buy a doll that looks like or is the same gender as your child. Giving baby dolls with different hair color or skin color than your own child may actually encourage discussions around race and ethnicity, which are concepts that can be hard for little ones to grasp. Realizing that baby dolls come in all kinds of colors and even abilities (there are baby dolls that come with glasses or wheelchairs) can help your child see the world differently in a positive way.
---
4. Do I need to buy accessories?
While some dolls may have additional accessories you can be, you'll often find that children work with what they have. They'll use their own blankets for the doll (which encourages sharing) and if they have a play kitchen already you may find your child sitting their doll down for a tea party or dinner with toys they already have.
---
5. When is the best time to introduce a doll to my child?
There is no right or wrong time to buy your child, boy, or girl, a baby doll. Encouraging social-emotional skills looks different at every age, but baby dolls are one thing that will last years of your little one's development. Baby dolls can be a comfort item when they're very young, and turn into something to care for and mimic household roles when they are older. Caring for a baby doll or pretending the baby doll is going to the doctor are valuable play roles that should be embraced. If you're about to introduce a new baby into the family, buying a baby doll they have to take care of may be a wonderful way to foster expectations of being an older sibling once a real baby arrives.
Conclusion
---
Children's toys are often noisy, colorful, and come with a lot of moving parts. Baby dolls are a perfect screen-free way to provide entertainment for your child. Toys these days often come in either "boy colors" or "girl colors," but a baby doll is a toy that is accessible to children no matter age or gender. Playing house or pretending to care for a baby is helpful for the developmental growth of all children, fostering make-believe, improving social skills, and encouraging empathy. There's no need to buy a baby doll that talks or has all the bells and whistles, just let them pretend and see what happens.