Updated on by Lyric Fergusson
Baby dolls have been around for centuries in many different forms and have always been loved by children. Not only do kids love cuddling and playing with dolls, they can also learn from them. Dolls can help children express their emotions and teach them how to care for their own future babies. Children love emulating their parents and dolls give them that opportunity.
When looking for a doll for your child, there are so many options available that it can be overwhelming. That's why I've compiled this list of 7 dolls that are sure to win over your child's heart.

The Best Baby Dolls for 5-Year-Olds
---
(Best value — $)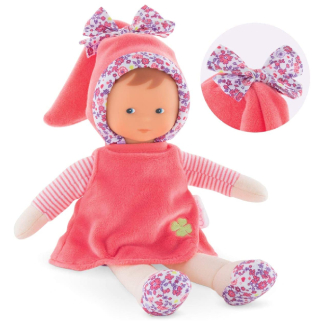 Why it's great: This doll is super soft and huggable. She has a vinyl face and emits a comforting vanilla scent. Her clothes are made of soft fabric and she is machine washable! This doll is a smaller size than the rest of my picks, which makes it easy for your child to carry around with them. She also has grip points that make it easy for babies, toddlers, and older children to hold onto and carry around. This adorable doll is safe for babies, so it will be a favorite toy of your child for years to come.
Keep in mind: This doll is absolutely adorable, but not as realistic as some of the other options.
Good for: Children who want a soft, huggable doll.
---
(Best quality — $$$)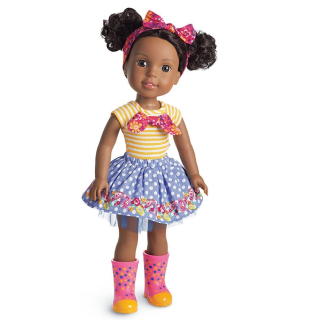 Why it's great: American Girl Dolls are very popular and are known for being top quality. They are lifelike little girls who have their own names and personalities. This one is named Kendall and she loves drawing and inventing. Her outfit is super bright and cute, with lots of options for other outfits that you can purchase separately. The WellieWishers collection focuses on teaching children to be good friends and they all have books that help your child understand what that means. This set is made for children 5-7 years old and is the perfect sized doll for that age group.
Keep in mind: All books, extra outfits, and accessories are sold separately.
Good for: Little girls that want a best friend.
---
(Realistic — $$)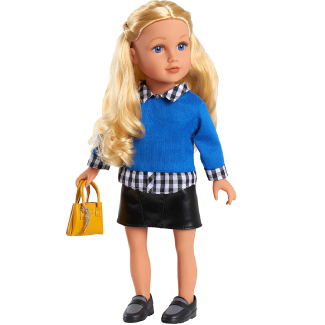 Why it's great: This doll is named Meredith and is dressed to impress. She is comparable to the American Girl Dolls but is a more affordable option. Meredith has blond hair that your child will love to brush and style. She also has a hand-painted face with bright blue eyes. Meredith looks like a real little girl and has many different clothing and accessory options. Your child will love being able to play and use their imagination with Meredith as their sidekick.
Keep in mind: While the doll's legs can bend so she can sit, she still leans back a little and works best in a standing position.
Good for: Children who need a more affordable doll.
---
(Best yarn doll — $$)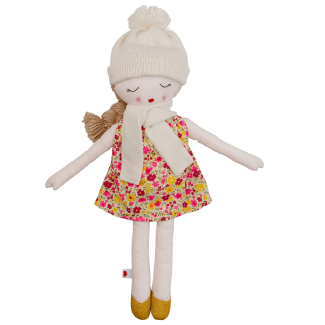 Why it's great: This doll is adorable and is completely handmade! Her name is Autumn and she is dressed for the season. She has a pretty fall colored dress, scarf, and removable hat. She even has cute little bloomers on under her dress. The clothes are removable, so your child can change her outfit if they want. She is made from cotton cloth and yarn and is very soft and huggable. Autumn also comes with a cute little bag with her name on it for easy storage and travel.
Keep in mind: This doll doesn't have any matching accessories available.
Good for: Children that like to take their doll everywhere.
---
(Most accessories — $$$)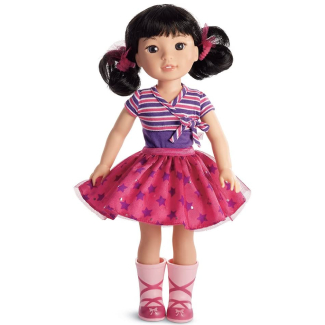 Why it's great: This is another option you can choose from the American Girl WellieWishers collection. Her name is Emerson and she is unique because she is a dancer. Her adorable outfit features a wrapped top, a tutu-like skirt, and boots that look like ballerina slippers. This doll has books about her and tons of compatible outfits and accessories. Your child will be able to personalize this doll to their delight. There are even matching outfits for your child and the doll available!
Keep in mind: The accessories, outfits, and books are sold separately and can be pretty pricey.
Good for: Children who want to be able to match their doll.
---
(Best rag doll — $)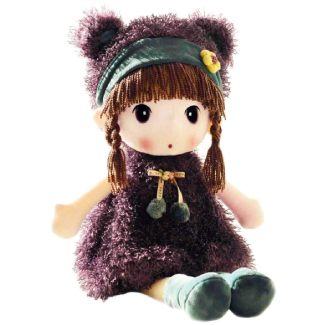 Why it's great: This is a really cute, plush rag doll. She has a fluffy, purple dress and a matching hat with adorable bear ears. She is super soft, even in the face/head area, making her perfect for cuddling and a nighttime partner. She also has the most adorable eyes and expression on her face. She almost has the look of a Precious Moments doll. At 17 inches, this doll is a great size for 5-year-olds and is incredibly huggable and comforting. There are also a few different color/animal-themed options, so you can collect the whole set.
Keep in mind: This doll is stuffed with PP cotton and can be compressed. Make sure to shake it when you get it and it should fluff back up to its desired shape.
Good for: Children who want a doll they can cuddle and sleep with.
---
(Most realistic baby — $$)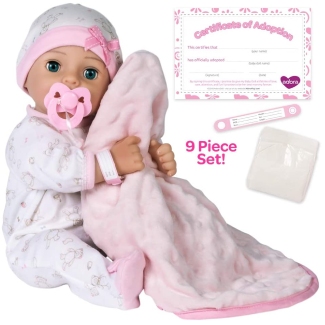 Why it's great: This is the most lifelike doll of the bunch and looks and acts like a real baby. Your child will be able to change this baby's clothes and diaper and feed the baby with a bottle or give it a pacifier. It even includes a cute, little blanket so your child can swaddle their baby. It has beautiful blue eyes that open and close too. This doll also comes with an adoption certificate, a hospital bracelet, and her very own crib! Your child will be able to name their baby and nurture it, just as a real parent would.
Keep in mind: You'll have to buy the feeding accessories separately.
Good for: Children who want to emulate parents and take care of their own baby.
---
FAQs about baby dolls
---
1. At what age should my child have a baby doll?
This will vary based on the type of doll you get. There are baby dolls made for as young as newborns. Most little girls will have some sort of baby doll by the time they're two. At 5-6 years old, children really start to be able to play with their dolls and start to develop their creativity and imagination during play.
---
2. What kind of baby doll is best?
From rag dolls, yarn dolls, and plush dolls to more realistic baby or little girl dolls, there are many different options available. There isn't one type that is better than the others. Which kind is right for your child will be based on your child's personality and what they want out of a doll. If they want something to love on and sleep with, one of the softer versions would be better. If they want one they can dress up and play with, a more realistic version is in order.
---
3. What are the benefits of a baby doll?
Your child will get many benefits from a baby doll. They are a great companion and comfort object for your child, especially at naptime or bedtime. They can also promote the use of imagination and creativity during play. Some dolls, like the American Girl dolls, have books that will teach your child values and good quality traits. Your child can also improve their fine motor skills, by changing diapers or clothes on their dolls.
---
4. What features should I look for in a doll?
This will depend on what you want out of the doll. Is your child looking for a friend that they can play with and match? Getting one that has extra accessories and outfits available would be the answer. Does your child want a baby of their own? Find one that is more lifelike and has a diaper and bottle. Does your child take their toys everywhere? Find one that is machine washable or that has a carrying case/bag.
---
5. What safety concerns are there?
No matter what your child is doing, supervision is always important to keep your child safe. With that being said, baby dolls are relatively safe for your child. Most, if not all, are made with non-toxic and less harmful materials. The biggest concern is that some dolls have accessories or small parts that could be choking hazards. Make sure you're watching them or take these parts away from your child and they should be safe.
---
Conclusion
---
Finding the right doll for your child is easy if you know what to look for ahead of time. Make sure you know what your child wants or needs out of the toy, so you know what features to look for when you're shopping.
Does your child want something they can cuddle and sleep with? Or do they want a realistic baby? Do they want a friend they can play with and dress up?
If you know the answers to these questions, you'll have no problem finding the right doll for your child.