Updated on by Lyric Fergusson
Can you imagine any of the following parenting scenarios?
Scenario 1: Your baby is toddling happily on the playground, and then within the blink of an eye, she's taken a nasty spill. You realize it requires immediate wound care, but don't have anything on hand.
Scenario 2: Your child has been lethargic all day, and now he feels warm. You want to take his temperature, but he won't sit still long enough for you to use a normal thermometer.
Scenario 3: You are visiting family, and your baby is on the final few doses of antibiotics for an infection. Unfortunately, you left the syringe that came with her medicine at home and don't know how you will administer the final doses.
One of the most stressful feelings a parent can experience is helplessness. Fortunately, in the above three scenarios, that feeling is easily preventable with a simple tool: a baby first aid kit. These seven products are our picks for the best kits of 2020.
The Best Baby First Aid Kits
---
(Best general care for babies — $$)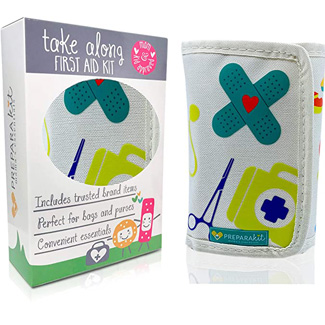 Why it's great: The PreparaKit Mini First Aid Kit is super compact and will easily fit in your diaper bag. But despite the small size, the kit has a lot of items – over 50, to be exact! You will find everything you need for baby's early years, including bandages, scissors, tweezers, antibacterial wipes, gauze pads, antibiotic ointment, thermometer strips, nail clippers, safety pins, and more. The included stickers are a special touch from the kit's creator, a nurse, and a mom of two. The simple design makes the items accessible and easy to find, and the lightweight design makes it a perfect travel solution.
Keep in mind: All products are made by a non-profit organization called the DAC, which employs disabled adults. So not only is this a quality product, but it also supports a great cause.
Good for: On-the-go caregivers who are looking for a portable kit for travel.
---
(Best for family use — $)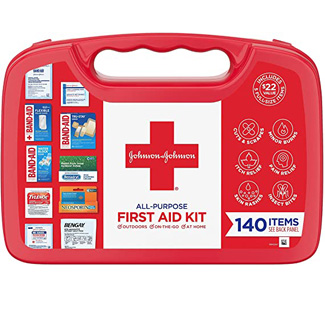 Why it's great: This classic first aid kit from Johnson & Johnson has over 140 pieces, and covers a wide range of first aid needs. The kit comes in a sturdy red plastic case, with plenty of room for all your first aid needs. It contains an assortment of wound care items, including bandages, cleansing wipes, and gauze pads, as well as antibacterial ointment, burn cream, and even an instant cold pack – making it a great choice for adults as well as kids.
Keep in mind: This product isn't specifically designed for babies, but the wide assortment of items it contains make it a great choice for general use. However, some of the products, such as acetaminophen, are not safe for babies.
Good for: A one-stop first aid kit for all ages.
---
(Best for grooming and sickness — $)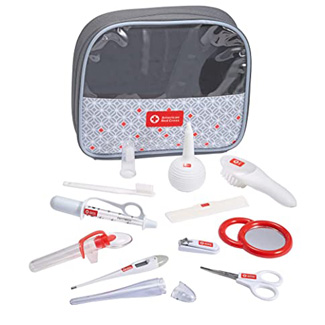 Why it's great: The American Red Cross Deluxe Health and Grooming Kit has everything you need for baby health and hygiene. For grooming, the kit contains a comb, baby brush, scissors, fingertip toothbrush, toddler toothbrush, mirror, and nail clippers. For healthcare needs, you will find a digital thermometer, nasal aspirator, medicine dropper, and medicine spoon. All the items come inside a portable carrying tote bag to keep them organized.
Keep in mind: This kit contains several items to help with baby healthcare, but it does not include any wound care items, such as bandages, gauze, or antibacterial wipes.
Good for: General baby health and grooming needs.
---
(Best for accident-prone babies — $$$)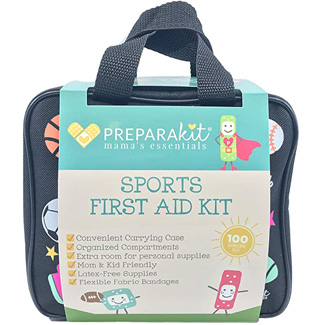 Why it's great: This Sports First Aid Kit is another great product from PreparaKit. If you have an older baby who is entering into the more dangerous toddler years, this kit provides everything you need. The kit contains 100 items, which are divided into three categories: Clean, Treat, Protect, and Miscellaneous items. You will receive antibacterial and antiseptic wipes, several sizes of bandages, sunscreen, and lip balm packets, as well as scissors, safety pins, gloves, hydrocortisone wipes, antibiotic ointment, and burn cream. The items are held in a cute, sporty bag that is lightweight and easy to organize.
Keep in mind: This product doesn't contain items specifically for babies, but most of the items are perfect for all ages.
Good for: Active, accident-prone babies who are learning to walk.
---
(Best for outdoor recreation — $)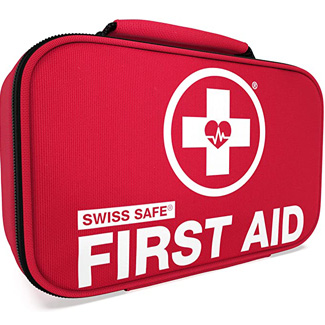 Why it's great: At just 9" long and 6" wide, the Swiss Safe 2-in-1 First Aid Kit is extremely compact, but it also contains an impressive range of products. The kit holds 120 medical-grade items, including several varieties of bandages, gauze, antiseptic wipes, sting relief pads, gloves, a CPR mask, an ice pack, trauma shears, and tweezers. You also receive a mini kit that includes basic wound care items, a CPR mask, safety pins, gauze, and cotton tips. It also contains several survival items, such as a whistle, sewing kit, emergency blanket, compass, and emergency glow stick.
Keep in mind: This kit is not designed for babies, but it is perfect for families who spend a lot of time in the outdoors. You could use the mini kit pouch to hold baby items and keep them all together.
Good for: Families who enjoy outdoor recreation.
---
(Best for serious campers and hikers — $$)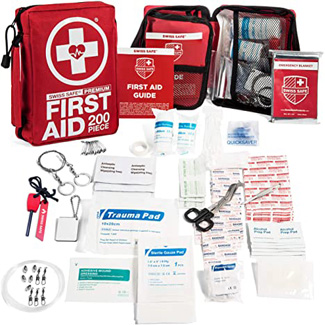 Why it's great: This kit is similar to the Swiss Safe 2-in-1 Kit, but even more comprehensive, specifically for outdoor adventures. In addition to basic first aid items, it contains specialized outdoor survival items, including a fire starter, fishing kit, hand saw, and signaling kit. If you
Keep in mind: This kit is designed with outdoor survival in mind, so it's best for families who do extended camping trips. If you don't spend much time outdoors, it might be overkill.
Good for: Serious campers, hikers, and outdoor enthusiasts.
---
(Most compact — $)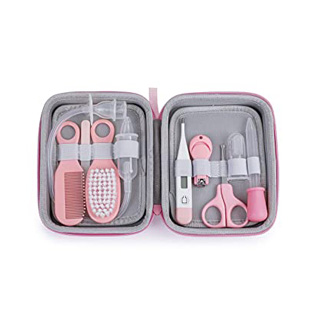 Why it's great: This compact kit is a must-have for your diaper bag. You will receive several grooming items – for example, a baby comb, rounded tip scissors, and fingernail clippers – as well as health necessities, including a digital thermometer, medicine dropper, finger toothbrush, and nasal aspirator with mouth suctioning for gentle The case's simple design makes it easy to organize and store.
Keep in mind: This kit does not contain many first aid items, but it's definitely a great pick for basic health and grooming needs in a portable case.
Good for: On-the-go baby care in a cute package. Great for a baby shower gift!
---
FAQs about first aid kits
---
1. Do I really need a baby first aid kit?
Although a regular first aid kit is sufficient for most first aid and health care needs during the baby years, a first aid kit designed with babies in mind is also very helpful to have. Baby first aid kits include items that make care much more realistic – for example, syringes designed for babies who aren't able to eat with a spoon, or thermometers that make it easier to take a temperature on a wiggly baby. If possible, purchase both a broad-spectrum kit and a kit made specifically for babies, so you have all your family bases covered.
---
2. What items should I look for in a baby first aid kit?
In addition to typical first aid items, look for products designed specifically for babies – for example, a forehead or ear thermometer, nasal aspirator, medicine dropper or syringe, or medications that are safe for baby use. Baby grooming items are also great to keep in a first aid kit, as well as diaper needs like rash cream and extra baby wipes.
If you spend a lot of time outside, look for a first aid that contains items that will come in handy in outdoor situations, such as insect sting pads, ice packs, sunscreen, bug repellent, or a whistle.
---
3. Can't I just make my own baby first aid kit?
Absolutely! Assembling your own kit takes a bit more time and planning, but it does allow you to customize the kit to fit your needs. However, the kits on our list are budget-friendly and contain most of the products you will need. Remember, you can always buy a pre-packaged kit and add your own products, such as your favorite diaper cream or baby cold medicine.
---
4. Are there any safety tips to keep in mind?
Always make sure the products in your kit are safe for baby use, and familiarize yourself with the correct doses before administering any medications. And of course, keep your kit in a safe, hidden place – babies love rummaging!
Conclusion
---
A baby first aid kit is an essential item to have on hand, both at home and while traveling. We recommend purchasing one kit to keep at home, and another to bring with you on the go. You never know when a baby first aid kit will come in handy, but one thing is certain: when you do need it, you'll be grateful you have one!
You may also like our other product reviews…
Bottle Drying Racks | Bubble Bath Soap | Carriers for Petite Moms | Coconut Oils for Babies | Cribs for Twins | Floor Seats | Foam Play Mats | Glass Baby Bottles | Hair Brushes | Hampers | Hats | Headbands | Hooded Towels | Interactive Baby Dolls | Long-range Baby Monitors | Loungers | Mittens | Mobiles | Moccasins | Moisturizers for Baby Hair | Musical Toys | Nail Clippers | Pillow for Baby Flat Head | Play Fences | Retractable Baby Gates | Reusable Baby Food Pouches | Rugs for Baby Nursery | Scales | Sink Tubs | Spoons For Self-feeding | Stuffed Animals for Baby to Sleep With | Toothbrushes |