Updated on by Lyric Fergusson
About a month before my first born, I looked at the seating options around my living room for my baby, and laughed at how ridiculous it was that she already had four seats. By the time my daughter was five months I went ahead and bought three more seating options.
The idea of my baby wanting nothing more than to be held and snuggled twenty-four hours a day seemed like a warm, fuzzy, fantasy. The reality is you will soon miss the most simple tasks, like switching over the laundry, enter infant floor seats! Your tired arms will thank you.

Best Floor Seats for Baby
---
(Great first option — $$)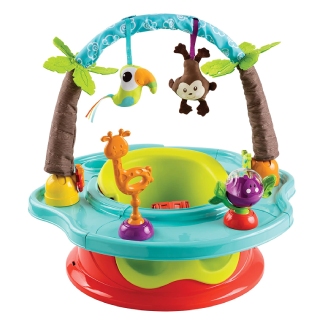 Why it's great: The Summer 3-stage Deluxe SuperSeat is my number one choice. It serves as a playstation when your baby is ready for sensory play and converts to a tray for a baby that has developed those fine motor skills to pick up small snacks. In time it can also strap onto a chair and be used as a toddler's booster seat.
]Keep in mind: As convenient as the detachable tray seems, it comes with snap-on nooks and crannies that can be a pain to clean. The tray is made of plastic so be gentle when snapping on and off as it may crack.
Good for: An item that will grow with your baby into their toddler years.
---
(Most efficient — $$$)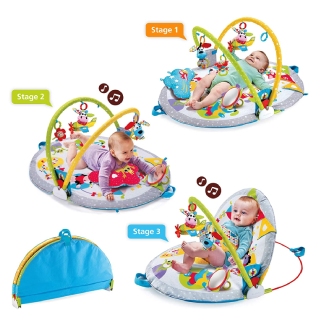 Why it's great: This transitional floor seat is the Cadillac of infant playstation/seats. It's a floor seat, mat, and gym all in one. At almost $90 it seems pricey but considering it is three products in one, it's actually an economical purchase. As if that wasn't reason enough to get it, note how it folds up for easy storage and portability.
Keep in mind: A lot of floor seats convert to a booster seat for toddler use, this item will not satisfy that feature. The Yokidoo Baby Play Gym is the only item on my list that can be used as a gym for those newborn moments. While the option of a gym that converts to a floor seat may seem appealing, you still have to buy a booster seat later on.
Good for: Families with limited space.
---
(Basic floor seat — $$)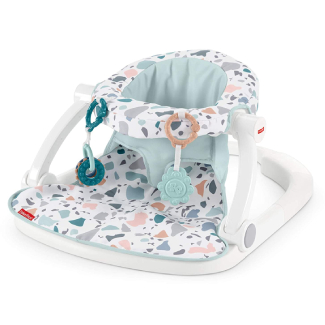 Why it's great: Sensible. Affordable. Low Maintenance. This model is what comes to mind when you think of a floor seat for infants. This is a practical purchase if you are not sure you want a floor seat. It is easy to assemble and even collapses for portability. The fabric snaps off for easy clean up.
Keep in mind: Once assembled, it cannot be taken apart. Luckily, it's simple to assemble so it's not likely you'll fuss over pieces. This floor seat is not recommended for babies over 25 lbs. So, unfortunately, it will not convert into something for a toddler.
Good for: Keeping infants 3 months+ occupied and stimulated.
---
(For newborns — $)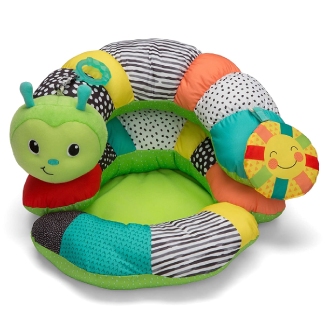 Why it's great: This "Floor seat" barely made the list as it is more of a tummy time accessory than a floor seat. It gained popularity among parents as a floor seat as it may encourage stability and balance early on.
One of the few items that works for a newborn and grows with your baby. When your baby outgrows this item it can be used as a cuddle toy. At $29.99 this is the most affordable option.
Keep in mind: Because this product does not offer much security, this is to be used with an adult nearby so it won't give you much time to do anything that will require your attention. This is more of a stability training tool than a floor seat.
Good for: Encourages infants to strengthen their core and promote motor skills.
---
(Simple — $$)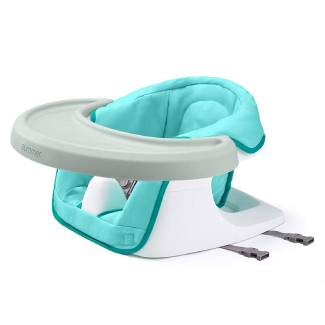 Why it's great: This no frills floor seat can double as a feeding seat, then convert to a booster seat when your toddler needs a little height to meet a table. There is nothing exciting about this floor seat. If you're like me, you prefer things without the bells and whistles. It's lightweight and folds, which is great for travel.
Keep in mind: While this chair is popular for its simplicity and lightweight, that makes it less than sturdy for a mover-and-shaker kind of baby. It does not have a feature, like a suction cup, that secures it to your floor.
Good for: Later stage babies & toddlers.
---
(For the decorator — $$$)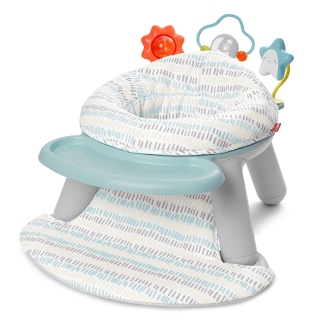 Why it's great: The Skip Hop infant chair comes in a cute gray print as part of Skip Hop's Silver Lining Cloud line. It also comes with a snack tray and sensory toys. This floor seat has a rotating orbit to switch between the two toys. Most moms appreciate this convenient feature.
Keep in mind: This is one of those baby items that will only be used for a small window. At this price point, I was expecting a product that grows with your baby or has more accessories.
Good for: Moms who are aesthetically minded.
---
(Musical babies — $$$)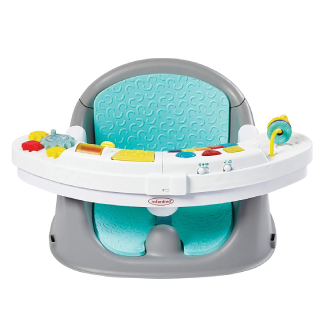 Why it's great: This is the only floor seat on the list that comes with musical stimulation. Great for babies channeling their inner Billy Joel. When your baby is ready this chair can be used as a booster seat. Because it's solid, it is ideal for feedings as you can simply wipe it down. Moms found this item easy to assemble.
Keep in mind: There are perfectly good floor seats for under $30. Once you start looking for items over that price you need to ask yourself, what does this offer to justify this price? It is well built, easy to clean, and grows with the baby. For some moms, that's reason enough to legitimize the price tag.
Good for: The musical toys on this are likely to keep your baby entertained for some time.
---
FAQs about the best floor seats
---
1. Are floor seats bad for babies?
As long as you read your baby's cues, and don't force them before they have the muscle strength to sit up (with support) then floor seats are great for your baby. It helps them strengthen their core, develop balance, and keeps them entertained. In moderation, they're all around great. Floor seats are meant for short term use. Forcing a baby to stay in one for too long can strain their developing muscles.
---
2. Are floor seats safe?
If you use floor seats according to directions- yes! Like most things, they are built to be used for something specific, if you deviate from this you are risking injury. Not all floor seats have straps to be converted into a booster seat, and there are many warnings about not leaving your baby in their floor seat unattended, or on top of a table. If you use your seat as directed you don't have to worry.
---
3. When is my baby ready for a floor seat?
That depends on how much neck and back support your baby has. A reclined seat like the Yokidoo Baby Play Gym is appropriate for a newborn as it reclines, for babies with wobbly necks. An infant chair like the Summer 3-Stage Floor seat would be fitting for a baby that can sit while you hold their waist.
---
Conclusion
---
Floor seats are a popular item on most registries of expecting moms for good reason. Most floor seats come with toys or trays that attach to the seat for multipurpose use. They will keep your baby entertained while strengthening their core, and balance.
Depending on the neck or back support of the floor seat you choose you may even be able to find something that keeps your little one occupied long enough for you to sneak a shower. Just kidding, you'll never enjoy the privacy of using the bathroom.
You may also like our other product reviews…
Baby Bath Mats | Baby Blocks | Baby Bottle Cooler Bags | Baby Bottle Dish Soap | Baby Bowls | Baby Car Mirrors | Baby Car Window Shades | Baby Carriers for Men | Baby Dolls for 1-Year-Olds | Baby First Aid Kits | Baby Food Storage Containers | Baby Grooming Kits | Baby Memory Books | Baby Nail Files | Baby Oils | Baby Onesies | Baby Probiotics | Baby Rattles | Baby Socks That Stay On | Baby Utensils | Baby Walkers | Baby Washcloths | Bath Towels | Bathtubs | Bibs | Blankets | Blenders to Make Baby Food | Booties | Bottle Brushes |