Updated on by Lyric Fergusson
Wood floors are classy and elegant looking. At the same time, they are not the best for little babies, who are on the floor… a LOT. What do you do to remedy this situation? You get a baby foam play mat! These are just mats to make your floor more comfortable for your baby (and you, since you are likely on the floor a lot these days, too). These mats will keep you both from being on the hard floor, while you still get to enjoy the pleasantness of your wooden floor around the edges of the room.
From foam mats that go well with décor to educational and colorful mats, here are my top 11 favorite baby foam mats:
Best Baby Foam Play Mats
---
(Most adorable — $)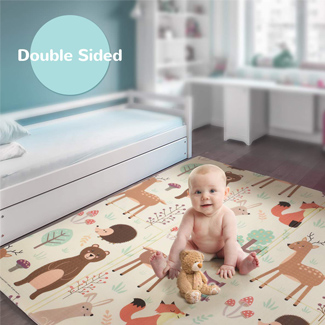 Why it's great: This mat is a one-piece mat that is also reversible. It is waterproof and folds easily. It even comes with a bag for storage or travel. The Forstart baby foam play mat is an extra-large size, which covers plenty of floor space for your little one (or little ones) to play on comfortably AND it is easy to clean. This one is a rectangular size. It has a safe, non-toxic, non-slip surface so that it will stay still when little feet are walking on it. Plus, it won't leave anything on the wooden floor underneath during its use. This mat comes in 6 different patterns, all of which are adorable, so you're sure to find one that fits in with your nursery theme.
Keep in mind: This is made of foam and can be punctured, so you may want to keep pets off of it.
Good for: Playing, doing yoga (with or without baby), or just as a cushion for sitting on the floor.
---
(Best indoor/outdoor option — $)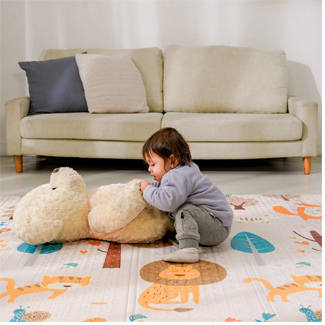 Why it's great: The Bammax Play Mat is another foldable play mat. You can use it as a play mat, a gym mat, or a mat for your baby to crawl on. It's even safe to take and use outside! It is a large mat that has shock absorption to protect your sweet little baby from all the falls that new walkers may encounter. This mat is quite safe – made with XPE material – and is easy to clean. It is reversible, so if your baby needs a "change of scenery," you can flip it over and enjoy the other side for a while. It is lightweight and also works well for travel.
Keep in mind: While it does say you can use it outside, it would be best if you brought it in and out each time. This will preserve the mat's integrity and not risk it getting faded by the sun or sullied by bad weather.
Good for: Indoor and outdoor use for playtime or a picnic.
---
(Most neutral — $$)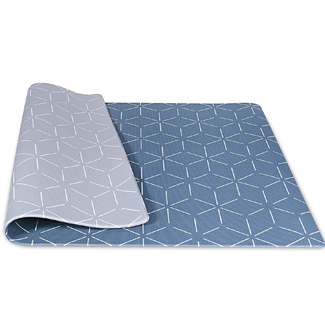 Why it's great: This playmat has a great neutral design. From a distance, it almost looks like a regular floor rug. It is minimalistic and reversible. This design is perfectly comfortable for your little one, but blends in better with your decor than the usual colorful designs you'll find on most play mats. It is one piece and easy to clean. This mat is non-toxic and a safe place to sit, lay, or crawl while having lots of fun! It is non-slip and shock-absorbent, which means that it will stay still and cushion your new little walker when there are falls (and there WILL be falls when learning to walk – it is part of the learning process). It has a rectangular shape that is 78" x 55" x 0.6". It rolls up easily, so you can store it out of the way when not in use.
Keep in mind: This one doesn't stick to the floor as well as some of the others, so you'll want to be careful that you don't trip over the corners.
Good for: Blending in with the room versus bright colors that may overstimulate some children.
---
(Best pet-friendly — $$)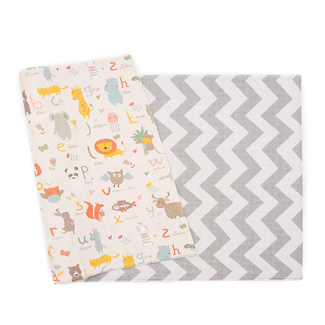 Why it's great: A lot of the options for this reversible mat have one side that is more fun for your kiddo and one side that is more geared towards blending in with your decor. A couple of the choices are two sides of kid's fun if that's what you want. It's a good choice, either way. This mat is safe and non-toxic, as well as hypoallergenic! It has a non-slip surface and extra cushion to keep your baby from getting hurt. This mat is larger than most – in fact, it is comparable to the size of a queen mattress. This high-quality mat can even withstand pets walking across it, making it a great choice for the whole family.
Keep in mind: This is available in two sizes and the designs tend to repeat on the larger size.
Good for: Families that want a mat that can blend in or bring the fun, depending on the mood. Also, families with pets.
---
(Largest mat — $$$)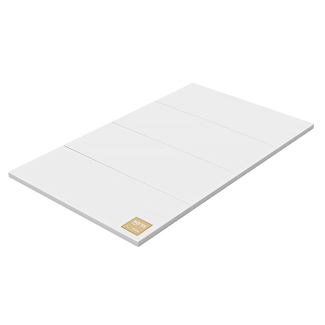 Why it's great: This is a foldable, one-piece mat that comes in 4 different size options. The smallest is comparable to most of the other mats on this list, but the XL size is significantly bigger than any other choice. It also comes in 5 different color options, all of which are pretty neutral and should fit in with any decor. This mat is made with eco-friendly and safe materials, making it the perfect place for your baby to play. It's also extra thick and cushiony to prevent any bumps or bruises as your child learns to walk. Plus, it's waterproof and easy to wipe clean as needed.
Keep in mind: This one is pricier, depending on the size you choose, but well worth it in both size and quality/durability.
Good for: Covering extra large areas so your baby has plenty of room to roam and play safely.
---
(Easiest to clean — $$)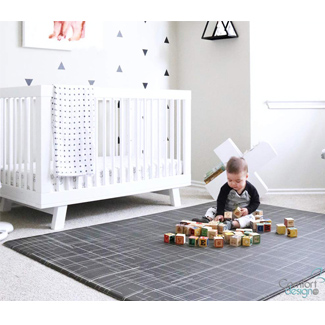 Why it's great: This is a very high quality and durable mat that doubles as an area rug. It comes in multiple neutral designs that should fit in with any decor. There are also a variety of ways to clean this mat – including spot cleaning with a wipe, mopping, or vacuuming! It is even safe for a Roomba to go on this mat. This mat is thicker than most of the previous mats and covers a nice sized area, making it perfect for the nursery or any room in the house.
Keep in mind: If choosing to use the vacuum, don't stop in a spot for too long, as it will cause some damage. Between that, and keeping pet nails trimmed, you should be good to go!
Good for: Indoor playing, hanging out on the floor, and even some family yoga.
---
(Most photogenic — $)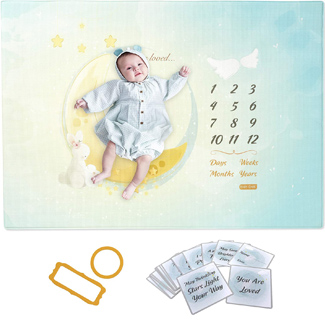 Why it's great: This is a soft, cushioned foam mat that's perfect for your baby to play and crawl on. It also has a cute moon and stars design, with numbers and accessories that turn this play mat into a milestone photo prop! You can also choose from two other adorable designs if you prefer something else. This mat was made with non-toxic and hypoallergenic materials to keep your baby safe during tummy time and playtime. It's also waterproof and easy to wipe clean. Plus, it's reversible and rolls up easily for storage when not in use.
Keep in mind: This is one of the smallest mats on the list, so make sure to check the measurements and see if it will cover the area that you need before you purchase it.
Good for: Taking adorable milestone photos and regular tummy time and playtime.
---
(Best budget option — $)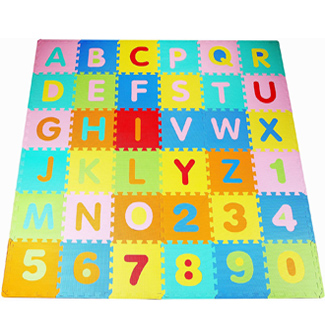 Why it's great: This mat is colorful and comfy! It is perfect for sitting, kneeling, and laying to play. It is put together like a puzzle with its interlocking pieces. Plus, there are pieces to fit around the edge to make it complete. There are a few different options for this mat. You can pick solid colors, alphabet, or shapes. Cleaning is a cinch, with just a damp cloth and mild soap. It is about 0.4" thick and 6' x 6' when laid out as a whole. The interlocking floor mats make it easy to reconfigure the mat to fit the area or space that you need to cover.
Keep in mind: Some parents have complained about some of the pieces not fitting perfectly together. This can easily be remedied by just tucking it in or snipping off excess foam with your scissors (and then promptly throwing it away so that little fingers don't get it to it).
Good for: Indoor playtime fun on the floor for babies and older siblings.
---
(Most portable — $)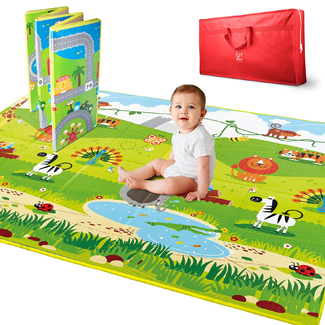 Why it's great: This is another foldable, one-piece mat with a cute city design on one side and animals on the other. It's lightweight and comes with a carrying case for easy portability. It's also waterproof and can be used indoors or outdoors, making it perfect for any occasion. You can vacuum or spot clean this mat too! It's made of safe and non-toxic materials and the foam is soft and gives your child plenty of cushion. You can even grab some toy cars when your baby gets a little older, and use them on the cityside streets!
Keep in mind: It's best to keep pets away as they can puncture holes in the foam. However, it's easy to fold up and store when not in use, so this shouldn't be a problem.
Good for: Playtime on the go! Take this mat with you anywhere for tummy time or playtime.
---
(Most durable — $)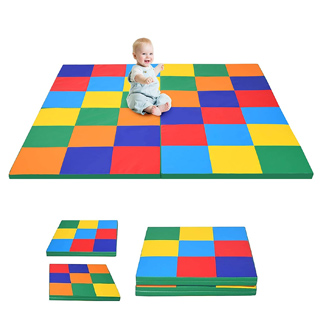 Why it's great: This mat is thick and durable – tough enough to withstand daycare, preschool, or regular home use. It's made of high-quality, non-toxic materials and is ASTM certified, so it's definitely a safe place for your baby to play. It's also dirt-resistant and waterproof for added durability. Plus, it's easy to wipe clean. It's skid-resistant too, so you don't have to worry about your child slipping on it when they're learning to walk. This mat is a perfect square and also folds up easily for storage. It comes in bright, vibrant colors to attract your child's attention. Or you can choose a paler, ocean-themed option.
Keep in mind: This one doesn't fold up as compactly as most of the other options, so make sure you have the storage space for it.
Good for: Tummy time, playtime, and (later) gymnastics.
---
(Most versatile — $)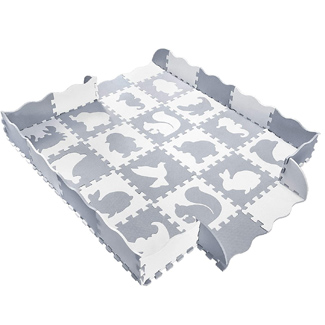 Why it's great: The Wonder Bebe play mat has an optional fence! This helps keep toys inside and even allows you to create a ball pit! You can also create a little doorway with the fence pieces. It is a gray and white mat with animals on all of the tiles, so it's super cute without clashing with the decor. It is non-toxic and easy to wipe down. This mat is 57"x57", which is a little smaller than the previous mats, but it still provides plenty of room for fun and comfort.
Keep in mind: The fence is not high enough or strong enough to keep a mobile child inside. However, this creates a good place to keep toys or allows you to create a ball pit – in which case, your child may be too distracted by playing with the balls to even think of leaving the area!.
Good for: Tummy time or just a soft place to play for littles. It will also be good for an optional ball pit. Balls are sold separately.
---
FAQs about Play Mats
---
1. Are baby play mats necessary?
Playmats are not actually necessary. You could get a lot of similar benefits from a thick blanket or carpet. However, they are really nice to have. They provide a safe spot for babies and toddlers to play. They cushion falls for new walkers, are incredibly comfortable for tummy time or playtime, and are usually a lot easier to keep clean and hygienic.
---
2. How old should my baby be to use a play mat?
This will depend on the mat and what you're using the mat for. If you just want a soft place to lay your baby, you can start putting them on their back as early as they're comfortable laying without being swaddled. If you want to use the mat for tummy time, it's best to wait until your baby is 3 months old and start with 5-minute intervals. Especially since the thicker foam mats may offer a little too much cushion, making it harder for your baby to get their head up. For regular playtime, you'll want to wait until your child can sit up on their own.
---
3. Are baby play mats safe?
Yes! While you should always supervise your baby, these mats are perfectly safe to use. Double-check, but they should all be made of non-toxic materials that are completely safe for your child. You'll also want to make sure they are non-skid, so you won't have any accidents. Other than that, the whole purpose of these mats is to provide a safe and comfortable place for your baby to play.
---
4. How thick should the play mat be?
This really depends on personal preference. It will also depend on the type of floor you have it on and what you're using it for. For hardwood or tile, you'll need a thicker mat to give better protection than you would on carpet. If you only plan on using the mat for your baby before they become mobile, it just needs to have enough cushion to be comfortable. If you want to use it as a safer place for your toddler to start walking, you'll want something with a little more thickness and padding.
---
5. What features should I look for in a play mat?
As long as the mat is made with non-toxic, safe materials, there's nothing specific that you'll need. A play mat can be used in several ways, so you just need to keep in mind what you plan to use it for and make sure the one you choose is suitable for that. Do you want one that you can easily store when not in use? Something that rolls up or folds would likely be better than one with interlocking pieces. Do you want something that blends in anywhere? Pick one with a more neutral design rather than a colorful print. Make sure that it comes with a case and is lightweight if you want to take it with you to visit family or travel. If you have pets, you'll want to pick something that is either easier to store when not in use or won't easily get punctured by their nails.
---
6. How do I keep a play mat clean?
Almost all play mats can be spot cleaned or wiped clean easily. Look for waterproof mats for easier cleanup. Some mats can even be vacuumed or mopped. If this is something you'd prefer, make sure that your mat can handle it first.
Conclusion
---
Baby play mats are a great place to give your baby tummy time, and then playtime as your little one gets older. These mats are designed for your little one to be laying, crawling, walking, and playing on (that includes, running- with the mats' anti-slip features). Maybe you want your child to use the playmat as part of playtime, or maybe you want it to become part of the room. Whatever way you want it, there is a mat for you! Some of the mats even have BOTH.
These mats are easy to care for and will be well-loved by baby and you, as you start tummy and- later- playtime. Having a mat on the floor helps define a play area for your little one, and helps you have a place to put the toys when your babe is ready for some fun.
All you need to do now is to find your ideal play mat and get to tummy time and playtime!
You may also like our other product reviews…
Baby Bath Mats | Baby Blocks | Baby Bottle Cooler Bags | Baby Bottle Dish Soap | Baby Bowls | Baby Car Mirrors | Baby Car Window Shades | Baby Carriers for Men | Baby Dolls for 1-Year-Olds | Baby First Aid Kits | Baby Food Storage Containers | Baby Grooming Kits | Baby Memory Books | Baby Nail Files | Baby Oils | Baby Onesies | Baby Probiotics | Baby Rattles | Baby Socks That Stay On | Baby Utensils | Baby Walkers | Baby Washcloths | Bath Towels | Bathtubs | Bibs | Blankets | Blenders to Make Baby Food | Booties | Bottle Brushes |