Updated on by Lyric Fergusson
Those cute, fine baby hairs need to be brushed too! No matter how thick or long your baby's hair is, brushing it regularly has so many great benefits. It's essential to bonding time as well! Take the time after a bath to brush your baby's hair out – it relaxes them and may even produce some of those coveted baby smiles!
Let's take a look at some of the best options you have for your baby's hair. Depending on the length, thickness, and texture of baby's hair, there are many options for keeping baby's scalp healthy.
Best Baby Hair Brushes for All Ages
---
(Best quality — $$)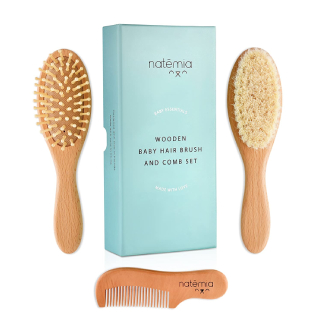 Why it's great: If you liked Natemia's natural goat-bristle brush, you're going to love this set. Included are Natemia's natural soft brush, a hard bristle comb for toddlers, and a wooden comb to detangle longer hair. Together, you won't have to buy another hairbrush until your baby is 5 years old!
The wooden massage brush works well on older babies and toddlers to help stimulate the scalp gently. This brush can be used alongside the natural goat bristle brush to help promote hair growth and keep blood circulating to your baby's scalp. With the wooden comb to gently loosen tough tangles, this kit has a tool for every occasion.
Keep in mind: While this kit includes a variety of tools, make sure that you are using the correct type of brush for your baby. Don't use the harder wooden massage brush on your newborn's scalp. Always be careful!
Good for: Moms who want to be prepared for the next stage of baby's life!
---
(Best for thick hair — $$)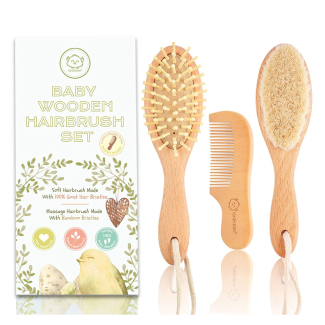 Why it's great: This adorable set from KeaBabies takes everything you loved about their goat-bristle brush and extends it to other tools. Inside, you'll find a massage hairbrush with bamboo bristles that's perfect for older babies. There is also a pearwood comb that can help work out stubborn tangles in longer hair and the original 100% natural goat bristle brush.
Together, these tools will help you get through all of your baby's hair situations. The goat bristle brush is great for removing cradle cap and promotes relaxation. The massage brush can help promote hair growth in older babies. Both brushes come with hanging ropes so you can keep track of them!
Keep in mind: While this set is advertised to work for even young children, you may need to upgrade long before your child is 5 years old. Different hair types and textures may have different results.
Good for: Babies with thick or textured hair.
---
(Most complete set — $$)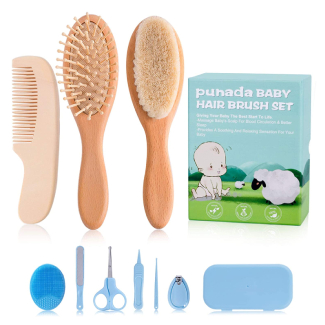 Why it's great: This set comes with 3 wooden brushes: a goat bristle brush for newborns, a wooden massage brush for older babies and toddlers, and a comb for detangling longer hair on older toddlers. You'll get all the benefits of these three types of brushes, plus this set comes with a silicone brush that's soft and gentle on your baby's scalp.
You'll also get a full manicure set, with clippers, file, scissors, an earpick, and nose tweezers. You'll be all set to take care of your newborn's hair and nails. This set also comes in a nice, keepsake box, making it perfect for travel or gifting.
Keep in mind: The comb doesn't work as well on curly hair, but you'll want to get a more appropriate comb and brush as your child gets into toddler years anyway.
Good for: Parents that want to be completely prepared to take care of their baby's hair and nails.
View on Amazon.com ➜

---
(Best value — $)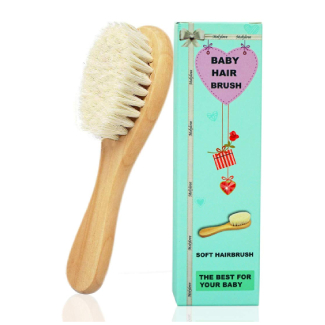 Why it's great: This affordable, natural brush rivals the quality of some of the more expensive brushes we've looked at. It's a great value if you want those hypoallergenic, goat hair bristles on a budget. Especially if you don't think you'll use or need the comb or massage brush that the sets always come with.
The bristles are incredibly soft and the brush works wonders if your baby doesn't have a lot of hair. The soft bristles are also gentle and easy to work with. The brush is a perfect size and will help remove and prevent cradle cap build-up when used regularly.
Keep in mind: Because the bristles on this brush are made of goat hairs, the brush may shed a lot. There is also an odor that fades with time.
Good for: Brushing baby's scalp on a budget!
---
(Best for travel — $$$)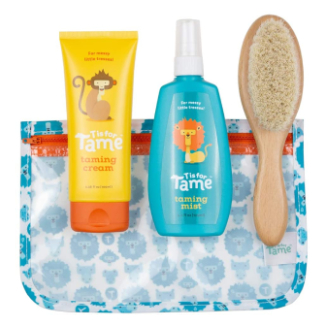 Why it's great: Whether you spend a lot of time traveling or you want something your baby can use at daycare or a sitter's house, this set is a great choice. It comes with the 100% natural goat hair brush that's soft and gentle on your baby's head. It also comes with hair products and an adorable wet/dry bag to carry everything in.
The taming mist is perfect when you need just a little extra help getting your baby's hair to brush out the way you want it. The taming cream does wonders for hair that doesn't like to stay in place while nourishing it and making it feel silky smooth. Both products are made with natural ingredients, with no chemicals or dyes.
Keep in mind: The hair products are best for toddlers and older kids, while the brush is more suited for babies. You can use them if your baby has a full head of hair, but remember that a little goes a long way.
Good for: Babies that spend a lot of time away from home and need a brush set that can go with them.
---
(Softest bristles — $)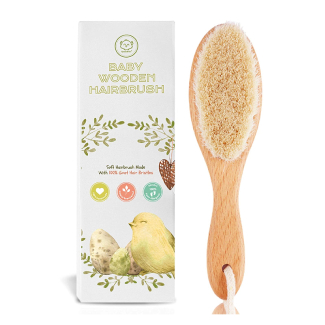 Why it's great: This all-natural baby hairbrush by KeaBabies is handmade, with a natural beechwood handle and soothing goat bristles. These bristles are soft and help relax your baby, promoting circulation and helping to clear cradle cap.
Some soft brushes don't work well on babies with thick hair, but the bristles on KeaBabies' brush are soft and strong. They won't hurt your baby's scalp but will help to detangle their hair, stimulate their scalp, and promote health and growth. This all-natural brush comes in cute packaging and includes a cotton loop so you can hang it on your wall!
Keep in mind: The wood on this brush is porous. While you can use the brush on wet hair, it's best not to submerge the brush in water. Also, note that the bristles are made of goat hair, so there may be an odor initially.
Good for: Babies with thick hair.
---
(Perfect size — $$)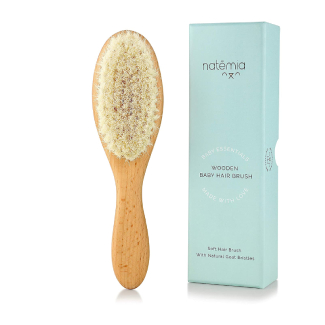 Why it's great: Natemia's natural brush is made of soft goat bristles and beechwood. It's also the perfect size for a baby's scalp. Some baby brushes are either too large to comfortably comb a baby's head or else won't work on babies with longer, thicker hair. This natural hair brush addresses all of those issues.
The bristles are strong enough to brush through your baby's hair. They're also wide enough to cover larger patches of hair, but ultimately small enough for effective brushing. Using this brush can help stimulate your baby's scalp, increase circulation to promote hair growth, and even help reduce cradle cap. Babies that don't have hair right away can still benefit from a scalp brushing!
Keep in mind: While this brush is safe to use on your baby with supervision, make sure you put it away when you're done – don't leave your baby unattended with any hairbrush.
Good for: Babies with little to no hair.
---
(Cutest design — $)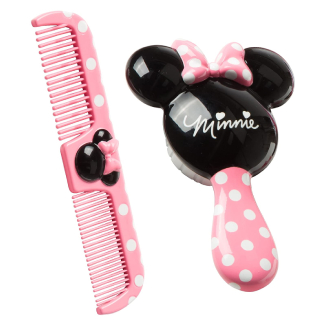 Why it's great: Disney Baby makes this cute, affordable brush and comb set with a Minnie Mouse theme. This is a great set for newborns, as the bristles are extremely soft. They work well enough to stimulate your baby's scalp and brush out very thin hairs. They are also very gentle, so you don't have to worry about hurting your baby.
This kit also comes with a small comb that can be perfect for detangling or working out those tough cradle cap scales. The two sides of the comb have different teeth, so you always have the tools you need to gently detangle your baby's hair.
Keep in mind: The bristles on the brush are extremely soft. If your baby has thicker or longer hair, it may not work to effectively brush their hair. However, the included comb can detangle in a pinch!
Good for: Newborns with thinner hair.
---
(Best for cradle cap — $$)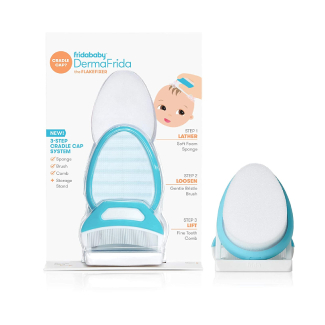 Why it's great: FridaBaby's Flakefixer is one of the most effective kits for removing cradle cap that we've seen. This three-step system includes a soothing, soft sponge to lather your baby's scalp, a gentle bristle brush to loosen tough cradle cap scales, and a fine-toothed comb to remove the scales effectively.
This solution has been tested over and over and nearly always works when used correctly. It's especially effective on tough cradle cap that won't come off with a normal bristle brush. The comb can be harsh, so it's best to brush carefully. However, you'll be amazed when the cradle cap comes off in a single-use! Removing all of those scales is great for your baby's hair.
Keep in mind: While it's easy to get overzealous with the comb in this kit (removing those scales is satisfying!), be careful. The fine-toothed comb can pull the baby's hair if you use it too aggressively.
Good for: Tough cradle cap situations.
---
(Most giftable — $$$)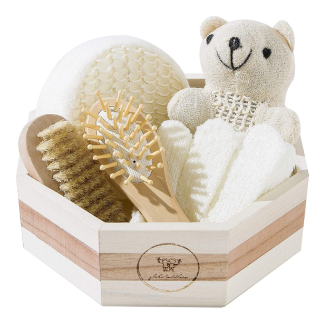 Why it's great: This is a great set that comes in a beautiful wooden box, with a cotton pouch, that's perfect for gifting. It has a wooden hair brush that's perfect for infants and helps to remove tough cradle cap. It also comes with a massager brush for older babies and toddlers.
The exfoliating glove is perfect for massaging your baby's head while they're in the bath and this kit comes with a regular sponge too! The adorable teddy bear will delight your baby and can also be used as a sponge! If you need something to take care of all your baby's bath time needs, this is the set for you.
Keep in mind: The infant brush is made with boar bristles, rather than goat. This just means it is better at removing cradle cap, but isn't quite as gentle for scalp soothing.
Good for: Anyone looking for an adorable, giftable hair care set.
---
(Best massager — $)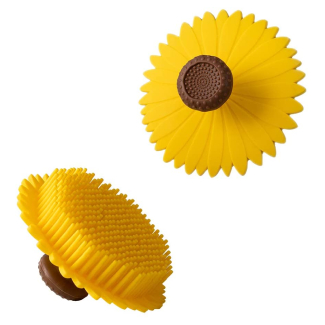 Why it's great: This silicone brush comes in 3 different designs, but I love the bright yellow sunflower! This brush stimulates the scalp to promote hair growth, improve circulation, and help release cradle cap. The handle gives you a comfortable grip as you massage your baby's head with this brush. It's also great at detangling and brushing through wet hair.
On top of that, the silicone is soft and gentle on your baby's scalp and can even be used on their entire body. You can massage or add shampoo/soap to clean your child at the same time. You can even use it to wash your own face!
Keep in mind: This works well with most hair, but you may want to add on a regular brush to style your baby's hair and help it to lay flat.
Good for: Parents that want a scalp massager and detangler.
FAQs about Baby Brushes
---
1. Is a baby hair brush necessary?
While it's not actually necessary, there are many benefits that your baby will get from using a hairbrush. It can help with bonding, establishing a bath time routine, and get them used to having their hair brushed. On top of that, it massages their head, stimulates hair growth and circulation, and helps to get rid of cradle cap.
---
2. At what age can I start brushing my baby's hair?
You can start brushing your newborn's head right away, even if they don't have any hair yet. As mentioned in the previous answer, there are all kinds of benefits that have nothing to do with making your baby's hair look good and everything to do with a healthy scalp.
---
3. Does brushing your baby's hair help it grow?
Brushing your baby's hair helps to remove dry skin and cradle cap, both of which can prevent hair growth. By removing those, you're allowing your baby's hair to grow, so brushing does actually help. Plus, it stimulates the scalp and circulation, which can also lead to new, healthier hair growth.
---
4. Do newborns lose all their hair?
Most babies do lose some, if not all, of their hair only a few months after being born. This is completely normal and doesn't have any long-term effects on their hair growth. Take care of their scalp and hair by gently brushing to help minimize the hair loss and help new hair grow in its place.
---
5. What is cradle cap?
Cradle cap is a completely normal condition that most babies get in their first few months of life. It looks yellow or brown, greasy, and scaly. It usually goes away on its own, but you can help it along by gently brushing and scrubbing your baby's scalp. You can also use baby oil or vegetable oil to soften the scales, making it easier to brush out. But, make sure to use a gentle shampoo on your baby's hair because the oil can make the cradle cap worse if left on for too long.
---
6. What type of brush is the best for babies?
You'll want something soft and gentle for your newborn's sensitive head. Goat hair bristles are perfect for the job, as they're very gentle but still strong enough to stimulate your child's scalp and tame their hair. Boar bristles aren't quite as gentle, so you'll need to be careful using them, but they're great for longer hair and getting rid of cradle cap. Silicone brushes are also gentle and great for massage and cradle cap. Ultimately, any of these will work as long as you're careful with them.
Conclusion
---
One of the most important things to remember is to match the type of hairbrush to your baby's hair. If your baby has thicker hair, brushes with extremely soft bristles aren't going to work the same. Likewise, a brush with stiffer bristles will only hurt a baby with thin hair or no hair. Choose the brush that will get the job done and consider how difficult your experience with cradle cap has been as well. Some brushes are specifically designed to deal with this condition.
You may also like our other product reviews…
Baby Bath Mats | Baby Blocks | Baby Bottle Cooler Bags | Baby Bottle Dish Soap | Baby Bowls | Baby Car Mirrors | Baby Car Window Shades | Baby Carriers for Men | Baby Dolls for 1-Year-Olds | Baby First Aid Kits | Baby Food Storage Containers | Baby Grooming Kits | Baby Memory Books | Baby Nail Files | Baby Oils | Baby Onesies | Baby Probiotics | Baby Rattles | Baby Socks That Stay On | Baby Utensils | Baby Walkers | Baby Washcloths | Bath Towels | Bathtubs | Bibs | Blankets | Blenders to Make Baby Food | Booties | Bottle Brushes |