Updated on by Lyric Fergusson
During the winter months bundling up your baby is essential, and you shouldn't have to compromise on cuteness. Baby hats are an adorable way to keep baby warm and protected when the temperature starts to drop. With plenty of styles, sizes, and materials to choose from, we've compiled a few of our favorites.
Here are 9 of the most stylish, comfy, and affordable hats to keep your little one warm.
The Best Baby Hats
---
(Best value — $)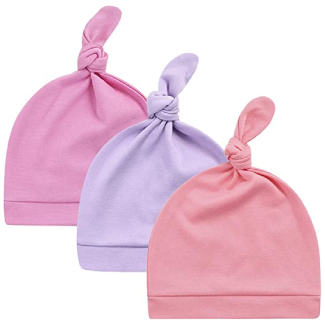 Why it's great: This simple and cozy option is made with 100% organic cotton and comes with three in a set. These hats are designed to grow with baby by using the stylish top knot to loosen or tighten as needed. KiddyCare Baby Hats has two packs to choose from and six colors to match with baby's outfit. The first pack includes black, grey, and white; the second pack includes lilac, blossom, and petal.
Keep in mind: Sizing for babies can vary, so make sure to check reviews for sizing recommendations.
Good for: Parents who want long-term use and affordability.
---
(Best material — $$$)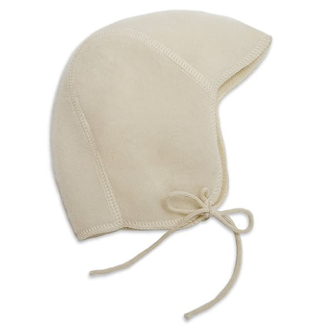 Why it's great: The LANACARE baby cap is an excellent option because they are designed for security, comfort, and hygiene. They are meant to stay on baby's head and keep them warm while maintaining breathability and coziness. These caps are made with certified-organic merino wool, which has natural self-cleansing properties and minimizes frequent washes. They are also stylish, have many sizing options, and come in 5 colors, including natural, soft pink, soft sand, light blue, and soft grey.
Keep in mind: Lanacare has many other organic wool products for children.
Good for: Babies who are on the messier side.
---
(Best activewear — $)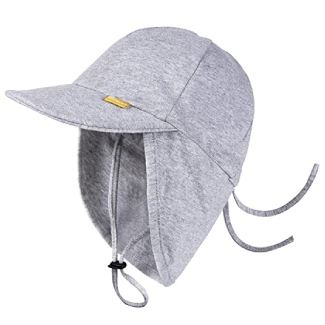 Why it's great: Is your baby an adventurer at heart? This sun hat is great for babies who love the outdoors and want to be protected from the sun. This hat is light, blocks 98% of UV rays, and stays secure with its drawstring feature. Whether you want to keep them warm or out of the sun's beams, the hat is excellent for most activities. Furtalk offers this hat in 8 color/pattern options, so your baby is guaranteed to stay and look cool while exploring.
Keep in mind: The adjustable features allow the hat to grow as your baby does!
Good for: Outdoorsy families or family vacations.
---
(Best quality — $$)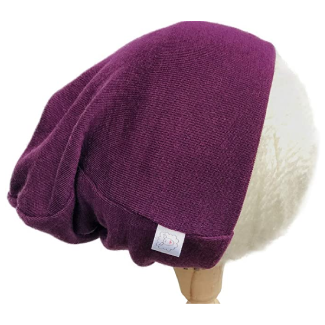 Why it's great: Everyone needs a beanie for when the weather cools down, and this option is great for inside or out. Made with incredibly soft and warm organic merino wool, this slouchy hat comes in 13 color options to match your little one's wardrobe. Because of the high-quality wool, this hat regulates body temperature and is naturally flame resistant. This is a hat that is great for inside and outside!
Keep in mind: Simply Merino now has sizes for the whole family!
Good for: Families that are active and like to coordinate
---
(Best for snow — $$$)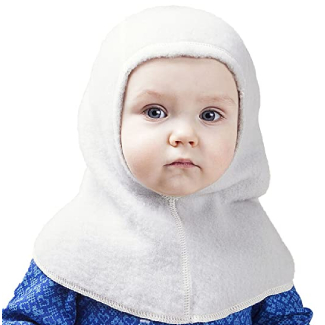 Why it's great: Some of us have to brace for some icy winters, and sometimes a cozy cap won't do the trick. This Lanacare Balaclava is perfect for layering under clothes and is made with breathable merino wool. This product is an excellent companion to the Lanacare wool baby cap if you want something a bit warmer. The natural organic features of the wool lend itself to self-cleansing properties which means less laundry for mom!
Keep in mind: Although this hat doesn't need to be washed as often, when cleaning, wash by hand.
Good for: Snowy weather and layering.
---
(Best for bedtime — $$)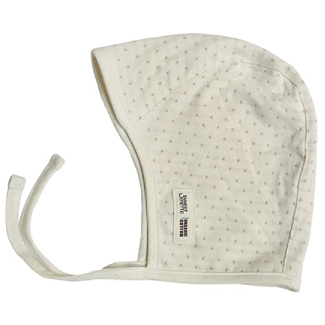 Why it's great: Keep your newborn snug with a bonnet cap! They are made with 100% organic cotton and are great for inside or outside activities. This bonnet has secure ties so that it stays fastened and keeps baby's head warm no matter how much they tug on it. Sweet Layette has three options to pick from; a set of 3 white bonnets, a single white bonnet, or a single polka-dotted bonnet.
Keep in mind: This product is stretchable and for babies between 0-6 months.
Good for: Keeping warm during naptime.
---
(Most stylish — $)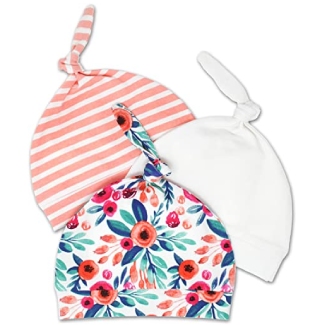 Why it's great: If your baby has a passion for fashion, these newborn hats are a great practical accessory for keeping her head warm and staying chic. These hats are made with organic materials that mom can feel good about while being breathable and soft, so baby also feels great. These hats are made for babies between 0-3 months and include an adjustable knot top for style and growth. The set includes one floral, one striped, and one plain white hat.
Keep in mind: Sizing for newborns can vary.
Good for: Baby shower gifts.
---
(Most affordable — $)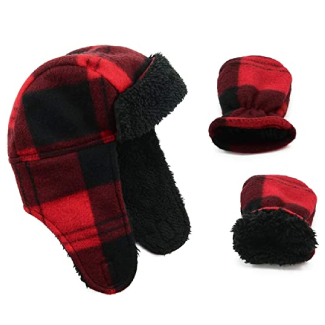 Why it's great: Get your baby ready for the snow with a fleece hat and glove set from Century Star. This product is sherpa lined to ensure warmth and coziness on even the snowiest days. To help secure the hat, the ear flaps double as a velcro chin strap. Additionally, the gloves have an elastic band around the wrist to keep them in place. With so many color options, styles, and sizes to pick from, it will be hard to resist getting more than one!
Keep in mind: Sizes start at 2 months and go to 4T.
Good for: Playing in the snow.
---
(Most options — $)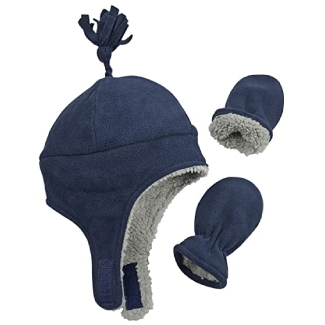 Why it's great: These hats are great for anyone with a snow day coming up! The hat and mitten are made from sherpa lined fleece to keep baby warm and ready for the elements. Both are easy to put on and are fastened by velcro and elastic for easy adjustment. N'Ice Caps has many options for colors and styles from black to lime green to fit any aesthetic.
Keep in mind: These products are machine washable.
Good for: Outdoor winter activities.
---
FAQs about baby hats
---
1. How do I pick the right size?
When picking out the perfect hat, it's important to remember that our little ones grow quickly and at different rates. So, pay close attention to sizing guides provided and reading reviews for helpful hints on whether to size up or down. Furthermore, many options listed above have adjustable pieces to aid in any loose-fitting areas.
---
2. How do I make sure they stay on?
Many parents struggle with babies who are always on the move and will take off the hat and lose it. However, most of the products have extra security for this reason. Some have velcro straps, a tie for under their chin, or an adjustable band to keep the hat from falling off. It is also important to note that incorrect sizing may contribute to loose-fitting hats.
---
3. What hats are best for colder weather?
The best hats for cold weather are going to be the ones with the most coverage. My favorite pick for the cold is the wool balaclava from Lanacare because it's warm and suitable for layering additional clothing. Although anything with a layer of fleece or wool will work great too.
---
4. Do they make good gifts?
Yes! Baby hats make an excellent gift for baby showers, birthdays, and holidays. They come in many different sizes and styles to match the personality of baby or mom!
---
5. What materials are best for keeping my baby warm?
Many of these products are made with wool, cotton, or fleece. All of these are great options that will keep your kiddo warm and make sure they are comfortable too. Further, many on this list are made with organic materials.
---
Conclusion
---
Winter means holidays and family, but it also means cold weather. Finding the right headwear can be a bit of a challenge, but we have condensed the options to make your decision a little bit easier.
There is no reason you can't find a hat that is comfy, cute, and affordable! The right baby hat can make a world of difference when you consider the materials and comfortability best suited for your baby. For this reason, the options listed above are made of high-quality materials and perfect for any occasion.
You may also like our other product reviews…
Baby Bath Mats | Baby Blocks | Baby Bottle Cooler Bags | Baby Bottle Dish Soap | Baby Bowls | Baby Car Mirrors | Baby Car Window Shades | Baby Carriers for Men | Baby Dolls for 1-Year-Olds | Baby First Aid Kits | Baby Food Storage Containers | Baby Grooming Kits | Baby Memory Books | Baby Nail Files | Baby Oils | Baby Onesies | Baby Probiotics | Baby Rattles | Baby Socks That Stay On | Baby Utensils | Baby Walkers | Baby Washcloths | Bath Towels | Bathtubs | Bibs | Blankets | Blenders to Make Baby Food | Booties | Bottle Brushes |