Updated on by Lyric Fergusson
It's not just adults who want to lounge comfortably for hours. We want the same or better treatment for our kids!
When choosing a baby lounger, safety and comfortability are first in line. That's what you'd choose for yourself, and you wouldn't compromise these critical features for your growing baby. You're probably looking for a lounger because you want your little one to have a little space of their own to explore and enjoy while you take some much-needed heads off baby time. We've got you covered with 11 of the best loungers for your baby in 2020.

Best Baby Loungers for Girls & Boys
---
(Best co-sleeper — $)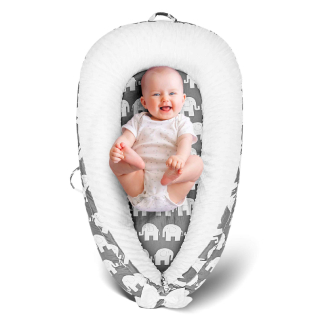 Why it's great: If your baby is going to spend hours lounging, purchasing a certified nontoxic and premium organic made lounger is highly recommended. The HelloLove brand gives you hypoallergenic softness, along with the portability of convenient carrying handles, and a durable zipper that makes getting the removable mattress out for washing a breeze. For parents who want their little one close during those first few weeks, this doubles as a fantastic co-sleeper. The raised bumper design envelops your baby's body and reminds them of the womb. It's easily portable and fits into most bassinets and cribs. It's breathable, reversible, and absolutely cozy!
If your baby doesn't love this lounger, you're guaranteed a refund. This brand is also community-oriented, with a goal to donate 1000 loungers in their neighborhood. Getting this baby nest is honestly a win-win.
Keep in mind: The material of this lounger is not waterproof, so consider adding a waterproof liner to prevent a mess.
Good for: Parents that want a lounger that works for co-sleeping.
---
(Best lounger set — $)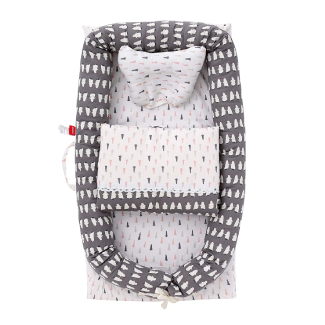 Why it's great: You and your little one will adore this beautiful lounging nook and sleep nest with matching pillow and quilt. It was designed to mimic the surrounding feeling of the mother's womb, granting your baby the best comfort in this new world. It's made with adjustable bumpers to widen the lounger as your little one grows or for when they desire more moving space. The bumpers make it a safe option for co-sleeping, too.
It also has handles, so you can take your baby anywhere to lounge, play, and sleep. It's easy to wash – just undo the zipper and place parts in the washer. It's 100% cotton inside and out. Now all you have to do is choose from gorgeous prints such as penguin, cactus green, bear, fire balloon, and whale.
Keep in mind: Don't wash the nest/filling or pillow. Wash covers only.
Good for: Babies 0-24 months old, co-sleeping, and for parents seeking an included pillow and quilt.
---
(Best water resistance — $$)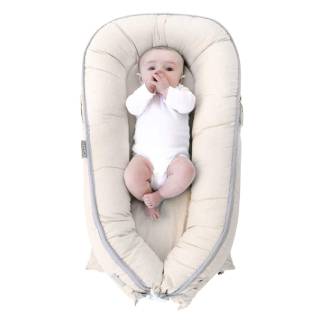 Why it's great: This is a 100% organic cotton lounger made with virgin polyester fibers. Its chemical-free fabric and firm mattress support your baby's back. The most outstanding feature is the easy-to-wipe, anti-stain and anti-odor, water-resistant fabric. You don't need to deal with the hassle of adding a waterproof material to this bed, thus adding more laundry to your already huge pile. It is machine washable for those pending messes.
This lounger is portable with an included travel bag. Your little one will feel secure sleeping anywhere. You can also use it as a co-sleeper. Choose from colors white, beige, petal pink, or sky blue.
Keep in mind: This is one of the pricier models, but the quality is good and it's an excellent addition for your baby's registry.
Good for: Parents that want the convenience of a water-resistant lounger.
---
(Most customizable — $)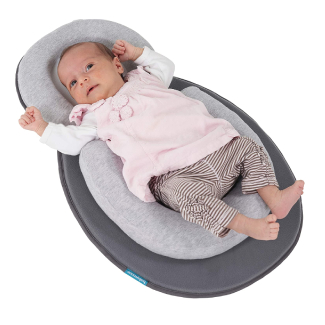 Why it's great: This lounger is perfectly shaped to give your baby all the support they need. It's great for preventing flat head issues and helps to prevent reflux. The other great thing about this lounger is that you can adjust the size for your baby. The leg roll can be moved to accommodate your growing baby and this lounger works for newborns up to 3 months (or when they start rolling over). Plus, the leg roll helps with digestion. This lounger is made with super soft materials and will help your baby feel cozy and comfy.
It is machine washable and folds up for portability too. This lounger comes in a couple of different color options as well, so you can choose the one that best fits their nursery decor.
Keep in mind: It might be a little big for smaller newborns and shouldn't be used once your baby starts rolling over.
Good for: Parents that want a lounger that can also help prevent flat head problems.
---
(Most adorable — $)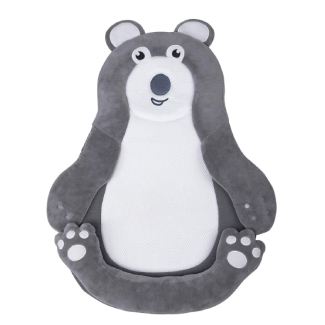 Why it's great: This cute lounger is in the shape of a bear and the arms even envelope your baby and help to hold them in place. The head of the bear offers the perfect support for your baby's head and helps to prevent flat head syndrome. The legs of the bear can be used to raise your child's legs, which helps with digestion. This lounger was made with hypoallergenic and super soft 3D mesh material to allow airflow, so it works great as a co-sleeper.
This lounger is machine washable for added convenience. It's also lightweight and easy to move from your bed, the floor, or a crib to wherever you need your baby to be. It comes in this bear design or a white dog, so you can choose which you like better. Plus, the leg pillow can be detached if you prefer.
Keep in mind: This is not super plush or thick, which is good because it decreases the risk of suffocation.
Good for: Parents that want an adorable and comfortable lounger for their baby.
---
(Most comfortable — $$)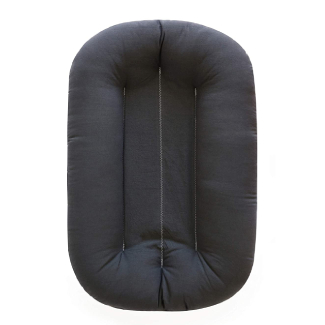 Why it's great: Whether it's time for lounging, working on tummy time, or sitting, this lounger does it all! Its unique "center sling curves" are designed to keep your baby snug no matter what they're up to. If your baby isn't in your arms, this lounger is considered the next best thing. This brand is all about safety. The certified organic fabric is toxic-free, breathable, hypoallergenic, and made in the USA. Choose freely from great neutral and modern colors like sparrow and gingerbread.
When an inevitable mess happens, don't worry about it. The virgin polyester fiber filling is completely machine washable. If you or your baby aren't in love with it, return it, question-free.
Keep in mind: You may need to purchase a removable cover to reduce washing frequency, thereby increasing the product's longevity.
Good for: For infants 0-9 months to sit, lounge, or use during tummy time.
---
(Best overall ratings — $)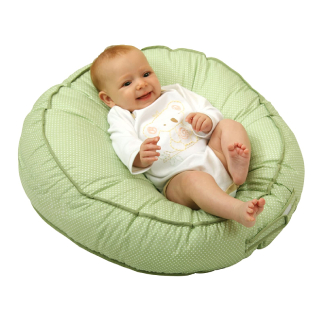 Why it's great: Let your baby sit back and relax in this cozy little podster. Its contoured sides will keep your baby safely tucked in and can be adjusted for smaller infants or larger as your baby grows. The unique sling center responds to your baby's weight by adjusting accordingly. Pretty impressive so far, right?
This lounger sits perfectly to support your baby's breathing and digestive processes. It's great for infants with reflux! If there is a mess, simply wipe it down or throw the removable cover right into the wash. Get it in Moroccan sand, pink, gray, or sage.
Keep in mind: The maximum weight for this lounger is 16 pounds.
Good for: Parents that want a lounger that supports digestion and breathing.
---
(Best quality — $$$)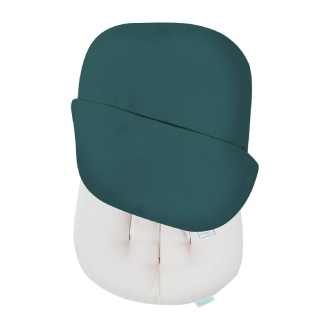 Why it's great: This organic cotton fiberfill lounger is great for babies to relax in. It can also be used as an infant seat, for tummy time, or for sitting up. The design snuggles your baby all around for maximum safety. Your baby will feel like they're getting a hug from you!
It's made in the USA and meets the highest quality standards. It also has a satisfaction guarantee, so you can get a refund if your baby isn't in love with this snuggler. Reviewers everywhere say they and their babies are finally getting sleep! Order from simple but modern colors such as moss, gumdrop, sparrow, and more.
Keep in mind: It's priced higher than every other item on this list, but many moms rave it's worthwhile in quality. Consider adding it to your baby's registry.
Good for: Parents that want a high quality lounger that will help everyone get some sleep!
---
(Best value — $)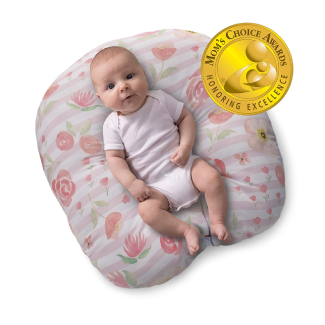 Why it's great: A Mom's Choice Awards favorite, this lounger is a must-have. It's not hard to see why – a mom created it! Its slightly sunken center nests your baby at a relaxing angle and frees up your hands to grab a bite or snap a picture.
With the sewn-in handles, you can carry this lounger anywhere around the house. If your baby falls asleep in the living room, easily transport them to their room for a quiet nap. If the pillow gets messy, the fabric easily wipes off or you can throw the entire lounger in the wash. It comes in two colorful patterns, so you can choose the one you like the best.
Keep in mind: This lounger only works for newborns up to 16lbs.
Good for: Parents that want a comfortable lounger at an affordable price.
---
(Best portable option — $$)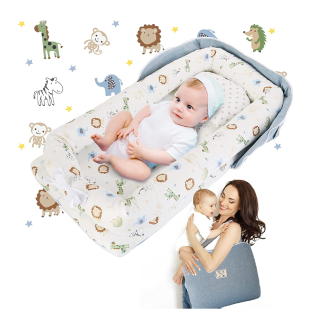 Why it's great: This lounger comes in an adorable zoo animal design and completely folds up and turns into a handbag for easy portability. It's great for travel or visiting friends and family. The tie at the bottom allows you to adjust the size and it's suitable for newborns all the way up to 12 months.
It's hypoallergenic and breathable to keep your little one safe and cozy. The mattress is a bump massage pad, which is great for your baby's back. The bumper sides make this great for co-sleeping too. The cover is machine washable, making it convenient and easy to keep clean.
Keep in mind: It's not water-resistant and you can't wash the insides, so you may want to add on a water-resistant pad or cover.
Good for: Parents that travel or visit friends and family often and need someplace comfy and safe for their baby to lounge.
---
(Best for safety — $$)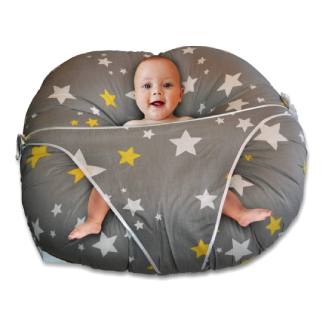 Why it's great: This lounger comes in a cute star pattern that's great for girls or boys. The sunken center gives your baby just the right amount of support and helps them feel cozy and comfy. It also has a strap that can be fastened to help keep your baby in place. The strap also makes it easier to safely pick it up with your baby in it and move them from the floor to the crib or anywhere they need to go. This lounger can be used for lounging, sitting, breastfeeding, or napping.
It's 100% cotton and soft on your baby's skin. It's also machine washable, making it easy and convenient to clean. Plus, it comes with a case for easy portability.
Keep in mind: The straps don't work as well for smaller/younger babies.
Good for: Parents that need
FAQs about Baby Loungers
---
1. Do I need a baby lounger?
You don't actually need a baby lounger; however, they offer many benefits that make them worth it. For one, it offers new parents a safe and comfortable place to set their baby down so they can shower or do household chores. Depending on the lounger you choose, they can also help prevent flat head syndrome and help with digestion, reflux, and breathing. The bumpers around the sides keep your baby separated from everything else, making them a good choice as co-sleepers too.
---
2. Can my baby sleep in a baby lounger?
Most manufacturers don't recommend loungers for nighttime sleep. This is because it is recommended by the AAP that babies sleep on their backs in their cribs with nothing around them. Short, supervised naps are usually fine, as long as your baby isn't able to roll over. The bumpers and sides could become a suffocation risk as your baby becomes more mobile. However, using a lounger as a co-sleeper might be safer than having your baby in your bed with you. But only if it's the type with raised sides that go around your baby to prevent suffocation from parents rolling over onto the baby or the baby rolling into your side. So the Boppy or other pillow-style loungers would not be safe for sleeping. Keep in mind that it's highly recommended that you move your baby to their crib or bassinet once they fall asleep in a lounger and this is the safest option.
---
3. How long can my baby use the lounger?
This will depend on the one that you choose. Each lounger is appropriate or safe for different age groups or sizes. Check the manufacturer's recommendations to see how long your baby can use the lounger that you choose. It usually ranges anywhere from newborn to 12 months, but some only work for as little as 3 months or 16lbs.
---
4. Can I use the lounger for anything else?
Of course! Loungers are great for many different things. It will depend on the style of lounger that you choose, but usually, they can be used for lounging, breastfeeding, napping, co-sleeping, sitting up diaper changes, or tummy time.
---
5. What style of lounger is the best?
Loungers come in many shapes and styles these days. From the traditional pillow loungers, chair loungers, to oval or nest loungers. The style you choose all depends on personal preference and what you need out of a lounger. Are you looking for a safe and comfortable place to put your baby while you get some things done? A traditional pillow lounger is probably fine. If you want something that helps with reflux, digestion, or flathead, you'll likely need one with a little more shape, such as the nest loungers. None of the styles are better than others, they just all have different ways that you can use them.
---
Conclusion
---
As mentioned in the beginning, safety and comfort come first when it comes to any baby product. A lounger is no different. If your baby isn't safe or comfortable, it'll be a challenge for both of you to find peace and happiness.
Our list covered both of these concerns and provided you with options you probably didn't think of. The FAQ also filled in some lingering questions you may have thought of. Now that you're armed with all the knowledge you need, we hope you and baby find the lounger of both your dreams.
You may also like our other product reviews…
Baby Bath Mats | Baby Blocks | Baby Bottle Cooler Bags | Baby Bottle Dish Soap | Baby Bowls | Baby Car Mirrors | Baby Car Window Shades | Baby Carriers for Men | Baby Dolls for 1-Year-Olds | Baby First Aid Kits | Baby Food Storage Containers | Baby Grooming Kits | Baby Memory Books | Baby Nail Files | Baby Oils | Baby Onesies | Baby Probiotics | Baby Rattles | Baby Socks That Stay On | Baby Utensils | Baby Walkers | Baby Washcloths | Bath Towels | Bathtubs | Bibs | Blankets | Blenders to Make Baby Food | Booties | Bottle Brushes |