Updated on by Lyric Fergusson
Those first years with your baby can fly by in what feels like the blink of an eye. Along the way, there are so many special moments to treasure forever. Using a baby memory book is a timeless tradition and something you'll be able to share with your child when they're old enough to reflect on the years gone by with you. Here are 11 baby memory books to track your little one's most memorable milestones.
Best Baby Memory Books
---
(Best value — $)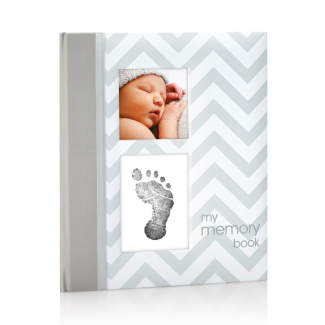 Why it's great: This adorable baby memory book is a classic take on an age-old ritual. Spanning from pregnancy through your little one's fifth year, this book features fifty guided journal pages with prompts designed to tell mom and dad's story as well as baby's story. This memory book includes pages for all of your baby's biggest moments and special events. It also comes with a clean-touch ink pad so that you can conveniently add your baby's footprint to the book's cover. Available in pink, blue, or grey, this book is bound in chevron-printed cloth and has been designed to last, making it the perfect keepsake.
Keep in mind: This book is more rigid in its family definitions, so non-traditional families might not feel best represented by this book.
Good for: Parents looking to avoid a high-maintenance project, but who still want to cover all the basic milestones for a baby book.
---
(Most giftable — $)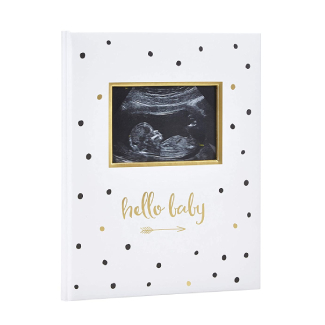 Why it's great: This sweet and stylish baby memory book is straight-forward and easy to complete, with sections covering pregnancy, firsts, and birthdays. The front cover offers a designated spot to display your baby's sonogram photo for a fun and unique look, while the gold foil and modern arrow design elements are gender-neutral and chic. The pages inside are thick and durable and contain space for photos, artwork, and writing prompts. This guided journal covers all the important details of your baby's first years, as well as pages for a family tree and information about mom and dad.
Keep in mind: Like the other Pearhead baby memory book on this list, there is not a lot of flexibility for non-traditional families.
Good for: Parents who are looking for something stylish and easy to use, which is also why it would make a great gift for expecting parents!
---
(Most thorough — $$)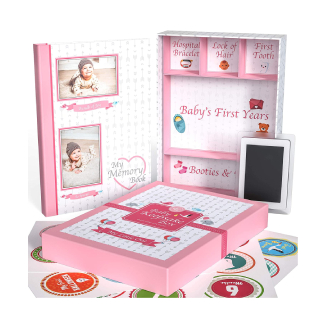 Why it's great: This baby memory book is actually more like a kit and comes with a box with designated spaces to store baby booties, a hospital bracelet, a lock of hair, a tooth, and other keepsakes. The box has been designed so that the baby memory book can sit on top of the keepsake items without crushing them, making it a cohesive package that is easy to pack and store. This baby memory book is very in-depth in terms of writing prompts and guided content and also includes an array of stickers to mark milestones and monthly photos. Also important to note is that the parent's page in this book is gender-neutral and allows parents to fill in their own family definitions.
Keep in mind: This baby memory book is more labor-intensive and is similar to a scrapbook rather than just a journal.
Good for: Parents who want to keep track of everything, including mementos. With so many sections and compartments, this memory kit won't let you forget a single thing about your little one's first few years.
---
(Best scrapbook — $$)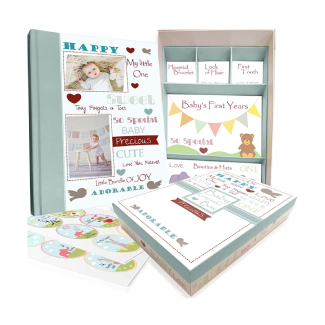 Why it's great: This memory book is similar to the previous one, as it is more of a scrapbook keepsake. It has a keepsake box with designated compartments for your baby's first tooth, lock of hair, hospital bracelet, and more. Plus, the actual memory book, with 64 pages of guided prompts, places for pictures, and more to cover your child's first 5 years. It also comes with milestone stickers, so you can easily photograph those precious moments and add them to the album. Another bonus is that this book comes in a gender-neutral design, which means you don't have to stick with the traditional blues or pinks that you normally find in baby items.
Keep in mind: This one is more labor intensive, so you'll need to be prepared to spend some time on it.
Good for: Parents that want a scrapbooking kit to cover their baby's first five years of life.
---
(Most elegant — $)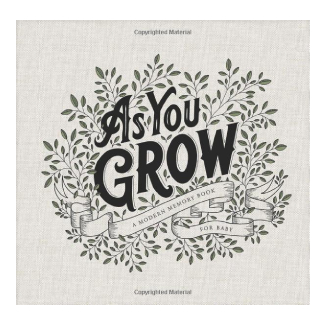 Why it's great: This baby memory book's gender-neutral design is decorated with beautiful calligraphy and hand-drawn illustrations of plants and leaves. Its elegant linen cover lends to its modern aesthetic while the acid-free archival paper used inside ensures that this book was built to last. A thoughtful "lay-flat" design allows parents to easily write on the pages and there are several pocket section dividers throughout the book to safely store your baby's keepsakes. All writing prompts have been developed with reflection and celebration in mind and the pages with milestones that don't apply can be easily removed so that the book is customized to best fit your baby's life story.
Keep in mind: This memory book is very detailed, so parents looking for something simpler might find themselves overwhelmed.
Good for: Parents looking for something modern with an emphasis on high-quality design.
---
(Best quality — $$$)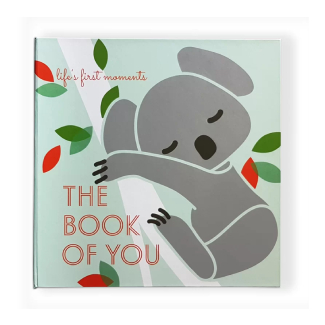 Why it's great: This is an adorable memory book with a cute koala on the cover. It comes in mint or pink, making it a great option for either gender. It has smart, guided prompts to help you remember and document your child's first year and first 5 birthdays. It also leaves plenty of space so that you can write as much or as little as you desire. The spots for photos are large, which means you don't have to have a specific size photo to fit in the frame like you would with other memory books. Plus, this memory book has pockets for keepsakes, additional blank pages for added memories, and sturdy binding that was built to last. It also comes with a ballpoint pen that won't smear and a glossy white protective box to keep it in or gift it in.
Keep in mind: This one is pricier than any other on the list, but it is high quality, built to last, and comes with everything you'll need to remember your baby's first few years.
Good for: Parents that want a memory book that was built to stand the test of time.
---
(Best illustrations — $$)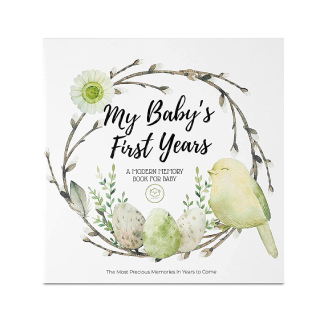 Why it's great: This baby memory journal features beautiful watercolor illustrations and is available in two whimsical themes – Wonderland and Adventureland. Both designs are gender-neutral and contain adorable animal characters to engage your child so that you can share the process of working on the memory book together. With a sturdy hardcover meant to stand the test of time, this book includes ninety pages with simple and unique writing prompts to guide you through documenting your little one's most important moments. This memory book is suitable for all family types and includes a keepsake envelope with a string enclosure to store special items.
Keep in mind: The family tree can be a little confusing to fill out and some of the language used in the book's writing is unclear.
Good for: Parents looking to write down their memories as this book features lots of opportunities to write letters and respond to prompts.
---
(Most inclusive of all family types — $$)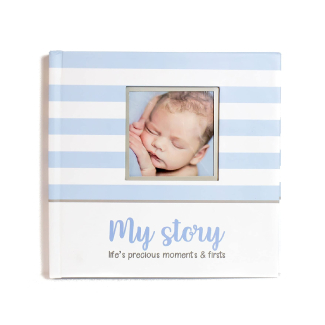 Why it's great: This baby memory book features a combination of writing prompts and blank writing space to allow parents to get creative while recording their memories. Following your baby's journey from pregnancy through their fifth birthday, this memory book is thoughtfully designed. It includes individual pages for monthly milestones and yearly birthdays, as well as plenty of space for photos. Each chapter begins with space for parents to write a letter to their little one, who will cherish reading it down the road. Parents who purchase this baby memory book will be glad to know that a portion of the proceeds goes directly to charity.
Keep in mind: The spaces for photos are small, so you'll want to print on a smaller scale or cut full-size photos down to fit.
Good for: Everyone! This book makes room for all family types, including single parents, adoptive parents, and LGBTQ parents.
---
(Most simplistic design — $)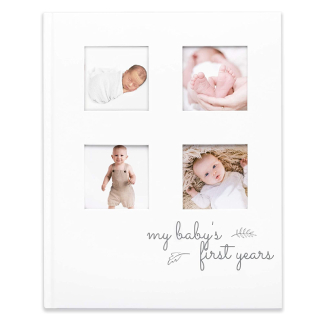 Why it's great: This journal makes it simple and easy to document your baby's first five years of life. It has 66 pages of guided prompts, plenty of spots for photos, and a slim and sleek binding with a photo cover. It's completely gender-neutral and has natural foliage sketches to give it a minimalistic, but artsy style. The wording in this memory book was carefully selected to accommodate any family type, including traditional families, single parents, adoptive parents, or LGBTQ families. You can also customize this book by cutting out pages or filling unwanted pages with photos.
Keep in mind: This one doesn't have any keepsake pockets, so you'll have to find a separate place to store those items.
Good for: Parents that want to capture all the significant moments in their child's life, but don't want to spend a lot of time writing, journaling, or scrapbooking every detail.
---
(Most eco-friendly – $$$)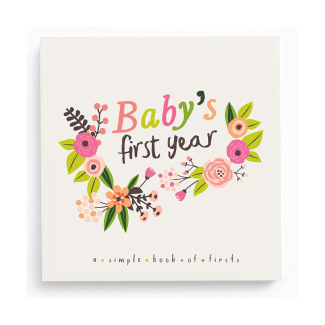 Why it's great: Featuring a gorgeous rustic floral print, this baby memory book's simple elegance is sure to inspire you each time you open it. With thick pages and vibrant colors, this is one of the most high-quality baby memory books on the market. Covering five years, its contents include monthly check-ins, basic firsts and holidays, as well as other important milestones. It's simple and straightforward enough to avoid overwhelming new parents, but comprehensive enough to include all the moments you'll want to look back on. Eco-conscious parents will be glad to know that this memory book was made in the USA and responsibly printed with soy-based inks.
Keep in mind: This memory book features a more feminine design, so it would not be best for parents looking for something more masculine or gender neutral.
Good for: Parents who want something easy and aesthetically pleasing. There aren't as many writing prompts in this book, leaving more space for photos and milestones.
---
(Best for busy parents — $$)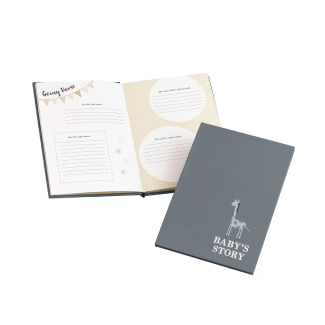 Why it's great: This adorable memory book has cute, whimsical illustrations that give it a charming style. It offers easy prompts for all the important occasions and firsts in your baby's life, making it quick and easy to jot down and document those special moments. This simplistic approach makes it easy for busy parents to cover the essentials, without spending a lot of time and energy documenting all the minute details. It has space for you to write your thoughts or add quotes if you're so inclined. It also has insert areas for important pictures. The gray cover and neutral colors used throughout this journal make it a perfect choice for either gender and give it a classic look.
Keep in mind: This is a thinner journal and doesn't have a place for keepsakes or space for lots of photos.
Good for: Busy parents that still want to be able to record those precious moments of their baby's first year.
FAQ about Baby Memory Books
---
1. What should I consider when purchasing a baby memory book?
While all baby memory books are designed to help you document your little one's first few years, there are definitely some key differences to consider when choosing which baby book will be most enjoyable for you to use. Do you want to include lots of photos of your beautiful baby? It's probably best to choose a book that has room to add extra pictures. Love to write? Go with a baby memory book that's designed like a journal with lots of open space for writing. Prefer something simpler? Some baby books feature prompts that only require simple answers that are short and sweet.
---
2. What should I include in a baby memory book?
Many baby memory books are like guided journals with lots of direction, so you don't have to come up with all the ideas on your own. Typical elements often include pages to document details about pregnancy, baby's birth, monthly check-ins, yearly birthdays, and all of your baby's monumental firsts.
---
3. What if I don't want to fill out certain pages?
Sometimes, there's a page that doesn't make sense to include for your baby, whether it's in regards to a holiday you don't celebrate or a first that doesn't apply. Some books offer the option to easily remove pages from the binding. If that's not the case, you can carefully cut out a page or better yet, just cover the page with extra photos of your adorable baby!
---
4. What are the blank pages for?
While baby memory books often include specific pages for milestones and memories, there are often blank pages included to write something more freestyle. For these pages, consider elaborating on some of the milestones with the stories behind them. Jot down your little one's unique likes or dislikes, their favorite books and toys, or a funny thing they said that you'll want to remember forever.
---
5. How should I store a baby memory book?
Because it's a keepsake item, it's best to store your baby memory book as you would other fragile or valuable items in a safe, clean, and dry place where it's easily accessible to work on or look at.
---
Conclusion
The first five years of your baby's life are full of countless developmental milestones and precious moments. A baby memory book is a sacred space to document and preserve all the special details and exciting occasions that come to pass. It can also be a place to get creative, jot down personal statistics, and keep photos. No matter what memories you choose to highlight, your baby's memory book will eventually become a window into the past and a beautiful keepsake to share with friends, family, and especially your little one as they grow old enough to appreciate your labor of love.
You may also like our other product reviews…
Bottle Drying Racks | Bubble Bath Soap | Carriers for Petite Moms | Coconut Oils for Babies | Cribs for Twins | Floor Seats | Foam Play Mats | Glass Baby Bottles | Hair Brushes | Hampers | Hats | Headbands | Hooded Towels | Interactive Baby Dolls | Long-range Baby Monitors | Loungers | Mittens | Mobiles | Moccasins | Moisturizers for Baby Hair | Musical Toys | Nail Clippers | Pillow for Baby Flat Head | Play Fences | Retractable Baby Gates | Reusable Baby Food Pouches | Rugs for Baby Nursery | Scales | Sink Tubs | Spoons For Self-feeding | Stuffed Animals for Baby to Sleep With | Toothbrushes |