Updated on by Lyric Fergusson
When you bring home a newborn baby there are a lot of things that you would never think or know about ahead of time. One of those things is that your baby's fingernails are sharp and your baby has no real control over their hands yet. This means that your child is likely to scratch themselves at some point.
Mittens are made just for this problem. They easily protect your child from hurting themselves by keeping those little fingers covered. That's why I've compiled a list of the 7 best baby mittens for you.
The Best Baby Mittens
---
(Most affordable — $)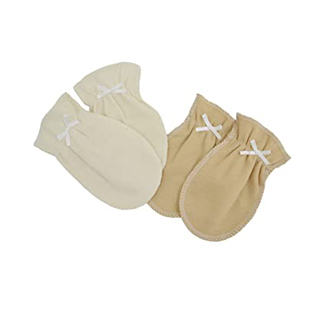 Why it's great: You get 2 pairs for an affordable, low price. This means you can stock up, which is great because you'll go through a lot of mittens. They're made with organic cotton, so you don't need to worry about any harmful chemicals being used in this material. They're comfortable and the elastic around the wrist makes them super easy to slip on and take off. They also come in natural, neutral colors, so you can use them for any gender.
Keep in mind: These are light and thin, so they are not meant to keep your child's hands warm.
Good for: Parents who want a cheaper option that still protects their child.
---
(Best value — $$)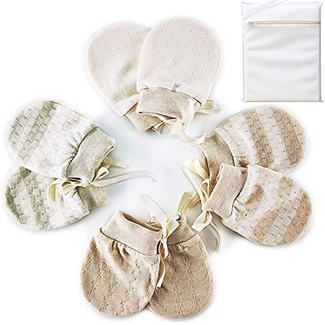 Why it's great: These come in a pack of 4 pairs and are in gender neutral colors, making them great for any baby. They are made of organic cotton and are soft and breathable. They are slightly thicker than normal, so they work great all year round; breathable enough for summer and heavy enough for winter. Not only do they have elastic around the wrists, there's also a drawstring so you can loosen or tighten the fit.
Keep in mind: These are not machine washable, unless you use a laundry bag and wash on delicate.
Good for: Parents that want a nice set of mittens that their child can use year round.
---
(Softest pair — $)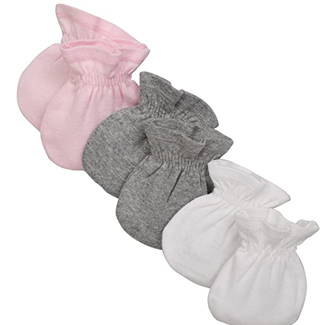 Why it's great: : Burt's Bees is known for their organic products and healthier products. These mittens are organic cotton, which makes them both safer and more comfortable. You don't have to worry about pesticides or harmful chemicals on this material. They're also super soft and breathable, so your child won't overheat in them. They are machine washable and are combed and ring-spun, so they won't pill or get damaged over time.
Keep in mind: These seem to run a little big, so might not fit a preemie or smaller newborn.
Good for: Babies with sensitive skin.
---
(Best teething pair — $)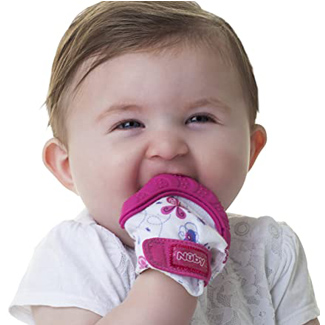 Why it's great: This pair has a silicone teether at the end of it, so it works to cover your child's hand and to soothe their gums at the same time. The mitten itself is soft and flexible, which makes it easy for the child to move their hand comfortably. Since most babies have trouble gripping teethers, this mitten is perfect because it keeps the teether attached to their hand. It also comes with a little hygienic bag, so you can safely bring this mitten wherever you go.
Keep in mind: You only get one mitten, so you'll have to purchase another one if you want one for both hands at the same time.
Good for: Babies who are teething.
---
(Best outdoor pair — $)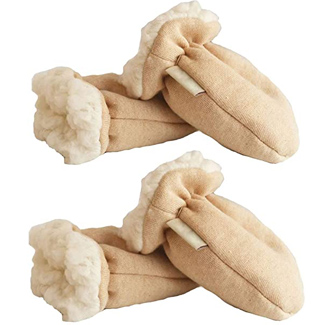 Why it's great: These mittens are Sherpa lined fleece, so not only will they keep your child from scratching themselves, they'll keep their hands very warm in cold weather. Your child can use these to protect them and keep them warm in rain, wind, or snow, which means your little one will be able to be comfortable outdoors for longer periods of time. The elastic around the wrist will keep them on and they are easy to pull on and off.
Keep in mind: These are thick and are made for outdoor conditions, so they may be too warm for everyday, indoor use.
Good for: Babies that live in colder climates.
---
(Best quality set — $$$)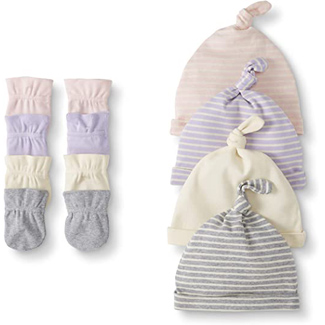 Why it's great: In this set you get 4 pairs of mittens with 4 matching hats. There are also three different color options available for the set, so you can get the one that you like best for a boy or girl. They are high quality and durable, so they'll likely last through multiple children. They are made from organic cotton and are soft and comfortable. The elastic around the wrists keeps them from falling off and the mittens have plenty of room for your child to stretch their fingers.
Keep in mind: The mittens do run a little big, but even so the elastic keeps them on.
Good for: Parents looking for mittens that will last.
---
(Best winter set — $$$)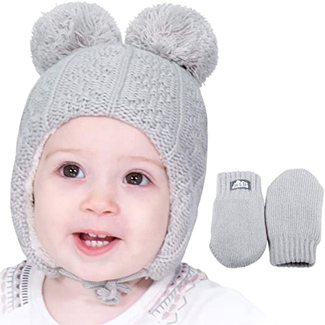 Why it's great: This pair of mittens comes with an adorable, pompom, bear ears hat. The mittens and hat have a fleece lining to keep your child extra warm. They are made from a stretchy, knit fabric, so they will grow with your baby. The set is made true to size, with multiple size options available. There are also a variety of color and print options to choose from, so you'll easily be able to find one that suits your child. Wearing this set, your child will be cozy and warm in any weather.
Keep in mind: This one is a little pricey, but the quality makes it worth it.
Good for: Babies or toddlers that live in colder climates.
---
FAQs about baby mittens
---
1. What is the purpose of baby mittens?
There are multiple reasons that babies wear mittens. The most obvious is to keep their hands warm in cold weather. Some other uses are to keep their fingernails covered so they don't scratch themselves. They also keep your child's fingers out of their mouth, protecting them from germs or preventing thumbsucking.
---
2. What material is best?
This has more to do with personal preference and the purpose of the mittens. If you want something to protect from scratching on an everyday basis, cotton or thinner materials are better. If you want something that will keep their hands warm, fleece lining or knit may be the right choice.
---
3. How long does my child need mittens?
Again this will vary based on use. If you're using it to protect from scratches, you probably will only need them for up to 6 months. By that point, your child can control their hands and arms enough that they're not likely to accidentally scratch themselves. If you're using them to keep your child's hands warm, there is no age limit. Adults wear mittens and gloves in winter weather.
---
4. What size mittens do I need?
This will depend on your child's size. If you're buying mittens to cover their nails, you'll likely get 0-3 months or 0-6 months sizes. If you're buying them to keep your child's hands warm, you'll base it on the size of their hands.
---
5. What are the safety concerns?
You'll want to make sure that the mittens aren't too small, so their fingers aren't cramped. Also, if they're too tight, it could hurt their wrists. Other than that, keep them out of reach when they're not on their hands. That way they don't put the whole mitten in their mouth, which could cause them to choke. As with any baby item, keeping good supervision of your child should help you avoid any dangerous situations.
Conclusion
---
Keeping your baby safe and unharmed is every parents' wish. Mittens are a great way to keep your child from accidentally scratching themselves and leaving you with one less thing to worry about.
There are many different options available out there, but you'll easily be able to find the right pair for your child if you consider what you need ahead of time.
You may also like our other product reviews…
Baby Onesies | Baby Probiotics | Baby Rattles | Baby Socks That Stay On | Baby Utensils | Baby Walkers | Baby Washcloths | Bath Towels | Bathtubs | Bibs | Blankets | Blenders to Make Baby Food | Booties | Bottle Brushes | Bottle Drying Racks | Bubble Bath Soap | Carriers for Petite Moms | Coconut Oils for Babies | Cribs for Twins | Floor Seats | Foam Play Mats | Glass Baby Bottles | Hair Brushes | Hampers | Hats | Headbands | Hooded Towels | Interactive Baby Dolls | Long-range Baby Monitors | Loungers |