Updated on by Lyric Fergusson
We have all seen (and loved) those picture-perfect, Instagram worthy nurseries floating around on Pinterest and in other various places on the internet. And you may have noticed something they all have in common: cute, dangling mobiles over the crib. However, these mobiles aren't just there for decoration or for tying the room together. In fact, they serve to help stimulate and soothe your baby right from the beginning.
That's why it is so important to do a little research when deciding which mobile is right for you. Do you want your baby to be stimulated with spinning, bright colors? Or, perhaps, soothed with womb sounds and white noise? Do you want one that perfectly matches the nursery décor? Or do you want a take-along mobile that can travel with baby from crib to stroller and back again?
We have compiled a list of the 7 Best Baby Mobiles:
The Best Baby Mobiles
---
(Best value — $)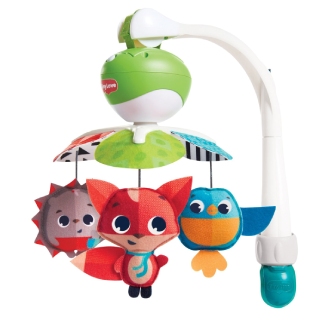 Why it's great: This particular model, which comes in four different themes, can be taken along with baby! It comes with a velcro attachment for the car seat/carrier, a clip attachment for the stroller, and a 2-part arm for attachment to the crib, play yard, or bassinet.
The Tiny Love company designs its products with the idea of helping your baby to discover the Seven Developmental Wonders: cognition, language, fine motor skills, senses, gross motor skills, creativity, and emotional intelligence. This mobile is designed to engage, entertain, and even delight your little one with its spinning toys and its 30 minutes of uninterrupted music, complete with 5 different melody choices.
Keep in mind: Reviewers noted that they had some issue with pieces falling off and into the crib and stroller… but then they admitted that they hadn't followed the instructions carefully enough. Make sure you read and follow those instructions word-for-word!
---
(Newborns in mind — $)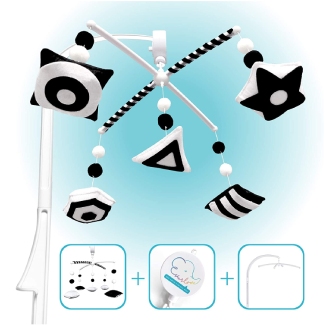 Why it's great: My favorite thing about this mobile is that the dangling bits are designed face-down, towards baby's face! Your baby isn't spending time looking at animal bottoms. After all, mobiles are for baby, aren't they? This mobile isn't brightly colored, but designed, instead, in black and white contrasting patterns that activate early brain and visual development, as newborns can't yet distinguish colors. It rotates, plays soothing songs, and is made entirely of organic, hypoallergenic felt, and all natural cotton.
Also, this product had absolutely NO 1-Star Reviews on Amazon!
Keep in mind: This one is wind-up, so no batteries required, only grown up-power!
---
(Most versatile — $)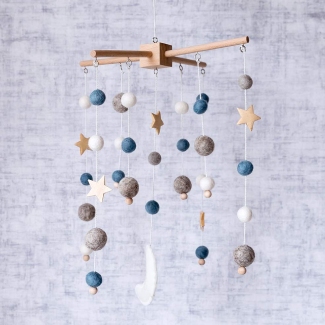 Why it's great: If naturalism and minimalism are more your style, this mobile might be the right fit for your baby's nursery. It is mostly comprised of wood, hypoallergenic felt and fillers, and small bells for a gentle sound. This mobile is some-assembly-required, making it a fun craft project, which might just be wonderful for the nesting mom-to-be.
Reviewers loved that this design was similar to the many they found and loved on Etsy, but this listing on Amazon is far more affordable. It comes in a few color variations, that are all simple in hue so that the mobile might fit with any nursery décor! Many reviewers even reported using it as decoration without having children. Might even make a lovely windchime!
Keep in mind: Though this mobile is equipped with small bells, it doesn't play music or sound on its own. Also, because of its buildable nature, reviewers noted some damage in transport. However, they also noted that many issues were very easy (and even fun) to fix!
---
(Good value — $$)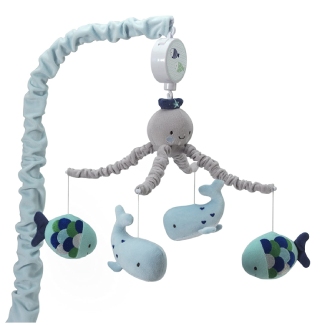 Why it's great: This ocean themed mobile has a battery-powered music box complete with 3 rotating songs, an on/off switch, and even volume control. (Grown-ups rejoice!) The plush whales and fish are attached to an octopus at the top, so your baby is learning animals and colors already. These creatures rotate to soothe and provide visual stimulation to your baby. Unlike the other options, this mobile arm is covered in a sky-blue velour for a cohesive and cozy look.
Keep in mind: If you find yourself digging through the review section and notice some not-so-good ones, notice that many of those are actually for an older model. The issues have been addressed in this newer design!
---
(Adaptable — $$)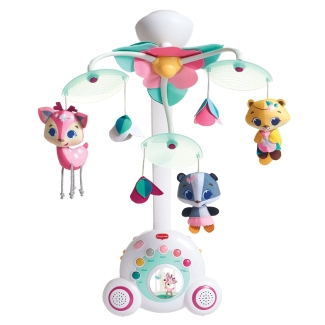 Why it's great: This mobile from Tiny Love grows along with baby; While it can be used as a mobile, it can later convert to a music box for toddlers to take with them. It has six musical options, 18 melodies, and 40 minutes of uninterrupted music. Parents can decide: calming sounds for naptime or energetic music for play? The top pf this mobile also includes a soft, calming nightlight, which comforts baby and protects the grownups toes when entering the room for late night feedings.
Again, the Tiny Love company designs its products with the idea of helping your baby to discover the Seven Developmental Wonders: cognition, language, fine motor skills, senses, gross motor skills, creativity, and emotional intelligence. This model comes in various themes and colors.
Keep in mind: Remember to follow the instructions exactly with this battery-powered mobile.
---
(Most soothing — $$)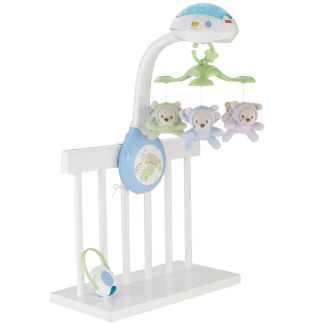 Why it's great: This mobile provides a starry night projection, light show on the ceiling and walls around baby's crib and has three sound settings: lullaby music, white noise, and soothing nature sounds. The projection top is easily convertible to tabletop for toddlers or for grab-and-go fun.
The dangling part of this mobile has three soft, butterfly bear toys that can clip to stroller canopies for take-along play!
Keep in mind: In order for the light show to have the full effect, it will need to be quite dark in the room. Perfect for soothing a crying baby late in the night.
---
(Highest quality — $$$)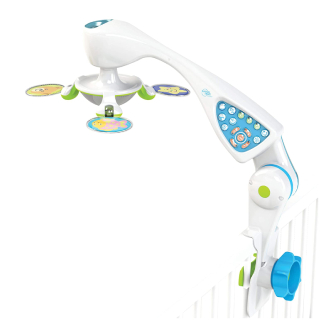 Why it's great: Trusted by over 500 hospitals (including the Top 10 pediatric hospitals), this mobile is easy to clean and disinfect, made with BPA free plastics, and has no loose parts or choking hazards. With its 6 rotating images in both black and white and contrasting colors, this mobile is designed to encourage visual development in your baby.
This model has 5 soothing sound choices selected by clinicians and audiologists: womb heartbeat, white noise, ocean waves, lullabies, and classical music, perfect for combining auditory learning with comfort. And you can even record up to 5 minutes of your own sounds, whether it be soothing singing or talking from Mom, baby's favorite song, or favorite sounds.
Keep in mind: This mobile only fits with cribs with rail width of 2.25" or smaller, so make sure you measure before buying!
---
FAQs about baby mobiles
---
1. At what age do you stop using a crib mobile?
All of the mobiles listed above say from 0 to 5 months, but a good rule of thumb is to remove the mobile when your baby begins to push up onto their hands and knees. If they can reach it, it becomes a potential danger!
---
2. What exactly are crib mobiles for?
Essentially, a mobile is a toy for above the baby's crib, away from their face. A mobile should be designed to provide visual stimulation and promote brain development. Some mobiles are for stimulating babies and others are designed to soothe baby back to sleep.
---
3. Are baby mobiles important?
Mobiles are a lot more than just décor for your baby's nursery. Not only can a mobile spark a boost for baby's brain, but mobiles can also serve as soothing devices for babies, playing music, womb sounds, etc.
---
4. Are mobiles difficult to attach?
Most baby mobile's come with installation instructions. Make sure to follow instructions exactly as many people in the review section admitted that when they had issues with pieces falling into the crib, it was because they had not followed the instructions word for word.
---
Conclusion
---
Moms-to-be have to make lots of choices when it comes to a new baby's nursery. We have compiled this list of the 7 Best Baby Mobiles to hopefully make one part of this journey a little easier. And you still have the power of choice! Decide what's most important to you for your baby and your peace of mind: visual stimulation, calming and soothing, or, perhaps, the mobile that's easiest on the eyes. There are no wrong answers here. Just find a mobile that makes both baby and grown-up happy to see and hear! And remember, you will likely be hearing a lot of it, so make sure the sounds are soothing to you as well as to your new addition!
You may also like our other product reviews…
Baby Onesies | Baby Probiotics | Baby Rattles | Baby Socks That Stay On | Baby Utensils | Baby Walkers | Baby Washcloths | Bath Towels | Bathtubs | Bibs | Blankets | Blenders to Make Baby Food | Booties | Bottle Brushes | Bottle Drying Racks | Bubble Bath Soap | Carriers for Petite Moms | Coconut Oils for Babies | Cribs for Twins | Floor Seats | Foam Play Mats | Glass Baby Bottles | Hair Brushes | Hampers | Hats | Headbands | Hooded Towels | Interactive Baby Dolls | Long-range Baby Monitors | Loungers |