Updated on by Lyric Fergusson
If you're looking for a durable but flexible shoe for your little one, moccasins are the way to go. They can be worn indoors or outdoors, and are often made from all-natural leather or suede. Moccasins are great for your baby's developing feet and encourage the muscle development necessary for walking. Not to mention – they're super cute, and go with pretty much any outfit!
Here are our top 11 picks for the best baby moccasins:
Best Baby Moccasins – Cute and Comfy!
---
(Best value — $)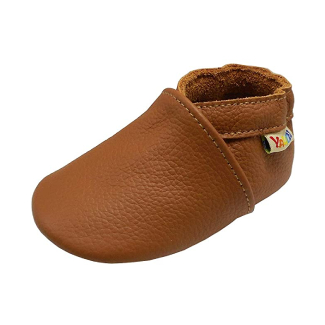 Why it's great: YALION First Walking Shoes feature an all-leather sole and elastic closure to help the moccasins stay on your baby's feet. There are over 20 different colors to choose from, as well as a few cute designs, like frogs, cars, and foxes. The shoes are easy to clean with a damp cloth, but don't put them in the washing machine. At less than $15 per pair, these are a great value too!
Keep in mind: Be sure to measure your baby's foot before choosing the best size. YALION recommends purchasing moccasins that are slightly larger than your baby's normal size.
Good for: A great budget option for quickly growing little feet.
---
(Best quality — $$)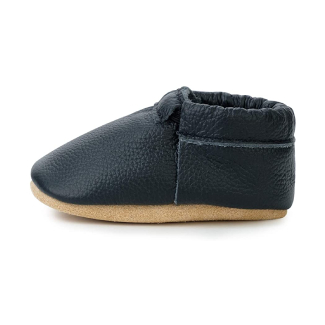 Why it's great: BirdRock Fringeless Moccasins are made with 100% genuine leather and have soft soles to promote proper foot development. There are nine designs, including a very cute "Home Run Baseball" design for baseball fans. The moccasins have hidden elastic around the ankle to keep them in place and the leather is very high quality. If you're looking for moccasins to last, these are the way to go!
Keep in mind: BirdRock backs these moccasins with a 100% Lifetime Guarantee, so If you're not happy with them, you can simply return for a full refund or exchange. They also feed a child in need for each pair of shoes purchased through their partnership with Feed My Starving Children.
Good for: High quality moccasins that go with a variety of outfits.
---
(Most durable — $$)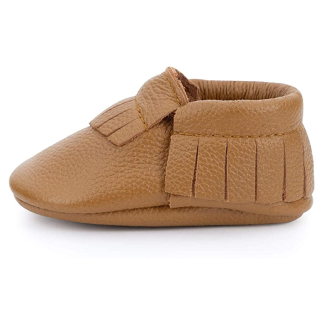 Why it's great: Like the BirdRock Fringeless Baby Moccasins, the BirdRock Baby Moccasins are also made of 100% genuine leather. The only significant difference between the two is that these have the classic moccasin fringe. There are over 30 designs, including basic, single-color options, that would be great for special occasions, and fun designs like polka dots, leopard print, and an American flag pattern.
Keep in mind: Some of the designs have leather soles, and others have suede, so if you have a preference for one or the other, be sure to check the specific design that you order. Like the fringeless moccasins, these come with a lifetime guarantee and each pair purchased provides a meal for a child in need.
Good for: Parents looking for high-quality, durable moccasins with a classic design.
---
(Best fit — $)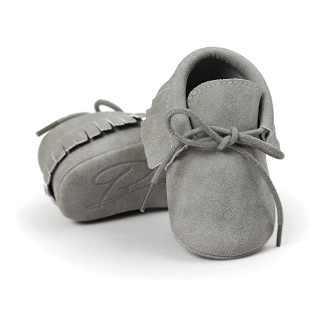 Why it's great: These moccasins have the classic fringe look around the heel, but have a tie on top. The elastic band around the heel makes these easy to slip on and off. The nice thing about these is that the tie not only offers a cute look, it can also be used to tighten the shoe if it's still a little big. These come in a variety of solid colors for either gender. They're made of artificial leather or suede, giving you different options depending on the look you're trying to achieve.
Keep in mind: Make sure you check the styles to see which are PU leather and which are suede, so you know what you're getting.
Good for: Growing babies, since these cover a variety of sizes and can be tightened or loosened with the ties.
---
(Most lightweight — $)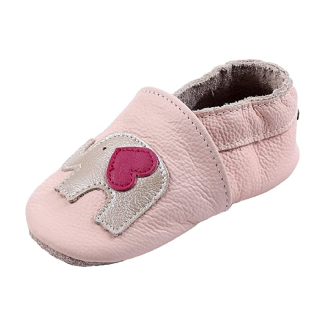 Why it's great: iEvolve Soft Sole Baby Moccasins are a bit more lightweight than other options, making them a great choice for warmer weather. They come in over 40 adorable designs, from dinosaurs, to elephants, to skulls and crossbones. The shoes also feature an elasticated ankle for easy on and off. Plus, they have suede, slip-proof soles, which will help your child stay upright as they learn to walk.
Keep in mind: The soles are very lightly colored, so these are best for non-muddy surfaces that won't stain the bottom of the moccasins. For sizing, iEvolve recommends measuring your baby's foot and adding .3" for growth space.
Good for: Anyone looking for lightweight moccasins and cute designs at a great price.
---
(Most cozy — $)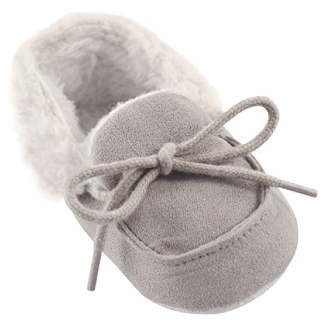 Why it's great: These moccasins are super cute and have a soft, cozy lining that will keep your baby's feet warm during the colder months. They come in a few neutral colors like gray, brown, or beige, as well as blue or pink for a pop of color. They have soft soles for proper foot development and the soles have rubber grips on the bottom to help new walkers stay on their feet.
Keep in mind: These run small, so I'd recommend you size up rather than following the sizing chart.
Good for: Babies that live in colder climates or that need cute shoes for the colder months.
---
(Most adorable — $)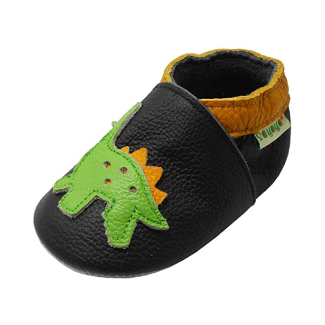 Why it's great: These adorable SAYOYO moccasins are a must-have for dinosaur lovers. The moccasins come in dark brown, black, or beige. The design is similar to more expensive brands of baby moccasins, but these come at a fraction of the price. SAYOYO moccasins feature an elasticized ankle and soft, lightweight suede soles, making them a great choice for early walkers.
Keep in mind: The soles on these are pretty thin, so they are not ideal for heavy use outdoors or in wet conditions. However, they are a great pick for babies who are just learning to walk and want to feel the earth (or floor) beneath their feet!
Good for: Early walkers who love dinosaurs!
---
(Best for outdoors — $$)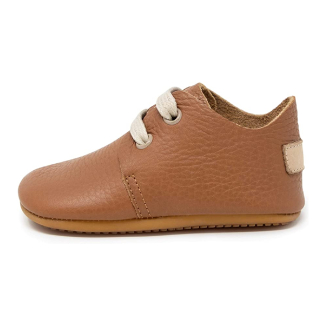 Why it's great: The Ella Bonna Oxford Baby Moccasins are unique from the others on this list because they feature rubber soles. This makes them perfect for outdoor wear, as you won't have to worry about wetness or stains seeping into them, like you might with soft soles. In terms of design, they resemble a classic tennis shoe, but they are made of leather. They are easy to clean with a damp cloth or you can even use shoe polish for serious stains.
Keep in mind: The rubber soles are ideal for older babies and toddlers.
Good for: The rubber soles make these a great moccasin option for babies and toddlers who spend a lot of time outdoors.
---
(Most fun — $)
Why it's great: These come in 25 different designs, all of which are super cute and fun. From animals, flowers, stars, or vehicles to solid or tennis shoe look-alikes, you're sure to find something that you love. These moccasins feature an elastic closure for easy on and offs. They're lightweight and breathable, which makes them extra comfortable. They also have the soft sole for proper foot development, making them perfect for new walkers.
Keep in mind: Make sure to measure your baby's feet for sizing, rather than going by age, to get the proper fit.
Good for: Parents that like to have a variety of design choices, in case they want to purchase multiple pairs.
---
(Most classic — $$$)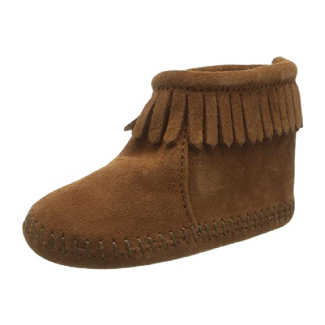 Why it's great: Minnetonka moccasins are a classic for a reason and their baby moccasins are no exception! The Velcro Back Flap Booties have a traditional moccasin design, but with a few practical features. The back opening makes it easy to put the moccasins on and take them off. The moccasins also feature a padded insole for comfort and support. Plus, they are made of flexible, soft, suede leather and are available in five different colors.
Keep in mind: These moccasins run large, so Minnetonka recommends ordering a half size smaller than your baby's normal shoe size. These are definitely not safe for the washer, so spot clean only.
Good for: A classic design with extra support and quality that will last.
---
(Most unique — $$$)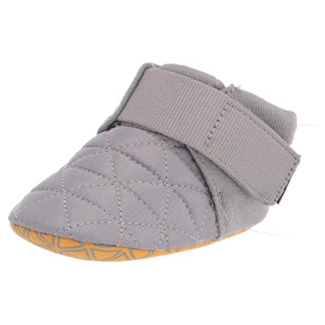 Why it's great: These moccasins don't look like your traditional moccasin, so they're the most unique choice of the bunch. However, they have all the benefits of a moccasin. These feature a soft sole, for proper foot development, and an easy on and off with a velcro closure. They have a quilted nylon upper that comes in gray, bright blue, or fuschia. Plus, they have a foam footbed and microfiber inner lining, making them super comfortable for your baby to wear all day long.
Keep in mind: These also come in kids', womens', and mens' sizes, so your whole family can sport the same style shoes.
Good for: Parents that want the benefits of moccasins without the traditional look.
---
FAQs about baby moccasins
---
1. What are the benefits of baby moccasins?
As babies learn to walk, the contact between their feet and the ground stimulates neurological signals that help them become better walkers. If you've tried putting tennis shoes on your baby or toddler and had little success, this is why: shoes with hard, inflexible soles make it more challenging for your little one to feel the ground and develop basic walking skills. The softness and flexibility moccasins provide make them an ideal shoe option for young babies, early walkers, and toddlers.
---
2. Are baby moccasins safe?
Baby moccasins are the perfect combination of flexible and supportive. Under most conditions, they provide plenty of padding to protect your baby's feet from hard objects like small rocks. Moccasins also stay on your baby's feet much better than socks, but still allow your baby to grip the ground, providing stability and support as your little one learns to cruise, walk, and run. If you're looking for a moccasin that will offer more protection from the elements, look for moccasins with an insole or rubber sole, such as the Minnetonka booties or Ella Bonna Oxford moccasins.
---
3. What age is best for baby moccasins?
Baby moccasins are completely safe – and comfortable! – from infancy until toddlerhood. Paired with socks in colder weather, they can be an effective way to protect small babies' feet from the cold, since they stay on the feet much better than slippery socks. Crawlers will benefit from moccasins' ability to grip the ground, encouraging your little one to learn to stand. And as noted above, moccasins are a great choice for early walkers.
---
4. What material is best for baby moccasins?
Most moccasins that have a leather body and leather soles – either regular leather or suede. Some moccasins are made of a more lightweight leather, while others are more heavy-duty. Either is fine, depending on your preferences and personal needs. For example, if your little one will be wearing these in the summer or mostly indoors, a lightweight option is best, while heavier leather is better for cold weather or rougher outdoor terrain.
---
5. How should baby moccasins fit?
Moccasins should be snug, but not tight. Ideally, your little one will have a bit of wiggle room in the toe box area. This sizing allows your little one to better develop his or her walking skills. It also provides room to grow, which is especially beneficial during the early years, when growth can happen quickly! Make sure to check manufacturer recommendations for sizing before you make a purchase.
---
6. How do I clean baby moccasins?
Generally speaking, baby moccasins should not be washed in the washing machine to avoid damaging the leather. However, they are usually very easy to spot clean with soapy water and dry with a clean towel. Again, be sure to check manufacturer recommendations before cleaning to avoid damage.
Conclusion
---
At this age, it can be hard just to keep socks on your baby. When I first discovered baby moccasins, I was sold right away, just because they stayed on my child's feet so well! Learning about the physiological benefits of moccasins was the icing on the cake.
Whether you're looking for a daily shoe or a great option for a special occasion, check out the options on this list. There's something for everyone!
You may also like our other product reviews…
Baby Onesies | Baby Probiotics | Baby Rattles | Baby Socks That Stay On | Baby Utensils | Baby Walkers | Baby Washcloths | Bath Towels | Bathtubs | Bibs | Blankets | Blenders to Make Baby Food | Booties | Bottle Brushes | Bottle Drying Racks | Bubble Bath Soap | Carriers for Petite Moms | Coconut Oils for Babies | Cribs for Twins | Floor Seats | Foam Play Mats | Glass Baby Bottles | Hair Brushes | Hampers | Hats | Headbands | Hooded Towels | Interactive Baby Dolls | Long-range Baby Monitors | Loungers |