Updated on by Lyric Fergusson
Is there anything more terrifying for a new parent than realizing it's time to cut those tiny fingernails? Even veteran parents have reason to get nervous when they notice those little fingernails are getting too long. Luckily, with the latest in baby manicure technology, you can help alleviate the anxiety around baby manicures and use that precious time to bond with baby.
I've assembled this list of my favorite baby nail clippers for newborns to toddlers.
Best Baby Nail Clippers
---
(Best value — $)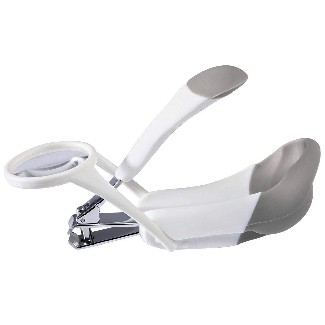 Why it's great: This no-frills clipper gets the job done. It's approved by the American Red Cross and comes with a magnifying feature that makes it very easy to see where you're clipping.
The lightweight and ergonomic design make it very easy to use, and the magnifier is removable if you do not need it. Most importantly, these are hands-down, the quickest way to clip tiny fingernails.
Keep in mind: You may want to practice on yourself as you adjust to a new design.
Good for: Traveling and nearsighted parents.
---
(Best for bedtime — $)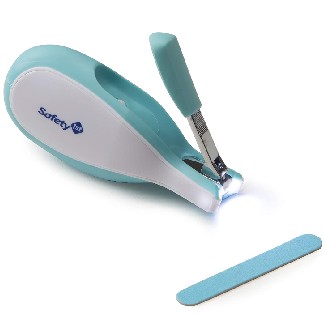 Why it's great: This trusty clipper comes with a light at the tip that makes clipping before bedtime a breeze. The clippers are ergonomically designed and don't require batteries.
Safety is clearly the priority for these clippers, and they are lightweight and easy to pack. They are also easy to clean once the clipping session is complete.
Keep in mind: It is best to angle these clippers away from you. The light is bright and might blind you otherwise.
Good for: Nighttime clippers and toenails.
---
(Most high tech — $$$)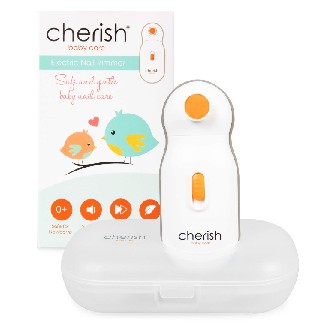 Why it's great: The baby manicure of the future! This is one baby gadget that's worth the splurge. This file is quiet, efficient, and easy to use. It virtually eliminates the risk of injury, and there's a good chance your baby will enjoy the manicure.
This product has an ergonomic design and comes with replacement pads. It is recommended for any age group, including newborns.
Keep in mind: Though this product comes with an AA battery, you will use this long enough to need a replacement.
Good for: Gadget-oriented parents who don't want to clip
---
(Most adorable — $$)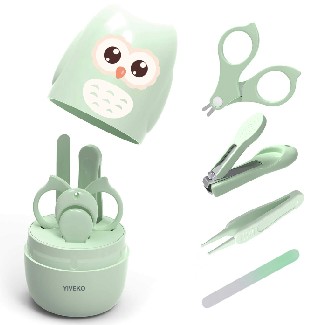 Why it's great: How can you not love this adorable design? This comprehensive set comes in blue or pink and includes a lovely owl storage case.
In addition to the beautiful design, this set includes a clipper, files, scissors, and tweezers, all designed with baby's safety in mind. This set is an adorable addition to any diaper bag, baby shower, or nursery.
Keep in mind: This friendly owl could easily be mistaken for a toy, so be sure to keep this out of reach of your little ones.
Good for: Gifts and parents not sure what their preferred clipping method is yet.
---
(Most options — $$)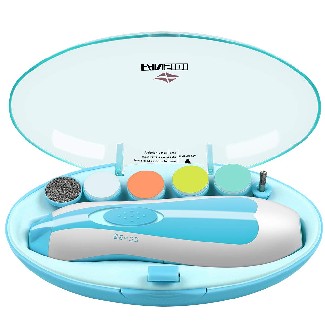 Why it's great: This is an electric file you can share with baby! This file comes in six different colors and comes complete with 10 grinding heads and 8 sandpapers, so there is no shortage of options for your baby's manicure.
This high-tech nail solution comes with 4 modes, 2 speeds in both directions, and a light to help with nighttime trimming. The compact storage case keeps all the parts together. The best part is you can borrow this from time to time!
Keep in mind: This product requires 2 AA batteries, which are not included.
Good for: Any age, this file is safe for babies and works well for adults!
---
(Safest — $)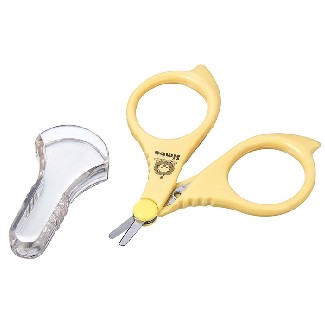 Why it's great: These scissors are the safest option on the market! There is an immense sense of relief knowing you won't accidentally nip your baby, and they are effortless to maneuver. The scissors probably save 5-10 minutes over an electric file and are less expensive.
These scissors are recommended for ages 3 months and above, but they are safe for newborns as well. They are particularly advantageous for tiny nails and can be used for years!
Keep in mind: You may need to adjust if you have large fingers, but the finger holes are large enough for most adults.
Good for: Newborns and parents with anxiety about cutting tiny fingernails.
---
(Most efficient — $$)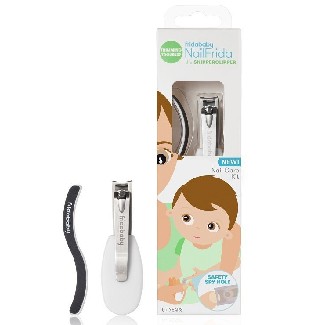 Why it's great: FridaBaby is a trusted baby product supplier, and this clipper was designed to be safe and efficient! The spyhole allows you to see what you're clipping and, in combination with the curved blades, reduces the risk of cutting your baby's sensitive skin.
The clippers also come with a curved nail file for a smooth finish after clipping baby's nails. These are a staple for any nursery and are small and lightweight so that they won't weigh down the diaper bag.
Keep in mind: The spyhole and curved blades are great features, but you may want to practice on yourself before baby; it may take some practice to adjust.
Good for: Babies, toddlers, and new parents.
---
FAQs about clipping baby fingernails
---
1. Do I really need to cut my baby's nails?
Sadly, yes, cutting baby's nails is essential to keep the nails clean and to help baby avoid unwanted and unintentional scratches. If your baby is a thumb-sucker, clipping nails is especially vital. The good news is that there are few ways to accomplish this mission: You can use a nail file to sand the nails down, nail clippers to cut them, baby nail scissors, or a combination of the three.
---
2. When should I begin cutting my baby's nails?
At one month old, baby's nails start to harden and will have a firmer free edge making it easier to trim. For Babies born with long fingernails, you may need to file or cut your newborn's nails earlier than at one-month-old.
As for the frequency, every baby's nails grow at a different rate, so there's no set schedule. You should plan to clip when you notice the fingernails are too long. Baby nails typically require trimming around once a week since they grow faster than adult nails. Luckily, baby toenails need trimming less frequently because they don't grow as quickly during the newborn period.
---
3. Which is better for babies clipping, filing, or cutting nails with scissors?
Every baby is different, but most pediatricians recommend that parents file a newborn's nails for the first few months. Even the most cautious parent can accidentally nip baby's skin with clippers. That said, filing can be challenging early on when newborn fingernails are very soft and bendable. As baby gets older, you can use a combination of clippers, scissors, and baby nail files to get the job done.
---
4. What are the key features to consider when buying a nail clipper for a baby?
Safety should always be the number one feature. While snipping baby's finger is unlikely to cause significant injury, it will add a layer of stress to the trimming process for both you and baby that will be difficult to overcome. The products above have various features designed to promote a safe trimming session; some features to look for might include a light or bulb, magnifying glass, safety window, buffer or protection from the blade, etc.
---
5. What are some safety tips when clipping my baby's nails?
The most crucial safety practice for any new trimming device is to practice on yourself first. Most baby nail clippers are straightforward to use, but they are different from adult clippers and may require some time to adjust. Try a few practice rounds on yourself before baby to make sure you're comfortable with your clipper of choice.
The most common pitfalls to avoid are tearing your baby's fingernail or biting them down. Using your teeth risks infection, and you can tear too low and injure your baby.
---
6. What do I do if I cut a baby's finger with nail clippers?
Despite your best efforts, pinching baby's skin with a nail clipper is a distinct possibility. If you do cut baby's finger, you will probably feel awful, but you certainly won't be the first parent to do it.
First, stay calm and assess the wound. If the cut is deep and doesn't stop bleeding, go to the emergency room. If the cut isn't severe, apply pressure with a clean towel until the bleeding stops, then gently clean the area with soap and water. You may want to call your pediatrician if the cut does not stop bleeding or if you see any redness, swelling, or discharge from the injury or nailbed.
You can apply Neosporin to the cut a few times a day until the wound forms a scab. Avoid a Band-Aid, since it can be a choking hazard. If a bandage is needed, you can tape the area to prevent any stray pieces from coming loose. Do not suck on the wound with your mouth; this could introduce bacteria and lead to infection.
---
Conclusion
---
Clipping your baby's nails does not have to be a stressful undertaking. With the right product or combination of products, you can transform clipping time from a source of anxiety to something you and baby enjoy together. The products highlighted above have been evaluated based on their safety and effectiveness, and each of them passed the rigorous mommy standard.
Selecting a baby nail clipper is one of few times when selecting a product is less about your baby's preferences and more about your comfort level as a parent. Do you struggle to see well at night? Consider a flashlight or magnifying glass. Are you still terrified of snipping baby's finger? Go with an electric file until you build up the courage.
Once you decide which products work best for you, your baby will pick up on your confidence and come to enjoy their weekly manicure!
You may also like our other product reviews…
Baby Onesies | Baby Probiotics | Baby Rattles | Baby Socks That Stay On | Baby Utensils | Baby Walkers | Baby Washcloths | Bath Towels | Bathtubs | Bibs | Blankets | Blenders to Make Baby Food | Booties | Bottle Brushes | Bottle Drying Racks | Bubble Bath Soap | Carriers for Petite Moms | Coconut Oils for Babies | Cribs for Twins | Floor Seats | Foam Play Mats | Glass Baby Bottles | Hair Brushes | Hampers | Hats | Headbands | Hooded Towels | Interactive Baby Dolls | Long-range Baby Monitors | Loungers |