Updated on by Lyric Fergusson
Keeping baby's nails manicured can be quite a challenge. It seems like as soon as you're done trimming their nails, they already have grown! Not to mention using nail trimmers can cause anxiety to even the most experienced parent. That's why some parents have turned to the baby nail file as an alternative. Baby nail files are safer than clippers and less likely to bother your little one in the process.
Baby nail files have quickly become the top choice of parents everywhere. Check out our list of 7 clippers that are mommy and baby approved.

7 Best Baby Nail Files
---
(Most affordable — $)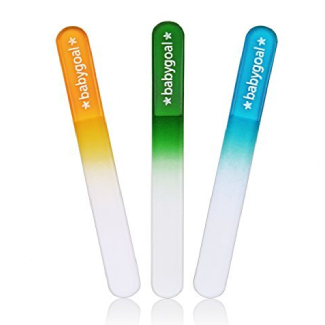 Why it's great: Stronger than disposable nail files and made to last, Babygoal nail files are an excellent option for nail files that are quick, safe, and hygienic. Made from Genuine Czech Float Glass, these quality nail files are durable and work phenomenally. Additionally, their nonporous material means they are hygienic and washable!
This product comes with three colors in a set.
Keep in mind: They are reusable! Just wash with water after each use.
Good for: Babies, toddlers, and new parents.
---
(Best for bedtime — $$)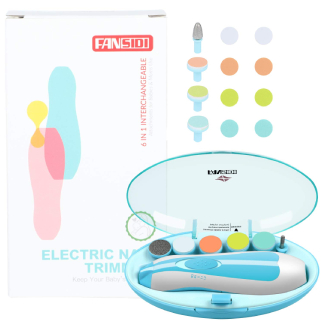 Why it's great: If you're looking for a nail file with all the bells and whistles, make sure to check out the Fansidi baby nail file. It comes with 10 head options and 8 sandpapers that are cushioned for safe use by mom.
This nail file is equipped with a built-in LED light that shines on the nail area to increase safety. The Fansidi baby nail file is designed to last and can be used by everyone in the family. Moreover, it comes in different color combinations. This is a tremendous practical baby shower gift for a new parent!
Keep in mind: Different sandpaper heads are used for different ages.
Good for: Fast manicures for busy parents.
---
(Best for connecting with baby — $$)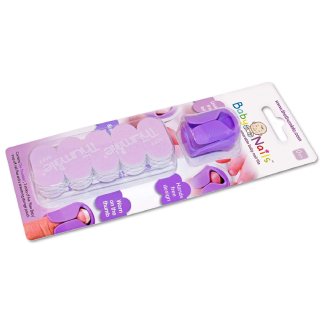 Why it's great: It's clear that this file is designed with safety in mind. The wearable baby nail file by Thumble is a safe, simple, and inexpensive way to solve your baby's manicure needs.
What makes this baby nail file different is that it comes with a wearable thumb covering a disposable file that sticks to the end. All mom has to do is put the thumb covering on and attach a disposable file to the end, then gently file down using more control than ever before!
Keep in mind: There are different packs for ages 6+ months and newborns.
Good for: Connecting with baby while filing.
---
(Most adorable — $$)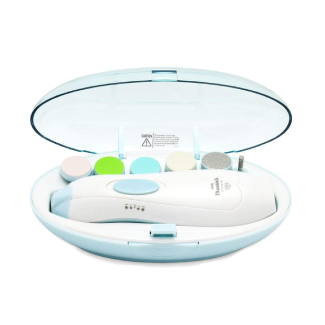 Why it's great: Little Martin's Drawer Baby Nail Trimmer is a safe battery-operated nail file for fast and easy trimming. This nail filer is an excellent option for naptime manicures because it works quickly and quietly.
Though it is a more high-tech option, its light and compact design make it easy to carry in a diaper bag. It comes with 3 files for baby and 3 for mom.
Keep in mind: Little Martin's Drawer store offers many other products for baby and mom.
Good for: Parents looking for a fast battery-operated file.
---
(Most options — $$)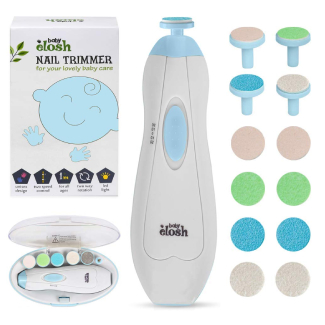 Why it's great: This battery-operated trimmer has the price tag of a manual file. It has 10 grinding head options and mom can control speed (high-low) and rotation (clockwise-reverse).
Moreover, the cute case makes it great for travel or in a diaper bag! This product also comes with 8 spare sandpapers for additional use. The Elosh file makes a cute baby shower gift because it comes in three colors; pink, blue, and yellow as a perfect gender-neutral option.
Keep in mind: This product requires 2 AA batteries, which are not provided.
Good for: Naptime trimming.
---
(Cutest — $)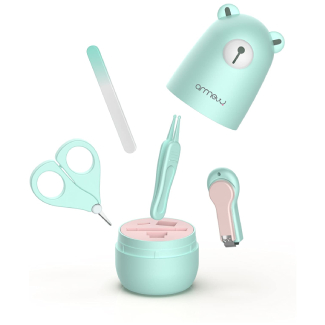 Why it's great: This adorable bear nail kit by ARRNEW has everything mom needs for a baby manicure. It comes with a file, scissors, tweezers, and fingernail clippers.
Its cute and compact design makes it great for moms on the go! With rounded and curved edges, there is less worry involved in clipping your little one's fingernails. Expecting moms will love to receive this practical and sweet trimming option.
Keep in mind: The cute design may be confused as a toy. Keep out of reach from children.
Good for: New parents exploring different manicure options.
---
(Simplest design — $$$)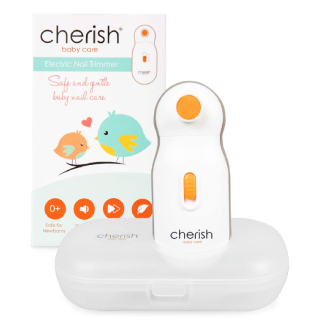 Why it's great: Due to its ergonomic design, this product has received a 4.6 rating with over 800 reviews. Even though this nail file has a slightly higher price tag, nail trimming injury and anxiety are nearly eliminated.
The Cherish nail filer comes with two speeds and 4 different nail pads to keep working as your little one gets older. Moms love how quiet and easy this product is for trimming baby's nails as they sleep.
Keep in mind: This nail file requires 1 AA battery for use.
Good for: Growing with baby.
---
FAQs about clipping baby fingernails
---
1. Why should I cut my baby's nails?
Baby's nails grow quickly and can get quite sharp, which can, unfortunately, lead to accidents. Often, if a baby's nails get too long, they may end up with scratches on their faces. Luckily, the products above make baby manicures quick and easy. Further, little ones who put their hands in their mouths might have dirt and germs hiding under long nails. To keep baby safe and clean, inspect your baby's nails often.
---
2. When should I begin cutting my baby's nails?
The frequency of trims can vary, but baby's nails can grow quite quickly. Starting at one month, baby's nails will begin to get firm, making nail trimming essential to eliminate injury. Though there is no set schedule, checking your little one's fingers for long sharp nails. However, new parents should expect to trim them at least once a week. However, toenails do not usually grow quite as fast, so there are less frequent trims needed.
---
3. What trimming option is best for my baby?
Different parents look for different elements in nail trimming options, and some use a combination of them all. Newborns' nails should be filed to avoid injury, but parents can find the right choice for them as they get older. When using nail clippers, it is especially important to be very cautious that you don't accidentally nip their skin or cut too far down. After using nail clippers, make sure to file any sharp edge down.
---
4. What should I look for when picking a nail file?
Safety, efficiency, and hygiene always make the top of the requirement list. Filing your baby's nails can be a stressful and scary experience, so filing is usually the best option for safety. Look for products that are high quality so you can quickly do the job before your little one can squirm around. Many options above have LED lights, safety cushions, and adjustable speeds to nearly eliminate injury. Further, look at the materials and replacements to keep them clean and long-lasting.
---
5. When is the best time to trim my baby's nails?
Many parents prefer to cut their baby's nails while they are napping so that wiggling is at a minimum. Bedtime trims are especially beneficial because it means there's a lower chance of injury and frustration. Fortunately, all of the battery-operated files on our list are "whisper" quiet, and most have LED lights! If your baby is a light sleeper, try to file their nails after bathtime, when their nails are softer, and they are relaxed.
---
6. How do I keep my baby file clean?
Many parents don't consider their baby nail products' cleanliness, but that can be an essential element to consider. Disposable files are highly hygienic but aren't always the best for getting the job done. Many of the files listed above have washing recommendations or replaceable filing pads for multiple uses. These are products that mom can feel good about using on baby. Just make sure to read the instruction manual for more information on cleaning processes.
---
Conclusion
---
Trimming baby's nails may seem like quite the battle, but with advancing baby manicure technology, moms are guaranteed to find the right product for their little ones. By filing baby's nails, we can reduce anxiety and accidents with scissors or nail clippers. Nail care time can also be an excellent way for mom and baby to connect with each other while keeping baby happy, healthy, and scratch-free!
Above we have products at every price point and technological level. If you find baby nail files intimidating, try these products out on yourself first, and read the instruction manual before using them on your little one. The options above have been monitored for efficiency, cleanliness, and safety so mom can be confident in her pick for baby!
You may also like our other product reviews…
Bottle Drying Racks | Bubble Bath Soap | Carriers for Petite Moms | Coconut Oils for Babies | Cribs for Twins | Floor Seats | Foam Play Mats | Glass Baby Bottles | Hair Brushes | Hampers | Hats | Headbands | Hooded Towels | Interactive Baby Dolls | Long-range Baby Monitors | Loungers | Mittens | Mobiles | Moccasins | Moisturizers for Baby Hair | Musical Toys | Nail Clippers | Pillow for Baby Flat Head | Play Fences | Retractable Baby Gates | Reusable Baby Food Pouches | Rugs for Baby Nursery | Scales | Sink Tubs | Spoons For Self-feeding | Stuffed Animals for Baby to Sleep With | Toothbrushes |