Updated on by Lyric Fergusson
When we think of babies, we often think of that baby-soft skin we all wish we still had. And when it comes to your own baby, as a parent, you want to make sure you are taking the best possible care of baby's delicate skin. The truth is, babies don't usually need any special products on their skin during their first month of life. After that, however, you will likely want to incorporate the use of baby oil to help soothe and moisturize baby's skin. In addition to maintaining baby soft skin, establishing a routine that includes regular infant massage is incredibly healthy and soothing for your baby, and beneficial for you, too. Infant massage can help soothe colic, relieve gas and aid in digestion, encourage proper functioning of bodily systems, promote better sleep, and facilitate deeper bonding and closeness between you and your babe.
There are many things you will want to consider when contemplating which baby oils to use for your little one. Babies have sensitive, delicate skin, and are prone to all kinds of skin conditions and blemishes during the early days. Taking into consideration any sensitivities or existing skin conditions will help guide your decision making when choosing the right oil for your baby. Other factors to consider include your budget, ingredients, and fragrances, whether you prefer all-natural or organic or if you are okay with petrol products, and how important things like sustainability or how a company is run are to you.
So we've done the research for you, and produced this list of the 7 best baby oils for your precious little one. No matter what your needs are, there is a baby oil for you.
Best Body Oils for Your Baby
---
(Best Oil for Labor, Delivery, & Beyond — $$)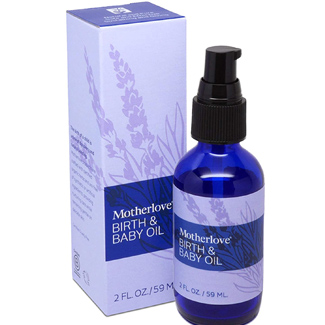 Why it's great: This birth and baby oil is an amazing product with only 2 ingredients: organic apricot oil and lavender. Their ingredients are non-GMO, and cruelty-free and vegan, and made without petrol products, parabens, phthalates, and synthetic ingredients.
This oil is fantastic for perineal massage leading up to childbirth, as well as lower back pain before, during, and after labor. It is also great to use in recovery and can be used all over both mom and baby. This oil makes a great massage oil and can be very useful for cradle cap as well.
What I love about this company is that it is women-owned and run by the original founder Kathryn Higgins and her daughters. It is a Certified B Corporation, meaning the company meets the highest standards of social and environmental performance and its products are made in a solar-powered, zero-waste facility in Colorado.
Keep in mind: This oil is lightly scented with lavender, so if you are scent-sensitive, you might not prefer this one.
Good for: Perineal massage during pregnancy and labor as well as mom and baby after birth.
---
(Best value for organic oil — $$)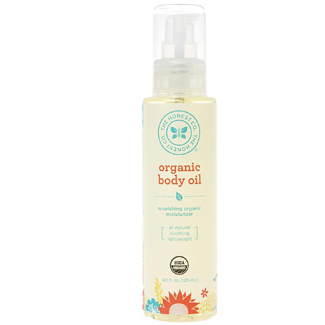 Why it's great: The Honest Company Organic Body Oil is my favorite for many reasons: it's the most affordable organic baby and body oil around, it is gentle and versatile, and it smells amazing. This oil is made with all-natural, organic, plant-based, organic ingredients that are hypoallergenic, biodegradable, and made without petrol products, mineral oil, parabens, synthetic fragrance, or dyes. It comes in a pump-top bottle that is easy to use, and it lasts a long time.
This oil is great for all skin types, including sensitive and allergy-prone skin for mom and baby, has a super silky feel, and an incredible, light, refreshing grapefruit scent. I use it on myself and my baby regularly after bathing.
The Honest Company is a great company that values transparency and affordability as much as organic certifications and sustainability, and all of their products are dermatologist tested and cruelty-free.
Keep in mind: This oil has a light grapefruit scent, so if you are scent-sensitive, you may prefer an unscented oil.
Good for: Those who value organic ingredients and affordability.
---
(Best coconut oil — $$$)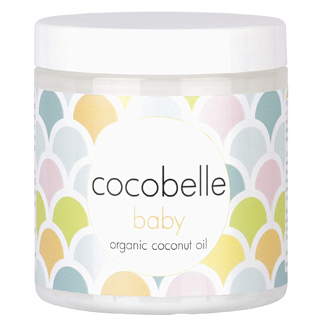 Why it's great: This coconut oil is 100% organic, pure, and gentle, perfect for head-to-toe baby use. Each tub of coconut oil is made from 4 organically farmed, ethically sourced coconuts, and zero chemicals. Lightweight, non-greasy, and mildly scented (you guessed it, coconuts!), this coconut oil can be used for anything from diaper balm to dry skin, cradle cap to baby acne, red and inflamed skin to massage oil, and can be used on mom and the whole family as well.
Cocobelle is a small mom-and-pop run company based in London that makes sure all their coconut oil products are crafted with organic, ethically sourced coconuts. All their packaging is completely recyclable as well as aesthetically pleasing, so it will look good on the shelf in your nursery or your bathroom. While this product is on the higher end of the price range, a little goes a long way and the 8-ounce tub should last you a good while.
Keep in mind: Coconut oil has a melting point of 78 degrees Fahrenheit, so keep that in mind if temperatures are at or above that, as spills could occur upon opening. The product is safe to use in liquid or solid form.
Good for: An all-purpose coconut oil that is good for the whole family.
---
(Best budget buy — $)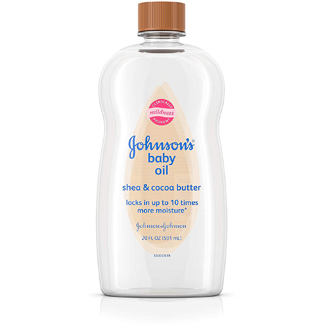 Why it's great: Johnson's Baby Oil with Shea and Cocoa Butter has a silky feel and helps prevent moisture loss by locking in moisture, especially when used just after bathing. It is best used on damp skin and is known to relieve dryness and rough patches. This oil is hypoallergenic and dermatologist tested, and free of parabens, phthalates, and dyes.
Johnson's has been around for 125 years making baby products that have stood the test of time. They are affordable and offer a generous quantity for just a few bucks, a great deal if that is what you are looking for.
Keep in mind: This oil contains mineral oil which is a petroleum product, and also has a stronger scent than their original baby oil.
Good for: Those on a budget, those who don't mind products with fragrance.
---
(Best for upset tummies — $$$)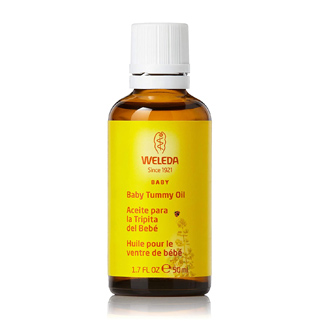 Why it's great: Weleda Baby Tummy Oil is a miracle oil for babies with colic and digestive issues. Made with sweet almond oil, essential oils of roman chamomile, marjoram, and cardamom, which are traditionally used to soothe tummies and aid in digestion, this oil is a natural, homeopathic remedy for colic relief, gas, and indigestion. This oil is free of synthetic preservatives, fragrances, colorants, and raw materials derived from mineral oils, and is dermatologist tested. It also does wonders for protecting baby's delicate skin by improvising the skin's barrier function, keeping it soft and silky smooth.
Weleda is a sustainable company that has been making all-natural products for nearly a century. All of their personal care products are certified natural by NATRUE and are cruelty-free.
Keep in mind: The Amazon page for this product says this product contains arnica oil. However, this particular product does not contain arnica. Also, the subtle cardamom scent may be an issue for those who are scent-sensitive.
Good for: Tummy massage, babies with colic and indigestion.
---
(Best for sensitive skin — $$$)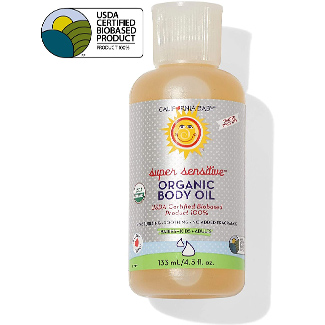 Why it's great: California Baby Super Sensitive Body Oil is 100% plant-based and scent-free. It is made with non-GMO, vegan, organic ingredients free of nuts, gluten, soy, and dairy, and is hypoallergenic. It is ideal for sensitive skin as it is unscented, and is great for everyday use. It can be used as a massage oil, to ease symptoms of gas, or as an after-bath moisturizer. It has a satiny texture and is gentle enough for newborn skin, allergy-prone skin, and those with eczema.
California Baby products were developed by a mom, and continues to be a family-owned and operated business for over 20 years. They are a green power partner and all of their products are cruelty-free.
Keep in mind: While a little more expensive than the others, it's worth it if you have a little one with sensitive skin.
Good for: Those with sensitive skin and sensitivities to fragrances.
---
(Best massage oil — $$)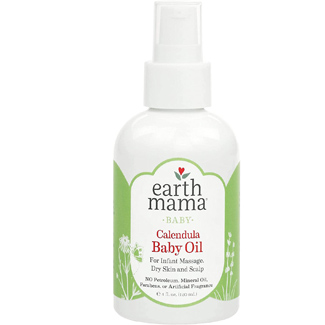 Why it's great: Earth Mama Calendula Baby Oil is a superb baby oil made from calendula-infused grapeseed oil. This product harnesses the healing powers of the calendula flower, which has proven wound-healing and anti-inflammatory properties. Calendula is potent and effective while safe for even newborn babies, and is used in most of the Earth Mama products. Earth Mama Baby Oil is great for sensitive skin and is free of petrol products, parabens, and artificial fragrances. It is ideal for infant massage or just about any skin condition, including cradle cap, diaper rash, and even DIY wipes solutions, and is easy to use with its pump spray bottle.
Earth Mama is another amazing woman-owned and run company based in Oregon, and they specialize in making cruelty free organic personal and skincare products for mama and baby.
Keep in mind: This oil is nearly scent-free: Calendula is a very light scent, but a scent indeed; however, most people enjoy the light fragrance.
Good for: Baby massage.
---
FAQs about baby oil
---
1. When can i begin to use baby oil on my baby?
You can begin to use baby oil once your baby is one month old.
2. Can I just use my oil for my baby?
No. As a general rule, adult bath and body products should not be used on babies as they are not formulated for sensitive baby skin, and can actually irritate or damage baby's delicate skin.
Babies' skin is thinner than adult skin, which is why it tends to experience dryness more than adult skin. This is why it is important to keep baby's skin moisturized and to lock that moisture in with an oil.
---
3. What kind of oil is best for baby?
This really depends on your baby's skin, however, you should look for products specifically created for use on babies, as these products will be safe for tender, sensitive baby skin. Some babies may have sensitivities to certain oils or ingredients, and many agree that all-natural, plant-based ingredients are better for baby and the planet than those derived from petroleum. This all comes down to personal choice and your baby's skin, of course.
---
4. Can I use oil if my baby has sensitive skin or eczema?
Yes. Many oils are formulated specifically for sensitive newborn skin, and some are formulated specifically for babies with eczema. It is always a good idea to familiarize yourself with the ingredients in a product before purchasing it and to do a small patch test to see if your baby has a reaction to the product before applying liberally or in the diaper region.
---
5. What other uses are there for baby oil?
Many oils – most, in fact – are multi-purpose oils. Most baby oils are safe to use for the whole family, as well as for makeup removal, bath oil, moisturizer, massage oil, cradle cap removal, etc.
Conclusion
---
When it comes to your baby's skin, you want only the best, but we know you don't have time to research and try every product out there. So we've done the work for you, and hope this list gives you a good starting point to finding what works best for your little one.
You may also like our other product reviews…
Bottle Drying Racks | Bubble Bath Soap | Carriers for Petite Moms | Coconut Oils for Babies | Cribs for Twins | Floor Seats | Foam Play Mats | Glass Baby Bottles | Hair Brushes | Hampers | Hats | Headbands | Hooded Towels | Interactive Baby Dolls | Long-range Baby Monitors | Loungers | Mittens | Mobiles | Moccasins | Moisturizers for Baby Hair | Musical Toys | Nail Clippers | Pillow for Baby Flat Head | Play Fences | Retractable Baby Gates | Reusable Baby Food Pouches | Rugs for Baby Nursery | Scales | Sink Tubs | Spoons For Self-feeding | Stuffed Animals for Baby to Sleep With | Toothbrushes |