Updated on by Lyric Fergusson
We've all seen those utterly adorable baby clothes and took a moment (or more!) to gush. There's something about tiny human clothes, isn't there?
When it's time to buy, it may become a little more complicated. Baby's clothes are called different things. There are certified standards to consider because of their delicate skin. Do you need long or short sleeves? You might even be surprised a baby's temperature varies quite a bit, and so the sleeves very much matter!
We've put together a diverse list of the 11 best baby onesies (an umbrella term for the many varieties) you can buy or gift in 2020. Don't forget to read to the end for the FAQ if you're still not sure which kinds to get.
Baby Onesies – Cute & Cozy!
---
(Most unique — $)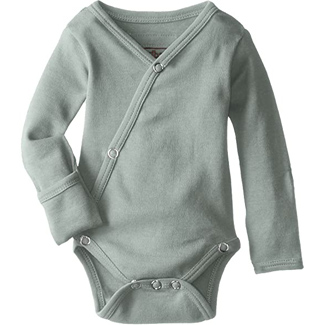 Why it's great: It's a unisex bodysuit styled as a kimono. It doesn't get more unique than this! Actually, it does. These outfits come in 12 beautifully rich colors, including seafoam, eggplant, and stone. Find this adorable style in sizes preemie/newborn (4-7lbs) to 6 months (22lbs). It goes on easy thanks to the wrap design and front snap closure. That means no over the head shenanigans. We all know how much babies don't like anything going over their adorable faces.
Unlike other bodysuits, the L'ovedbaby brand is ethically made in India. This cotton blend is also GOTS-certified, which means it contains none of the usual chemicals found in clothing, such as flame retardants and solvents. This is the kind of body-hugging suit you want against your baby's delicate skin. You'll also find gloved sleeves to keep your baby's hands warm (except in sizes 6-9 months).
Keep in mind: While these are long-sleeved bodysuits, you'll need to put your baby in pants if necessary. Most customers encourage ordering one size larger, but because of the style, they are supposed to fit somewhat loosely.
Best for: Babies who fuss when anything goes over their heads.
---
(Best pajamas — $$$)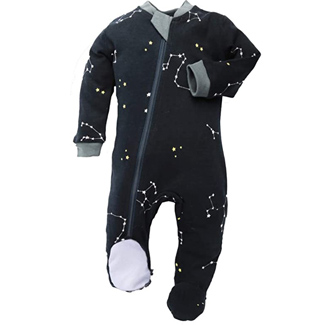 Why it's great: It's time for sleep, but it's a little chilly. You want your little one to drift off and sleep well in a full-fledged long sleeve sleeper. What do you do? You get ZippyJamz!
As the name implies, these cross zipper jammies make those nights more cozy thanks to the soft organic cotton. Diaper changes are more accessible and quicker, too. Unlike other onesies, your baby stays warm because of the design. The neck cover conveniently protects the baby's skin from zipper pinching, too.
The nights will be more comfortable thanks to cozy fold-over cuffs on the newborn to 3 months sizes. When the baby is up and ready to move, the grippy feet help prevent accidents in sizes 3 to 24 months. You can choose from several designs such as galaxy love, be beary quiet, and slumberstar. Worry less where baby's clothes were made thanks to the GOT certification.
Keep in mind: Runs large, but after a few washes, it'll adjust true to size. These pajamas don't come as a pack, so it may be somewhat pricey. However, customers swear by its quality and longevity.
Best for: Those who want footed pajamas with a zipper.
---
(Best quality — $)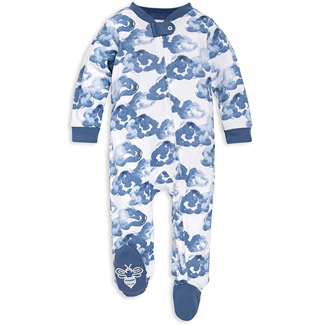 Why it's great: A sleep and play outfit is necessary for babies who are always on the go. This GOTS certified, organic, breathable cotton one-piece is designed optimally for newborns up to 9 months.
It fits loosely enough to allow wiggle room for any activity. You'll find scratch-free, convertible mittens on sizes newborn up to 3 months. The non-slip foot grip is perfect during playtime to reduce falling accidents. When it's time for one of the many changes, undo the nickel-free snap tab to open the diagonal front zipper, which makes getting in and out just a little easier. The zipper guard assists in avoiding accidental pinching of your baby's skin, too.
Keep in mind: Size runs a little large, but your little one will quickly grow into it. Some parents found the material to be a bit thin, so it's best for warmer nights. Comes in a one-pack.
Best for: Parents who need a comfortable, sleep and play one piece.
---
(Best value — $)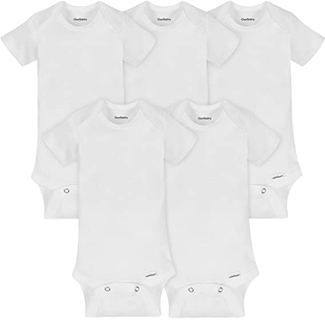 Why it's great: Any mom will tell you how quickly you'll go through onesies. You're lucky if you do just one change in a day. Gerber sympathizes with moms. You'll need to add at least one pack of their white, 100% organic cotton short-sleeved onesies to your cart. You'll probably use it all in a week or less. All of their onesies are sized for preemies up to 12 months.
Does it get better? Yes! The neckline is expandable for quick changes. We all know how fast kids want to be changed. The ribbed leg opening makes it a comfortable fit for your little one, too. To complete the change, the snap button closures are higher for ultimate convenience.
Keep in mind: Sizes may run small, so try ordering a size up, especially as cotton does shrink in the wash. The material is thin, but soft and works more for warmer weather or as an undershirt. These come in a pack of 5 or 15 short sleeves.
Best for: Parents seeking a value pack of white onesies.
---
(Best gown — $)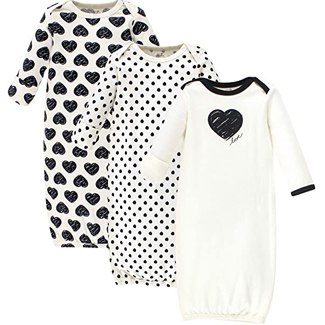 Why it's great: So it's time to put your baby to sleep. What's one of the best nighttime options? A gown.
Touched by Nature has a diverse line of 100% cotton gowns. Choose from coordinated themes such as hearts, guacamole, sweet dreams, moon, and more. Your little one will enjoy snoozing in the comfort of this soft and gentle nightwear with an elastic closure to make those nighttime changes smoother. You won't have to struggle with snaps in the middle of the night, just push it up and pull it back down when you're done. They can also be used in the daytime.
Keep in mind: These are for preemies and babies up to 6 months (about 6-9 pounds). Sizes for 0-6 months tend to run large, but that means it'll last up to when your baby is 6 months old. It comes as long sleeves in a three-pack.
Best for: Parents who want a diverse three-pack set of organic cotton gowns.
---
(Best rompers — $$)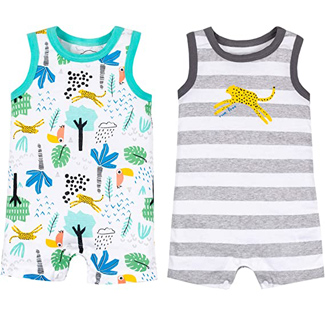 Why it's great: These adorable rompers come in a 2 pack with fun animal prints. If these seem too boyish, they also have a set for girls with cute ruffles on the sleeves and legs. With shorts built into the design, you don't need to add any more layers that make getting to diaper changes more difficult. The tank sleeves will keep your baby cool in the warm summer months. The organic cotton is soft against your baby's skin, as well as light and breathable. These also come in lots of sizes ranging from newborn (5-8lbs) to 24 months (28-30lbs).
Plus, these are 100% organic and chemical-free. They're both GOTS and OEKO TEX certified too, so you know you're getting the safest clothing for your child.
Keep in mind: While cotton does shrink in the wash, Lamaze says you'll only have to worry about 5% shrinkage, which is less than most other brands.
Best for: Parents that want a complete outfit in one piece.
---
(Most adorable — $$$)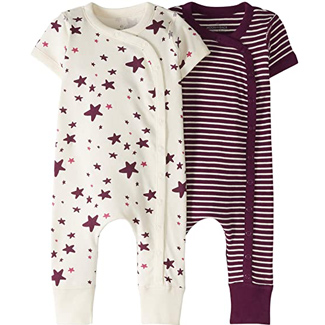 Why it's great: These rompers are completely adorable and come in a wide variety or bright, vibrant colors, which are suitable for girls or boys. The snaps lay flat and go completely down one side, making it easy to get on and off your child without having to go over their head. Plus, the organic cotton is super soft against your baby's skin. It's also breathable and the short sleeves make these a great option for summertime.
These run a little large, giving your child plenty of room to grow. They're also chemical-free and OEKO TEX certified, so you can rest easy that your baby is wearing safe and eco-friendly clothing.
Keep in mind: You do have to unsnap a decent amount to get to a diaper change, but these are so soft and comfortable that it's worth it.
Best for: Parents that want an adorable outfit for their baby.
---
(Best set — $$)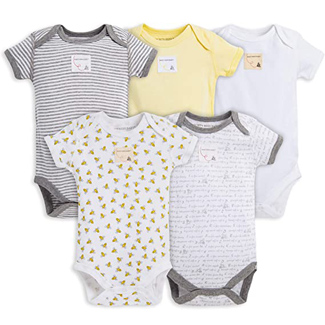 Why it's great: Burt's Bees is a beloved brand that features an array of simple but beautiful prints for preemie to 12 months. This set comes with a five-pack of unisex, one-pieces with short and long-sleeved options.
The lap shoulder and snaps made at the diaper line means easy on and off for our busy babies. Its 100% cotton, rib-like fabric means a comfortable stretch for babies on the go or during sleep. They're more durable, which means no-pill washing. It's also GOT certified, so you know it's responsibly made, breathable cotton.
Keep in mind: The long-sleeved bodysuits come only in white with the decorative signature bee patch for a simple miniature design. You may want to order one size up as well.
Best for: Babies who need a pack of simply designed onesies.
---
(Best neutral onesie — $$)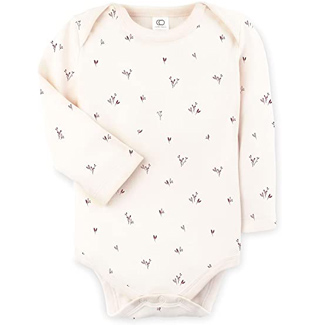 Why it's great: This bodysuit comes in a variety of neutral, unisex colors and prints. These vibrant colors come from water-based dyes that are AZO and heavy metal free. This onesie is made of organic cotton, which is super soft, breathable, and hypoallergenic. It's also GOTS certified and pesticide and herbicide free. The long sleeves on this give just a little bit of warmth, making it great for layering in the colder months. These onesies also have joggers and hats that you can mix and match for adorable outfits. They come in sizes ranging from 0-3 months to 18-24 months.
Keep in mind: The colors in the pictures may be slightly off, so keep that in mind if you're trying to match something.
Best for: Parents that want neutral, unisex onesies with long sleeves.
---
(Best selection — $$)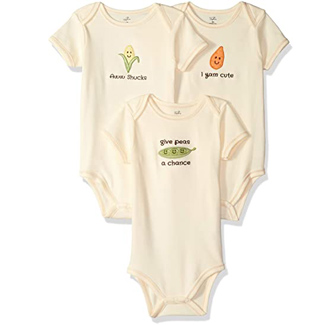 Why it's great: These 100% cotton, unisex bodysuits are primarily great because of the many cute themed options. Choose from whales, corn, cactus, farm friends, Mr. Moon, mushroom, pizza, tacos, and so much more! Your baby can coordinate for the day or week. If you have multiples, they can match while maintaining their individuality. There's also no label branding to interrupt these beautiful designs.
You can get them in preemie up to 24 months depending on which theme you choose. Your baby will enjoy these soft and comfortable onesies with any outfit combination. These come in a pack of 5 and are short sleeves.
Keep in mind: These run a little big, but do shrink slightly after washing.
Best for: Parents who want a plethora of adorable onesie prints.
---
(Most size options — $$)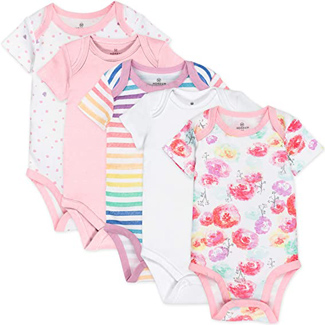 Why it's great: This five pack of onesies comes in sizes ranging from preemie (up to 6lbs) all the way up to 24 months (28-30lbs). Most brands won't accommodate preemie babies, so these are the perfect solution. They come in adorable prints geared towards one gender or the other, but they also have neutral solids as well. The lap cover makes these easy to get on and off over the head and the high snaps are super convenient for diaper changes.
These onesies are 100% organic cotton and GOTS certified. They are soft and breathable, making them perfect on their own or as a layering piece.
Keep in mind: These do have a raw-edge trim, which keeps extra fabric off your baby, but not everyone likes the way it looks.
Best for: Parents with preemies or that want cute onesies in an affordable pack.
---
FAQs about Baby Onesies
---
1. Are onesies safe for newborns?
This is a debate with no clear answer. The issue is the umbilical cord stump. Many people believe that onesies irritate this, while others say that it helps to keep the stump protected from snagging on something else. Your options are to play it safe and wait until the umbilical cord falls off and heals, or you can try using a onesie and keep an eye on the umbilical cord and how it reacts. If it seems to be irritating the area, then you should wait to use a onesie.
---
2. Are onesies comfortable?
This can really depend on the onesie. You're likely already looking in the right place if you're shopping for organic, cozy onesies. The type of material can make all the difference when it comes to comfort. Organic cotton is your best bet, as it is both incredibly soft and breathable.
---
3. Can my baby sleep in a onesie?
Absolutely! Most onesies are designed for just that purpose. They make nighttime changes quick and easy because they almost all have snaps at the bottom. This means that you won't have to completely undress your baby to change their diaper in the middle of the night. Keep in mind that you'll need to make sure your baby is wearing the correct size onesie though. A loose or baggy onesie could bunch up near your baby's face when they're sleeping and cause a suffocation risk. Zippers on onesies are also a suffocation risk while sleeping for the same reason.
---
4. Should a onesie fit tight or loose?
Onesies are meant to be comfortable and convenient. This means that they're not meant to be worn too tight or fitting. However, they're also not supposed to be big and baggy, especially because of the risks mentioned above when sleeping. The best thing to do is find a onesie that's a perfect fit, somewhere in between tight and loose. It's better to have to err on the side of looser though, as your baby can always grow into it.
---
5. Why do onesies have wide or lap shoulders?
Many parents wonder why baby onesies have lap shoulders and assume that it's to make it easier to get over their head. This is actually not true. The reason for the envelope-style shoulders is to make it possible to pull it down off your baby's body. This can be a real lifesaver when your baby has a poop explosion. You don't want to have to take a poop-covered onesie and pull it up over your child's head, risking covering them in it. The wide neck and lapped shoulders make it possible to stretch over your baby's shoulders and be pulled down off your baby.
---
6. When do babies stop wearing onesies?
This is really based on personal preference, but usually around two years old. This is because as your child starts getting to be more mobile and walking, a onesie may start to feel uncomfortable. Also, the main purpose is to give your baby something cute and comfy to wear that gives the parent easy access to diaper changes. When your baby gets to be around two years old, they'll likely be in pull-ups or potty training. At this point, the onesie isn't as convenient to use. However, there's nothing wrong with keeping your child in a onesie longer if they still fit and seem to be comfortable for your child.
Conclusion
---
You're now ready to get the best babywear out there. From short to long sleeves, snaps, zippers, sleepwear, and daytime get-ups, you have all the right information to select a kind of onesie your little one will want, or maybe you're here because you want to give one or more. Choose from all white, simple patterns, or themed designs from there. You have plenty to pick from without feeling too overwhelmed. Just remember babies are growing fast, so choose quickly with that in mind before they move a size up!
You may also like our other product reviews…
Bottle Drying Racks | Bubble Bath Soap | Carriers for Petite Moms | Coconut Oils for Babies | Cribs for Twins | Floor Seats | Foam Play Mats | Glass Baby Bottles | Hair Brushes | Hampers | Hats | Headbands | Hooded Towels | Interactive Baby Dolls | Long-range Baby Monitors | Loungers | Mittens | Mobiles | Moccasins | Moisturizers for Baby Hair | Musical Toys | Nail Clippers | Pillow for Baby Flat Head | Play Fences | Retractable Baby Gates | Reusable Baby Food Pouches | Rugs for Baby Nursery | Scales | Sink Tubs | Spoons For Self-feeding | Stuffed Animals for Baby to Sleep With | Toothbrushes |