Updated on by Lyric Fergusson
In recent years the importance of gut health has seriously come to light; it's not just for health fanatics anymore. I, like many adults, take a probiotic everyday. We've learned that keeping a healthy balance of bacteria in our guts can have massive impacts on our overall health, even helping to build up our immune systems. Guess what? Babies and kids can reap those benefits too.
It's not just crunchy mommas giving their babies probiotics anymore. Many wellness advocates, from pediatricians to chiropractors, suggest that giving babies probiotics can help with gut issues ranging from gassiness to constipation to reflux. I can also attest, as probiotics really turned things around for my colicky baby. After a week or so of being on probiotics, baby's reflux and gassiness improved immensely.

Best Baby Probiotics
---
(Best value — $)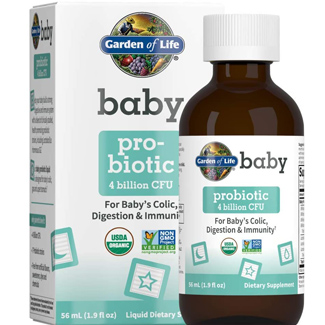 Why it's great: Garden of Life is known for creating clean, effective formulas that parents can trust. All of their products, including these baby probiotics, are non-gmo verified, free of the top allergens, vegan, and gluten-free. This product is intended for babies 6 months and up.
In infant probiotics, it can often be challenging to find the exact CFU count; however, it's clearly labeled on this product that it contains 4 billion CFU. With access to this kind of information, it's easier to tell if this is the right product for your baby.
Keep in mind: Although the bottle is quite a bit larger than competitors, the serving size is also larger than most. It can be difficult to disguise 2 milliliters in a bottle of milk. If your baby is on solids, it mixes well with oatmeal.
Good for: Babies who are eating solids.
---
(Best packaging — $)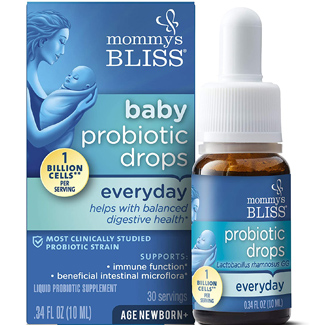 Why it's great: The packaging for this probiotic is one of my favorite things about it. Sure it has an excellent strand of probiotic that's proven to improve gut health too, but let me tell you about the dropper. So, most infant probiotics tell you to administer a certain amount of drops, but it can often be hard to know if you're giving your baby the correct amount. And, sometimes it's difficult to get the drops out at all (especially as you get to the end of the bottle). The dropper that comes in this bottle of probiotics has a black line on it, so you know exactly where to draw the liquid up to.
Mommy's Bliss is an excellent woman-owned and woman-run company. Because of this, they understand the needs of mommas. With this easy to use product, you know you are giving your baby what they need, from age newborn and up.
Keep in mind: This product should not exceed temperatures above 77, so you will want to store it accordingly.
Good for: Newborn babies, as the product is safe for babies from day one.
---
(Best for breastfed babies — $$$)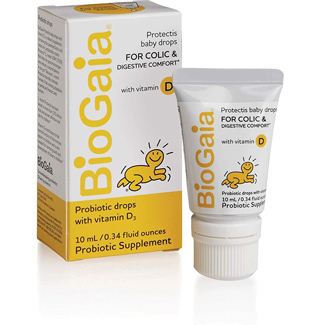 Why it's great: This probiotic doesn't come in a glass jar, like most other liquid infant probiotics. Instead, it comes in a squeeze tube with a stopper on the end that makes counting the drops a lot easier (the recommended dose is 5 drops a day). This probiotic can be given as early as the first day of life for infants. The tube seems tiny, but it actually contains a 50 day supply of probiotics and vitamin D.
This product is great for breastfeeding mommas. It's recommended that breastfed babies take a daily supplement of vitamin D, which this product contains (no need for formula babies to supplement because formula has vitamin D in it). Instead of giving 2 separate supplements, you can just give 1! You can administer this product in pumped milk, on a spoon, or even put it on your nipple before breastfeeding.
Keep in mind: This product is only shelf stable up to 77 degrees F, so delivery in the middle of the summer can be problematic.
Good for: Breastfeeding mommas who need to give their baby vitamin D drops as well as probiotics.
---
(Easiest to use — $$)
Why it's great: This award winning probiotic is stacked with 5 targeted probiotic strains. The probiotic is in powder form and individually packaged, so dosing is foolproof. The powder is flavorless and sugar-free; it can be mixed in any food or drink (so long as they aren't hot).
There's no need to refrigerate Lovebug Baby Probiotics. This along with the portability of individual packets makes this probiotic super user-friendly. This particular blend is intended for ages 6-12 months; however, the company offers other products for other age groups.
Keep in mind: This product cannot be given to babies under 6 month olds.
Good for: On-the-go mommas and babies because the doses are individually packed and do not have to be refrigerated.
---
(Most calming — $$ )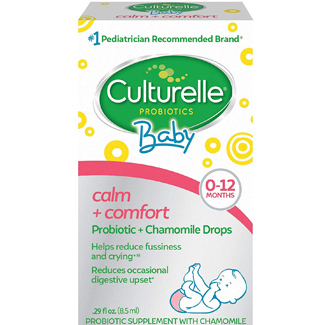 Why it's great: In addition to containing the most clinically studied probiotic strain available, these probiotic drops also contain chamomile extract. Chamomile is thought to have calming benefits, as well as help reduce gas formation in baby's delicate tummy. Giving babies chamomile tea can be tricky (especially babies who don't take bottles). This product can help.
You can have confidence in buying this brand based on the fact that it's one of the top pediatrician-recommended baby probiotics on the market. Take comfort in knowing that you can help your baby by reducing the symptoms that most commonly cause fussiness and crying.
Keep in mind: The design of the dropper can make dosing a bit of a challenge.
Good for: Mommas who also like to supplement with chamomile.
---
(Pediatrician recommended — $)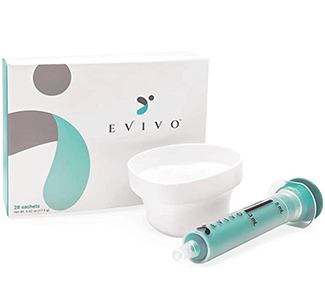 Why it's great: This probiotic kit comes with a 30 day supply, as well as a mixing bowl and syringe. It's the perfect choice for your baby as it doesn't contain any additives or artificial colors, flavors, or preservatives. It's also gluten-free. This probiotic is the only probiotic for babies on the market that contains the B. infantis EVC001 strain. This strain is stored and processed in such a way that it can consume the bacteria from breast milk better than any other strain. On top of that, it's clinically proven to remove 80% of bad bacteria, while still increasing the good bacteria by 79%. This probiotic helps to reduce colic, diaper rash, and allergies.
Keep in mind: This one does need to be stored in the freezer or you can have it in the refrigerator for up to one month.
Good for: Parents that want the most effective probiotic that's been clinically proven to work.
---
(Best for twins — $$$)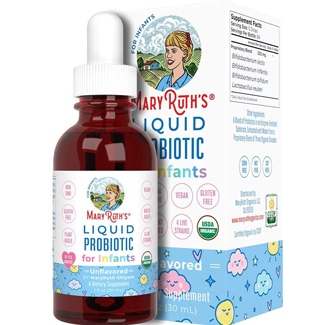 Why it's great: Soothing and supporting our babies' overall health is a goal all of us mommas have, and this infant probiotic delivers. This proprietary blend is intended for babies 0-12 months. Each bottle contains 84 servings of organic probiotic (that is composed of 4 live strains), which is more than most of the other options. Another added bonus, unlike some probiotics, this blend doesn't require refrigeration.
Mary Ruth's formula is made from 100% raw, plant-based, vegan ingredients (no fillers). This ensures that they are shelf-stable and as potent as possible. Not to mention, they are food allergy safe because they contain no gluten, wheat, corn, soy, nuts, dairy, sugar, or nightshades.
Keep in mind: This probiotic isn't flavored, so some babies have an aversion to the taste (although it is subtle if you were only used to drinking milk all day I can see where they are coming from).
Good for: Mommas with multiple babies needing probiotics, as the bottle is bigger than most of its competitors.
---
(Most natural — $)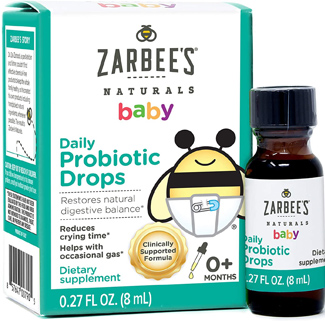 Why it's great: The Zarbee's brand was created by a pediatrician and father that wanted to make products that were chemical free and made from natural ingredients. The probiotic drops are just one of the many products the company makes. They include 2 strains of probiotic that are great for gut health and decreasing colic and gas in infants.
The dropper is easy to use and get an accurate dosage. Plus, this can be used right away for newborns. Plus, this one doesn't need to be refrigerated, however, it does need to be kept in a cool, dry place.
Keep in mind: This is a smaller bottle and only contains 30 doses, so it doesn't last as long as some of the other options.
Good for: Parents that want to make sure their baby's probiotic is composed of all natural ingredients.
---
(Most comprehensive — $)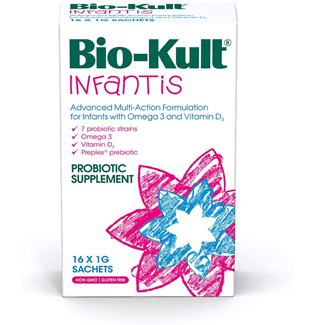 Why it's great: Not only does this contain 7 different probiotic strains, it also has Vitamin D3, Omega 3, and prebiotics. Between the 7 strains, your baby is sure to get what they need to have a healthy digestive system. It'll help reduce colic and gas. Plus, the Omega 3 and Vitamin D3 will give your baby's immune system a boost, which means they're less likely to get sick and they'll be able to fight off illness faster if they do.
Bio-Kult is a well-known brand for digestive health products and has won many awards for its products. This probiotic is gluten-free and it comes in powdered packets that are easy to use. Plus, they've already got the right dosage per packet and they don't need to be refrigerated.
Keep in mind: There's only 16 doses in a box, so you'll need to buy it more often or stock up.
Good for: Parents that want a probiotic that can also help with the immune system and other issues.
---
(Best organic — $$$)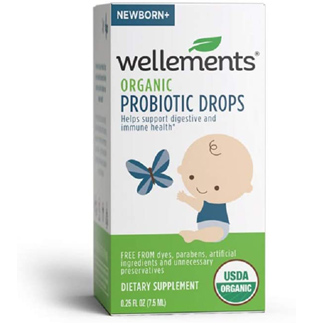 Why it's great: This probiotic is USDA certified organic and doesn't use any preservatives, dyes, or parabens. It doesn't contain any unnecessary ingredients or fillers. It does come with 2 strains of probiotics that will help improve your child's gut health and support your child's immune system. This one also helps with colic and alleviates gas pains.
Wellements can be used for newborns and up. These also only need to be used once a day, which is easy and convenient.
Keep in mind: This one does need to be refrigerated and you need to shake well, and possibly warm it between your hands for a minute, before using. It also dispenses like an essential oil, so it's a little more difficult to use.
Good for: Parents that want an organic probiotic for their child.
---
(Best budget friendly — $)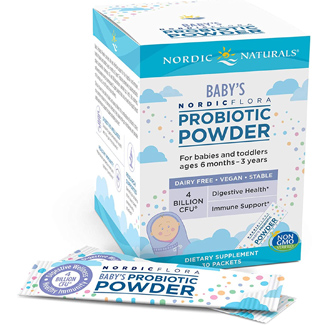 Why it's great: This one is the least expensive and it comes in powder packets that are easy to use. Each packet is the correct dosage, so you don't have to worry about measuring out the right amount. It has 4 billion CFU and contains 2 strains of probiotics that are proven to help with digestive health. This probiotic is also completely odorless and tasteless, which means it's also easier to get your child to take it.
You get 30 doses with this box and it is best for babies and toddlers 6 months to 3 years old.
Keep in mind: This one is for 6 months and up, so you'll need to find something else to use for newborns.
Good for: Parents that want a good quality probiotic on a budget.
---
FAQs about baby probiotics
---
1. Why should I give my baby probiotics?
Gut flora contributes greatly to our overall health. Taking probiotics helps to restore the balance of good bacteria in your baby's tummy. Not only does this improve baby's upset tummy issues, but it also improves their immune system, making it easier for them to fight off contagious illnesses.
---
2. At what age can my baby start taking probiotics?
Many probiotics are designed for babies to start taking on day one, some are intended to start at 6 months. It's important to read the packaging and make sure you are getting a probiotic that will fit your needs well.
---
3. What's the best way to give baby probiotics?
You want to avoid giving probiotics in hot bottles or hot food, as the heat can damage the live bacteria before it has a chance to start working in your baby's gi tract. However, there are lots of ways to administer probiotics. You can mix the probiotics with room temp formula or breastmilk, give on a spoon, or mix into food (as long as it isn't hot). A couple of other options are to put the probiotics on your nipple before breastfeeding, or put the drops on your finger and rub them inside the baby's cheek.
---
4. Are probiotics necessary for formula-fed and breastfed babies?
Absolutely, although breast milk naturally contains some probiotics, others are growing more and more scarce in modern days. Many formulas actually contain probiotics now too. It's best to check with your pediatrician and see what kind of probiotics would be best for your situation.
---
5. Do probiotics help with colic in babies?
Probiotics are meant to be taken daily, this cumulative, daily approach to improving gut health helps improve symptoms of colic. However, you will not see results if you only give your baby probiotics when they are experiencing symptoms. So, although they will not provide instant relief of colic for babies, in the long run, you should see a reduction in the frequency and severity of your baby's colic episodes.
6. Do probiotics all have to be refrigerated?
No, many (like all the ones on this list) are actually shelf-stable. It is a good idea to keep them in a cool, dark, dry place, but refrigeration isn't necessary for all probiotics. You can take comfort in knowing that their potency hasn't been affected by the loss of refrigeration at any point (a concern you might have with refrigerated probiotics).
Conclusion
---
Probiotics are becoming more and more popular with new parents. We are realizing how they can have an impact on the overall health of our babies, and many doctors and wellness experts are recommending probiotics for things like gas and colic. We know a balanced gut populated with good, helpful bacteria can encourage a hardy immune system for our kiddos and set a foundation for good health throughout our children's lives.
There are so many options out there for baby probiotics it can get confusing, but if the ones you choose don't seem like they are working for your baby, you can always try another kind. It's awesome when we find such a simple way to help our babies with digestion and support their immune systems.
You may also like our other product reviews…
Baby Bath Mats | Baby Blocks | Baby Bottle Cooler Bags | Baby Bottle Dish Soap | Baby Bowls | Baby Car Mirrors | Baby Car Window Shades | Baby Carriers for Men | Baby Dolls for 1-Year-Olds | Baby First Aid Kits | Baby Food Storage Containers | Baby Grooming Kits | Baby Memory Books | Baby Nail Files | Baby Oils | Mittens | Mobiles | Moccasins | Moisturizers for Baby Hair | Musical Toys | Nail Clippers | Pillow for Baby Flat Head | Play Fences | Retractable Baby Gates | Reusable Baby Food Pouches | Rugs for Baby Nursery | Scales | Sink Tubs | Spoons For Self-feeding | Stuffed Animals for Baby to Sleep With | Toothbrushes |