Updated on by Lyric Fergusson
When you're searching for toys for your little one you cannot overlook rattles. Rattles have come a long way, but one thing remains the same– babies love small toys they can hold that also make noise. You can go several different routes with baby rattles. From rattles that are designed by child development experts to Montessori-style rattles that promote imagination and independence. There are all sorts of options on our list. Wooden toys are making a serious comeback as parents look for safe, natural options for their little ones. While other rattles are designed with colorful patterns and textures intended to stimulate brain growth.
Fine-motor skills are incredibly important, even at an early age. Rattles help babies hone these foundational skills, specifically grasping. Another great thing about rattles is they can be played with independently or interactively. And, because babies put everything in their mouths, the rattles on our list double as teething toys. Check out the 7 best baby rattles below!
Best Baby Rattles
---
(Best Montessori Rattle — $)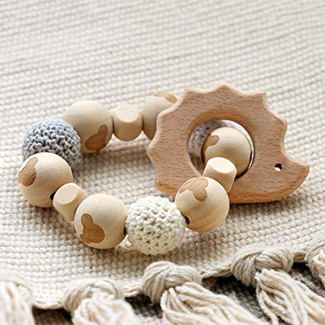 Why it's great: This wooden teething ring is the perfect size and shape for tiny hands to hold. The multi-texture beads are the ideal surface for your little one to cut teeth on. Some of the beads are hand crocheted, while the others are 100% organic maple wood. This natural teething toy option is also timelessly adorable featuring a wooden hedgehog.
If you're looking for a sturdy, nontoxic, eco-friendly teether, this is it. The design is classic and built to be handed down from child to child. Wood is an excellent, natural teething option, and Promise Babe makes a point to use responsible, organic wood suppliers. This is a really great option.
Keep in mind: You shouldn't fully submerge this toy for cleaning purposes; instead, you will want to spot clean it with a damp cloth.
Good for: Mommas who love nature and animals.
---
(Best value — $$$)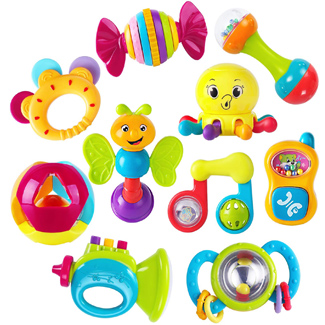 Why it's great: If your little one has just taken an interest in toys and you find yourself completely without small, handheld baby toys this is a one stop shop option. Rather than playing with the remote, your little one will have 10 different rattle options. Each toy has different grips, shapes, and tasks suitable for different stages of development.
These 10 toys feature all sorts of turning, twisting, and bopping actions to help develop your baby's fine motor skills. The designs range from a butterfly to an octopus. Your little one is bound to find their favorite toy with all these options.
Keep in mind: These toys are not meant to be submerged. If water gets inside them, it's hard to get it out. You can spot clean them with a damp rag.
Best for: Mommas who are looking for a bargain (keep in mind you are getting 10 rattles not just 1).
---
(Best for brain development — $$$)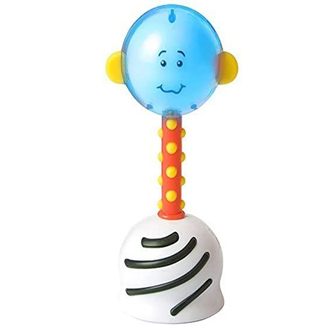 Why it's great: SmartNoggin baby toys are invented by a mom who is also an Early Intervention Therapist. Great detail is added to ensure this toy is fundamentally good for your baby's growing brain. One end of the rattle lights up different colors; the other end has a mirror on it. This combination makes it a really fun toy for you to use to play and interact with your child.
Every parent is aware of the monthly milestones our little ones are expected to hit, but there are so many. How can you keep track? This toy comes with a book that not only tells you all about the milestones but also gives you ideas of how to play with your baby to ensure they are reaching those goals.
Keep in mind: This rattle lights up; therefore, it does require batteries. The good news is it comes with batteries already installed.
Good for: Mommas who are super interested in research-based toys that promote brain development.
---
(Best for photos — $$)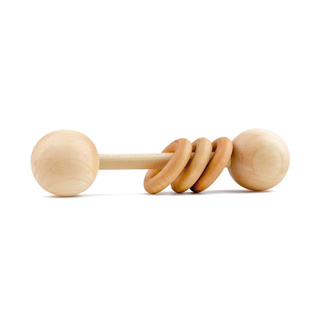 Why it's great: This classically elegant montessori-style wood rattle is just as cute as it is functional. The wood is sanded and sealed with coconut oil and beeswax, so you don't have to worry one bit when your little one decides to turn their rattle into a teether.
There are loads of color options for the center bar while keeping the three rings and end balls a classic, natural birch. You will definitely want to include this adorable toy in all of your baby pics. This Instagram worthy toy is made in the USA of ethically sourced wood. This easy-to-grasp rattle is a great start in the world of natural, safe wooden toys for your little one.
Keep in mind: Like other wooden toys, cleaning can be tricky. You can spot clean, or for particularly tough stains, you can sand and reseal with coconut oil or beeswax.
Good for: Mommas who are looking for natural wooden baby toys for their little ones.
---
(Easiest to grasp — $)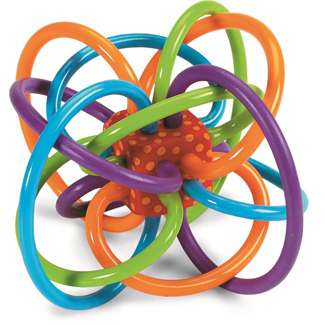 Why it's great: This super colorful toy definitely does not look like a classic rattle; however, your baby will be able to play with this toy earlier than others because it is so easy to hold. The colorful spiral of teething tubes surrounds a cube which produces a soft rattle when shaken. Winkels are suitable for newborns up to toddlers. The teething tubes are the perfect size for chewing (the Winkel can be refrigerated too!).
Child development experts agree that this is a toy you definitely need in your diaper bag. The colorful design helps to hold baby's attention to work on tracking. The tubes are the perfect size for tiny hands to grasp. The design promotes two-handed play. You really can't go wrong with a Winkel.
Keep in mind: The Winkel is a maze of tubes, so cleaning can be a pain.
Good for: Mommas looking to get the biggest bang for their buck.
---
(Best sounding — $)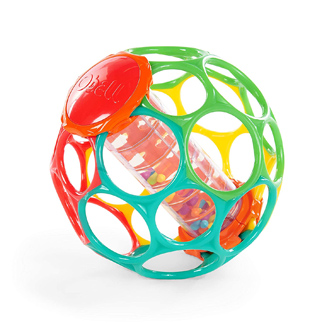 Why it's great: This ball shaped rattle has 30 finger holes, making it really easy for babies to hold. The center tube is filled with lots of colorful beads that make the most soothing sound when moved. It sounds like soft rain on a tin roof.
This rattle can be held and shaken by babies 3 months and up. When your little one reaches the toddler stage, this rattle doubles as a ball that can be rolled or tossed. This is a rattle your child will reach for throughout multiple stages of development.
Keep in mind: This toy cannot be submerged when cleaning. Spot cleaning with a damp rag works well.
Good for: Mobile babies who enjoy chasing balls.
---
(Best light-up rattle — $)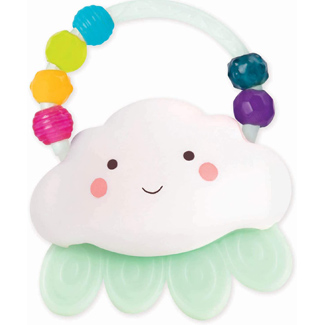 Why it's great: This rattle is so cute I can hardly stand it. With a little shake you will see the cloud rattle glow with the colors of the rainbow. The colorful beads on the handle all have a unique texture that your little one will surely find soothing when teething becomes an issue. The raindrops are also soft and textured for teething.
Babies love exploring textures, and this toy has lots of variety. The cloud has a soft, velvety surface that is easy for little ones to hold onto. The beads slide along the handle to create a soft rattle when shaken. This toy is recommended for babies 3 months and up.
Keep in mind: This toy requires a AAA battery (it comes with one to get you started).
Good for: Babies who like light up toys.
---
FAQs about Baby Rattles
---
1. Are rattles a good toy as far as development is concerned?
Yes! Rattles introduce the concept of cause and effect to your little one. They also help your baby develop hand-eye coordination. Rattles can help entertain your baby while teaching them to self soothe.
---
2. What fine motor skills does a rattle promote?
Rattles help little ones learn to grasp, shake, poke, and bring things to their mouth. These skills build the foundation for everything your child will do with their hands as they grow up.
---
3. What's the best way to clean rattles?
Most of the rattles on the list cannot be submerged, but simply spot cleaning with a damp rag will usually do the trick. Some of the rattles can also be sanitized with steam. It is best to read the manufacturer's suggestions when finding the best way to clean your baby's toys.
---
4. What material is best for rattles to be made of?
That is really a personal choice thing. A couple of the rattles on the list are made of wood, which some mommas prefer because they know it is a safe, natural option. Others on the list are made of food-grade silicone or BPA-free plastic. Look them over, and see what is best for your family.
---
5. At what age will my child be interested in rattles?
Most of these rattles are intended for babies 3 months and up; however, if your little one is starting to pick things up on their own they are probably ready for a rattle. Safety is an utmost concern, so make sure to read the suggested age range for the rattles you choose.
Conclusion
---
Rattles have been around in some shape or form for centuries. This timeless toy has remained relevant because they are perfect for little hands to hold. Nothing elicits baby giggles more than when they realize they are the ones in control of making their toy light up or rattle. Interactive play is crucial for babies, and rattles are a great way to get your baby headed in the right direction.
Another great thing about rattles is that many of them are designed to grow with your child. So their favorite toy as a newborn may still be their favorite toy as a toddler. We all know kids are expensive, so why not invest in a toy that your little one can play with throughout multiple stages of development.
You may also like our other product reviews…
Baby Bath Mats | Baby Blocks | Baby Bottle Cooler Bags | Baby Bottle Dish Soap | Baby Bowls | Baby Car Mirrors | Baby Car Window Shades | Baby Carriers for Men | Baby Dolls for 1-Year-Olds | Baby First Aid Kits | Baby Food Storage Containers | Baby Grooming Kits | Baby Memory Books | Baby Nail Files | Baby Oils | Mittens | Mobiles | Moccasins | Moisturizers for Baby Hair | Musical Toys | Nail Clippers | Pillow for Baby Flat Head | Play Fences | Retractable Baby Gates | Reusable Baby Food Pouches | Rugs for Baby Nursery | Scales | Sink Tubs | Spoons For Self-feeding | Stuffed Animals for Baby to Sleep With | Toothbrushes |