Updated on by Lyric Fergusson
Very little compares to becoming a brand new parent and tracking each milestone, new sound, and smile your little one makes. As a dedicated parent, we know how much you love watching your baby grow! It's not only fulfilling but it's also important to the continued health of your child. Tracking your baby's weight is one of the quickest ways to ensure that they are progressing at the pace that is best for them. While your doctor will check your baby's weight at regular check-ups, this isn't always a convenient way to monitor growth, especially if there are important indicators to keep an eye on.
Luckily, you can get a baby scale to use at home! Here are our 7 best baby scales to help you keep your little one safe, healthy, and thriving in the best ways possible.
Best Baby Scales
---
(Best to grow with your family — $$$)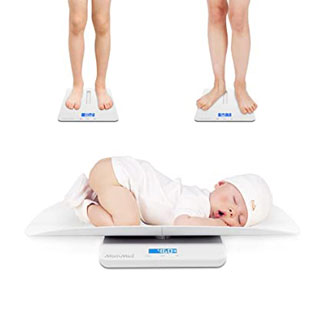 Why it's great: No matter what stage your family is in, this Mom Med Digital Scale is ready to adapt. When you bring your newborn home from the hospital, you can begin using it right away to make sure that your baby is growing healthily. It can transition into being used for toddlers, children, adults-–and can even weigh your pets! It's created with a concave design to provide peace of mind as your little one rests on the tray. The numbers are large and light up well so you can be sure that you are viewing the most accurate reading.
This well-designed baby scale is created with the long-term plan in mind, as it can adapt to the needs and ages of your family.
Keep in mind: When you are preparing to use this scale for the first time, make sure you are aware of the surface that you are placing it on. It seems to work better when the scale is placed on hardwood or on tile. Some parents have reviewed that it doesn't typically give an accurate reading if used on top of cushy carpet.
---
(Greatest for tracking growth — $)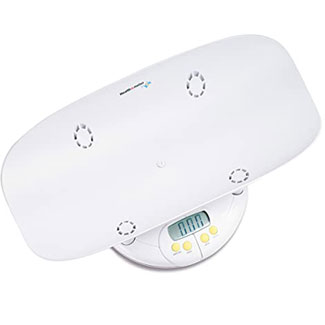 Why it's great: This easy to use scale is created with a 'Hold' feature, that will help you get the most accurate reading possible! If you have a wiggly baby, selecting this option will give you peace of mind to know that the number that the scale is showing is correct. Not to mention that this feature also accounts for any extra weight like a diaper, blanket, or clothing. Also, it registers the weight in half-ounce increments. It comes with a Growth Chart which is a really convenient way to keep track of your child's weight as they grow through the months. That's especially nice in those beginning days when the weight of your baby is really crucial.
And finally, this scale can grow with your child! Once they are old enough, you can take the tray off and the scale turns into a teddy bear design and will hold a child up to 60 lbs.
Keep in mind: This scale is wonderful if you're looking to keep track of the growth of your baby in-between doctor visits––especially to utilize the Growth Chart! However, some reviews have mentioned that because it registers weight in half-ounce increments, it might be a little bit challenging to use if you're looking to measure feeding input and output.
---
(Best for giving back — $$$)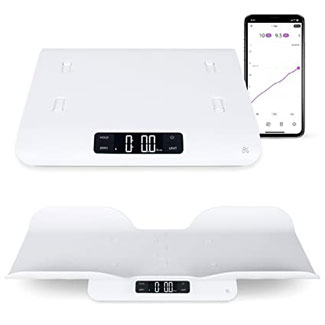 Why it's great: This is a scale that truly goes above and beyond. The Greater Goods Smart Baby Scale provides fast and accurate readings that can withstand even the wiggliest baby. Growing with your child, this scale will be a good fit as soon as you arrive home from the hospital and all the way through toddlerhood. It utilizes Bluetooth technology and connects to an app where you can log all of your child's weigh-ins for easy reference. What an easy way to make sure that your baby's health and weight is on the right track!
The best part of this scale is that the company gives back. Every Greater Goods product helps fund meals and medical care to children through The Global Orphan Project and Love146. By purchasing this product, you are helping to provide productive and healthy environments for other children around the world. And we love that!
Keep in mind: A few reviews have mentioned that the process to set up this scale can be a little bit tricky. To work through that, it is highly recommended to make sure you read the instructions thoroughly. Those who take the time to read them completely, have had little issues with set up.
---
(Greatest customer service — $$)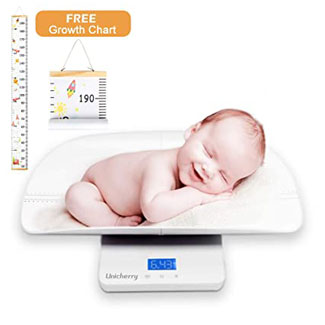 Why it's great: The Unicherry Baby Scale has it all! This scale features four highly precise sensors to help provide accurate and reliable weight readings each and every time. It comes with a safe and comfortable tray that will allow you to check their weight quickly and effortlessly. Each scale also comes with an adorable height chart that you can hang on the wall. Now you can keep track of their height and weight simultaneously in between doctors visits!
The customer service features are worth mentioning here as well. If this scale isn't exactly what you need, it is fully refundable within the first two months. If the product is accidentally damaged due to a non-human factor, you can receive a replacement within the first year. There is also a lifetime service available for the life of the scale.
Keep in mind: This scale has many great features and has worked well for so many! But, this scale has been known to read weights within a few ounces. So if you need a scale for feeding purposes and to track input and outputs, then keep that in mind when purchasing this scale.
---
(Most accurate — $$$)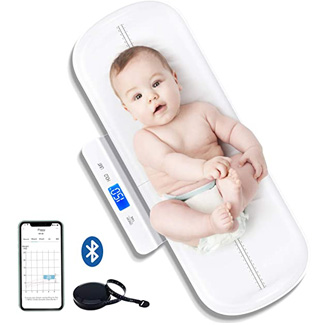 Why it's great: Making sure your baby is properly fed can be a really stressful thing for parents, especially in the beginning. The Unicherry Bluetooth Digital Baby Scale is known for its precision and accuracy that will give you peace of mind at any moment. The Bluetooth Baby Fit App comes included with this purchase, giving you a flawless way to keep track of your baby's weight anytime you need to. Once you weigh your baby, the app will update automatically. The App will also automatically warn you if your little one falls below or above weighing standards. There is no reason to guess with the health of your baby any longer!
Keep in mind: This Bluetooth baby scale has 4 different weighing modes. It can read different weights in kg, lb, and oz. Some reviews have noted that it can be a little challenging to change the measurement to the one that you want, and some have found frustration with reading the manual that it comes with. The simple solution is to press the UNIT button on the device. That will allow it to change easily, effortlessly, and without frustration.
---
(Best to use longterm — $$)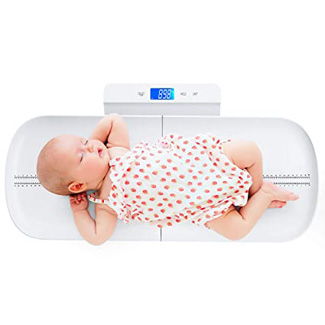 Why it's great: If you're looking for a scale that you can begin to use prior to your baby being born, then look no further! The KUBEI Digital Infant Scale can begin being used during pregnancy to help monitor healthy weight gain. With high precision sensors, this scale is known to give very accurate readings making this a great option to help you track milk intake for your little one.
The tray is a great size and is concave to help prevent the baby from rolling over while the scale is in use. The scale can be disassembled whenever it's not in use making it convenient for storing. The high definition LCD light makes it very clear to see and read, no matter if it's day or night. This scale can grow with your baby from pregnancy and beyond, making this scale a great option to use at every stage.
Keep in mind: This scale comes with 2 AAA batteries, which is exactly what the scale needs. We would recommend that you make sure to keep a small number of batteries on hand. This will allow you to continuously use the scale even if the batteries need to be changed.
---
(Easiest to use — $)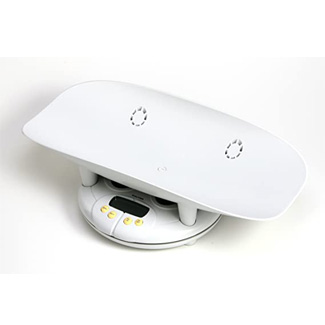 Why it's great: Sturdy with a sleek design, the Salter Baby/Toddler scale might be a great option for you! It has a scoop platform, making the walls higher than normal to securely keep your baby in place. This scale easily converts from a baby scale to a toddler scale, all by simply removing the tray. It has a zero function as well, so you can weigh your baby in a diaper or with a blanket and the scale won't take those items into account.
This scale is simple but it has everything you need to easily weigh your baby from the newborn stage all the way through toddlerhood.
Keep in mind: Some parents have noted that if your baby is particularly wiggly while you are trying to weigh them, that the number bounces up and down a little bit. Some have said that this makes it hard to get an exact reading. However, this scale does have a hold function that should allow you to keep your baby's weight accurate, even if they are squirmy.
---
FAQs about baby scales
---
1. Do I need to purchase a baby scale?
Weighing your baby at home is a personal decision. Depending on the specific needs that your baby has, you might choose to purchase a baby scale to have at home. It can make it easier to monitor your baby's weight and health at home in-between doctor visits. Having a scale at your home might be a necessity for you, but also it might be something that you'd just like to have on hand.
---
2. How accurate are baby scales?
Every scale tends to be a little bit different as far as reliability goes. Most of the time, a baby scale can tend to give you a good estimate of where your baby is at with their weight. As a general rule, always check with your doctor about the accuracy of your baby's weight and follow their guidelines and suggestions.
---
3. How often should you weigh your baby?
Every child and situation is different. Your family's specific needs might require different things. It's important to work closely with your doctor and to follow their recommendations. You might weight your baby more or less depending on your unique situation. Typically, children from the ages of two weeks to six months old should be weighed once a month. Children from the ages of six to twelve months can be weighed once every two months. And children over twelve months old can be weighed once every three months.
Always double-check with your doctor, as these averages might change as each child is unique and no two situations are exactly the same.
---
4. Can you weigh your baby on a regular scale?
We would recommend using a scale that was created for babies. A baby scale typically has a tray that has contoured edges to allow for the safest option to weigh your baby in. Not only where safety is concerned, but using a baby scale also will provide the most accurate reading for your child which will give you peace of mind and assurance where their health is concerned. There is plenty of time during a child's entire life to use a regular scale. If you're concerned about tracking your baby's weight at home, make sure you have the right tools to track their health. A baby scale will help you achieve that if you are interested in weighing your little one often.
---
5. How do you know if your weighing scale is correct?
To check the accuracy of your scale, you can use a method called "reweight". To use this simple method, you should find an item that has a consistent weight, like a five-pound dumbbell. When you weigh it again and again, the weight should be the same each and every time. If so, then you should be able to depend on the accuracy of the scale you chose. If not, then you know that it's either time to purchase a new one or your scale might need to recalibrate.
Conclusion
---
Finding a baby scale is a unique and personal decision. When it comes to the health of your baby, you are the parent and intuitively know what your child needs when it comes to feedings, weighing, and tracking these numbers. Working alongside your trusted doctor can help you gain confidence as your newborn grows into a toddler. Having a scale at home will likely give you greater peace of mind knowing that you can know what is going on with the weight of your baby at any given moment!
You may also like our other product reviews…
Baby Onesies | Baby Probiotics | Baby Rattles | Baby Socks That Stay On | Baby Utensils | Baby Walkers | Baby Washcloths | Bath Towels | Bathtubs | Bibs | Blankets | Blenders to Make Baby Food | Booties | Bottle Brushes | Bottle Drying Racks | Bubble Bath Soap | Carriers for Petite Moms | Coconut Oils for Babies | Cribs for Twins | Floor Seats | Foam Play Mats | Glass Baby Bottles | Hair Brushes | Hampers | Hats | Headbands | Hooded Towels | Interactive Baby Dolls | Long-range Baby Monitors | Loungers |