Updated on by Lyric Fergusson
You know what is super cute (and super helpful during meal time)? Babies feeding themselves! Yes, ok, it can get a bit messy, but it's all part of the learning process. Besides, now you and your baby can eat together AT THE SAME TIME! Sounds exciting, right? Now, you JUST need the perfect spoon to help your little one achieve this momentous milestone. Remember, it is ok if your baby ends up wearing some (ok, maybe a lot) of their food at first. Eventually, with the right baby spoon and a lot of patience, your baby will get the hang of this!
From silicone spoons to spoons with bamboo handles, here are my top 11 favorite baby spoons for self-feeding:

Best Baby Spoons for Self-Feeding
---
(Best value — $)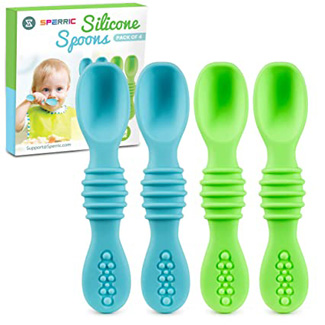 Why it's great: First of all, these spoons are able to withstand both the dishwasher (think: heat) AND the freezer! "Why the freezer?" you may ask. Well, because this spoon can also be used for baby to chew on, in addition to using it as a feeding utensil. Babies are super curious starting out, not to mention that they are used to chewing and "numming" on things versus eating food from them. This spoon is designed with different teething grooves on the handle that will help soothe your child.
Keep in mind: Some parents have commented that the spoon itself is deep. However, if you find this to be true, some of them mentioned using the other side of the spoon.
Good for: The self-feeder who is around 10-15 months old.
---
(Thoughtful design — $)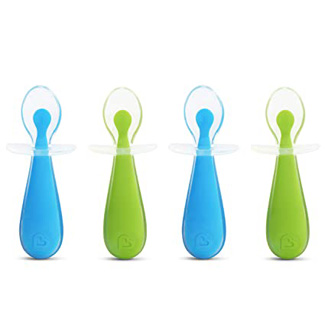 Why it's great: This spoon has a guard on it that keeps the spoon from going too far in the mouth and choking your baby, giving your baby the time to master the self-feeding skill. The guard also raises the spoon from resting directly on a table or counter, which reduces the number of potential germs it could come into contact with. This spoon's handle is also easy for your little one to hold. It is dishwasher safe (always a bonus). Plus, the tip of the spoon is soft enough that it will be gentle on gums should your baby decide to chew on it a bit. This comes in a 4 pack.
Keep in mind: The scoop of this spoon is a bit more shallow than the first spoon. However, this should not affect feeding.
Good for: Little ones learning how to feed themselves.
---
(Best first utensils — $$$)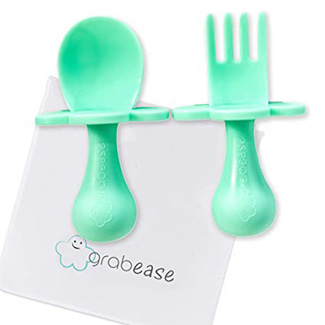 Why it's great: These are cute, tiny utensils for cute, tiny hands! The handles are perfect for good gripping and recommended by occupational therapists for building fine and gross motor skills. There is a guard to keep your baby from getting the fork and spoon in too far. You can choose from a variety of colors with this set. It comes with a fork and a spoon. These utensils are also dishwasher safe!
Keep in mind: The fork in this set has rounded prongs, so these are best for younger self-feeders. Although babies over a year are still able to use these utensils as well!
Good for: Early on in the self-feeding process, so order early!
---
(Most versatile — $$)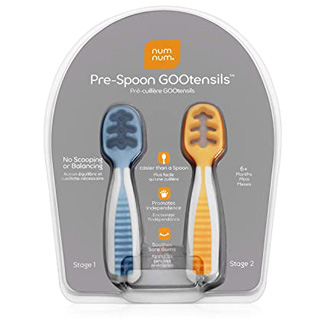 Why it's great: There is no wrong way to hold THIS spoon! Honestly, your little one will appreciate this because it will work either way! This comes with two, but they are for the first stage and second stage of learning. The first stage "pre-spoon" provides a place for your baby to chew on the actual spoon, in addition to using it to feed. This helps the baby get used to holding a spoon, too. The second stage "pre-spoon" has a hole in the middle of the spoon section, which catches more food, including some solids.
Keep in mind: Even though it is considered a "pre-spoon," it is not a true teether. Of course, your baby can chew on it at mealtime, but just be sure you are supervising this.
Good for: Improving the chances of your little one getting food to their mouth in the early stages of self-feeding.
---
(Most ergonomic — $$$)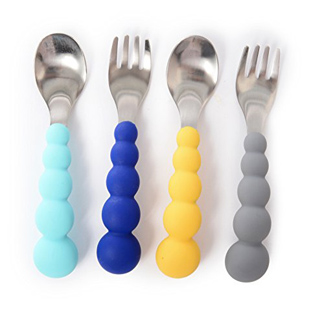 Why it's great: This set comes with 2 forks and 2 spoons in a variety of fun colors. The handles are made of silicone in a beaded shape that's easy for your baby to grip. They can also be safely chewed on by teething babies and are highly durable. The tines of the fork are just sharp enough to actually learn to stab food, without being dangerous for your child. The spoons and forks are bent, instead of straight at the front, which makes them more ergonomic and helps children keep food on the utensil while it moves from the plate/bowl to their mouth. These utensils are dishwasher, heat, and freezer safe too!
Keep in mind: These might be a little bulkier than other baby utensils, but still seem to fit fine in drawers.
Good for: Slightly older toddlers that are ready to start using forks to stab their food.
---
(Most fun — $$$)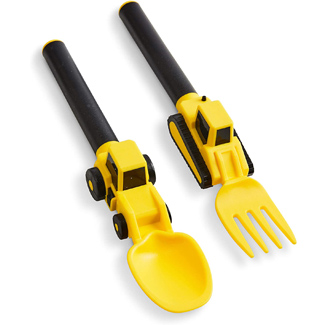 Why it's great: No more pretending to be an airplane or train to get your child to open their mouth! This spoon and fork set actually have a tractor and loader truck built right on them! They make eating fun and interactive for young toddlers just learning to feed themselves. The handles are soft and easy for small hands to grip. They come in a variety of colors and they are dishwasher and microwave safe. You can even buy them in a set with a matching plate for added fun.
Keep in mind: These are pretty pricey considering you only get one spoon and one fork, but they're so much fun that most parents said they're worth it!
Good for: Toddlers that love construction trucks.
---
(Most flexible — $)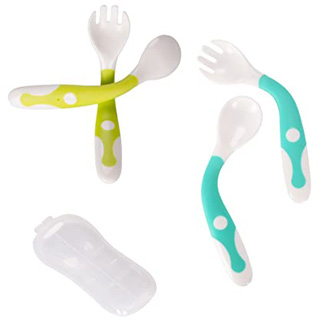 Why it's great: This set of baby utensils is perfect for on the go self-feeding! The set comes with a travel case!! Score! These utensils are bendable, with a wire inside covered by TPE soft glue. If you're not sure what TPE glue is, it is a soft rubbery material that is strong AND flexible – totally safe for baby's use! These materials combined (hidden wire and the rubbery material) can allow the utensil to bend either direction 90 degrees. It helps your little one hold it AND get food into their mouth.
Keep in mind: The way that the fork is designed gives it a rounded head. However, this is to keep the fork safer for the baby, while learning to self-feed.
Good for: A beginning self-feeding baby.
---
(Most unique — $)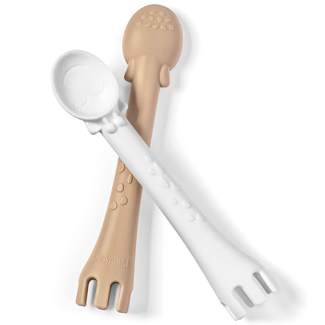 Why it's great: This comes in a pack of two and each utensil has a spoon on one side and a fork on the other. They look like cute giraffes and the spots on the back of the spoon stimulate your baby's tongue, making these cute and functional! The spoon is shallow, making it easy for babies just learning to feed themselves. The fork is unique because it has tines going around in a circle. This makes it easier for your child to stab solid food and really get a hold of it when they're first learning. They are made of silicone and can be washed in the dishwasher.
Keep in mind: These are better for younger babies just learning to use utensils, as the spoon doesn't allow them to get a whole lot of food on it.
Good for: Babies that are struggling to get a fork to work.
---
(Most natural design — $$$)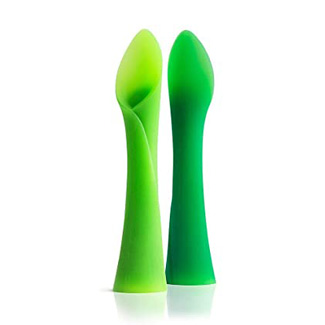 Why it's great: This whole spoon is made out of soft silicone, which is perfect for self-feeding babies who also like to chew on their spoons. It has an easy-to-grip handle and is also very flexible. These are not only great little spoons for your self-feeding baby, but the look of it is quite interesting, too. The natural design almost looks like a piece of grass and the flat bottom allows your child to stand this up, keeping the spoon portion off the dirty table.
Keep in mind: The spoon area is fairly small, so these are best for those just learning to feed themselves.
Good for: Babies who are self-feeding because the scoop is flexible and can pick up food in a variety of situations.
---
(Most eco-friendly — $$$)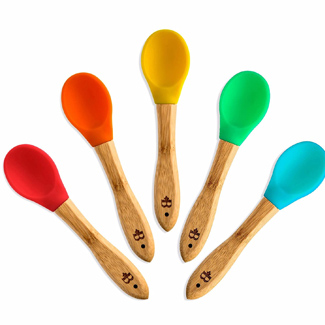 Why it's great: This is a bright and colorful set of 5 spoons, which will catch the eye of your baby! This set of spoons also makes a wonderful gift to give and receive. These spoons have a 100% bamboo base, which is lightweight and highly durable. Plus, the scoop of the spoon is soft for your baby's mouth to bite down on and won't be harmed if they chew on it a little. The spoons have been designed for easy washing (yes, please)!
Keep in mind: The spoon scoop does come off. However, this does take some force (by a grown-up) and makes for easier cleaning. You probably would do this anyway, but please stay with your baby during feeding times – that goes for all utensils/food/highchair safety/etc.
Good for: Traveling for holidays, restaurants, and family get-togethers. However, they are great for home use, too!
---
(Best quality — $$$)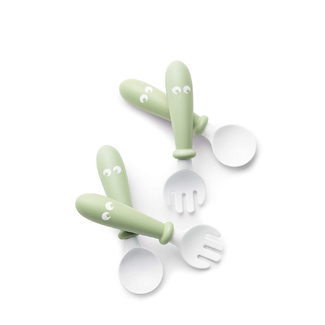 Why it's great: BABYBJÖRN is a well known brand when it comes to high-quality, durable, and practical baby items. These utensils are no exception. They're made of plastic and TPE, which allows your child to get a strong, sturdy grip. The handles are thicker, making it easier for young toddlers and babies to hold them. The spoon has just enough depth to scoop up liquid foods and the fork has rounded tines to protect your baby's mouth. These come in a variety of colors you can choose from and they all have cute little eyes on them.
Keep in mind: These are a little wider than beginner feeders and work better for those that have already started learning to feed themselves.
Good for: Slightly older babies and toddlers that have some practice feeding themselves already.
---
FAQs about best baby spoons for self-feeding
---
1. At what age should I offer a spoon to my baby?
Well, it really depends on your baby because all babies are different. Some babies will learn better by starting out holding one spoon and eating from another. You can then move on to allowing baby to try to feed on their own. Some babies will not be ready to attempt the use of a spoon until around 10-12 months. Try to take cues from your baby.
---
2. How do I teach my baby to use a spoon?
Just try! Trying is the best way to learn! Give your baby a spoon (and maybe a plate or bowl suctioned to the highchair tray if you have it) and let your baby have at it! It will NOT be perfect overnight, but practice will lead to actually doing. Another good way to teach your babe to use a spoon is to have a family meal. Bring baby's high chair close to the table, where everyone is eating. Your baby will see everyone else doing it and, even if it's not right away (more likely than not, it won't be in the beginning), your baby will pick up on how you are eating and give it a try, too!
---
3. Why let my baby use a spoon at meal time?
Giving your baby the chance to even just hold a spoon opens up a whole new world for you AND your baby. Once your baby practices (read as: finally gets enough food into that cute little mouth), your baby will have one of the first pieces of independence and YOU may actually get to eat a warm meal! It is a win-win situation.
---
4. What are the key features to consider when buying a spoon for my baby?
You should consider what the spoon is made of. Metal spoons are not recommended for little baby mouths because chewing on them, which most babies do, does not feel very good. You're looking for soft materials, like silicone or other materials that are gentle on baby gums and teeth. If being dishwasher-safe is important to you, keep an eye out for that. Also, you want the spoons to be BPA-free. Finally, are you looking for spoons with or without a safety guard? Some of them do have this feature, which also may double as a rest to keep the part that goes into your baby's mouth from lying flat on the table or counter.
---
5. Can a 9-month-old use a spoon?
The answer to this depends on your baby! All babies are different and will be ready at different times. It never hurts to try, but if your baby incessantly throws it to the floor, you could wait a week and try again. Whatever you do, don't stop trying! At some point, your baby will be ready, and when that happens, it will be great!
Conclusion
---
Allowing your baby to learn how to self-feed can be a little intimidating. However, not only will the experience help your baby gain a little bit of independence, but it also will enhance your baby's hand-eye coordination and fine motor skills. Both of those things will help your little one as time goes on! So, think that by giving your baby a spoon at mealtime, you are also setting your babe up for success later in life! To do any of this, though, you need the right self-feeding spoon.
Once you give the spoon to your little sweetie, be patient because this skill does not happen overnight! It takes time, messes, modeling, encouragement, and lots of patience. You and your baby BOTH can do this, though. Now, enjoy this time and take a few pictures because the days are long, but the years are short!
You may also like our other product reviews…
Baby Onesies | Baby Probiotics | Baby Rattles | Baby Socks That Stay On | Baby Utensils | Baby Walkers | Baby Washcloths | Bath Towels | Bathtubs | Bibs | Blankets | Blenders to Make Baby Food | Booties | Bottle Brushes | Bottle Drying Racks | Bubble Bath Soap | Carriers for Petite Moms | Coconut Oils for Babies | Cribs for Twins | Floor Seats | Foam Play Mats | Glass Baby Bottles | Hair Brushes | Hampers | Hats | Headbands | Hooded Towels | Interactive Baby Dolls | Long-range Baby Monitors | Loungers |