Updated on by Lyric Fergusson
Baby teeth are so cute! Especially after all of the hard work it takes for baby to get the teeth! Hey, they don't call it "cutting teeth" for nothing. Once your sweetie has started to cut some teeth, it is time to think about getting baby the perfect first toothbrush. Ideally, you should begin to clean baby's teeth when they appear, so your little one can flash those pearly whites with that cute little smile that we all know and love.

Best Baby Toothbrushes
---
(Best value — $)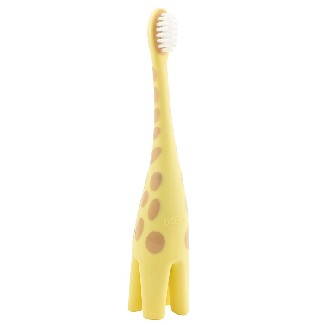 Why it's great: Yes, it's a toothbrush, but it is also cute! Bonus! The bristles are soft, and the handle has a comfortable grip. It can also stand up on its own, which is better for letting it dry in between brushing sessions. This toothbrush says, while you should replace it every 3 months, that little ones up to 3 years old can use it.
Keep in mind: Dr. Brown's Baby Toothbrush is better for only brushing teeth, not as a teether for baby to chew on.
Good for: Brushing baby teeth.
---
(Most simultaneous teeth-cleaning action — $)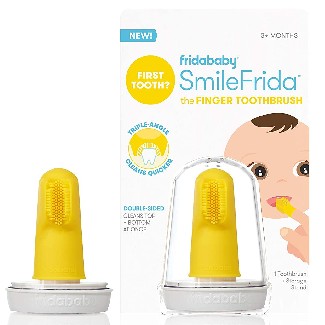 Why it's great: It is double sided! This finger toothbrush has triple-angle bristles that will help clean top and bottom teeth lickety-split. Super helpful, when it comes to cleaning baby teeth! The bacteria-resistant silicone from which it is made is thick enough to protect your fingers, if baby chomps during the teeth-cleaning process. It also has a stand and a cover. Plus, this is another one that can go in the dishwasher (top rack)! Score! This toothbrush would also work well when cleaning baby gums.
Keep in mind: This toothbrush is solely for cleaning little teeth and gums- this one is NOT a teether. It helps get baby adjusted to having something in their mouth to clean their teeth and gums.
Good for: Getting baby acquainted with tooth brushing.
---
(Most nature-friendly — $$)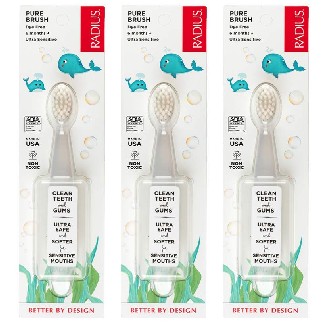 Why it's great: This toothbrush is made without harmful chemicals and the bristles are vegetable derived. It is nice and soft for your little babe's teeth and gums, and has a tapered handle for easy gripping. You can clean this in the dishwasher, as well.
Keep in mind: With its super-soft bristles, it is better suited for babies that have teeth vs. cleaning a "gummy" smile.
Good for: Babies who are 6-18 months old. There is a next step up from this one, once your little hits 18 months.
---
(Best toothbrush/teether combo — $$)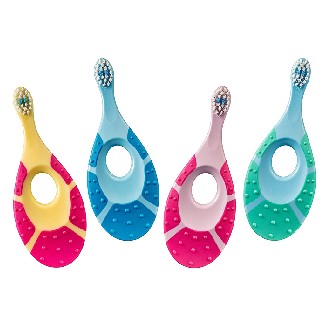 Why it's great: This toothbrush has a good handle for tiny hands. It also acts as a teether on that end, which also meant to help stimulate baby's gums. Plus, this handle is safe and will keep the brush from going too far back into your little one's mouth. The blue bristles show you the amount of toothpaste to be used, which is helpful. Also, this comes in a 4-pack!
Keep in mind: The handle is the part for teething littles, while the bristle end is best for the actual brushing of the teeth.
Good for: Babies who have teeth or are currently (or are about to be) cutting teeth.
---
(Most flexible — $)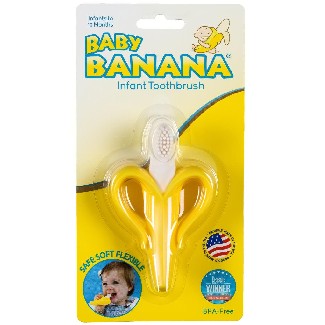 Why it's great: This little toothbrush is very flexible and soft. It has silicone bristles, which will massage your baby's gums, as many babies will chew on their toothbrushes. It is described to also be used as a teether, which you can put into the freezer before letting baby "nom" on it, while they are cutting those little teeth. The little handle is shaped like a banana and is easy to hold for your little one. It is dishwasher safe, which means you can keep it clean better!
Keep in mind: Some parents cautioned to be mindful that you receive the genuine toothbrush. It will say "Made in the USA." If it doesn't, Amazon will replace it with the correct item for you.
Good for: Babies getting their first teeth.
---
(Best storage — $$)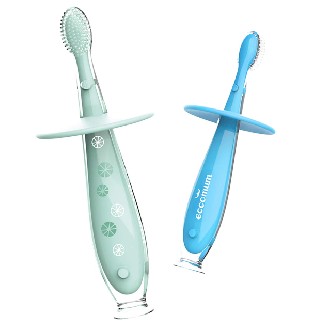 Why it's great: The Eccomum baby toothbrush is actually a set of 2 brushes. You are supposed to change toothbrushes every 3 months, so this way you're ready for the next time. It has a removable ring that, when in place, prevents the baby from getting the toothbrush too far back in their mouth. This toothbrush is great because you can sterilize it in boiling water AND (at a different time) put in the top rack of the dishwasher- both of which are very helpful! The brush itself is soft and easy to grip for your little one. Plus, the bristles are soft. There is a suction cup on the bottom of this toothbrush that you can use to store the toothbrushes between uses. The suction cup has a sturdy hold, but of course, you can pull it off when baby is ready to have their teeth brushed.
Keep in mind: This toothbrush is not designed to be used as a teether. However, it is good to be used solely as a toothbrush.
Good for: Use as a toothbrush (vs. as a teether).
---
(Most electric — $$$)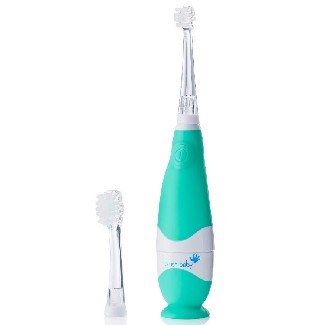 Why it's great: This is an electric toothbrush for baby! If your family uses electric toothbrushes, then baby will fit right in! It comes with two heads- a smaller head for a younger baby and a bigger head for an older baby. It has a suction cup on the bottom, which provides better in-between-use storage. There is a 2 minute LED light timer- good for helping you and your little one keep track of how long teeth are being brushed. The light is also good for allowing you to see what you're doing in little one's mouth, and they just like the fact that it lights up! The baby's age range for this brush is 0-3 years old, so you will be able to keep it for a while. There are replacement heads (sold separately) when it is time to "change the brush."
Keep in mind: It is battery powered, but it comes with 1 AAA battery to get you started. Plus, you will need to be sure to replace the heads regularly. Though, you are supposed to change your toothbrush every 3 months anyhow, so that is the same idea.
Good for: Brushing your little one's teeth (vs. being used as a teether).
---
FAQs about baby toothbrushes
---
1. When should I start cleaning my baby's teeth?
You should start cleaning your baby's teeth twice a day (morning and night), as soon as teeth begin to pop through the gums. There are special toothpastes for babies that are safe, if swallowed. Let's face it- many babies do not know how to spit. Not to worry, though, because that skill will develop a bit later.
---
2. Do I need to use toothpaste?
There are special kinds of baby toothpaste that are designed to be safe, if (when) swallowed. As recommended by the American Academy of Pediatric Dentistry (AAPD), you should use toothpaste from the time baby's first teeth appear. However, you only need about a rice-grain-sized dab of toothpaste. They can have more as they get older.
---
3. What are some key features of a baby toothbrush?
Do you prefer to start with a finger toothbrush (the kind you wear on your finger)? Or would you prefer a manual? Go with what you feel most comfortable doing, as long as you are getting those itty bitty baby chompers cleaned so they can show off their adorable baby smiles. If your family prefers an electric toothbrush, they make that for babies, too!
---
4. Should I brush my baby's gums?
Yes! It will help get rid of the sugars that are sitting there from milk/formula/food ingested throughout the day.
---
5. How often should I clean my baby's mouth (teeth and gums)?
You should aim to clean baby's mouth at least twice a day. Morning and night are ideal. If you can do so after each meal is even better!
---
6. How often should I change my baby's toothbrush?
Dentists recommend changing toothbrushes once every 3 months, and that's not just for baby- it's for the whole family!
---
Conclusion
---
There are several choices out there for baby toothbrushes. Be sure to pick one that suits you and your baby. It could be a finger toothbrush, manual, or even electric. The most important thing is that you're cleaning baby's teeth and gums twice a day. This will help set your tiny tot up for success with teeth brushing and dental hygiene as they get older. That will give both you and your baby something to smile about!
You may also like our other product reviews…
Baby Onesies | Baby Probiotics | Baby Rattles | Baby Socks That Stay On | Baby Utensils | Baby Walkers | Baby Washcloths | Bath Towels | Bathtubs | Bibs | Blankets | Blenders to Make Baby Food | Booties | Bottle Brushes | Bottle Drying Racks | Bubble Bath Soap | Carriers for Petite Moms | Coconut Oils for Babies | Cribs for Twins | Floor Seats | Foam Play Mats | Glass Baby Bottles | Hair Brushes | Hampers | Hats | Headbands | Hooded Towels | Interactive Baby Dolls | Long-range Baby Monitors | Loungers |