Updated on by Lyric Fergusson
It's that magical period in you and your baby's life. It's time to start eating solids. You may be wondering what kind of fork, spoon, or spork to give your little one to begin this new feeding journey. Your baby is most likely very fascinated by using whatever utensil you have, but you're probably here because you know steel is far too unsafe for a baby to eat with. Plus, we all know they love to run around while eating if they can! To prevent any accidents, we've put together an incredible list of the seven best (and safest!) training utensils your baby can eat with.
Best Non-Toxic Baby Utensils
---
(Best overall value — $)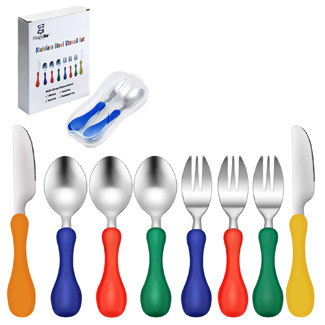 Why it's great: PandaEar created the ultimate silverware value pack for babies and toddlers. Each set comes with 3 spoons, 3 forks, 2 knives – all safety approved – and a traveling case! These were created with risk-freeness in mind thanks to the rounded edges and prongs. It's also safe for the dishwasher and free of toxins and BPAs. It's also made to last with its 100% non-toxic stainless steel make, and the carrying case adds a sanitation barrier during travel. It's a favorite of parents and kids alike!
Keep in mind: Measures 6.8 x 6.4 inches and weighs 7.2 ounces. It's not too small, but not as large as adult silverware, so your little one will feel like a big kid.
Best for: Those seeking a value pack of toddler-sized utensils with a traveling case.
---
(Best toddler beginner fork — $$)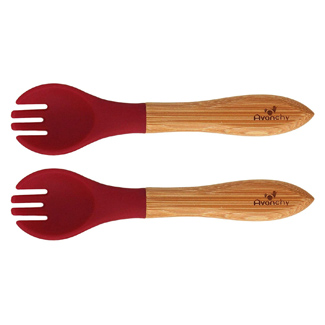 Why it's great: You've probably heard that BPA isn't the safest material for your baby, especially for their mouth. Avancy created this BPA free fork with a bamboo handle. It's made with food-grade silicone and varnish for digging into those mighty kid's meals without hurting your baby's emerging gums. Its lightweight design is sturdy for use over the course of your toddler's years.
This fork contains no plastic, PVC, lead, and phthalate. That means nothing that shouldn't be in your baby's body will be there. Your toddler is sure to wean from breasts or bottles thanks to the original design. You need only to choose from one of five great colors: black, magenta, orange, pink, or yellow.
Keep in mind: Measures 5.5×1.25 inches and weighs 1.58 ounces (the second smallest on our list). Build for toddlers, not babies – Avanchy does make baby spoons for practicing.
Best for: Toddlers who are ready to handle feeding themselves.
---
(Best two-in-one — $$$)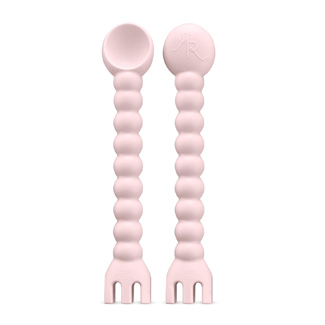 Why it's great: If you're looking for two utensils in one, this two-pack of spoon and fork may be for your little one. Your child will enjoy the benefits of the shallow spoon for scooping and shoveling or the fork for piercing. Its design features a comfortable grip handle that assists your child on their journey towards becoming the best self-feeder on the planet. Speaking of planet, it's made of non-toxic silicone with no BPA, PVX, phthalates, or latex. That means a happy tummy for a blossoming feeder. Choose from black, charcoal, gray, tan, pink, or blue.
Keep in mind: Measures 7.64 x 2.95 inches with a weight of 1.65 ounces. Discoloration or staining may occur, so don't use with bleeding colors or dyes.
Best for: Babies who get the perk of having a spoon and a fork in one utensil.
---
(Best first spoon — $$$)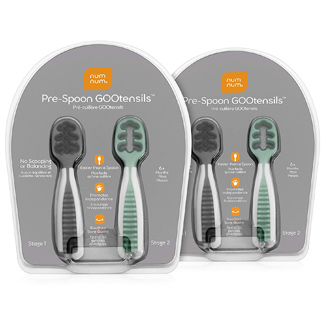 Why it's great: Need a doctor (pediatric, occupational, and speech) recommended spoon for the first and second stages of self-feeding? You're reading the right review. This baby and toddler spoon can assist your child in weaning to become an independent eater. Its design is unparalleled – its flat make takes the guesswork from your child trying to figure out scooping or balancing. At the same time, its thick handle nonetheless prepares them for eventually handling an adult spoon.
Whether your child is in stage one or two of the feeding process, this spoon can meet them where they are. Your little one can use this spoon for anything from purees to soft and solid foods. It's even an excellent teether to start with until your child is ready to wean. This spoon naturally promotes exploration instead of frustration with its design that also assists with wrist development.
It's made from BPA free, FDA approved silicone with no PVC and phthalates. Choose from one spoon or a two-pack in several color combinations of gray-green, lilac-rosebud, or orange-blue.
Keep in mind: Measures 7.68 x 4.88 x 1.18 inches and weight 3.2 ounces (one of the largest on our list). It's not recommended that you microwave or steam sterilize, but it is dishwasher safe.
Best for: Children 6 to 18 months who are transitioning between a teething spoon to weaning/self-feeding.
---
(Best toddler pack — $)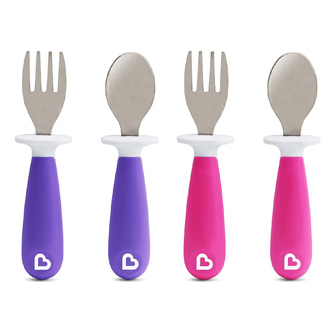 Why it's great: Try this four-pack of two spoons and two forks for your toddler. Its unique ergonomic design sits well in a toddler's hands and assists easily in picking up food. Feeding time can be messy, as we all know, but the forks and spoons' base helps prevent tipping over during meal times. One less mess is the best! Choose from friendly colors of blue-green, pink-purple, blue, or purple.
Keep in mind: Measures 8 x 8 inches and weighs 6.1 ounces. Inspect before use and avoid foods that can cause discoloration.
Best for: Toddlers 12 months and older.
---
(Best mini silverware — $$)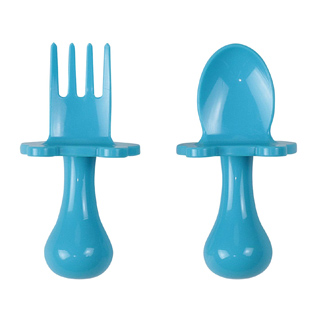 Why it's great: For those seeking a mini spoon and fork combo set for your baby's first plunge into self-weaning, try this variety. Its size makes it easy for your baby to hold and use, and its handle promotes proper gripping, while the anti-choke barrier means your baby won't accidentally push too far in their mouth.
This product contains no BPA, BPS, PVC, phthalate, cadmium, and lead. It was also made in the USA and is safe to put in the dishwasher. You have 9 colors to choose from as well!
Keep in mind: Measures 4.3 x 4.1 inches and weighs 0.81 ounces, the smallest and lightest on our list, making it a perfect starter size. It is a little pricier than other brands for one spoon and fork. Still, many parents find its ability to boost feeding confidence worthwhile.
Best for: weaning children 6-12 months.
---
(Best for traveling — $$)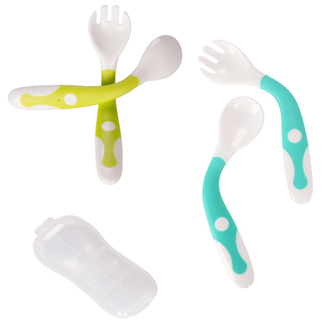 Why it's great: This heat resistant, easy-grip bendable spoon makes self-feeding an even more unique experience. The handle is made from steel wire, creating the cool bendable factor kids will love. You'll appreciate it for promoting hand-eye coordination and dexterity in your budding little one. Novos keeps safety in mind with the rounded edges of the spoon to make it baby gum friendly. Gripping is easier due to the wide handles. We know messes will happen. You can sterilize these utensils for up to 2 minutes in boiling water as well!
Overall, it's food-grade safe, comes with a handy traveling case, and contains no toxins and BPAs. Purchase as a set of one or two in various bright colors.
Keep in mind: 7 x 3 inches in measurement and weighs 4.5 ounces.
Best for: Children 6 months or older and traveling.
---
FAQs about baby utensils
---
1. Why should my child use a baby spoon or fork?
Typical adult utensils are made of steel, which is not recommended for babies because of their sensitive gums. If you want your child's teeth to grow well, you should opt for softer material to promote proper gum health and teeth growth. It's recommended you start your child off with a spoon first and introduce a spork or fork after they've grown comfortable to prevent any accidents.
---
2. When can I start using a baby spoon?
At about 6 months old, most babies can swallow pureed textured foods. All the spoons on our list are recommended for 6 months or older. Nonetheless, please supervise the use of utensils, especially when your child is just starting self-feeding and there is no anti-choke barrier.
3. What's BPA, and why is it considered unsafe?
BPA, or Bisphenol A, is a chemical found in plastic to harden it. For years it was considered safe because BPA is everywhere in our environment. There are some risks, though authorities don't know much about the chemical. Potential effects include brain and behavior problems, hormonal issues, and it's said babies' bodies are less efficient at removing BPA once it's in their system.
---
4. Should I also be concerned about PVC, lead, and phthalate?
There is a reason to reconsider using any products, especially around children, that contain chemicals. Chemicals damage growth in various ways and can do even more damage when they are placed inside the body, such as with silverware. Please do your research and choose products that contain little to no chemicals, such as the ones on our list.
---
5. How many utensils should I get?
You can get as many as you like. Your baby eats daily and as busy parents, we don't always get to the dishes every day. All of these are at least dishwasher safe.
---
Conclusion
---
When our children begin to use utensils, it's a major leap in their growth. We want them to have the best self-confidence-building experience as they embark on this new milestone. That's why we created this awesome list of best baby utensils to get your child off to a great start. Safety is every parent's top priority as well. As you're choosing the right spoon, spork, or fork for your child, make sure to read our FAQ and do additional research if necessary. Happy feeding!
You may also like our other product reviews…
Baby Bath Mats | Baby Blocks | Baby Bottle Cooler Bags | Baby Bottle Dish Soap | Baby Bowls | Baby Car Mirrors | Baby Car Window Shades | Baby Carriers for Men | Baby Dolls for 1-Year-Olds | Baby First Aid Kits | Baby Food Storage Containers | Baby Grooming Kits | Baby Memory Books | Baby Nail Files | Baby Oils | Mittens | Mobiles | Moccasins | Moisturizers for Baby Hair | Musical Toys | Nail Clippers | Pillow for Baby Flat Head | Play Fences | Retractable Baby Gates | Reusable Baby Food Pouches | Rugs for Baby Nursery | Scales | Sink Tubs | Spoons For Self-feeding | Stuffed Animals for Baby to Sleep With | Toothbrushes |