Updated on by Lyric Fergusson
There's nothing more bittersweet than watching your baby grow. The first time they can rollover, to the first time they start crawling, right up to their first steps. While we often wish time would slow down, we don't want to stop or hinder the development of our children. Baby walkers are the best tools to help your child develop their walking abilities and lucky for us, there are so many to choose from.
From simple designs to colorful activities, here are the 11 best baby walkers for you and your little one:

Best Walkers for Boys and Girls
---
(Best Investment — $$)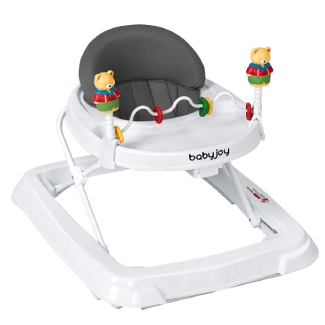 Why it's great: This walker is one of the best investment walkers to consider. Its price is mid-range, but the benefits make the cost worth it. It has a simple design, comes in 3 different colors, and comes with a cute toy bar attachment piece. The seat is detachable, which makes it super easy to clean. It also has a high back that gives your child that extra support and makes the seat very comfortable.
Many parents said that this is the best walker for their child and is worth the investment. Like some of the other walkers, it has an adjustable height so it will definitely last you and your baby a while.
Keep in mind: This walker struggles to maneuver on the carpet; however, if you remove the protective bar at the bottom of the walker, it can move easily on carpet.
Good for: Babies that love to be messy, as the design makes it easy to clean.
---
(Best Overall — $$$)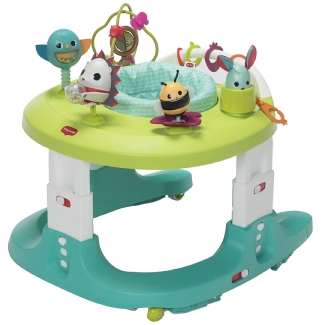 Why it's great: This walker has it all! It comes with 6 developmental toys and a rotating seat, so your kid can see you from all angles. Its 4-in-1 design allows for multiple uses, including one that will help your child stay in place for hours. But, if your child prefers to be on the move, then this walker will help them develop their walking skills and also allows them to push the walker when they get older.
While its design may seem overwhelming, the assembling process is really easy. Plus, it even has the ability to lower all the way to the floor or to higher height settings. This walker collapses too, making it perfect for small spaces and storage.
Keep in mind: The owl toy is on a spring and can bounce back if pushed forward too hard. Consider removing or supervising your child with it.
Good for: Families living in small or compacted living spaces (i.e. apartments).
---
(Most Well Rounded — $$)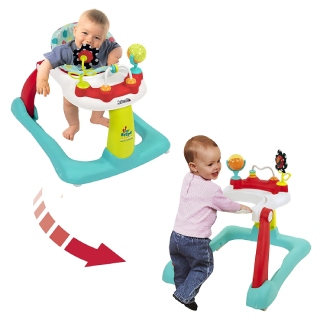 Why it's great: This walker is 2-in-1 because it has the ability to convert from a sitting walker into a push walker. That, combined with the adjustable height, has allowed many parents to use this walker for years. The base of the walker has an open back so you have room to follow behind your moving baby.
Many parents found the assembly process really easy and simple, despite its more bulky looking design. It comes in two styles and also comes with an activity bar. Since it has so many benefits and features, it is very well rounded for a walker and useful too.
Keep in mind: Larger babies might not fit as well, but most parents said sizing was not a problem.
Good for: Babies that develop quickly and are ready to really move.
---
(Best Quality — $)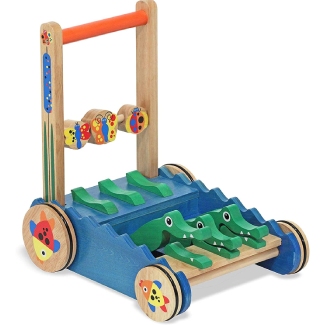 Why it's great: Melissa & Doug is a well known brand that creates quality, educational products for kids. This little push toy is perfect for toddlers that are just starting to learn to walk. It has cute little alligators that make a clacking sound as it moves forward. The design and colors will attract your child and keep them interested. Plus, it has beads that slide and spin for extra entertainment.
This walker is made of durable, high quality wooden materials. It was built to last and even has a 100% happiness guarantee.
Keep in mind: Your child must be able to stand with very little assistance before they're ready to use this one.
Good for: More advanced toddlers that are ready to really start walking.
---
(Most Educational — $$)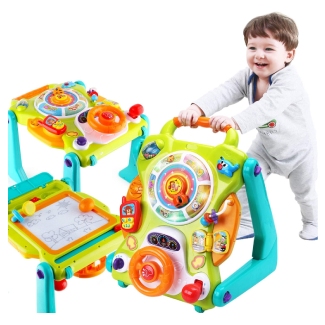 Why it's great: This toy offers hours of fun. It can be used as an activity center for younger babies that can't yet stand. Then, it can convert into an activity table for those learning to stand up and play. As they start to learn to walk, they can use this as a push walker. It also flips over and becomes a writing and drawing board for older toddlers. Each toy on this walker engages your child and teaches them animals, numbers, colors, and more!
This walker is great for all stages of babies and toddlers and helps to improve hand-eye coordination, gross and fine motor skills, and intelligence.
Keep in mind: This one uses three AA batteries and it can be pretty noisy, as it plays music when it's pushed, as well as all the sounds and noises it makes when playing with it.
Good for: Parents that want their child to be able to learn and have fun at the same time.
---
On An Important Side Note… I know this might seem a bit off-topic, but in these unpredictable times, Asher and I feel it's necessary to highlight the importance of life insurance for parents with young kids. After extensive research, we discovered that parents can get insured for as little as $7.38 per month. We use Bestow who insures up to $1.5M per parent and you can sign up 100% online in as little as 8 minutes with no medical exams.
---
(Best price point — $)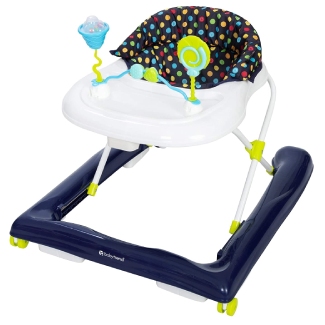 Why it's great: This walker is great for its price point! It has a nice and simple design. It comes with a food tray and a toy bar that is removable. The best feature on this walker is the padded seating, which makes it extra soft and comfortable. If you're looking for something to help your child with their back support, this product is for you.
This walker also collapses to almost completely flat, which makes it great for on-the-go travel or small storage space.
Keep in mind: Some parents found difficulty assembling it, so make sure you have a partner to help you put it together (or a hammer).
Good for: Babies that need extra padding for back support.
---
(Most Fun — $$)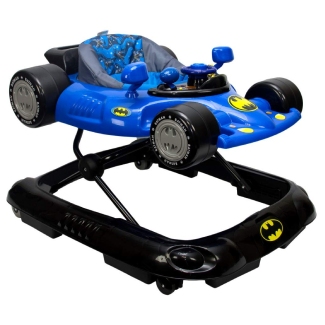 Why it's great: Your baby will love learning to walk in this fun, Batman inspired walker. It looks like a little batmobile, complete with four wheels, mirrors, and a steering wheel. The front activity center has lights, sounds, and vibrations to keep your child entertained. Plus, it's completely removable, so they can play with it on the floor or anywhere they want to take it. The seat cover is removable and machine washable for easy cleaning.
This walker also has three height settings, so it can grow with your child. On top of that, it collapses all the way down to save space when not in use.
Keep in mind: This one doesn't work very well on carpet for walking, but it's great on tile or hardwood and it's fun as a stationary play place as well.
Good for: Families that love Batman.
---
(Best design — $$$)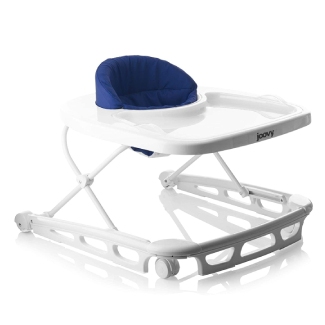 Why it's great: This is one of the best walkers. The design is sleek, simple, and compact. Its design makes it one of the most enviable wakers on the market. Despite the high price point, many parents reported that this walker is worth the investment. It also has a food tray that is removable, making it easy to clean, and the compact size makes it perfect for storage and small living spaces.
It has an adjustable height setting, so it's perfect for growing babies. With three settings, your child will have plenty of room to grow and will be able to get a lot of use out of this.
Keep in mind: This walker was said to be quickly outgrown by some parents, so it's better for early developers.
Good for: Babies that develop earlier on and can sit up on their own before other babies.
---
(Best Wooden Walker — $$)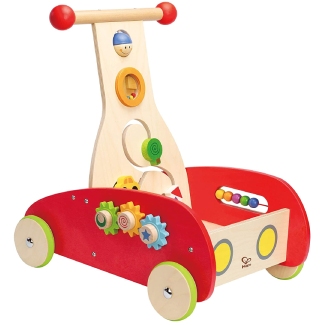 Why it's great: This walker is made completely of wood and has non-toxic finishes. It is completely safe for your baby and also eco-friendly. The cute colors and designs are sure to attract your child. It also has gears, knobs, and other activities that will keep your baby entertained. This walker works well on any type of flooring because the wheels have a rubber trim that grips firmly.
This walker is very sturdy, durable, and quick and easy to assemble.
Keep in mind: This walker is meant to help babies learn to walk, but they need to be able to stand with relatively little assistance first.
Good for: More advanced babies that are already able to stand on their own.
---
(Best on carpet — $$)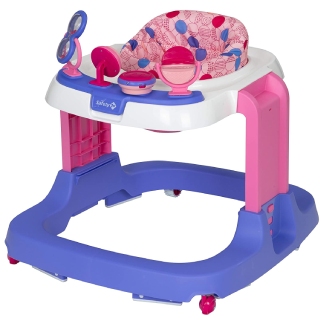 Why it's great: This is another top walker on the market. It comes in 5 different patterns, has an activity tray, a toy bar with interactive toys, and a big red button that plays music. It also plays music and has a seat so your child can relax. Its adjustable height seating makes it possible for your baby to grow with this walker and it can lower to the floor so it stores compactly.
One of the most noticeable features many parents like about this walker is that it rolls easily on carpet. You won't have to worry about your child getting stuck in place or having difficulty switching from hardwood floor to carpet. That makes this the best walker on any surface.
Keep in mind: Some parents reported that their child's finger would get caught in the spinner toy so be sure to supervise your child or remove that specific toy.
Good for: Babies that live in places with a lot of carpet.
---
(Best value — $)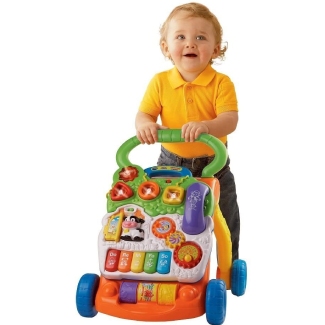 Why it's great: This is one of the best walkers on the market. It has over 20 thousand reviews and remains a 5 star product on Amazon. Its colorful design and farm theme are so captivating. It also has educational features, so your child can learn while playing. It plays music, lights up, and has many hands-on activities.
The best part is that it is very inclusive age-wise. This is great for babies still learning to sit or working on tummy time because the front panel completely detaches. It is by far the best value for its price and will stay relevant to your child for a very long time.
Keep in mind: Some parents have reported that the walker slips out from under their child when they put their weight on it; however, most parents did not struggle with this problem.
Good for: Babies that can't stand yet, but sit up on their own, and babies starting to walk.
---
FAQs about baby walkers
---
1. When can my baby start using a walker?
This mostly depends on your child. If your child has the ability to sit up unassisted, then usually they will be able to use a walker. However, you should always check with your child's pediatrician if you have any concerns.
---
2. What are the benefits of using a walker?
There are many benefits to using a walker. Some included helping your child develop their walking abilities, keeping the contained yet stimulated so you can do things around the house, or extra entertainment for your child.
---
3. What should I look for when purchasing a walker?
There are many factors to consider. Sizing, most walkers do take up a lot of space so be sure to find one that can collapse into a smaller size for storage if you can't afford losing space. You should also consider what stage your child is at developmentally so you know which features of a walker are most suited for them. Also, consider which kind of walkers will work best with your flooring. If you have carpet, maybe consider one of the walkers that has an easier time moving across the carpet or rugs.
---
4. Does the size of my baby matter when choosing a walker?
Yes, however, most of the top walkers have adjustable height settings making it more inclusive for all babies and their different sizes.
---
5. What are some safety tips for using a baby walker?
The best safety tip is to make sure that your child is near you or is supervised. You can also check the toys to make sure that they are safe and to your liking.
Conclusion
---
Baby walkers are not only really helpful towards your child's development, but it can also be a lot of fun. You won't have to worry about your child walking all over the place as it contains their play space to one area, your child will be stimulated with all the toys and activities that they can do while sitting or standing with a walker, and many of these walkers can fit into tiny spaces. Investing in a baby walker will give you the peace of mind that you deserve.
With all the options you have for baby walkers, these are the best ones to consider. They have different styles and designs so all you have to do is choose the one that best fits you and your baby. Once you have your walker, your baby will be all set to move around on their own and have the time of their life doing it!
---
You may also like our other product reviews…
Baby Bath Mats | Baby Blocks | Baby Bottle Cooler Bags | Baby Bottle Dish Soap | Baby Bowls | Baby Car Mirrors | Baby Car Window Shades | Baby Carriers for Men | Baby Dolls for 1-Year-Olds | Baby First Aid Kits | Baby Food Storage Containers | Baby Grooming Kits | Baby Memory Books | Baby Nail Files | Baby Oils | Mittens | Mobiles | Moccasins | Moisturizers for Baby Hair | Musical Toys | Nail Clippers | Pillow for Baby Flat Head | Play Fences | Retractable Baby Gates | Reusable Baby Food Pouches | Rugs for Baby Nursery | Scales | Sink Tubs | Spoons For Self-feeding | Stuffed Animals for Baby to Sleep With | Toothbrushes |