Updated on by Lyric Fergusson
Anyone who suffers from back pain, whether occasionally or chronically, wants solutions and relief. Many back problems from simple muscle tightness to herniated discs can benefit from home-use, back stretching, muscle strengthening, and massaging products. I have suffered from degenerative disc disease for years and have tried many different products. Some have helped, and others not. Here are the Top 7 back stretching products and what they can do.
Best Back Stretchers
---
(Most economical inversion table — $$)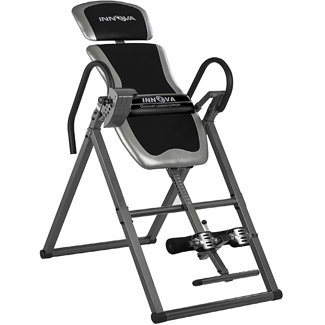 Why it's great: The inversion or tilt table includes several improvements over others, including a nicely padded, adjustable headrest and a large, very comfortably padded backrest. You can choose from six tilt angles and set the pin for the desired angle while you are on the table. If you start at the lowest setting and decide to try the next largest angle, you don't need to get off and crawl underneath to change it. Many tables require a user to be at least 5'2″ tall, but this table fits anyone from 4'10" to 6' 6" tall and can handle up to 300 lbs. The cushioned hand grips are nice, and when you adjust the head and footrests to your height, inversion is easy. It's great that you can start at a slight angle and increase it as you feel more comfortable. I find 45 degrees to do the most good for me.
Keep in mind: When you open the box, don't be alarmed by the number of parts. The table takes a little while to assemble, but everything is well labeled, and the instructions are easy to follow. All the tools you needed are also included.
Good for: Anyone with back pain who might be timid about trying a tilt table.
---
(Most economical — $)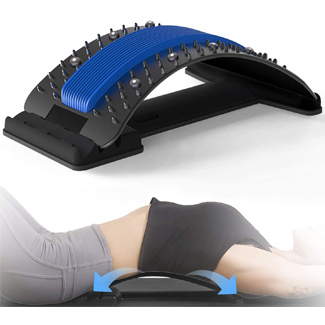 Why it's great: You can store this stretcher anywhere and take it with you when you travel. Choose between three settings for three different curves and lie on it to relieve back pain. You can start with the flattest angle and, although it feels a bit uncomfortable at first, when you stand up, you understand that your posture has improved and your spine has stretched. You can increase the stretcher curve as you feel ready and get a great stretch with the highest setting. Excellent for spinal stenosis, herniated or bulging discs, and sciatica, the acupressure massage points provide natural traction and loosens back muscles along your spine. The thick pad your spine rests on while you stretch, which is not available on some similar products, makes a huge difference in your comfort.
Keep in mind: The stretcher works best on a firm surface like the floor or a firm bench.
Good for: Anyone who has nerve pain from poor posture or disc disfunction.
---
(Most versatile — $$)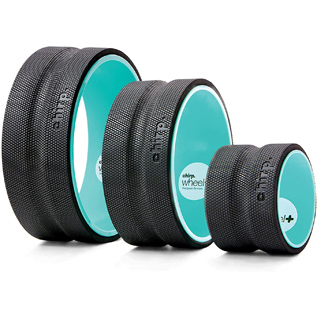 Why it's great: You get a great stretch with chirp wheels. The three-pack comes with a 6-inch, 10-inch, and 12-inch size, each with about ½ inch of padding to make using them more comfortable. The smallest wheel exerts the most pressure when you lie on it. It's great to stretch your neck or get some drastic traction on your lower back. If you lie with it under your neck, you will get relief from stiff neck muscles and pinching discs. After trying all three wheels, you may find you use one size most of the time because the stretch works best for your back or neck. You can use any of the wheels on your lower back to stretch the discs apart and improve your posture. Even if you have a relatively healthy back, you can strengthen muscles and ligaments and help prevent things like arthritis, osteoporosis, and herniated discs.
Keep in mind: Using the wheels requires you to get down on the floor and use a certain amount of balance.
Good for: Anyone who wants to reduce stress and prevent future back problems like arthritis and herniated discs.
---
(Most storable table — $$$)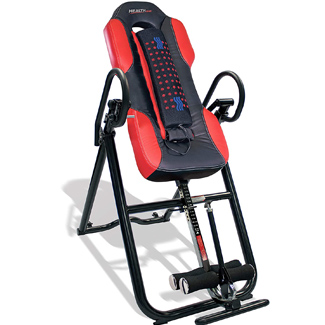 Why it's great: This product's claim to fame is its heat and massage feature. The removable, multifunction vibrating massage and heating pad loosens and soothes sore muscles before or while you tilt. You can also take the pad off and get heat and massage while working at your desk or watching TV. The table back has four inches of contoured memory foam, and for your legs, there are four adjustable, oversized foam leg rollers, so this inversion table is comfortable. The Sure-lock ankle supports are easy to get in and out of quickly. There are four angle settings: 20, 40, 60, and 90 degrees. Health Gear's table accommodates anyone 5' 1" to 6'5" and up to 300 lbs. The instructions are clear, and you can assemble the table in less than 30 minutes. The table does fold up, and the transport wheels make it easy to roll into a closet when you are not using it.
Keep in mind: You might decide to use the massage pad separately. Depending on your body, the pad may not feel completely comfortable in the full inversion setting.
Good for: Anyone looking for heat and massage along with inversion therapy.
---
(Most fun — $)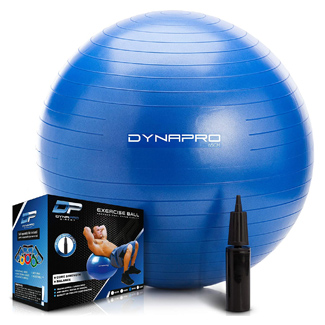 Why it's great: Whether you use it as an office chair or use it to stretch out your back, who doesn't love a big, brightly colored ball. The Dynapro ball, made from recycled material, comes in four sizes and seven colors. After you inflate it with the hand pump that comes with it, you can use it for various exercises to strengthen core muscles and improve posture or stretch your spine out by lying on it. Lie across a ball on your back to stretch your spine and relieve pressure on discs. Rolling around while you lie on your stomach across the ball can relax muscles or build up your core. The material is thick and resists punctures, and can withstand up to 2200 lbs. You won't slide off because of the mat surface and nonslip ridging. The website can guide you to the right size or sizes. Choose between 45 cm (about 18″), 55 cm (22″), 65 cm (25.5″) and 75 cm (29.5") and between, black, blue, green, pink, red, gray and yellow.
Keep in mind: Choose your ball size or sizes carefully. If you want to use it for sitting at a desk, realize that you will sink into the ball and allow for that when you measure against your desk height.
Good for: People who want a stronger, more flexible back.
---
(Most medically endorsed — $$$)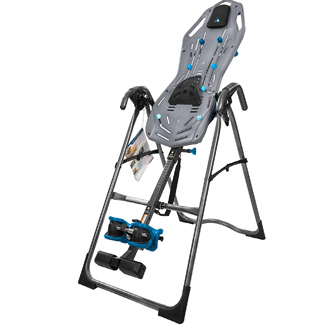 Why it's great: The Teeter Fitspine X Table is registered as a 501 medical device by the FDA, and many doctors recommend it for everything from herniated discs to muscle spasms. The backrest features acupressure nodes for stimulating trigger points in your back. The patented ankle "cups" are ergonomically designed for a very comfortable fit. The eight-point floating suspension system supports you securely. The table's cover material allows for a maximum body slide, even at smaller angles, so you get the full decompression at every setting. There are various grips and handholds you can use for additional stretching. The table is pretty easy to assemble, and you get a "Getting Started" DVD that helps get you tilting sooner. Teeter also offers an app you can use to track your progress.
Keep in mind: This is a substantial piece of equipment that takes up some room. It does compact somewhat for storage.
Good for: Back pain sufferers with spinal stenosis, herniated discs, chronic muscle spasms, or degenerative disc disease.
---
(Most versatile — $)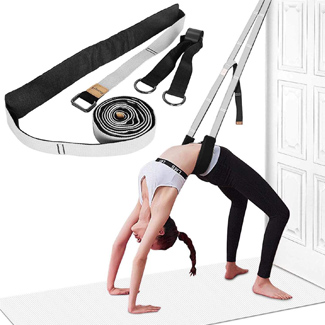 Why it's great: You can get a wonderful stretch with a yoga strap and improve flexibility throughout your body. The strap attaches to a sturdy door in your home without doing any damage. You can use the strap to improve your balance, become more flexible, burn fat, trim your body, and reduce stress. Many use the strap to give their aching back a good stretch. If you have problems with muscle tightness and spasms in your back, bending backward over the belt does wonders. Aspiring dancers and gymnasts love it for developing the flexibility needed to perform well. There are many ways to use the strap for other types of exercises, and physical therapists endorse it to help in injury recovery. The strap comes in two colors, gray or green, and is made of spandex and cotton webbing. It can be stored or moved easily, and the materials hold up to the most vigorous activity.
Keep in mind: You must use a strong door and install the strap correctly to avoid accidents.
Good for: Dancers, Gymnasts, and Pilates enthusiasts.
---
FAQs about Back Stretchers
---
1. Do you need a lot of upper body strength to use an inversion table?
If they have everything adjusted properly for their height, most people can invert by putting their hands above their heads. For some, inverting takes some practice, but anyone should be able to, even with reduced upper body strength.
---
2. How many times a day should you use a QZJPINT back stretcher?
How many times in a day depends on the individual. Someone who sits all day may want to use it every few hours to help with posture. On average, I think most people use it a couple of times a day.
---
3. Can you use the QZIPINT back stretcher to stretch the upper back?
No, because the upper back and neck curve the opposite way, you shouldn't use this product to stretch anything but the lower back.
---
4. What's the best angle for an inversion or tilt table?
You should definitely start with the gentlest angle and increase with each session. You will be the best judge of what angle is most comfortable and does the most good. Some doctors don't recommend full inversion, so you might ask your doctor. Hanging completely by your ankles can also be a bit scary.
---
5. Can you use the Dynapro exercise ball for a chair?
Using an exercise ball, provided it's the right size, as an office chair can improve core strength and improve your posture. I think most people use it for part of the day. The recent trend of standing for part of the day, using a standing desk, could be combined with a ball chair, too.
You may also like our other product reviews…
Acupressure Mats | Facial Machines | Grounding Stones | Infrared Heat Lamps | Infrared Heating Pads | Inversion Tables | Massage Chairs Under $1000 | Negative Ion Bracelets | Outdoor Saunas | Portable Saunas | Small Heating Pads | TENS Units | Vibration Plates |