Updated on March 22, 2021 by Lyric Fergusson
When you're new to collecting vinyl and just starting out, you probably don't want to spend a fortune on a record player (not yet, at least). But you don't have to sacrifice quality of sound in order to spend within your budget.
The Best Beginner Record Players
---
(Best Value — $$)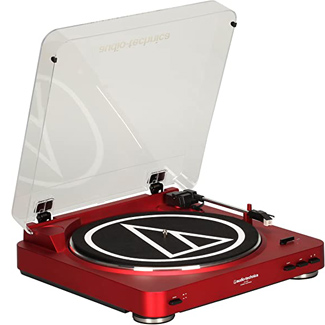 Why it's great: This Audio Technica model is fully automatic, taking the guesswork out of placing the stylus and preventing scratches on the record or damage to the parts. A lift button allows you to raise and lower the tonearm if you want to select a specific song.
The aluminum platter is good for reducing resonance, which means decent clarity. The included dust cover is also helpful for this reason, but it is removable if you prefer not to use it when listening.
Keep in mind: Remember that you'll need to factor in the cost of an amplifier for the line-level output and a preamp as well if you plan on using the phono level.
Good for: First-time buyers, those who are looking for a fully-automatic turntable on a budget.
---
(Best semi-automatic — $$$)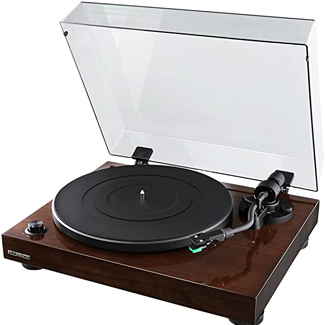 Why it's great: The RT81 Elite boasts a nice, reasonably heavy weight, which is great for accuracy of sound and speed because it helps eliminate vibration.
An s-shaped tonearm enhances the details in a recording by guiding the stylus more deeply into the grooves. The stylus won't disappoint, either. The diamond elliptical tip provides a higher definition by reading the music more precisely.
Other popular features include an adjustable counterweight, high-quality cartridge, and built-in preamp. Also, the RT81 Elite is really easy to set up and use.
Keep in mind: This product is semi-automatic, meaning the platter does automatically stop at the end of the record but the arm does not automatically return.
Good for: Not needing to buy a preamp, as it's built-in. Those who want the ability to adjust the counterweight and appreciate quality components that increase the accuracy of sound.
---
(Most connectivity options — $$$)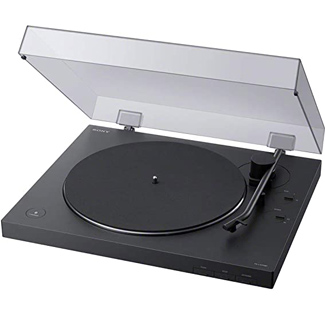 Why it's great: If you're looking for a record player with wireless capability, the Sony PS-LX310BT goes above and beyond. Connect to speakers, headphones, or any device with Bluetooth technology. RCA cables are included if you prefer to plug into your speakers.
Another reason for this turntable's popularity is the USB output, making it possible to transform your record collection into digital tracks that still embody the unique nature of vinyl sounds in MP3 format.
It's fully automatic, making it a great choice for beginners.
Also worth noting: there is a gain switch with three settings, which allows you to control the volume of the signal according to your preference.
A die-cast aluminum platter and aluminum tonearm reduce vibration for more clarity.
Keep in mind: There's no way to adjust the RPM speed. Experienced users do praise the speed-accuracy of this turntable, so it's a feature you likely won't miss.
Good for: Creating a digital collection of vinyl records or using wireless components and headphones. Those who want to enjoy a variety of music genres and be able to adjust the gain accordingly.
---
(Best for upgrades — $$$)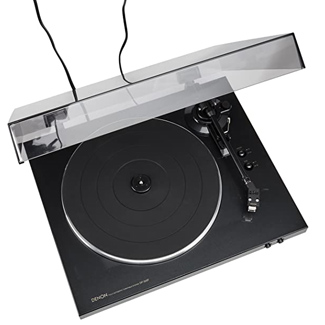 Why it's great: Despite a slim, modern design, the Denon DP-300F still boasts a perfectly heavy base for reducing vibration. The balance of high, low, and mid-range tones appeals to beginners and seasoned audiophiles alike.
It's fully automatic but offers a manual lift function for placing the stylus at a specific point on the record if you so choose.
The DP-300F sounds fantastic on its own, with quality parts such as a diecast aluminum platter. If you're eventually going to upgrade parts, though, this product is definitely a good buy. It's one of the easier models for swapping out the cartridge and tonearm in the mid-range price bracket.
As an added bonus, it includes a built-in phono equalizer that can make your records sound far more dynamic if you decide to take advantage of this feature.
Keep in mind: Some people have felt they needed to upgrade the stock stylus and cartridge right away, but there are plenty of others who felt both were just fine.
Good for: Those who are interested in eventually upgrading the cartridge or stylus for more sound quality at an affordable price.
---
(Most acclaimed — $$$)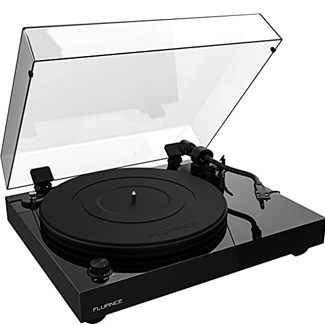 Why it's great: This record player is trusted and praised by some of the most well-known experts on vinyl equipment, and for good reasons.
Consistency is important when it comes to the rate at which the platter spins. The RT82 has a remarkable speed control mechanism that measures and automatically adjusts to provide the utmost accuracy. There's no need to mess with it yourself; this turntable does it for you with incredible precision.
Meanwhile, an s-shaped tonearm produces a greater level of detail so you're hearing everything with excellent clarity and balance.
Some fans claim that a simple stylus upgrade is a total game-changer, transforming the existing high performance into that of a far more expensive setup.
Keep in mind: This one requires a bit more set up than others, but don't worry: the instructions are reliably clear and it's very much worth the extra effort.
Good for: Those who want to adjust and control speed if necessary. Some of the best possible sound quality and accuracy at this price point.
---
(Best all-in-one — $)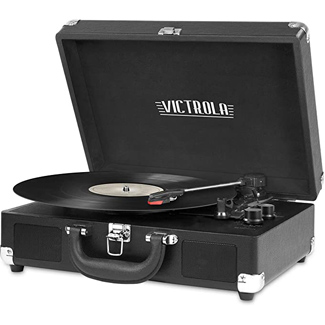 Why it's great: The Victrola portable suitcase record player is an amazing value if you're looking to keep your initial investment minimal.
First, this product has everything you need to start listening to vinyl. The built-in speakers are surprisingly powerful for the small size, and the built-in preamp enhances sound quality while supporting robust bass tones.
This is also one of very few new record players that has three speeds. If any of your records are from 1955 or earlier, this is extremely relevant. Older records need to spin at 78 RPM, and most modern turntables no longer do.
It can also play your digital music through the Bluetooth capability, and you always have the option of connecting external speakers with the RCA outputs.
One stylus comes preinstalled, but a replacement comes in the box as well.
Keep in mind: The platter is plastic, which isn't a very heavy material and is prone to vibration.
Good for: Getting started with a vinyl collection on a budget. Collectors with records that predate 1955 and might require 3 speed capability.
---
(Best investment — $$$)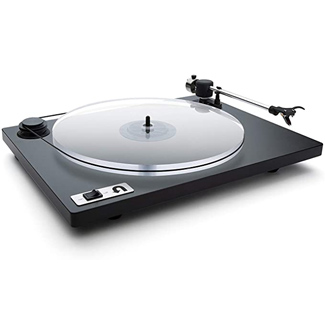 Why it's great: Anyone who wants to make a solid investment at the mid-range price level shouldn't hesitate to opt for the U-Turn Audio Orbit Plus. Made in the USA, it comes standard with some of the best parts you can get for the cost.
The acrylic platter ensures excellent consistency of speed and provides excellent resonance reduction for a rich, clear sound. The premium cartridge provided would be a high-quality upgrade on competitors' models. The adjustable counterweight boosts appeal on the advanced tonearm optimized for reducing distortion and tracking with impressive accuracy.
Even better, it's almost completely ready to use right out of the box with minimal setup. However, if you do find yourself confused or having trouble, U-Turn Audio is well-known for its great customer support.
Keep in mind: With no built-in preamp, you'll need to purchase one or use an amplifier with a preamp installed.
Good for: Those who want the best possible standard quality without needing to upgrade parts for optimal sound integrity. Collectors who want the best at a mid-range price point.
---
FAQs about beginner record players
---
1. How much should I spend on my first record player?
How much you spend depends mostly on your preferred budget. But it's also true that spending more means higher quality parts, which results in better sound.
Think about how committed you are to building and enjoying a vinyl collection.
If you only plan to listen occasionally and aren't overly particular about sound characteristics, it's not necessary to spend much for a listening experience that meets your needs.
Collectors who plan to use a record player frequently or people with specific preferences for tone will want to spend a bit more on the mid-range spectrum. The additional cost usually means more control, quality parts, and construction, as well as better customer support for setup and troubleshooting.
When deciding on a turntable, remember to consider the additional expense of adding a preamp (if necessary), quality speakers, and solid furniture to house your setup.
In most cases, you can upgrade the parts later to improve sound quality. So don't stress if you need to stick with a more budget-friendly option at first.
---
2. Where should I set up my record player? Does it matter?
Where you place your record player matters a lot. It's important to place the turntable on a completely flat surface; use a level to be absolutely sure. If the furniture is level but your floor is not, you may need to relocate your setup.
Choose a table or cabinet that's a solid material, well-constructed, and therefore won't vibrate much. Vibration causes the needle to skip and prevents it from running smoothly along the grooves of a record, resulting in a distortion of the sound. When the entire purpose of listening to an album on vinyl is to hear it clearly and accurately, it's worthwhile to take this seriously.
Avoid placing any decor or items that might cause vibration on the same surface as your record player. It looks nice, but ultimately muddles the clarity you're looking for on vinyl.
It's best to position your vinyl setup and speakers directly toward where you'll be listening, for example, pointed at the couch in a living room (if possible). The reason this is ideal is that the sound waves are less abstracted when they reach your ears.
---
3. What is the difference between an automatic and a manual record player?
When you see that a record player is either automatic or manual, it refers to whether or not the arm sets itself at the beginning of a record, resets at the end, and stops the platter from turning once the album has played completely.
With a manual turntable, you'll need to place the stylus on the record yourself and remove it at the end. Many vinyl collectors just feel that this is the best way to do it, and you might feel that way too.
Obviously, "automatic" turntables do everything automatically. That's an appealing feature for a few reasons.
First, the placement of the stylus can be tricky. Second, allowing the platter to continue spinning at the end of a record can cause damage to both your album and the stylus.
If you can't always be vigilantly aware of when the record has finished, automatic record players are the way to go.
Some turntables are semi-automatic, which just means you have to place the stylus by hand but it will return automatically.
---
4. Which parts can I upgrade for a better quality of sound?
Upgrading parts is a great way to make an affordable record player perform like a more expensive model. You can replace the platter, stylus/needle, cartridge, and tonearm to create a better sound.
The stylus, also called a needle, is the sharp tool that reads and translates the grooves on a record into the music you hear. It needs to be replaced periodically anyway, and it's one of the least expensive ways to upgrade your turntable.
As the stylus moves over the grooves of the record, it sends electrical signals to the cartridge. This is the part that holds the stylus into place, transmits the signals to the turntable, and subsequently, the amplifier. Upgrading this part can improve sound quality.
Consider upgrading the tonearm as well. A better tonearm means more accuracy and possibly more consistency, reducing the frequency of skips.
Conclusion
---
A record player is an important investment. When you opt to purchase an album on vinyl, you'll spend more for experiencing greater detail in what you hear. But when you're just getting started, it's wise to be conservative with the cost of your beginner turntable.
You may also like our other product reviews…
Ceiling Speakers | Computer Speakers Under $50 | Computer Speakers Under $100 | Digital Cameras Under $1000 | Gaming Chairs Under $100 | Gaming Keyboards Under $50 | Gaming Keyboards Under $100 | Gaming Mouse Devices Under $50 | Graphics Cards Under $100 | Guitars Under $500 | Headphones Under $200 | Headphones under $300 | Headphones under $500 | In-Wall Speakers | Laptops Under $700 | Luggage Sets Under $50 | Mechanical Keyboards Under $50 | Noise Cancelling Headphones Under $50 | Noise Cancelling Headphones Under $200 | Office Chairs Under $200 | Office Chairs Under $300 | Party Speakers | Point and Shoot Cameras Under $100 | Point and Shoot Cameras Under $300 | Portable Record Players | Projectors Under $200 |