Updated on by Lyric Fergusson
Binoculars are a handy tool to see far away objects at a distance, and can be helpful for bird and wildlife watching, sporting events, concerts, hunting, and more. While the prices for binoculars can range from very inexpensive to thousands of dollars, there are plenty of options offering impressive magnification at a price point palatable to most everyday users.
With advances in lenses and materials, you can now own a nice quality pair of binoculars for hobbies and general use for under $100. There are many brands and sizes on the market, and it can be overwhelming to decide which pair is best for you. We've done the research for you – below is a list of our seven favorite binoculars under $100:
Best Binoculars Under $100
---
(Least expensive)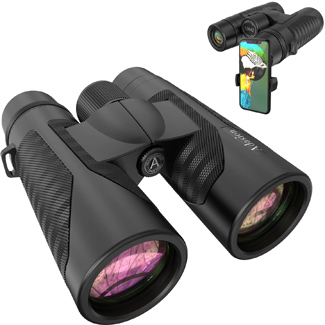 Why it's great: With 12x magnification and large eyepieces, this pair of binoculars from Adasion is a good low-price option for everyday use. At 1.25 pounds, they are lightweight enough to carry in your pack and are water resistant (although not waterproof). Accompanying these binoculars is an adapter that holds your smart phone's camera right at the appropriate level for taking magnified photos through the lenses. With a bit of practice, users are able to take impressive photos of wildlife and scenery.
Keep in mind: Some customers had difficulty using the phone adapter piece.
---
(Best for night sky viewing)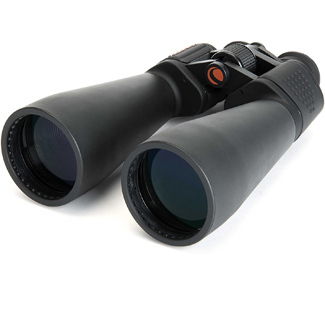 Why it's great: Imagine seeing the moon 25 times larger than with your naked eye! The Celestron SkyMaster binoculars make that possible. With 25x magnification and 70mm objective lenses, you will be able to see faraway objects extremely close, including birds, planes, and even the moon and stars. The large objective lenses let in a great deal of light, making these binoculars ideal for low-light use. They are also tripod-adaptable, allowing you to keep them upright and steady for longer periods of time.
Keep in mind: Their impressive magnification means these are large and somewhat heavy binoculars.
---
(Most versatile)
Why it's great: The Vortex Raptor is a great set of small, high-quality 8.5×32 binoculars for everyday use and travel. Featuring a fogproof, waterproof, rubber design, they are also rugged enough to be used for hunting, fishing, and hiking. These binoculars are very versatile, with significant adjustments in width. We also like the twist-up eye cups, which allow you to adjust to different face shapes and sizes easily, meaning that everyone in the family can use them.
Keep in mind: Users found the focusing the binoculars difficult, as the dial is not always smooth.
---
(Best for water activities)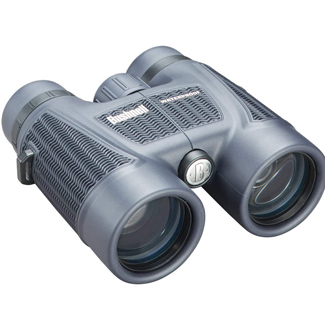 Why it's great: Bushnell is a longstanding name in binoculars, and the Bushnell H2O binoculars are among the best you can get at this price point. Featuring stunning optics and twist-up eyecups, they have a rugged design that will hold up well with average-to-rough use. The H2Os are very small and compact, making them ideal for hiking, birding, and carrying in a pack. They are also 100% waterproof, so you will not have to worry about getting caught in a sudden storm, or taking them boating or fishing. With 10x magnification, you will be surprised how lightweight and rugged they are.
Keep in mind: This model is not as ideal for low-light condition as others.
---
(Best all-around)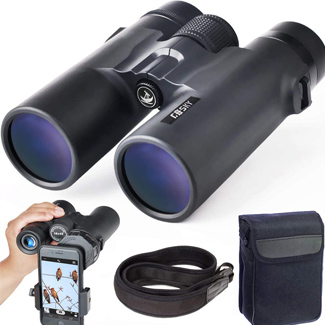 Why it's great: With 10x magnification and 42mm objective lenses, the Gosky 10×42 roof prism binoculars offer spectacular views in a small package. Users love them for wildlife viewing and birding, but they are also ideal for concerts and sporting events. Featuring a rugged shock-absorbing rubber armor and a lifetime warranty, you can be assured you'll own them for years to come. This model also offers a smartphone adapter, allowing you to take magnified photos by mounting your phone camera right at the ocular lenses.
Keep in mind: The eyepieces are not as deep as some models, which some users found uncomfortable.
---
(Bargain price with great performance)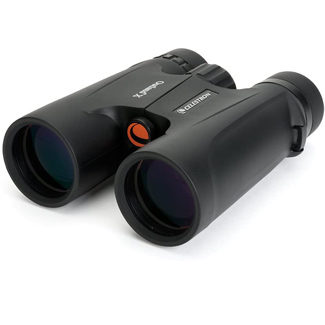 Why it's great: With a 10x magnification, the Celestron Outland is a great, affordable pair of binoculars for the everyday user. They are perfect for birding and watching wildlife, and are good in both low light and daylight. They are able to be tripod mounted for a steady view, and feature a waterproof polycarbonate housing and fogproof lenses. For the price, they are a great all-purpose binocular. The Outland also comes in other sizes as well.
Keep in mind: Due to their impressive magnification, these are not the smallest or lightest binoculars to carry around.
---
(Most coordinating accessories)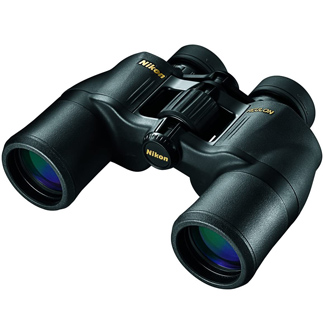 Why it's great: The Nikon Aculon feature a 420' field of view, a quick central focus system, and an ergonomically-designed shell. The turn-and-slide eye cups are comfortable even after extended use, and the 8x magnification and 42mm objective lenses produce crystal-clear images, even in dim lighting conditions. Weighing in at 1.6lbs, they are impressively lightweight for the quality of optics and viewing.
Keep in mind: This model is not waterproof.
---
FAQs about binoculars
---
1. What do the numbers mean? 10×42, 8×36, etc.
The first number is the binoculars' magnification. 10x means that objects appear 10 times larger through the binoculars than with the naked eye. Magnification ranging from 7x to 10x would be appropriate for most regular use such as watching sports and birding. The second number is the diameter of the objective lens in millimeters (this is the front lens). Larger objectives allow more light to pass through, resulting in a brighter, sharper, and clearer image. It also means the binoculars will be larger and heavier. To find the right binoculars for you, you'll need to select a balance between the size/weight and the magnification/objective.
---
2. Are all binoculars used for the same activities?
No, although many of the binoculars on our list are multipurpose and can be used for most everyday activities. There are specific binoculars for birding, hunting, low-light conditions, and even astronomical viewing. If you are very passionate about your hobby and don't mind spending more, research binoculars specific to these activities. For typical travel, birding, watching sporting events, or just having around the house to view wildlife, many of the models above will do a fantastic job for under $100.
---
3. Why are the prices so different?
A regular pair of 10×42 binoculars can cost anywhere from $25 to over $2000. They all have the same magnification, so why the different prices? The main reason is the quality of the optics and lenses, including the coating on the lenses and the prisms used inside the binoculars. The good news is that with advances in prism design and lens coatings, you can now get a high-quality pair of binoculars for a reasonable price.
---
4. What should I look for in a pair of binoculars?
Because there are different types for different activities, think about how you will use them. If you plan to hike with them, opt for a smaller, lightweight set. If you want to use them for stargazing, you'll definitely want a larger pair. Binocular prices vary widely and are generally proportional to their performance. Find a balance of performance and cost that works best for your budget.
---
5. Should I wear my glasses when using my binoculars?
It depends on the model, but the short answer is yes. With adjustable eyecups, it is easier for most people to just hold the binos up to their glasses, and they won't spend time adjusting and missing what they are trying to see. Some binoculars are not comfortable for people wearing glasses, and so it may be easier to remove them (adjusting the focus as needed). People with astigmatism will likely need to keep their glasses on.
---
6. How should I care for my binoculars?
Always keep them in the case when not in use. Never clean the lenses with tissues or your shirt – always use a lens cloth. This is because tissues, paper towels, and other materials contain little bits of wood fibers that will eventually scratch your lenses. Lastly, use your lens caps when you aren't looking through your binoculars. They help keep your lenses clean, dry, and free of debris.
Conclusion
---
As you can see, there are many considerations when selecting a pair of binoculars, and there is something for everyone at every price point. Consider what you will most frequently be using your binoculars for, and use our guide to help narrow your selection. With recent advances in optics and technology, you can be sure to get impressive results for under $100.
You may also like our other product reviews…
Ceiling Speakers | Computer Speakers Under $50 | Computer Speakers Under $100 | Digital Cameras Under $1000 | Gaming Chairs Under $100 | Gaming Keyboards Under $50 | Gaming Keyboards Under $100 | Gaming Mouse Devices Under $50 | Graphics Cards Under $100 | Guitars Under $500 | Headphones Under $200 | Headphones under $300 | Headphones under $500 | In-Wall Speakers | Laptops Under $700 | Luggage Sets Under $50 | Mechanical Keyboards Under $50 | Noise Cancelling Headphones Under $50 | Noise Cancelling Headphones Under $200 | Office Chairs Under $200 | Office Chairs Under $300 | Party Speakers | Point and Shoot Cameras Under $100 | Point and Shoot Cameras Under $300 | Portable Record Players | Projectors Under $200 |