Updated on by Lyric Fergusson
The fun begins around six months when you can start introducing solids to your child. It can be daunting to know where to start and what food is best. Gerber is a trusted brand, right? Can I just get Great Value from Walmart? Some of these packages say organic? What does that mean? Well, although the store bought purees are convenient, they can get pricey. Making your own baby food is a great way to ensure your baby is getting the nutrients they need and you have the comfort of knowing exactly what is going into their food. Having a great baby food blender is exactly what you need to make this process fast and easy. Although you may need to invest a chunk of money up front for the blender, making your own baby food will save you loads of money in the long run!
The Best Blenders to Make Baby Food
---
(Most affordable — $)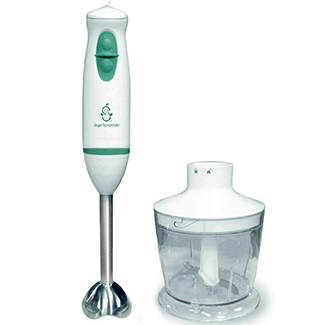 Why it's great: This basic baby food maker includes an immersion blender and food processor. It is great for single servings or bulk quantities. The separate wand allows you to get food as broken down as you need, by using it in a separate bowl if need be. This is great for pureeing foods!
Keep in mind: This product only comes with 1 standard blade. There is not an extra one for milling grains.
Good for: families on a budget.
---
(Most storage — $$)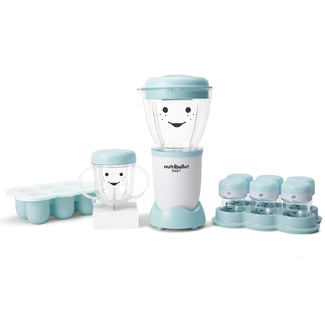 Why it's great: This baby food maker includes not only a blender, but storage cups and a recipe book. You can make up to a week's worth of food in less than five minutes or use the smaller jar to make smaller portions. There are two blades, one for milling oats or rice and another or pureeing or blending foods! This product is easy to use and easy to clean as well!
Keep in mind: This product does not steam food and is only designed for fruits and veggies, not meat!
Good for: parents who want to make bulk amounts of food at once.
---
(Most compact — $$)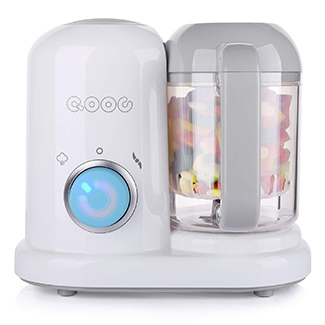 Why it's great: This baby food maker allows you to steam, blend, reheat, and defrost healthy baby food! This appliance is innovative, only takes one hand, and has a quiet motor. This is all perfect for balancing baby in one hand and getting meal prep done in the other. Its mini size also allows for easy storage and is easy to clean!
Keep in mind: Since this product does more than just puree, the blade is more gentle and may take longer to blend some foods.
Good for: kitchens with little storage space.
---
(Most capabilities — $$)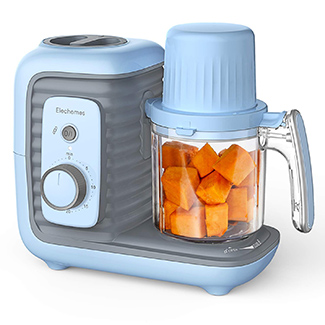 Why it's great: This baby food maker has 8 features in one device! Just to name a few, you can steam, mix, blend, and defrost baby food in just 15 minutes. This product is a great time saver because it has a 2-layer basket design which allows you to cook different foods at the once! It also comes with a recipe book for inspiration on what to make!
Keep in mind: The processor needs to be kept dry after cleaning!
Good for: those looking for all the necessary functions in one appliance.
---
(Most technologically advanced — $$)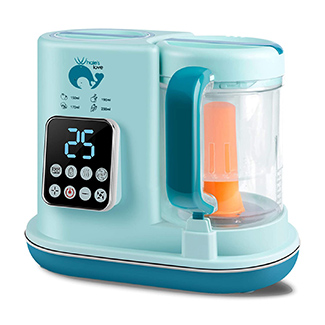 Why it's great: This 5 in 1 baby food maker allows you to not only steam and blend food, but there is also a bottle warming feature which allows you to start using this product from the day you bring baby home. This product is designed with a one-touch steam-blend mode that will fast steam the food ready and then automatically blend the food within the set time limit without any further steps. Something that stands out about this product is the self-cleaning design. With just a press of a button, all the water in the water tank is completely cleaned! The steel blades are also detachable for dishwasher safe cleaning!
Keep in mind: for best results with the auto cleaning tank add vinegar.
Good for: those wishing to purchase a bottle warmer as well.
---
(Most modern design — $$$)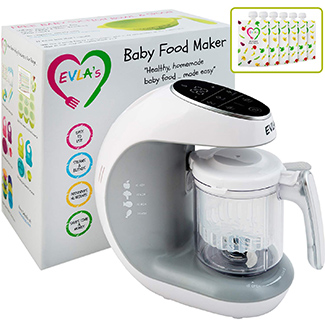 Why it's great: This baby food maker steams, blends, reheats and defrosts. This product also sterilizes and self cleans which is a huge time saver! For difficult stains, it is also dishwasher safe and the wide opening makes it very easy, for hand cleaning or drying as well which will help prevent mold from growing
Keep in mind: this product may stain after using foods such as carrots and sweet potatoes, but it still 100% clean!
Good for: busy parents searching for an auto cleaning product.
---
(Best for meats — $$$)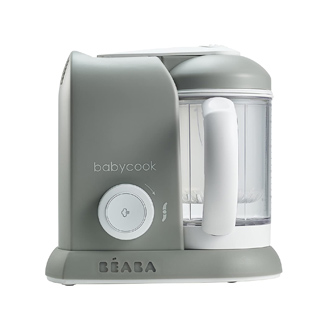 Why it's great: This baby food maker prepares not only fruits and vegetables, but meat or fish! This product is great for any stage baby and toddler food and prepares in just 15 minutes. It also comes with a recipe booklet!
Keep in mind: To avoid mold leave the lid open after you finish using it. All the water will evaporate out of the reservoir and the leftover humidity will dry out overnight.
Good for: those looking to prepare pureed meats or fish in addition to the traditional fruits and vegetables.
---
FAQs about Blenders to Make Baby Food
---
1. Why should I make my own baby food?
Making your own baby food is not always an easy decision. It requires extra time to make and prepare the food, plus clean the appliance. However, instead of spending $1 or more on one serving of food, if you are willing to put in the extra work, it will help you save a lot of money. It can also be helpful for peace of mind for you as a parent. You get to know exactly what is going into your baby's body!
---
2. Why get a baby blender instead of just using a regular size blender?
Although it is possible to use a regular size blender there are advantages to purchasing a blender specifically for baby food. First, it is better for making food in small amounts. Babies really do not eat much, especially when they are first introduced to solids. Furthermore, it allows baby to have their own blender which keeps baby away from any extra chemicals that might be put into your regular blender. However, the biggest advantage by far is that since these products are designed specifically for babies' needs, they give a better texture to the foods. Regular blenders often leave large lumps in the purees. However, if your budget is constricting and you are not able to purchase a baby food maker, a regular blender will still work!
---
3. Do I need a baby food maker that has multiple functions?
This is up to you! Some parents don't mind doing the steaming on the stove, but others like the convenience of one appliance to do it all. Most of the decisions will depend on how much time you are willing to spend preparing the food and how much money you are willing to spend on a baby food maker.
---
4. How long does homemade baby food last?
Homemade baby food will last about a week when kept in the refrigerator. However, baby food can be stored in the freezer for up to 3 months! Have a free weekend? Make bulk amounts of baby food and save time later! Like I mentioned before, babies do not eat much in a serving so consider putting food in an ice tray and pop them in the freezer. Then, you can defrost them by putting them in the refrigerator the night before and it's ready to serve when you need it!
---
5. What types of foods work in a baby food maker?
This depends on what baby food maker you purchase. Some are strictly for fruits and vegetables, while others have additional blades or features that allow for milling oats or pureeing meats!
Conclusion
---
Starting solids is quite the adventure, but boy is it fun. It is a great joy to watch your child explore new textures and flavors! Although this process can seem overwhelming, it does not have to be! Making your own baby food takes the guesswork out of what to buy. Some blenders come with a recipe book that make meal prepping and cooking a breeze! Even though purchasing a baby food maker is not essential, per se, if it fits your budget, it is a must-have!
You may also like our other product reviews…
Baby Bath Mats | Baby Blocks | Baby Bottle Cooler Bags | Baby Bottle Dish Soap | Baby Bowls | Baby Car Mirrors | Baby Car Window Shades | Baby Carriers for Men | Baby Dolls for 1-Year-Olds | Baby First Aid Kits | Baby Food Storage Containers | Baby Grooming Kits | Baby Memory Books | Baby Nail Files | Baby Oils | Mittens | Mobiles | Moccasins | Moisturizers for Baby Hair | Musical Toys | Nail Clippers | Pillow for Baby Flat Head | Play Fences | Retractable Baby Gates | Reusable Baby Food Pouches | Rugs for Baby Nursery | Scales | Sink Tubs | Spoons For Self-feeding | Stuffed Animals for Baby to Sleep With | Toothbrushes |