Updated on March 22, 2021 by Lyric Fergusson
Blenders are a must-have appliance that make meal prepping and planning more efficient and more fun. Even if you're not looking to spend a lot of money, there are many name-brand models on the market that have a high-quality design and fancy features. So whether you're looking to make a post-workout protein smoothie or the perfect margarita for an at-home happy hour, here are the seven best blenders for under $100.
Best Blenders Under $100
---
(Easiest to use)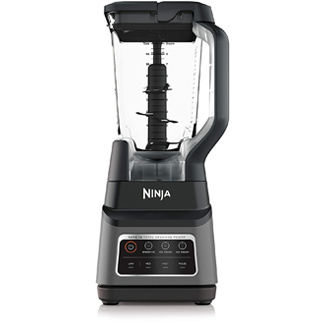 Why it's great: This blender, by leading industry brand Ninja, comes with Auto-iQ technology and boasts 1400 watts of blending power. The Auto-iQ feature includes three preset program options to create smoothies, frozen drinks, and even ice cream with the simple touch of a button. The sleek modern design of this blender will look great on your countertop while the 64-ounce pitcher ensures that you'll be able to make recipes to feed the whole family. Customers praise this blender for how easy it is to use as well as its impressive blending power.
Keep in mind: Some customers report that the plastic pitcher is not as durable as other models.
Good for: The customer looking for a blender to make smoothies as this blender has the blending power to crush ice and frozen fruits and veggies.
---
(Easiest to clean)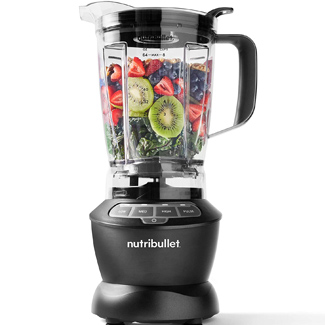 Why it's great: This Nutribullet blender offers multiple speed options to blend recipes quickly and precisely. With three speed settings as well as a pulse function, you're able to easily control the consistency of your concoction. Powerful stainless-steel blades and an extremely durable, vented 64-ounce pitcher also contribute to this blender's high-functioning design. Clean-up has never been easier when all you have to do is put the pitcher in the dishwasher as all materials are dishwasher safe!
Keep in mind: Some customers report that parts will have to be replaced every so often to keep the blender running smoothly.
Good for: The customer who wants to make something hot, like soups, as this blender's pitcher is vented and extremely durable.
---
(Best blending power)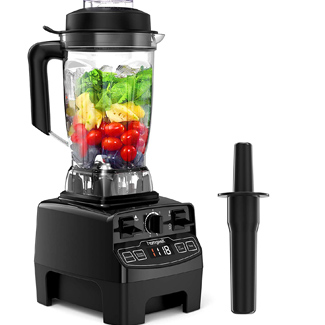 Why it's great: This blender, by homgeek, boasts the ability to break down more than 90% of the cell wall of ingredients with its 1450 watts of power. With such intense blending power, this blender will maximize the extraction of nutrients and vitamins from food and crush ice and frozen foods in seconds. This blender has eight adjustable speeds and four preset programs, which include options to make smoothies, ice cream, homemade baby food, nut butter and soups. A self-cleaning option makes clean-up hassle-free.
Keep in mind: Some customers report that this blender is loud while running.
Good for: The customer looking for versatility as this blender has lots of different speeds and programs.
---
(Easiest to assemble)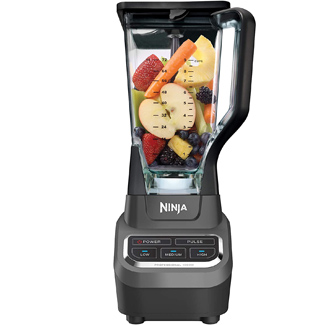 Why it's great: This blender, also by Ninja, has 1000 watts of professional power and a 72-ounce pitcher to accommodate large recipes. With four manual speeds and four automatic programs, this blender is perfect for crushing, blending, pureeing and processing your ingredients. Its 6-blade assembly lends to its speed and power while its lid locks into place to prevent spillage. Customers praise this blender for how easy it is to assemble and clean.
Keep in mind: Some customers report that the pitcher leaks, but there is a one-year warranty included with this product.
Good for: The customer looking to make big batches of a recipe as this blender comes with a 72-ounce pitcher.
---
(Most versatility)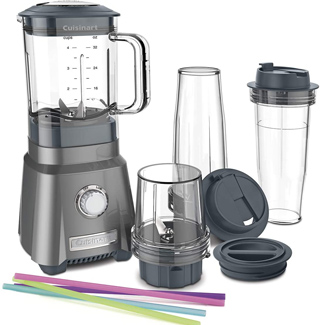 Why it's great: This Cuisinart blender isn't just a blender, but a juicer, too! With a 1+ Peak HP motor, this blender can break down fruits and vegetables as well as mince herbs and spices. This blender also comes with a lot of extra accessories, including a 32-ounce jar, a 16-ounce double-wall travel cup, a 16-ounce single-wall travel cup, an 8-ounce chopper cup, and four heavy-duty reusable straws. This blender has an easy rotary dial control which allows you to control the speed settings and activate a pulse function so that you can make all your favorite recipes with one appliance!
Keep in mind: Some customers report issues with the motor but there is a 3-year warranty included with this product.
Good for: The customer looking to make juices with their blender as well as other recipes.
---
(Highest quality)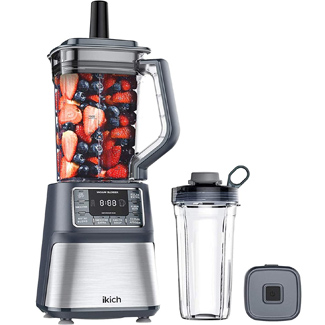 Why it's great: This blender uses Vacuum Anti-Oxygen technology to increase the amount of vitamin C and antioxidants that are extracted from your ingredients. This technology not only promotes freshness but also increases the nutritional quality of all your recipes. This blender features several preset programs with a one-touch button control as well as speed and time settings so that your recipes come out perfectly every time. With eight titanium stainless steel blades and 1000 watts of power, this blender can pulverize even the toughest ingredients into a smooth and velvety consistency. This blender has a self-cleaning function and comes with a 25-ounce portable sports cup for maximum convenience and utility.
Keep in mind: Some customers report that it takes a little finagling to get the pitcher locked into the blender base for use.
Good for: Making baby purees as this blender has preset programs that are easy to use and excellent blending power.
---
(Best value)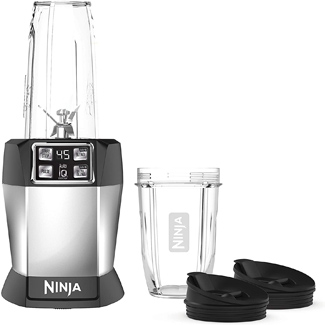 Why it's great: This Ninja blender features Pro extractor blades, a 1000-watt motor and Auto-iQ technology for a superior blending experience. This blender is compact, perfect for smaller countertops, and comes with two cups, one 24-ounce cup and one 18-ounce cup, as well as two sip & seal lids for easy transport. With two preset programs as well as a pulse function, this blender is praised for its versatility as well as its convenience. Customers are also quick to point out that this blender is worth way more than its low price tag.
Keep in mind: Some customers report that this blender is very loud when in use.
Good for: The on-the-go customer as this blender makes recipes directly into a to-go container.
---
FAQ's about Blenders
---
1. What are things to consider when buying a new blender?
Aside from budget, there are several other important factors to consider when purchasing a blender. Depending on what you're planning to make with your blender, you'll want to choose something with the right amount of blending power and durability. Speed and program options can also make a difference in what kinds of recipes and ingredients you can make with your blender. Lastly, make sure your blender will fit on your countertop. Some models can be too large to fit under cabinets while others have more compact measurements.
---
2. What safety features should i look for when buying a new blender?
There are a few safety features worth looking into when buying a new blender. You'll want to check to make sure that your blender is made with BPA free materials to avoid any unnecessary chemicals seeping into your food and drinks. You'll also want to take a look at a blender's locking features, which ensure that pitchers and lids latch into place during use to prevent accidents.
---
3. How much motor wattage do i need?
There are a lot of blenders that advertise a high number of watts for motor power. 500 watts is considered enough to chop and puree most foods effectively. A blender with 800 watts of power will easily be able to blend a smoothie without leaving any chunks and anything above 1000 watts is a good choice for more robust foods, like coffee beans or frozen foods.
---
4. What's the difference between a blender and a food processor?
A food processor is intended for cutting, chopping, and dicing foods but a blender will blend something into a smoother consistency. Blenders typically have more horsepower, which means their blades can spin faster, crushing foods more quickly and easily. Most blenders also have a pulse option, which allows you to use your blender like a food processor.
---
5. What are some common pre-programmed functions on blenders?
Some blenders come with pre-programmed features, such as ice crush, puree, liquify, pulse, and grind. Some preset program options even include types of recipes, such as smoothies or baby food specifically. Having a pre-program option can make your life much easier as you don't have to constantly check to determine when your recipe is the perfect consistency.
---
6. What are some examples of things that i can make with a blender?
Blenders aren't just for making smoothies! You can also make other frozen drinks, such as milkshakes and margaritas as well as soups, salsas, and baby purees. Blenders can also be used to help chop ingredients, grind coffee beans, and stir recipes to completion.
Conclusion
---
Whether you're someone who likes to start their day with a fresh smoothie or you crave creamy soups on a cold winter day, having the right blender is the first crucial step to any blending recipe. Fortunately, there are many great affordable options for blenders on the market and you don't have to skimp on the fun features just to save money. Pre-programmable controls, industrial blades, and interchangeable containers are just some of the ways you can enhance your kitchen experience with a new blender. No matter which model you choose or what recipe you're studying, a new blender will ensure many delicious adventures in your future.
You may also like our other product reviews…
Air Fryers Under $100 | Blenders for Green Smoothies | Chef Knives Under $100 | Coffee Makers with a Grinder | Commercial Shaved Ice Machines | Crepe Pans | Espresso Machines Under $100 | Espresso Machines Under $200 | Espresso Machines Under $500 | Juicers Under $100 | Knife Sets Under $200 | Omelette Pans | Onion Choppers | Pizza Peels | Silicone Baking Mats | Silicone Cooking Utensils | Teapots with Infuser | Toaster Ovens Under $100 |