Updated on by Lyric Fergusson
Maybe you like to listen to music or podcasts while you work, while you wash dishes, while you shower. Or, perhaps, you're looking for a speaker to play music for parties and get-togethers. Maybe you just like to dance when no one is watching? Bluetooth speakers are a must if you're a fan of having quality sound playing around you and you want more than just the sound of your phone speaker.
Below, we have compiled a list of the 11 best Bluetooth speakers available on Amazon for under $200 and we have broken them down based on their unique features so that you can narrow down which product will fit your needs.
Best Bluetooth Speakers Under $200
---
(Highest rated)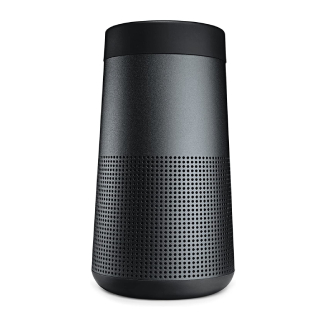 Why it's great: This portable Bluetooth speaker from Bose, a long-trusted brand for quality sound, offers a 360 degree design. This means that your sound has 360-degree coverage, feeling deeper, louder, and more immersive. This device also has a built-in microphone so that you can take your calls out loud within a range of 30 feet. The wireless Bluetooth available on this speaker also pairs with voice prompts, so that you can continue answering calls and using a virtual assistant completely hands-free. The body of the speaker is made of aluminum and is seamless in order to be both durable and water-resistant. The lithium-ion battery holds life for up to 12 hours of playtime. It's also rechargeable! Plus, you can use the Bose Connect app to connect to any other Bose Smart Home devices, which allows this speaker to pair and play in sync for a party-like mode or for more stereo/surround sound.
Keep in mind: Water-resistant does not mean waterproof. Don't throw this thing in the pool and hope it keeps playing music all day.
Good for: Those who want hands-free, wireless listening for daily tasks, including phone calls.
---
(Most durable)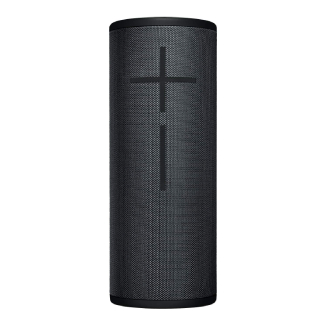 Why it's great: The Megaboom speaker is military-grade and comes in multiple colors (black, blue, red, jungle grey, and an Amazon Exclusive Dusk). When the listing says "military grade", they mean dustproof, drop-proof, durable, and portable. This device is waterproof and it floats, making it a great addition to any pool or beach party. The Ultimate Ears company designs with trends in mind, so each is based on current fashions and has a custom cross-dyed fabric. Its One-Touch design means exactly that: Use the Magic Button to control music and access playlists with one touch.
Keep in mind: The Amazon exclusive color is currently priced below the manufacturer's, so that is a great option if you're looking for a deal.
Good for: Those whose parties might get a little rough and need to be ready for heavier wear and tear. Or, perhaps, those looking for a durable device for music on beach trips, at pool parties, etc.
---
(Best quality)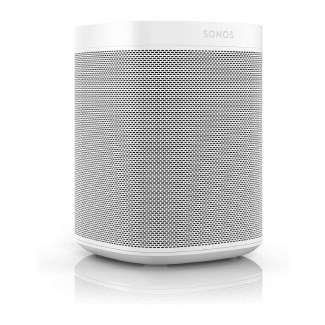 Why it's great: Available in both black and white, this Generation 2 Smart Speaker from Sonos has Alexa built right in. With this device, you can control it with either Alexa, the Sonos app, Apple AirPlay2, and more. With Alexa built-in, you can do more than listen to music hands-free. You can easily access the news updates, set alarms, ask questions and have them answered, etc. And, of course, Sonos is another trusted brand for quality sound. It is compact and sleek, perfectly designed to fit in any space.
Keep in mind: Alexa is an Amazon voice assistant, so she won't be available if you don't already have that service.
Good for: Those with Amazon Alexa looking for a higher quality sound from a Bluetooth speaker.
---
(Most modern)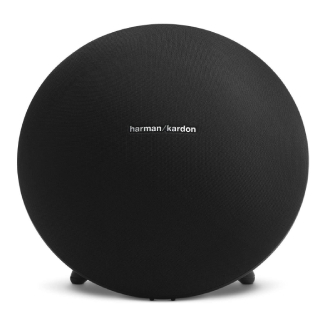 Why it's great: This Bluetooth speaker from Harman Kardon is wireless and comes in a new, modern model. It is available in both black and blue, allows you to connect two smart devices at the same time, and even takes turns playing music. Both Siri and Google are accessible with the simple push of a button. It is made with a high-quality fabric and finishing to look as chic and iconic as the sound quality. This listing is for the Onyx Studio 4, which has a higher sound quality than the Onyx 3 model. The battery life lasts for about 8 hours of playing time and can be played while plugged in.
Keep in mind: In order to access the one-year warranty, make sure to register your device at the link provided. This will help if any harm were to come to your speaker after you've invested in it and brought it home.
Good for: Those looking for room-filling music with call-answering capabilities and both Siri and Google.
---
(Best set)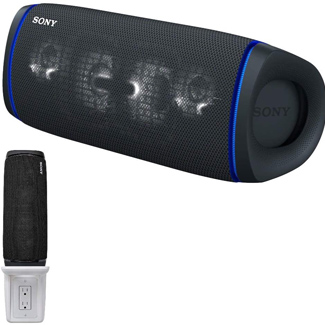 Why it's great: This Sony speaker is Bluetooth compatible, wireless, and has all of the Sony quality in one tiny speaker. It gives you the sound quality you're used to in much bigger Sony products, including extra bass. It even includes a dedicated tweeter to handle higher-pitched sounds. It has a long battery life of up to 24 hours of continuous play. Plus, it's dustproof, waterproof, and rustproof for maximum durability. This speaker also comes with an outlet wall shelf. This is a great place to store your speaker and it also has cable management for long cords.
Keep in mind: There's also a case for this speaker, but you'll have to purchase it separately.
Good for: Those looking for a portable speaker, but also want somewhere designated to set it when not in use.
---
(Best budget option)
Why it's great: While this portable Bluetooth speaker is smaller than any of the other options, it still packs a punch. If you want a great portable speaker, but don't have a lot to spend, this one is a perfect choice. It comes in a variety of colors to easily match your style. Plus, it has a clip and can be attached to your belt loop, backpack, or anything else, making it super portable and easy to carry around wherever you go. It's also fully waterproof and can be completely immersed underwater. You can even use it as a speakerphone option, as it will connect to your phone.
Keep in mind: This one only has about 10 hours of playtime between charges.
Good for: Those that want a speaker with maximum portability for hiking, biking, or any other activity.
---
(Most versatile)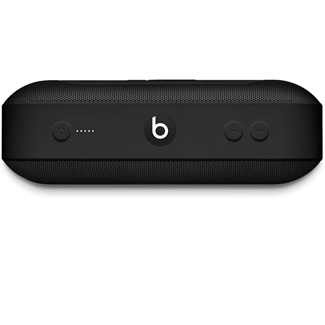 Why it's great: This speaker connects to Bluetooth and easily pairs with pretty much any device, from Android to iOS. It can also pair with other Beats Pill+ speakers for double the sound or a surround sound effect. It has a built-in microphone so you can easily use it for phone calls. Plus, the interface is simple and easy for anyone to use. This speaker can run continuously for up to 12 hours and you can even use it to charge your iPhone or any other device that charges with a lightning cable. It also turns itself off after around 10 minutes of non-use to save power.
Keep in mind: This one is not waterproof or water resistant at all.
Good for: Those that need a speaker that they can use in various ways, like as a charger for their phone.
---
(Most color options)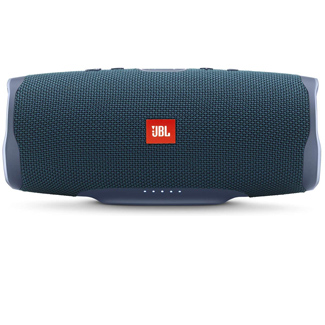 Why it's great: If you're looking for a great Bluetooth speaker, but also want a little spice in your life, this option might just be for you. This listing comes in so many color options – including black, camo, blue, black camo, gray, green, sand, pink, red, teal, white, and yellow. You'll be able to match this to any room decor or personality. This speaker from JBL allows you to connect 2 smartphones or tablets and gives the users the ability to take turns. The battery life of this one supports up to 20 hours of playing time! Did we mention it's waterproof? Perfect for accidental tumbles into the pool or a play day at the beach. Believe it or not, this speaker has the highest rating of any on our list – but all of the others have great ratings, too.
Keep in mind: According to this listing, the JBL Charge 4 does not include a USB wall adapter, though many people tend to have those lying around nowadays.
Good for: Those looking for a great speaker, but with more personality!
---
(Most fun)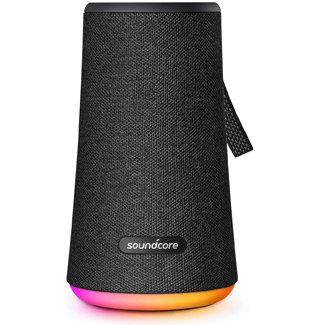 Why it's great: This speaker boasts 360 degree sound and utilizes two drivers, a tweeter, and passive radiators to create those acoustics. It's Bluetooth compatible and can play continuously for up to 20 hours. Plus, it has a built-in USB port so you can charge your phone to keep the music playing. The controls are simple to use, but you can also download the Soundcore App and control everything from there! The thing that sets this speaker apart from the others is the ambiance it creates. The halo of LEDs at the base illuminate the room and can be customized or synced to the music.
Keep in mind: The volume on this speaker doesn't get quite as loud as most of the other options.
Good for: Those that like a light show with their music.
---
(Best value)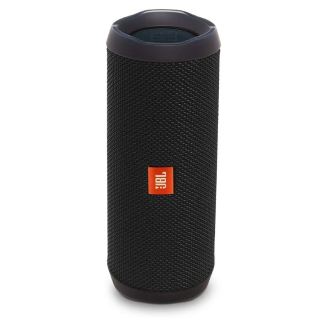 Why it's great: This portable Bluetooth speaker from JBL is a popular purchase for anyone looking for a waterproof speaker. It can be completely submerged in water and it still runs perfectly afterwards. Right now, it's available for under $100 on Amazon! The average battery life of this rechargeable device is up to 12 hours of playing time. This device can wirelessly connect to 2 smartphones or tablets, allow for Bluetooth streaming, and also connect to your Voice Assistant. Even better: this version comes in multiple colors and patterns: black, blue, grey, ocean blue, red, camouflage, white, teal, etc.
Keep in mind: While this one is waterproof and can be submerged, it's best not to keep it in the water for too long.
Good for: Those looking for a waterproof speaker that can be completely submerged in water and still keep right on playing! Perfect for pool parties.
---
(Most accessible)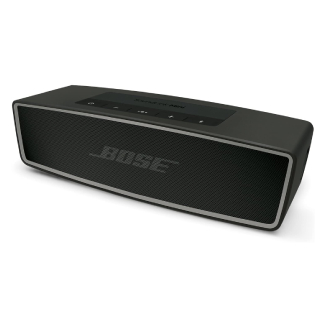 Why it's great: Again, with Bose, you know you're getting quality sound from a trusted brand. This speaker has a big sound with a deep bass setting possible. The battery life gives you an average of about 10 hours of playing time. This one includes the ability to answer calls out loud through your speaker. This is not only wireless but compact enough to be taken with you anywhere. The set includes the speaker, a wall charger, cable, and a charging cradle so that your speaker always has a designated place on the shelf. It also comes in two different colors, carbon or pearl.
Keep in mind: Bose says that certain devices might not support every function offered and to check their user manual for descriptions of these possible issues.
Good for: Those who are worried they won't know how to set it up properly. This speaker gives voice prompts to help you connect to Bluetooth with ease.
---
FAQs about bluetooth speakers (under $200)
---
1. How does Bluetooth work with a speaker?
Wireless speakers receive sound Wirelessly through Bluetooth, in a similar fashion to how Wi-Fi is received.
---
2. What should I look for when buying a Bluetooth speaker?
Some things to consider before buying a Bluetooth speaker really depend on your personal preferences: the range of the wireless connection and setup, how long the battery life lasts, the durability and/or waterproof nature of the unit itself, whether you want sound control on bass, etc., its portability, its volume levels, and the quality of the sound itself.
---
3. Are Bluetooth speakers in stereo?
No, most Bluetooth devices are monophonic.
---
4. How do you charge the batteries on a Bluetooth speaker?
On most Bluetooth devices, you simply plug into both the USB port on the device and the wall outlet, just like you would a Smartphone.
---
5. Do all Bluetooth speakers plug directly into any TV?
Bluetooth usually doesn't require a plug. If you're looking for something that connects to your TV, try searching for a soundbar.
---
6. Can I disable alerts on my Bluetooth speaker so that I can enjoy uninterrupted music and sound?
The short answer is yes. Each device offers the ability to remove notifications and alerts, but you'd have to check individual listings and manuals for just how to do so. Also, many times you can simply turn off notifications on your device. With Apple, it's as simple as hitting that "Do Not Disturb" feature.
---
Conclusion
---
Bluetooth speakers come in handy for a variety of reasons: music in the home while washing dishes and folding laundry, music while you shower to drown out your off-key singing, sound while you work from your desk, listening options at the party you're hosting, music at the beach or pool, etc. While there are many options on the market for buying Bluetooth speakers of varying sizes and qualities, the above list is made for those who are ready for a more serious, room-filling sound range and quality. Once you've decided what is important to you, it will be easier for you to make your selection: With which device are you hoping to connect? Where will your speaker be taken and enjoyed? Is color and design of importance to you? What about battery life, range of Bluetooth connectivity, or stereo capabilities? Here's hoping that the above list helps you on your journey to narrowing down your available options, all on Amazon and all for under $200.
You may also like our other product reviews…
Ceiling Speakers | Computer Speakers Under $50 | Computer Speakers Under $100 | Digital Cameras Under $1000 | Gaming Chairs Under $100 | Gaming Keyboards Under $50 | Gaming Keyboards Under $100 | Gaming Mouse Devices Under $50 | Graphics Cards Under $100 | Guitars Under $500 | Headphones Under $200 | Headphones under $300 | Headphones under $500 | In-Wall Speakers | Laptops Under $700 | Luggage Sets Under $50 | Mechanical Keyboards Under $50 | Noise Cancelling Headphones Under $50 | Noise Cancelling Headphones Under $200 | Office Chairs Under $200 | Office Chairs Under $300 | Party Speakers | Point and Shoot Cameras Under $100 | Point and Shoot Cameras Under $300 | Portable Record Players | Projectors Under $200 |