Updated on March 18, 2021 by Lyric Fergusson
During pregnancy, your body goes through changes a-plenty. Believe it or not, your skin is your body's largest organ and it deserves some love, attention, and nourishment, especially during pregnancy when everything is changing. Many women experience acne, skin texture changes, dryness and itchiness, and- of course- stretching. What you use in the shower to cleanse and moisturize your skin might become even more important to you than before.
Below, we have compiled a list of the 7 of our favorite body washes for pregnancy, as well as information about each one to help you decide which will best suit your changing body.
Best Body Washes for Pregnancy
---
(Best value — $)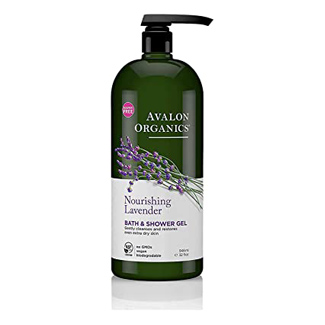 Why it's great: This body wash from Avalon Organics contains aloe, plant proteins, and non-drying botanical cleansers that allow your skin to be purified while also replenishing skin with its natural moisture. The soothing lavender scent is an added bonus. You might find yourself jumping in the shower before bed just to begin relaxing and calming yourself for the restless nights that often accompany the different trimesters. Avalon Organics products are all vegan and cruelty-free and are certified both NSF and USDA Organic.
Keep in mind: The lavender scent doesn't linger long after the shower, which might be disappointing to some, but many pregnant women will welcome a product that doesn't leave their sensitive snout tingling for too long.
Good for: Moms-to-be experiencing dry skin and the problems that go along with it.
---
(Natural — $$)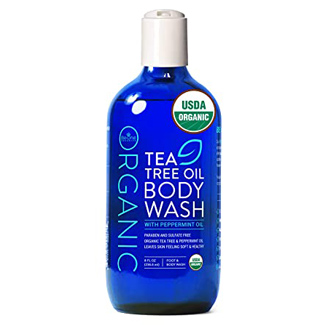 Why it's great: This product from be-One Organics is great for all skin types, but definitely sheds some light on those with skin-related issues and concerns like acne and eczema. The combination of organic tea tree oil and organic peppermint oil undoubtedly leaves you feeling refreshed and like new! This product is free of sulfates and parabens, is never tested on animals, has 95% organic ingredients, and has zero synthetic fragrances and artificial dyes. Consumers report that this product does not leave skin tingling, but does have a cooling sensation that most find pleasant.
Keep in mind: The scent is strong with this one, so make sure you are out of the phase where your pregnancy nose seems to want to punish you.
Good for: Moms-to-be (and their partners!) with sensitive skin, acne, eczema, etc.
---
(Most variety — $)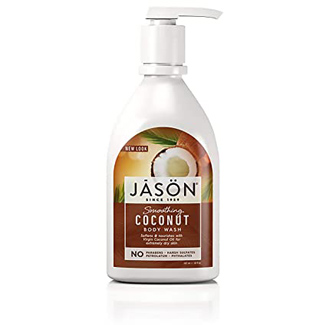 Why it's great: On this Amazon listing alone, there are NINE variations of this product through which to sift and choose, so if one scent or ingredient doesn't strike your fancy, see what else they have to offer. The coconut body wash is rich in Vitamin E with added shea butter to leave your skin feeling soft and smooth. This product is not tested on animals and is free of parabens and harsh sulfates. The name "Jason" means "healer" in Greek, and that's just what this company aims to do: They have tried to bottle their California, care-free attitude by making products that customers can trust.
Keep in mind: The listing says that there are no sulfates, but there is an added foaming ingredient.
Good for: Moms-to-be who are experiencing extremely dry skin.
---
(Great value — $)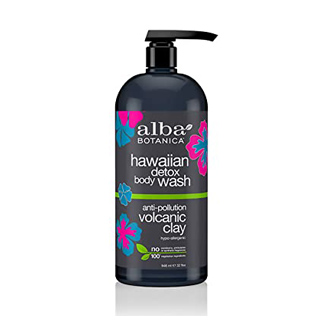 Why it's great: This bright and clean body wash from Alba Botanica will have your skin glowing with gratitude because it is uniquely made with volcanic clay. Volcanic clay helps to attract and absorb dirt and oils, while added tropical fruit acids help to increase skin's glow. The scent is a Hawaiian mix of citrus, coconut, aloe, ginger, and orange and is attained without the addition of any synthetic fragrances. It is cruelty-free, 100% vegetarian, and free of parabens. The company motto is "Do Beautiful"- and they mean to do beautiful to your skin, your life, your soul, and even the environment. Many reviewers love the feel of their skin after a wash and especially enjoy the light scent.
Keep in mind: This product is a detoxifying product, which might mean it is a good idea to not use it every day due to the possibility of drying effects. Perhaps start out by using it a few times a week on days when you feel especially grimy after a sweaty workout.
Good for: Moms-to-be who are looking for a guilt-free, deep clean with a refreshing scent.
---
(Highest rated — $)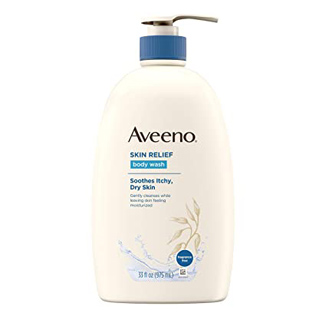 Why it's great: Aveeno is a trusted and loved brand for a reason; This product offers a gentle clean, removing dirt and bacteria, while also soothing dry and itchy skin. The formula is enriched with oats to help nourish the skin like an old-fashioned oat bath. It doesn't disrupt the natural oil and moisture barrier of your skin, leaving behind only smooth, healthy, and itch-free skin. It is allergy-tested, soap-free, and free of dyes. A few reviewers even noted that this product helped with eczema and other skin conditions!
Keep in mind: This body wash is unscented which is perfect for transitioning to skin-to-skin with your new little one!
Good for: Moms-to-be with sensitive skin.
---
(Most variety — $$)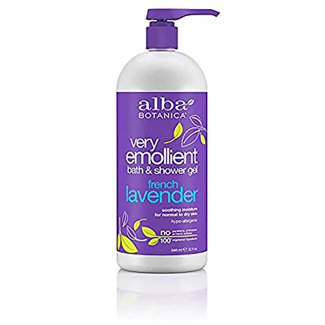 Why it's great: Again, with products from Alba Botanica, this product is made with 100% vegetarian ingredients, no parabens, no harsh sulfates, and no animal testing. This particular listing is for a French lavender-scented body wash, which might be a perfect addition to your bedtime routine to aid in getting some of the much-needed rest that your hormones might be taking away from you. While this product is "very emollient", it also is enriched with coconut oil to keep moisture in your skin. This is made with botanical extracts like lavender, aloe leaf juice, lemon balm, and chamomile.
Keep in mind: This product claims to be sulfate-free, but there is a foaming ingredient listed.
Good for: Moms-to-be with dry to normal skin.
---
(Highest quality — $$$)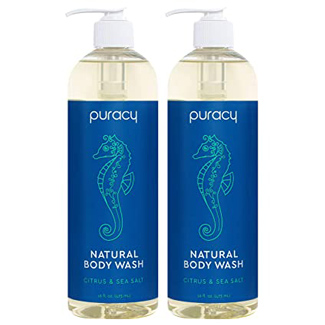 Why it's great: 10+ million people are customers of Puracy and love the award-winning, plant-powered products, ranging from personal care to baby care, and even to household cleaning products. This body wash is scented with citrus and sea salt, perfect for anyone. Gentle enough to be used daily, this wash is for all skin types. Its ingredients are 99.3% plants with vegan cleansers for foaming action, fruit and veg moisturizers to help hydrate, and sea salt to purify and balance. With this product, you can even help the environment because the bottles are refillable!
Keep in mind: While this listing is the most expensive, it is because you receive two bottles rather than one!
Good for: Moms-to-be with any skin type. Also, this one is sharable with the men in your life because the scent is light and natural, not at all fruity or floral.
---
FAQs about body washes during pregnancy
---
1. Is body wash safe during pregnancy?
Short answer: yes! Your skin may be extra sensitive when you're pregnant and you will certainly notice some dry and possibly itchy skin, so make sure to look for body washes that will nourish and moisturize as well as cleanse.
---
2. Can I use a body wash with a scrubbing ingredient in it?
Because your skin is extra sensitive, body scrubs might not be the best thing during pregnancy. Exfoliants can actually cause micro-tears in the surface of the skin and that can increase chemical absorption. It might be better to just go for a loofah or soft washcloth to help scrub away dead skin cells without causing added harm.
---
3. Can body washes be used on sensitive female areas?
Remember that the feminine areas of the body really don't require deep cleaning and most products do not belong there. Clean well with water. If any product does get in or around that area, try to aim for scent-free and sensitive skin products.
---
4. Can I use scented body wash while pregnant?
Yes, of course! If your nose can handle it without inducing pregnancy-related nausea, go for it. However, it is important to remember that after your baby is born, skin-to-skin contact will be essential and fragrances are not ideal for the skin of your little ones. So, you may find you want to be ready to switch to unscented or a scent that is light and made from natural ingredients.
---
5. What if I already have a skin condition?
Many of the products above claim to help with various skin conditions, but it is important to remember that every person is different and your skin may react differently than others. Unfortunately, you'll just have to try it and see. Look for products that offer refunds and guarantees if you find yourself unsatisfied!
Conclusion
---
Pregnancy is a beautiful thing, but many of the varying symptoms throughout those long nine months leave much to be desired. Caring for your skin whilst pregnant is essential as it is one of the many organs in your body experiencing some serious changes. You may find yourself having hormonal breakouts, dry and itchy skin, skin that's tight from stretching, etc. Or, perhaps, you're one of the lucky ones and things are running smoothly. If that's the case, you just may be looking for products that are more naturally-based to prepare for your baby's arrival. Whatever the case may be, we hope the above list helps you on your journey to skincare that leaves your whole body feeling clean and happy. Let's hope this eases one of your worries on this journey.
You may also like our other product reviews…
Breast Pump for Twins | Compression Socks for Pregnancy | Maternity Bras | Maternity Jeans | Maternity Leggings | Maternity Pajamas | Maternity Pants | Maternity Support Belts | Maternity Tights | Maternity Work Pants | Maternity Workout Clothes | Nipple Shields and Balm | Postpartum Pads | Pregnancy Journals | Pregnancy Underwear | Probiotics for Pregnancy | Shampoo for Pregnancy | Shoes for Pregnancy |