Updated on by Lyric Fergusson
If you're stuck at home more than usual these days, now is the time to invest in the little things that will make your home more enjoyable. Bookshelf speakers are an easy way to enhance your time at home. For audiophiles on a budget, there's never been a better time to find the perfect bookshelf speakers for under $200.
If you're looking for crisp highs without harshness, well-balanced and pronounced mids, and a deep, smooth low end to round it all out, check out this list of best bookshelf speakers for under $200.

Best Bookshelf Speakers Under $200
---
(Best woofers — $$)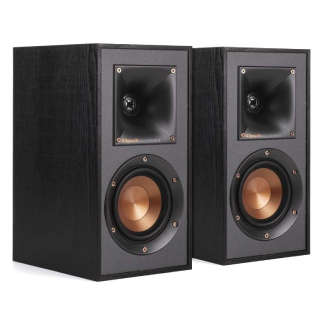 Why it's great: The Klipsch R-41M speakers are full of advanced manufacturing features in comparison to most in their class and price level. The vented tweeter housing will reduce standing waves that create unwanted harmonics, rendering only the best versions of your favorite songs.
The dedicated 4″ woofer is copper spun injection-molded graphite, which handles remarkably well with minimal distortion. With the LTS tweeter and progressive crossover technology, these speakers offer impressive audio for their class.
Keep in mind: If you're looking for volume, consider purchasing an amplifier to accompany these.
Good for: A new audiophile on a budget.
---
(Best bass — $$)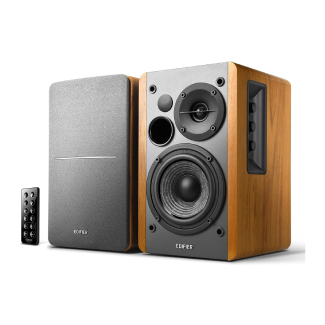 Why it's great: Wood composition is always better for bass in a speaker cabinet. These speakers have multiple connections and allow for simultaneous use.
The R1280T set from Edifier is packed with some pretty premium design features given their price-tag. They are a well-constructed and powered speaker set. The active speaker has a layout of a combination of drivers, connections, and controls. The enclosure features a bass reflex port calculated accurately by the folks at Edifier to provide optimal bass, completely free of distortion.
Keep in mind: These speakers come in black or wood grain.
Good for: Listeners looking for clear sound and good bass.
---
(Most durable — $)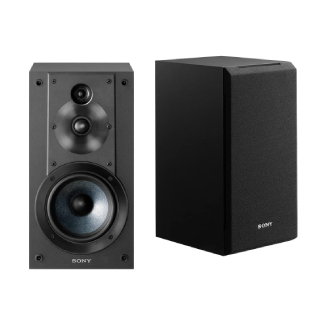 Why it's great: The MRC woofer cones are incredibly sturdy. The cellular nature means they will not decline as quickly as a paper cone model. This new set features some significant improvements.
The woofer boosts low-end frequencies, the tweeter, and the newly incorporated super-tweeter have an extensive directional radius. The speakers feature optimized crossover components, and with these upgrades, the audio is more precise than ever before. They are ported and constructed solely from wood to dampen unwanted vibrations.
Keep in mind: This smoothly pairs with Sony's home theater system.
Good for: Boosting the sound on your home theater system.
---
(Great for streaming from your phone — $$$)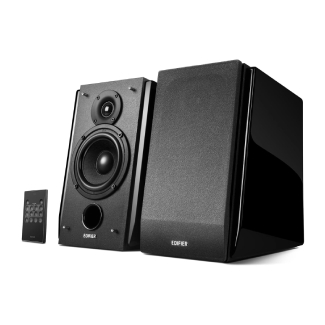 Why it's great: The R1850DBs offer great circuitry and high-quality components for any budget. They have the added bonus of benefitting from tech advances other Edifier speakers rely on. They're an excellent cheap speaker set.
These speakers are housed within an MDF frame. The woofers on this model produce a quality sound and rapid execution. The bass vibrates any room it occupies. The additional subwoofer output allows you to add a subwoofer to transform this model from a 2.0 system to a 2.1 system.
Keep in mind: The remote needs to be in close range for these.
Good for: Listeners who love a powerful bass.
---
(High performance tweeter — $$$)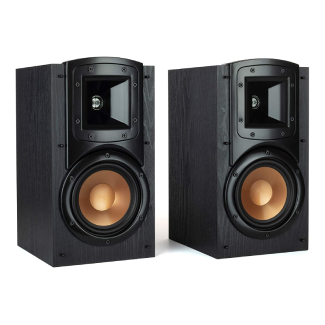 Why it's great: These speakers expel perfectly balance high fidelity room-filling sound without sacrificing the aesthetics. You can get a beautiful set with stunning sound to match their charm and all for an unbeatable price.
These are small enough to fit just about anywhere and powerful enough to engulf a room with mind-blowing sound, the Klipsch Synergy Black B-200 bookshelf speakers offer users a full-throttle sound experience. The tweeter is decoupled from the baffles resulting in less risk of interference. They incorporate a point to point bracing system, which helps keep the enclosure noise-free for a more accurate sound.
Keep in mind: This interface easily with other speaker systems.
Good for: Movie buffs with an eye for style.
---
(Most compact — $)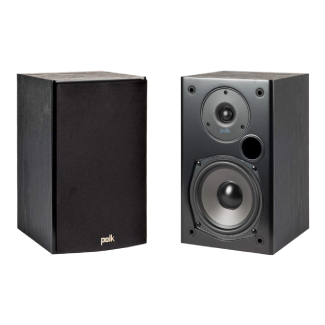 Why it's great: They are perhaps some of the best sounding bookshelf speakers available, with models matching their definition typically costing much more.
The Polk T15 speakers are as versatile as they come, bringing incredible home theater sound and concert-quality music, all in a classic look. Polk recently added a proprietary 1-inch ring radiator tweeter, adding pristine detail for realistic imaging.
Keep in mind: The bass can lack punch without an amplifier.
Good for: Rears speakers for a surround sound system.
---
(Most stylish — $$$)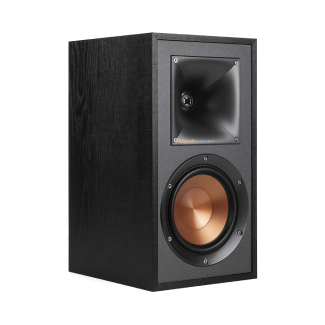 Why it's great: It's hard to compete with the stylish wood aesthetic these speakers offer. The sound also makes these speakers worth the price.
Leveraging a 1″ aluminum tweeter matted to our proprietary Tractrix horn-loaded technology – the R-51M bookshelf speaker delivers incredible acoustics to fill your home with loud, crystal-clear sound and robustness. The bass pushed from this system is impressive.
Keep in mind: Adding a subwoofer significantly enhances the sound quality.
Good for: Smaller spaces, especially for a home theater.
---
FAQs about bookshelf speakers
---
1. What should I Look for in Bookshelf Speakers under $200?
Any set of bookshelf speakers priced around $200 plus should be offering up some pretty impressive audio without the top-notch features of more expensive speakers. The enclosures should be well-constructed to prevent any buzzing or distortion. The speaker should have venting to ensure bass clarity, though typically, bookshelf speakers will deal with mid-bass regions rather than extended low frequencies.
All components should be premium and high grade. The more you spend, the lower the impedance should be. With higher-end models, you will also find that many onboard features will be patented technologies born out of hours in the research and developmental phases of production.
Finally, at this price range, you should not have to compromise on style or aesthetic appeal. You may consider pairing your bookshelf speaker with a subwoofer.
---
2. Are budget bookshelf speakers worth it?
A speaker is a relatively simple device. It is a transducer that functions utilizing a magnetic field. They are not challenging to make in principle, but to enable them to deal with a wide frequency range and accurately to reproduce audio that sounds realistic is another matter entirely. So if you want bookshelf speakers, budget speakers are absolutely worth it, though I recommend spending at least $150.
Expensive speakers have a heftier price tag because they have to account for the time dedicated to the product conception. Every component on a high-end model is designed and made from parts that can do the job better than regular speakers.
Several things get in the way of producing pristine audio. By effectively combating the distortion risks on more than one front, top manufacturers manage to provide noise-free audio.
---
3. Can you get good cheap bookshelf speakers?
The electronics industry is continuously evolving, and manufacturers are always competing. The online market brings a more accessible reputation and immense pressure for speaker manufacturers to please their customers. Luckily for us, this means you can find a great deal shopping for most audio products if you know what you are looking for and understand the jargon you are looking at within the product specs. The speakers on this list have components and audio quality unmatched by many similarly priced products out there. Of course, the real audiophiles out there might want to consider parting with more capital for something a bit more polished.
---
4. What are bookshelf speakers used for?
Bookshelf speakers are designed to rest on elevated surfaces – anywhere but the floor. They're specifically designed to maximize sound in small to medium-sized spaces. They can often be paired with other surround sound components to optimize audio for a specific area.
It is important to comprehend the difference between bookshelf speakers and powered monitors. The main difference between these bookshelf speakers and powered monitors is the latter has amplification built directly into the speaker.
---
5. Are bookshelf speakers Good for TV?
A great pair of bookshelf speakers can also make great TV speakers. You will need an AV receiver to hook them up. If streaming directly from a tablet or smartphone, you will want speakers with Bluetooth capability. This is usually the more expensive option (compared to buying a soundbar) as you're purchasing both speakers and an AV receiver.
---
Conclusion
---
If you want increased audio quality but are on a budget, there has never been a better time to purchase bookshelf speakers for under $200. Because of technological advances, you will find yourself spoilt for choice. Companies are taking their production to the next level as they compete for the best seller spot. You may have to sacrifice some sound quality, but not much compared to more expensive models. You should not have to sacrifice aesthetics at all, and this list of the top 7 bookshelf speakers under $200 represents the best products on the market.