Updated on by Lyric Fergusson
If you're stuck at home more than usual these days, now is the time to invest in the little things that will make your home more enjoyable. Bookshelf speakers are an easy way to enhance your time at home. For audiophiles, high-quality bookshelf speakers are non-negotiable. However, everyone can get behind improving the audio to your favorite show or playlist.
Just because you are willing to invest a bit more doesn't mean you don't want the most bang for your buck. If you're looking for crisp highs without harshness, well-balanced and pronounced mids, and a deep, smooth low end to round it all out, check out this list of best bookshelf speakers for under $500.
Best Bookshelf Speakers Under $500
---
(Best woofers)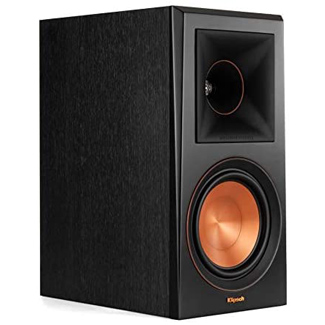 Why it's great: These speakers offer proprietary cerametallic woofers that allow for ultimate, robust bass that has the power to fill your home. The vented tweeter housing will reduce standing waves that create unwanted harmonics, rendering only the best versions of your favorite songs.
These speakers are also sleek and stylish, with copper anodized trim rings, cast aluminum feet, satin painted baffles, and a laser-etched logo. RP-600 M's are made of furniture-grade materials and will last for years.
Keep in mind: Read the manual for guidance on how to position these.
Good for: Listeners with experience installing and modifying speakers.
---
(Most clear audio)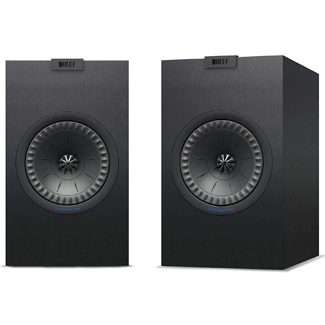 Why it's great: The enhanced Q-driver Array smooths out treble frequencies, and the reimagined crossovers provide clean, more accurate bass production that will fill a room with a deep and complex sound.
These are some of the best powered bookshelf speakers on the market and will only continue to open up and improve as the listening hours are put in. These speakers are touted for their durability.
Keep in mind: These speakers come in black, walnut, or white.
Good for: Audiophiles who want speakers to last for a while.
---
(Best value)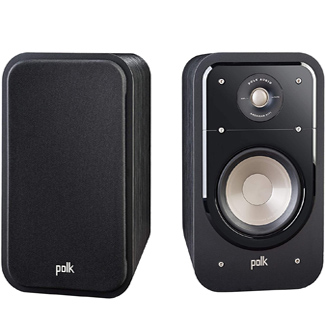 Why it's great: These speakers offer a great sound and an unbeatable price.
A Dynamic Balance designed acoustic array, precision cross-overs, an anti-diffraction magnetic grille, modern cabinet styling, and exclusive Power Port bass enhancing technology, you get elevated sound for movies, TV, and music in a totally reimagined design.
Keep in mind: This smoothly pairs with Polk's home theater system.
Good for: Professional musicians and picky audiophiles.
---
(Sturdiest design)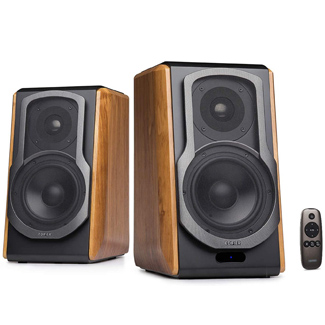 Why it's great: These speakers are larger and heavier than most others on this list, and many users argue this contributes to their durability.
These speakers have a modern look, raked back at an angle, so the dual drivers point up slightly. Matte black paint is paired with thick wood baffles with real birch veneer on the sides and a removable, shaped metallic speaker grille. They sit on gold-colored pads to elevate the speakers, reducing vibration.
Keep in mind: These are on the heavier side for speakers of this size.
Good for: Listeners who love a powerful bass.
---
(High-performance tweeter)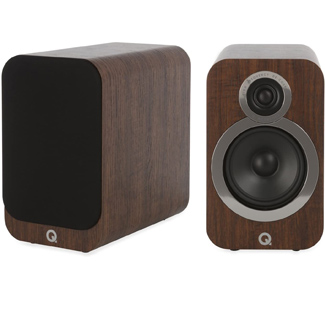 Why it's great: These speakers expel perfectly balance high fidelity room-filling sound without sacrificing the aesthetics. You can get a beautiful set in 4 different colors with stunning sound to match their charm and all for an unbeatable price.
They feature a new midbass driver and decoupled high-frequency driver with a vast surround for an extended dispersion field. The tweeter is decoupled from the baffles resulting in less risk of interference. They incorporate a point to point bracing system, which helps keep the enclosure noise-free for a more accurate sound.
Keep in mind: These speakers rarely stay in stock long; buy them while you can.
Good for: Audiophiles on a tight budget.
---
(Most stylish)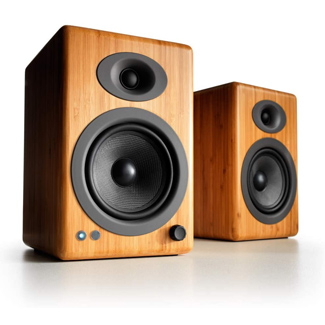 Why it's great: It's hard to compete with the stylish wood aesthetic these speakers offer, and they come in black or white.
The A5's provide a rich and full sound, even when streaming through phones. When connected to a TV or computer, these speakers will bring any music to life. It's easy to set these speakers up, and they will last you for years. They are articulate, musical, and have a nice low end for the size.
Keep in mind: If you plan to stream from your phone, select the wireless option.
Good for: Large spaces, the sound travels well with these speakers.
---
(Most compact)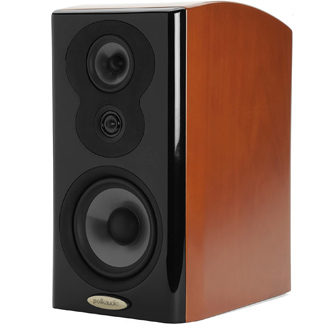 Why it's great: These speakers are lightweight and compact, but the sound is incredibly crisp. This is great for a home theater or as part of a sound system.
With a 6 1/2-inch Mid Woofer, 3 1/4-inch midrange, both lightweight, supercell Aerated polypropylene, combined with Polk's patented power port's enhanced deep musical bass response bass Venting system, The Lsim703 delivers a broad, deep, dynamic soundstage. The addition of the proprietary 1-inch ring radiator tweeter adds pinpoint detail for realistic imaging. With the groundbreaking slim Series' performance in a smaller, flexible bookshelf speaker format, The Lsim703 gives you the best of all worlds.
Keep in mind: You will want to put the rubber feet on these to avoid scratching.
Good for: Smaller spaces, especially for a home theater.
---
FAQs about bookshelf speakers
---
1. What should i look for in bookshelf speakers under $500?
Any set of bookshelf speakers priced around $500 plus should be offering up some pretty impressive audio. At this price range, there shouldn't be an issue with max volume levels. The enclosures should be well-constructed to prevent any buzzing or distortion. The speaker should have venting to ensure bass clarity, though typically, bookshelf speakers will deal with mid-bass regions rather than extended low frequencies.
All components should be premium and high grade. The more you spend, the lower the impedance should be. With higher-end models, you will also find that many onboard features will be patented technologies born out of hours in the research and developmental phases of production.
Finally, at this price range, you should not have to compromise on style or aesthetic appeal. You may consider pairing your bookshelf speaker with a subwoofer.
---
2. Are expensive bookshelf speakers worth it?
In a word, yes, with audio electronics, you get what you pay for. A speaker is a relatively simple device. It is a transducer that functions utilizing a magnetic field. They are not challenging to make in principle, but to enable them to deal with a wide frequency range and accurately to reproduce audio that sounds realistic is another matter entirely.
Expensive speakers have a heftier price tag because they have to account for the time dedicated to the product conception. Every component on a high-end model is designed and made from parts that can do the job better than regular speakers.
Several things get in the way of producing pristine audio. By effectively combating the distortion risks on more than one front, top manufacturers manage to provide noise-free audio.
---
3. How much to spend on high-quality bookshelf speakers?
You should be prepared to spend upwards of $350 for high-quality bookshelf speakers, though audiophiles will likely want to spend above $500. The majority of those we have reviewed in this article makes for a fantastic addition to most surround systems. As said above, when it comes to electronics, you get what you pay for.
---
4. What are bookshelf speakers used for?
Bookshelf speakers are meant to rest on a shelf, table, or other elevated surfaces – anywhere but the floor. They're specifically designed to maximize sound in small to medium-sized spaces. They can often be paired with other surround sound components to optimize audio for a specific area.
It is vital to understand the difference between bookshelf speakers and powered monitors. The main difference between these bookshelf speakers and powered monitors is the latter has amplification built directly into the speaker.
---
5. Are bookshelf speakers good for TV?
A great pair of bookshelf speakers can also make great TV speakers. You will need an AV receiver to hook them up. If streaming directly from a tablet or smartphone, you will want speakers with Bluetooth capability. This is usually the more expensive option (compared to buying a soundbar) as you're purchasing both speakers and an AV receiver.
Conclusion
---
If you are fortunate enough to be in a position to invest heavily in a premium pair of bookshelf speakers, there has never been a better time to purchase. Because of technological advances, you will find yourself spoilt for choice. Companies are taking their production to the next level as they compete for the best seller spot.
Within the $500 budget, you should not find a disappointing product among the lot. The enclosures, cones, drivers, components, and circuitry should all be expertly designed with distortion-free audio in mind. This list of the top 7 bookshelf speakers under $500 represents the best products on the market.
You may also like our other product reviews…
Ceiling Speakers | Computer Speakers Under $50 | Computer Speakers Under $100 | Digital Cameras Under $1000 | Gaming Chairs Under $100 | Gaming Keyboards Under $50 | Gaming Keyboards Under $100 | Gaming Mouse Devices Under $50 | Graphics Cards Under $100 | Guitars Under $500 | Headphones Under $200 | Headphones under $300 | Headphones under $500 | In-Wall Speakers | Laptops Under $700 | Luggage Sets Under $50 | Mechanical Keyboards Under $50 | Noise Cancelling Headphones Under $50 | Noise Cancelling Headphones Under $200 | Office Chairs Under $200 | Office Chairs Under $300 | Party Speakers | Point and Shoot Cameras Under $100 | Point and Shoot Cameras Under $300 | Portable Record Players | Projectors Under $200 |