Updated on by Lyric Fergusson
Calf Compression sleeves are one of those sports accessories that work on so many different levels, in exercising, and beyond. Because of the nature of how they're designed, they can support you both in dealing with injuries and preventing discomfort altogether. Athletes use them in the gym lifting, playing basketball, and many use them while running to alleviate pain in shin splints (or in trying to avoid them). On the other end of the spectrum, calf compression sleeves are great for circulation when doing things like traveling or even while pregnant! Check out our seven favorite calf compression sleeves and find the one you like the best!
Best Calf Compression Sleeves
---
(Best for gym use! — $)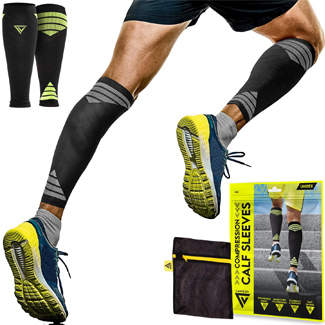 Why it's great: These sport-centered calf compression socks are the best for those who love a masculine look with basic colors and a quality product. Color options come in either gray or yellow, and sizes are S/M, L/XL, and XXL. These sleeves are made of 75% nylon and 25% spandex and are a fast-drying model that helps with keeping sweat out. It also comes with a convenient carrying bag, so you can bring these to the gym, in the car, or while traveling without getting sweat everywhere after removing them! The LANGOV support team offers quick assistance, and the sleeves come with a 100% Lifetime Guarantee. Compression-wise, these are made with 20-30 mmHg, for the perfect balance of tightness.
Keep in mind: These have a more masculine style. If you want ones that have more color options, check out NEWZILL or Run Forever Sports sleeves!
Good for: Sporty uses, whether for basketball, running, or bringing to the gym!
---
(Most trusted for sports — $$)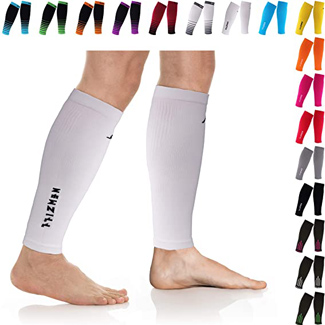 Why it's great: NEWZILL's Calf Compressions Sleeves definitely boast one thing over all of the rest– their sleeves are backed and supported by Courtney and Kelley Hurney, USA Olympic Medalists in Fencing! These sleeves are made of nylon and spandex and are primarily used for athletic activities and professional sports usage. The customer service team is highly receptive and helpful, and the different fits (12 inches and 15 inches) give you more options when it comes to the longevity of wear, fit, and style.
Keep in mind: These don't have a pressure rating.
Good for: Any athlete who wants a trusted brand!
---
(Best color options — $$$)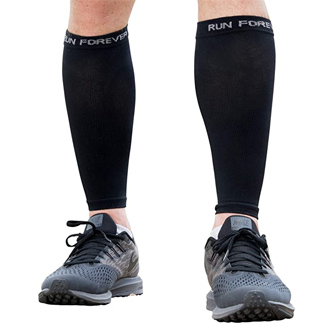 Why it's great: These calf compression sleeves are great for anyone who's pregnant, suffering from shin splints of muscular paint, or any other painful leg issue but who doesn't want to feel like they're wearing compression socks. These are made with 20-25 mmHg, coming in sizes is Small, Medium, Large, and Extra Large, and come in lots of different colors and patterns, including Black, Beige, Blue, Gray, Pink, Neon Yellow, Neon Green, White, Purple, Red, American Flag, Celebration, Bubblegum, and Hearts. Made of nylon and spandex, these are perfect for getting lasting compression and comfort with a fun and bright pattern!
Keep in mind: These are a bit more expensive than other brands.
Good for: Those who love to make a statement!
---
(Best sizing — $$)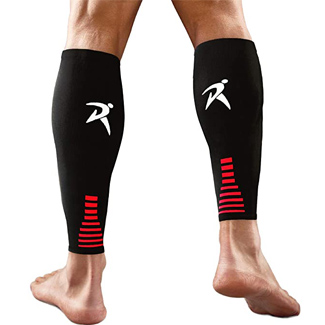 Why it's great: Rymora's Calf Compression Sleeves along with being made with quality at the forefront, also has a ton of fun colors. It's made with a non-slip cuff at the top of the sleeve so falling down isn't an option. The socks are made with 54% nylon, 39% polyester and 7% elastane. They come in black, purple, blue, gray, pink and white, and come in a big variety of sizes: XS, S, M, L, XL, and 2XL. The Rymora customer support team is also known to be extremely receptive, informative and kind, so if any issues arise, you know you're in good hands.
Keep in mind: These don't have a pressure rating.
Good for: A big option with sizing, especially if you've had issues with sizes in the past.
---
(Most comfortable — $$)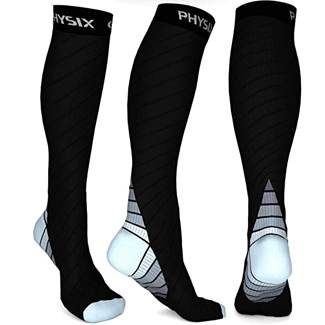 Why it's great: This unique compression sock made with double-stitched seams, anti-bacterial material and quick-drying fabric fits around the entire foot for a fully-covered and supported fit. It's made with graduated compression for a form-fitting wear that shapes to the calf, made of 70% nylon and 30% spandex. The colors come in a more basic selection: mostly blacks, beiges, and blues with some hints of brighter colors like red and pink. It's also a nice, thin, lightweight material, so your legs aren't overheated on hot summer days.
Keep in mind: These cover your entire foot, so will probably need to be washed more frequently than if it just went around your calf. They also don't have a specific pressure rating.
Good for: A comfortable, form-fitting and uber-supportive sock.
---
(Best for inflammation — $$)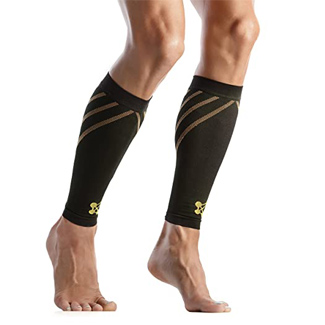 Why it's great: CopperJoint's Compression Calf Sleeves are crafted with copper-infused nylon, which is known to help repel inflammation, muscle aches and arthritis along with other musculature soreness. The compression is nice and tight and made with moisture-wicking and thin fabric. CopperJoint has other models of compression gear to match your calf sleeves including a knee sleeve, gloves, wrist guards, and more. Adding 2 more automatically gets you 10% off of your entire order. So if you're looking to add a lot of exercise or compression gear to your closet, hopping on this deal won't be too bad of an idea.
Keep in mind: These don't have a pressure rating.
Good for: Those who suffer from muscle tightness and inflammation.
---
(Best for the whole family — $$)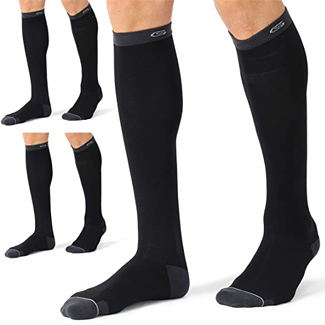 Why it's great: Celersport not only offers one pair but three full pairs of compression socks in each purchase, which is unlike most other compression socks! This way, you can have a couple at your disposal and don't have to clean them too often. The top band is made with a non-slip cuff, and the sock is designed with graduated compression which helps with a comfortable fit and encourages proper blood circulation. Since it's a full sock that covers the entire foot, and not just a band worn on the ankle, it comes with extra compression and cushions for the foot, such as a heel and toe cushion. The material is 59% Nylon, 32% Polyester, and 9% Spandex, and is designed to wick sweat.
Keep in mind: Sizing is limited with this brand, coming in Small/Medium and Large/Extra Large. Additionally, it doesn't have a specific pressure rating like some others do.
Good for: This is great if you want to purchase compression socks for you and your family, or just if you want to have a couple of extras lying around so you're not constantly washing one pair.
---
FAQs about Best Calf Compression Sleeves
---
1. How do I know what size I am for calf-compression sleeves?
Measure your calf's circumference at the thickest point of your calf. Measuring tape works, but if you don't have it, wrap a string around your calf, mark it, and measure it against a flat ruler.
---
2. When should I wear calf-compression sleeves?
The best time to wear them is during whatever physical activity you're doing, especially if it's directly associated with your injury or consistent pain. Additionally, calf-compression sleeves are great to wear while pregnant or breastfeeding, or while traveling on an airplane.
---
3. How do I care for calf-compression sleeves?
Most are machine-washable but follow the directions depending on which brand you end up purchasing.
---
4. Are calf-compression sleeves worth it?
Although calf-compression sleeves won't get rid of your injury or pain completely, they'll definitely help you eliminate discomfort while you're wearing them. Focusing on addressing the problem from the inside-out, such as getting rid of what's causing you pain by taking care of your body is a great way of helping eliminate the discomfort in the long-run.
Conclusion
---
Whatever you may be using calf compression sleeves for, it's best to find ones that work exactly how you want them to work. Some are longer, some shorter. Some are full-on socks, and others are simply sleeves. Whatever differentiators there are, determine what qualities you'd want in them, and how you can see yourself utilizing them to the best of their ability. We hope that whatever you do use it for, you're feeling the comfort, relief, and strength that you're looking for!
You may also like our other product reviews…
Camping Towels | Compact Home Gyms | Cooling Towel | Diving Watches Under $500 | Electric Bikes Under $1000 | Elliptical Machines Under $500 | Football Towels | Heavy Bag Gloves | Hiking Towels | Hybrid Bikes Under $500 | Smartwatches Under $50 | Sports Towels | Tennis Towels | Treadmills Under $500 | Treadmills Under $1000 | Weighted Vests | Weightlifting Belts |